Launched recently, Alessandro Michele's latest capsule collection takes the name of Gucci's Epilogue, which draws on the patterns of Ken Scott's vast archive, colourful and floral motifs decorate the garments and accessories for men and women
Text by: Domenico Costantini
Podcast by writer and academic Shahidha Bari.
The imaginative world of the American designer has been brought back to life in the collections of another enlightened artist of our century, Alessandro Michele, who graced the Gucci universe with his prolific and eclectic creativity. This exceptional combination gave life to the Epilogue collection, characterised by prints taken from the grandiose Archive of the Ken Scott Foundation, recently acquired by Mantero, a Como-based brand known for its extraordinary silk. As a matter of fact, vivid, bright colours have always been Ken Scott's "trademark," alongside unpredictable juxtapositions and joyous flowers.
The prints not only appear on ready-to-wear garments, but are now also hand-painted in major cities around the world, transforming their surroundings into an overwhelming world of bright colors and contrasting prints. By signing a deal with Mantero for the exclusive use of a selection of patterns belonging to the Ken Scott Archive and label, Gucci renovated Ken Scott's endless fame.
In fact, as stated by the fashion house itself, "The archive is something that never ceases to live, it's the beating heart and the source of inspiration for the creativity that is yet to express itself."
The Artwalls appear in Lafayette Street, in the Soho district of Manhattan, in Largo La Foppa in Milan, just off Brick Lane in East London, in Fesengberg Li in the Jingan district, in Shanghai, D'Aquilar Street in Honk Hong, as well as in Lang Kwai Fong.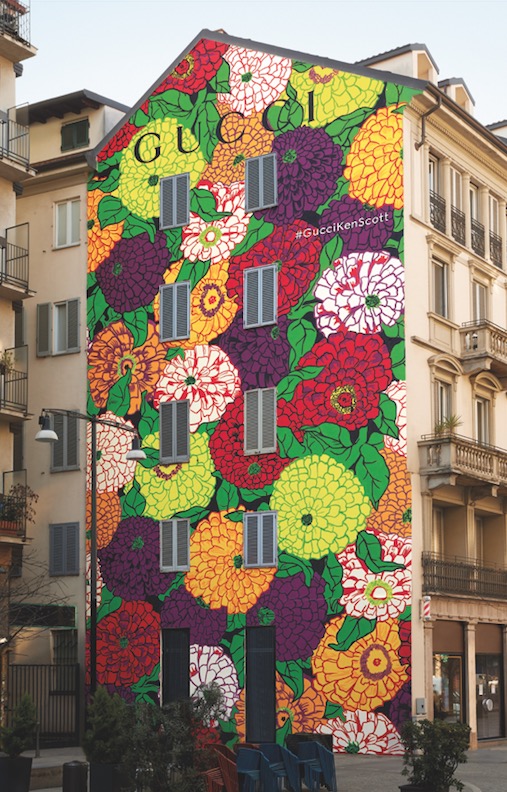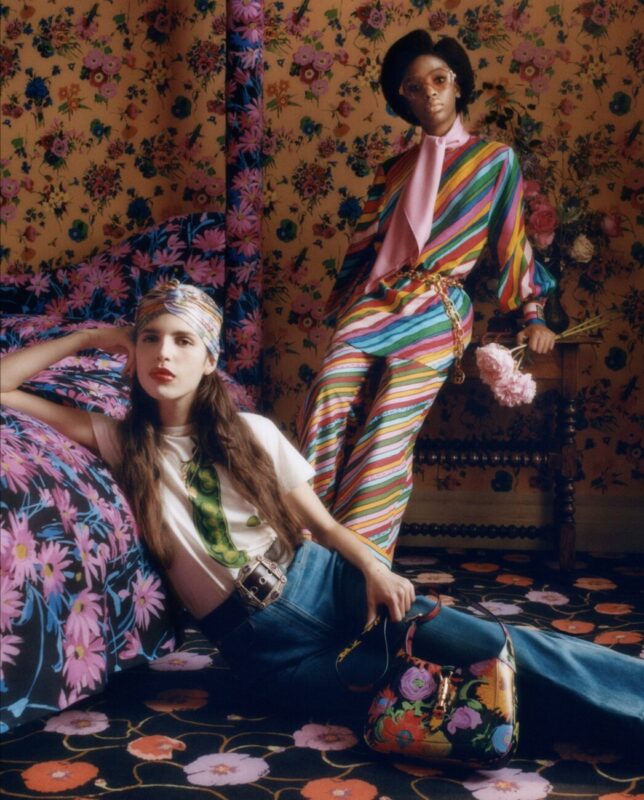 An American from Indiana class 1918, Ken Scott discovered his deeply-rooted passion for painting already at a very young age. His personal, genuine inclination towards art brought him to New York, where he relocated to study. The first years of his career were intense, permeated with successes and experiments. A free spirit characterised by an intrinsic curiosity, in 1946 Scott moved to Europe, at first finding shelter in Paris and Cote d'Azur – where he delighted himself by conducting a bohèmienne life – to then settle down in Milan a few years later, in 1955. Here he founds Falconetto: starting from the textile, the artist will go on to revolutionise the taste of an entire era.
Since 1962, he started to sign collections of dresses and accessories which, eventually made him known across the world. His rise was unstoppable, his production multifaceted, and his research and methods were pure avant-garde. As a matter of fact, his limitless fantasy and innate self-irony were coupled with Scott's extraordinary technical competencies, which resulted in unique creations which, spacing across diverse fields, turned him into an immortal style icon. Among his numerous talents, his painting skills stood out thus becoming Scott's main profession alongside his other passions.
His aesthetic was free and hungry for primary colours, which he would stretch out on canvas in an almost automatic way. His masterpieces often contained references to Boetti and Warhol, although the pop essence of his paintings – prevalently expressed through the presence of flowers – merged itself with a new enchantment of shades and the lighthearted hand that became the artist's leitmotiv.
"One day I started designing fabrics; that was the end of my painting career," here's the brief synthesis of an intense love story, the one between Ken Scott and fashion. Scott chose Milan, the Italian Fashion capital, as his main base. This was also due to its proximity to the textile district of Como. Characterised by an unusual talent in the juxtaposition of colours, he soon emerged as a textile designer starting a real taste revolution founded on the perfect combination of creativity and technical knowledge.
The first designer who dared to print his drawings on artificial, exclusive textiles creating a "ready-to-wear" fashion collections that could be washed by hand, dried in a short period of time, and did not need any ironing: in fact, it could be fit into a suitcase without any issues. The chic version of "flower power," for his creations, Scott preferred simple straight lines aimed at exalting and providing balance to the exuberance of the selected prints.
The fashion designer Ken Scott revealed his forerunner character in a striking way. His shows were real shows; in the '70s his models moved under a circus tent dressed in zebra, leopard, or giraffe clothes. I know what you might be thinking, those were hot years, and he gave proof of how to take care of every possible aspect of his events: from their mood boards to the set-ups, choreographies, accessories, and invitations. From rocking the Sala Bianca of Palazzo Pitti, in an event dedicated to "couples of historical lovers," to Rome's Palazzetto dello Sport, the Circo Medini on the Appia Antica – where he improvised himself as a tamer – and the Piper in Rome, where he developed a food-themed event in collaboration with Findus, each one of these occasions was nothing but the living proof of his inimitable creative spirit.
"No famous international wardrobe nowadays is complete without a touch of Ken Scott," wrote the famous fashion chronicler Eugenia Sheppard in 1967. It therefore comes as no surprise that, throughout his career, the designer dressed actresses, socialites, marquis, and princesses, as well as Italian and foreign celebrities: from Audrey Hepburn to Monica Vitti, from Brigitte Bardot to Mina, from Jackie Kennedy to Marella Agnelli, from Violante Visconti to Agnese Torlonia… not to mention Marisa Berenson, Twiggy, Verushka, Amanda Lear, Capucine, Benedetta Barzini, and many more. Ken Scott's flowers and colours bloomed all over the world.
Eats & Drinks is the restaurant that Ken Scott opened in Milan in '69, a place where everything – yes, absolutely e v e r y t h i n g: whether it was the tiles, the forks, the glasses, or the stools, including the plates and the lamps – was designed by him in a concrete and amazing demonstration of the limitless possibilities of his artistic crafts. Capable of unconsciously anticipating the inevitable explosion of the foodie mood that would boom in the following decades, with Eats & Drinks Ken Scott established a real monument to the elegance of the palate. A passion for food that he further celebrated in the "gastronomic" collection SS 70, where watermelon dresses, giant rigatoni prints, cheeses with holes, fried eggs, and free-range chickens took over the stage in a moment suspended between Dada and Pop.
His houses were characterised by an almost Spartan simplicity – with square and rationally-shaped pieces of furniture – but enriched with mirrored surfaces that multiplied light and space; or covered with his carefully-designed flowery tiles and printed fabrics that immediately added colour and warmth to the atmosphere. The inside and the outside of the building served as communicating vessels with colour as their protagonist. Ken Scott's houses were photographed and featured in the most prestigious magazines, becoming the early icons of what would then be called "lifestyle."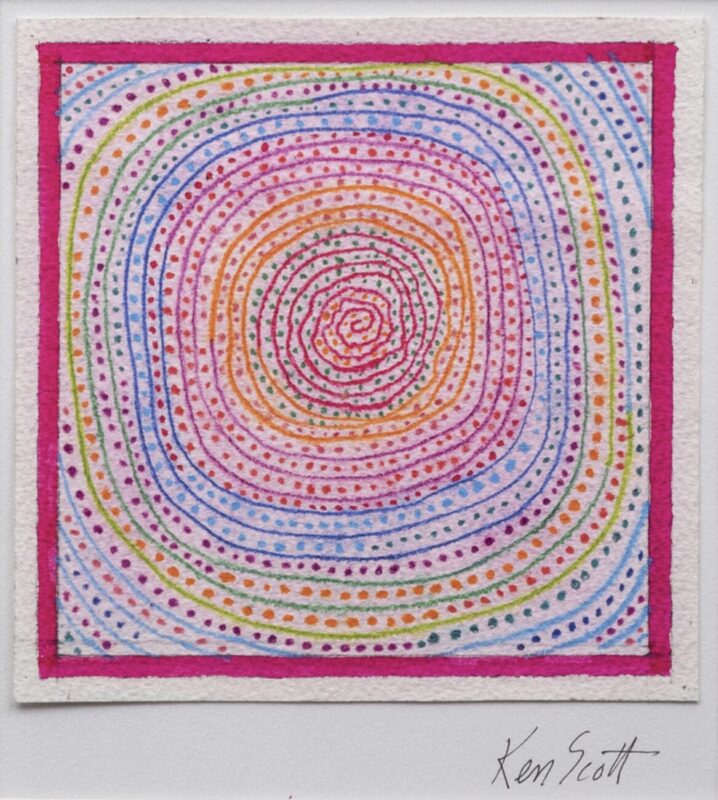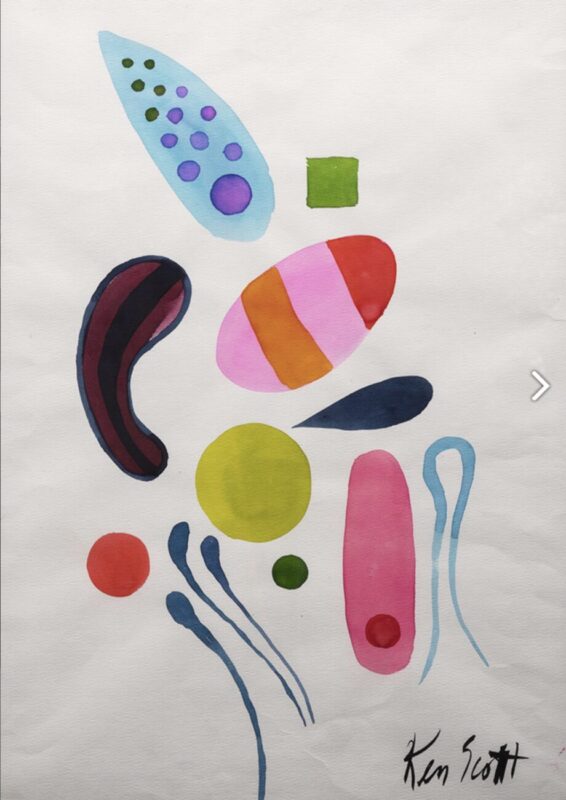 In 1979, during an interview, Ken Scott defined himself as a "gardener": for him, plants and flowers represented the intrinsic essence of beauty. From then onwards, "Gardener of Fashion" became the definition used by others to describe his amazing ability to plant and cultivate colourful flowers and fantastic gardens on fabric. He died in 1991, but the business continued with the Foundation of his brand, under Ken Scott's name, created in Milan by Scott himself in 1989 who, among the others, was the main responsible of the archive, the brand, as well as Ken Scott Studio.
The historical archive of the Maison includes:
Photographic archive: negatives, black and white prints (1955-2011), colour prints (1960-2011), colour photos (circa 1970-1990), slides (1970-2011), digital photographs (from 2002) of advertising campaigns, catwalk slides, fashion shows, look books, and events.
Audio-video archive: magnetic and VHS tapes with videos of fashion shows and exhibitions. Drawings archive: thousands of drawings in watercolour, oil, tempera, acrylic, on paper and Japanese paper for fabrics and printing tests, dating back to 1955, preserved in 10 drawers and albums. About 20 stage designs (1969).
Press office archive: press kits, circa 50, from 1960; press review, about 20 volumes from 1955; invitations, 3 folders.
Product archive: dresses, about 4000 since 1975; traces of fabrics for clothing and furnishings, thousands; samples, thousands; bijoux produced with Coppola and Toppo, about 50 pieces since 1960; hats, about 20 boxes; household linen, sheets, towels, tiles, ceramics since 1960.
In 2019 the Ken Scott Brand was purchased by Mantero Seta SpA. "The flower man" left an extraordinary legacy that led Mantero to sign an agreement with Gucci in 2020 for the exclusive use of a selection of patterns from the archive belonging to the Ken Scott brand.