THE CROCODILE HUNTING IS OPEN. THE MOST GLAMOUR REPTILE OF THE WORLD IS CRAWLING DOWN MILAN FOR THE INAUGURATION OF THE NEW LACOSTE BOUTIQUE
Text by: Fiammetta Cesana
On December 5th, welcoming us into the restyled store of Via Dante, in the heart of Milan, Lacoste launches the operation #CROCOMANIA.
Making a toast to the opening of the brand's biggest Italian boutique – with 350 sq and two floors – you will find out more about the crocodile hunting that will start the day after… for more info stay tuned at crocomaniainmilan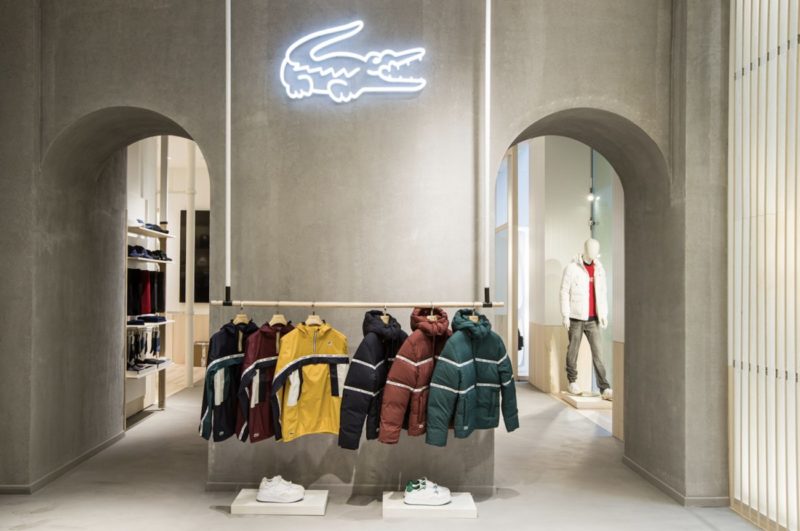 The Club boutique
The French sport-inspired house, known since 1933 for its crocodile logo iconic polos, is still on the top of casual premium brands. Over the last few years, Lacoste has undertaken a new concept for its worldwide boutiques trying to create a unique customer experience which protects the brand's heritage while winking to the future.
So what would be better for sport and fashion lovers to discover new collections inside a Club?
The idea is right to design boutiques resembling the sport clubs' ambient, where the client feels relaxed as an actual member of the Lacoste's community.
A large counter made with refined curved wood and with comfortable seats invites the dialogue between the customer and the sale assistant which can make the shopping experience much easier and fruitful. Also, the combination of digital screens displaying clothes' information and details and the warm atmosphere given by natural lightening creates a very peaceful workshop kind of environment.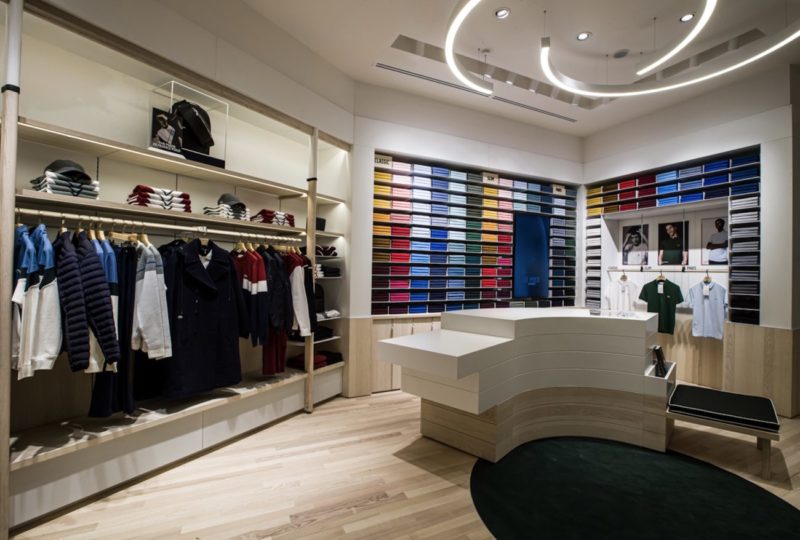 "It is the synthesis of the brand and its founder René Lacoste, in a defined place: 'the Club'" explains the CEO Thierry Guibert. "The atmosphere of the Club is evident even before entering. Allowing in natural light, the layout reminds a tennis court – the green concrete panel winks to René Lacoste's practice wall."
The references to sport's, especially tennis', are many indeed. The collection is exposed in corners made like lockers and, recalling the aesthetic codes of René Lacoste's changing room in Chantaco, a bench is placed for customers to seat next to a shelve to lean on their stuff; while natural wood and perforated leather remind Lacoste's tennis rackets. The fitting rooms then present new elements linked to the brand's classic soul with a cabinet des curiosités where you can admire embroidered crocodiles and a vintage tennis racket.
This elegant universe, immersed in green and white hues, the brand's typical colors, embodies the perfect lifestyle à la française, where men, women and children too can find something special among sportswear garments, shoes, accessories, and, of course, spoilt for choice of polos.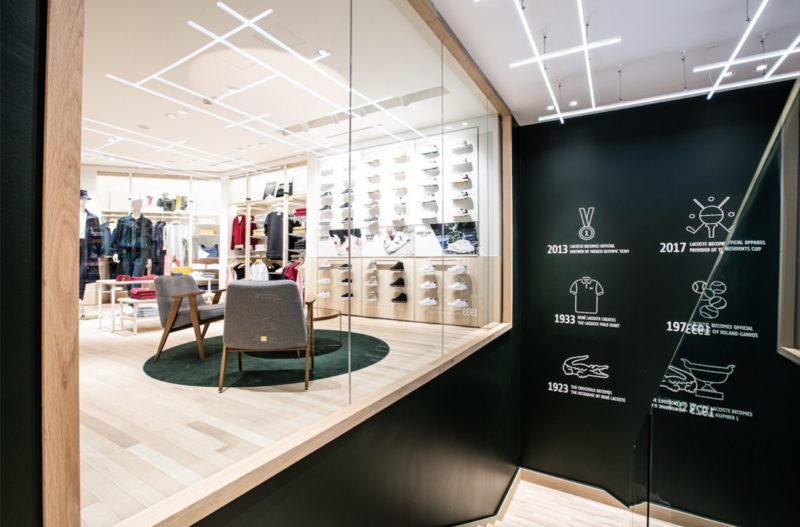 Did you know that…
Since its opening, more than 85 years ago, Lacoste has been always evolving according to the fast changes of culture and fashion, never denying its strong identity rooted on the passion for sport and elegance. Proposing also design watches, home furniture and perfumes, the brand is present in 120 countries with high quality as well as ethical products. Every second two Lacoste's items are sold.