M.LLE CHANEL'S ENDLESS FASCINATION FOR RUSSIA LIVES AGAIN IN THE NEW CHANEL HIGH JEWELRY COLLECTION
Sometimes the imagination and the reveries of a country can be way more intense than the actual visit and knowledge of it. Despite Gabrielle Chanel never set foot in Russia, her passion for that distant and empire in decay was so strong to influence her very creativity and design process.
During the twenties, she began to interweave bonds with several artists and members of Russian aristocracy forced by the circumstances to abandon their homeland flooding Europe: Stravinsky, Diaghilev, Léonide Massine together with Serge Lifar and Boris Kochno from Ballet Russes and above all the Grand Duke Dmitri Pavlovich with whom she had a brief yet passionate love affair.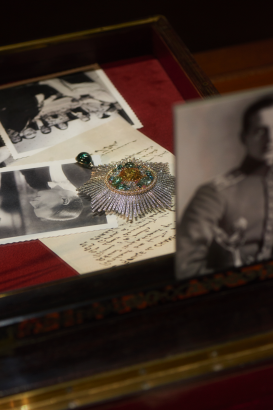 The new "Le Paris Russe de Chanel" Collection pays an homage precisely to those marvellous years of "Russian Paris": 69 pieces of fine High Jewelry tell the story of a travel dream that never came true but that, just because of its non-accomplishment, achieved a charming, magic allure.
Folklore Russian decorative art motifs are reproduced on earrings, pearl sautoirs and necklaces of sapphires, garnets, emerald and diamonds. Head ornaments and necklaces' cuts refer indeed to the traditional roubachkas and kokoshnik (headdresses made of velvet and adorned with pearls and trimming). The eagle with two heads – emblem of the Imperial Russia – cannot missed: reduced to a symbol or a simple outline, it acts as main character in the collection together with the iconic Chanel camelia and the shape of an octagon, that recalls the legendary mirror featuring a sculpted two-headed eagle belonging to Gabrielle Chanel herself.
"Le Paris Russe de Chanel" Collection was presented by Patrice Leguéreau, director of the Fine Jewelry Creation Studio, on the occasion of an exclusive dinner in Paris last June 27th, attended by celebrities and Chanel ambassadors such as Caroline De Maigret, Marine Vacth, Elodie Bouchez, Cécile Cassel, Nicolas Maury, just to name a few.