by Riccardo Slavik
Rihanna's debut collaboration with PUMA isn't her first foray into the fashion world, or the label's first designer collaboration, but, given her much copied and eclectic style, which often mixes street style and sport brands with high fashion, it appears to be a particularly good fit.
It also fits perfectly into the current trend of popstars' merchandise turning into fashionable objects, see Justin Bieber's Vements inspired Purpose Tour merch, which has sold out multiple times and made its way into various high-end fashion outlets, creating such instant desirability to warrant a bevy of Chinese copies. In the age of streaming, digital downloads and Spotify, we own less and less that is physical and related to our icons, the fetishistic thrill of the record cover or the cd liner notes is gone, the exclusive Japanese 12" easily downloaded, so it makes sense to transfer that desire onto clothing and accessories, and even more sense for them to follow the latest trends in graphics and cut, to ensure a crossover appeal.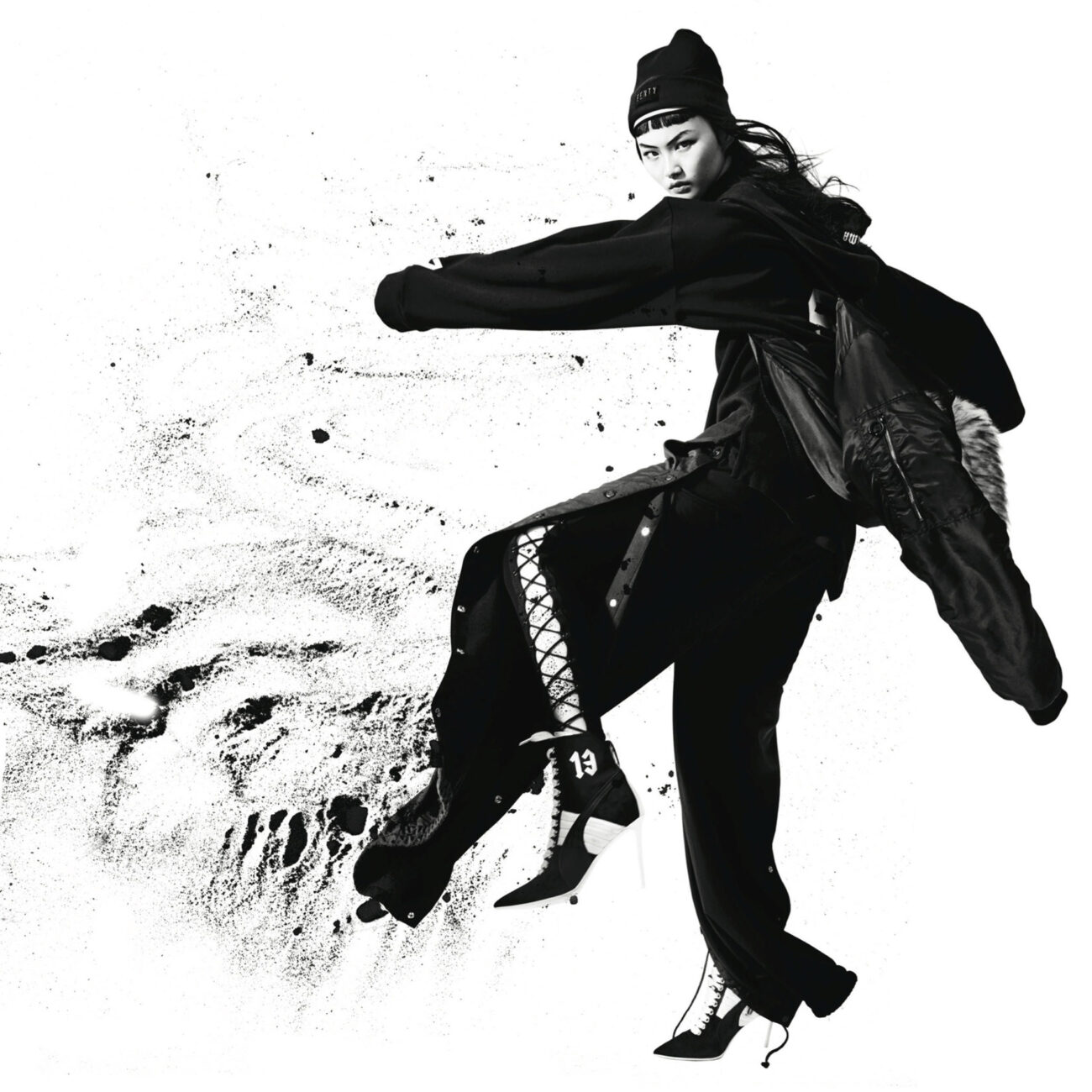 The first Fenty by Rihanna collection taps into a similar vibe as the singer and her team mixed Japanese l influences with gothic overtones and exaggerated volumes and proportions, and set out to challenge traditional gender silhouettes with a more unisex vibe.
"This collection is not only a representation of who I am and how I dress, but also pushes the boundaries of what I wanted to create with PUMA" says Rihanna, "I wanted to take PUMA to a new place with something unpredictable and unexpected. It's Japanese street culture with a haunting twist. I played with texture and silhouettes and all of the fabrics are luxurious. I reinterpreted the traditional in my way."
For the Autumn-Winter '16 FENTY PUMA by Rihanna campaign, Rihanna brought in top industry creatives to help bring her vision to reality. With Paris based creative agency M/M, photographer Willy Vandeperre and stylist Alastair McKimm, the campaign brings the collection to life. Models Fei Fei Sun, Cong He, Sang Woo Kim all bring their attitude to give an edge to the campaign.
For more information, visit puma.com or rihannanow.com .
#FENTYxPUMA