LET'S RaTE THE CaMP FACToR OF THE 2019 MeT GALA LoOKS!
Text by: Riccardo Slavik
As Bruce LaBruce so eloquently said in our interview (out now on DRY 11 and in a shorter version here) "The Met Gala is already itself a camp event, so taking on "Camp" as its theme is resoundingly redundant. It amounts to a co-option of camp, emptying it of its queer political significance in the service of the promotion of vapid celebrity and late capitalist excess and decadence. And despite all the gay designers and stylists behind the scenes, it remains remarkably heteronormative. In this sense, it is a betrayal of camp".
This didn't stop this year's Gala guests to try to out-camp each other in their best borrowed finery. Most, like many of Vogue and Met personnel, didn't really have a clear idea ofwhat Camp actually is, and some even thought it was all about outdoor camping, tents, Boys-Scouts and the like… I thought it would be fun to use The Rules Of Camp, as written by Philip Core in his extremely Camp book: Camp, The Lie That Tells The Truth, to rate the campiness of some of the best and worst looks of the night.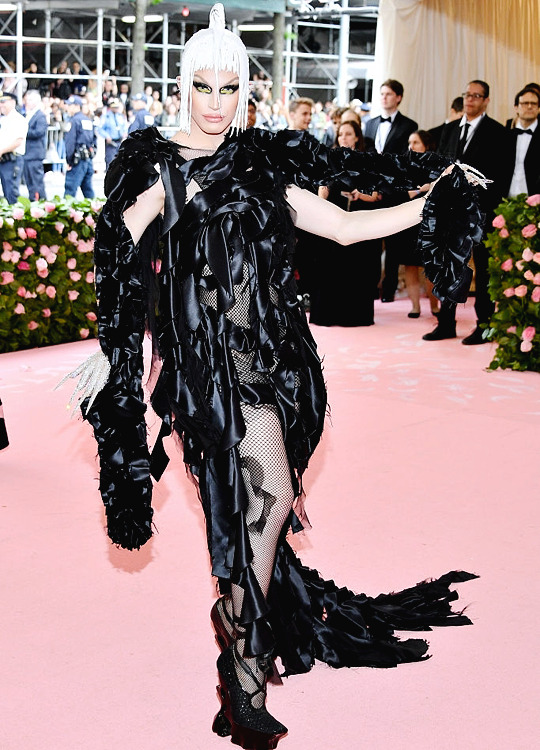 "CAMP is cross dressing in a Freudian slip"
It may not have been the most flamboyant of the night's looks, but RuPaul's Drag Race winner Aquaria, the first drag queen to ever walk the red carpet of the Met Gala, surely fit this definition in her shredded Maison Margiela by John Galliano dress, paired with scissor sharp nails and sculpted wig. A Dressed To Kill dream!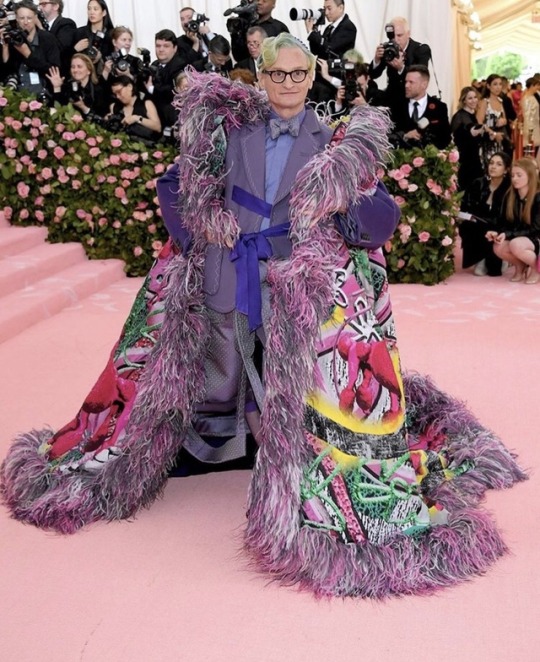 "CAMP is first of all a second childhood"
Hamish Bowles, Vogue's Editor At large, swimming in an elaborate Maison Margiela Artisanal cape trimmed with feathers and printed with a Pop-Art poodle motif, looks like a child gleefully plying with clothes stolen from the magical closet of a particularly campy aunt. Hamish and John Galliano know a thing or two about Camp and it shows.
"I advise that cape is rehearsed up and down steps if you can," said John after he reviewed the fittings videos from afar. "No angle must be left to chance but still must look spontaneous. Every swish must be ingrained in the subconscious, andalways imagine that Avedon is following you. A sudden knock at the door works wonders for that frozen-eyes-to-the-left look. Never forget Avedon is your focal point." John Galliano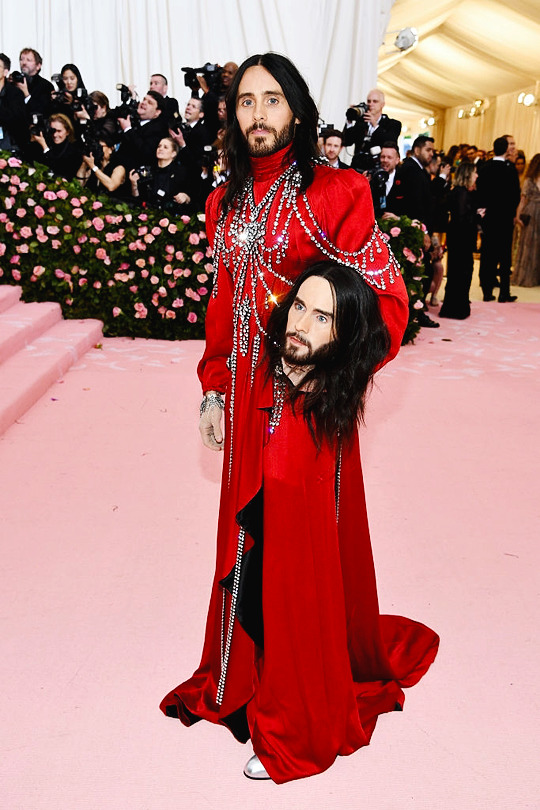 "CAMP is free association, free thinking is not camp"
Jared Leto's Gucci look, with its pseudo-sacramental satin robe covered in a cascade of Art Deco Moulin Rouge crystals and accessorized with a rather Freudian copy of the actor's head, is obviously the product of Alessandro Michele's free association approach to design. Is it really Camp?
Camp's in the eye of the beholder so you decide.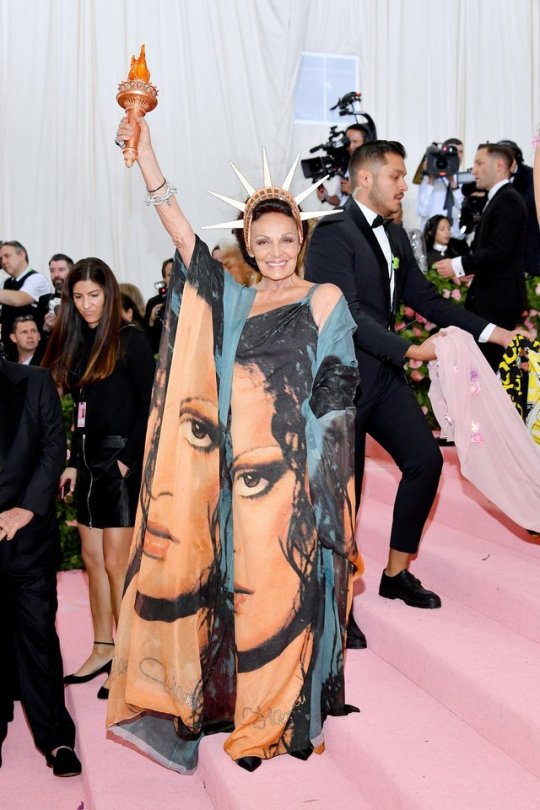 "CAMP is a biography written by the subject as if it were about another person"
Diane Von Furstenberg's dress and cape printed with a portrait of herself by Richard Bernstein for a 1977 cover of Andy Warhol's Interview magazine are so fabulously self-referential, Pop and chic that her Machine Dazzle Statue Of Liberty accessories can only push the look into a stratospheric Camp meta celebration of New York in its fabulous Studio 54 era. The fact that the whole look was also a tribute to the day her mother was sent to Auschwitz 74 years ago makes this a perfect example of Camp as the frivolous glitter that hides a deep, even political message.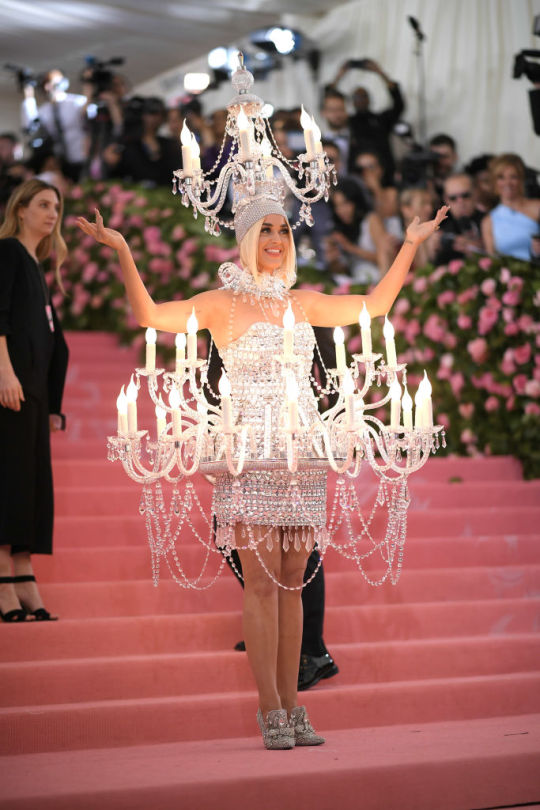 "CAMP is embarrassment without cowardice"
Katy Perry's Moschino looks for the evening show how deeply both the singer and designer Jeremy Scott 'get' Camp. She walked the red carped as a chandelier, an obvious homage to Camp icon Liberace, then went on to the dinner dressed as an hamburger, wearing a 3-D foam costume that hid a lettuce minidress, ticking all the boxes, commitment to the frivolous, irony, context. C.A.M.P.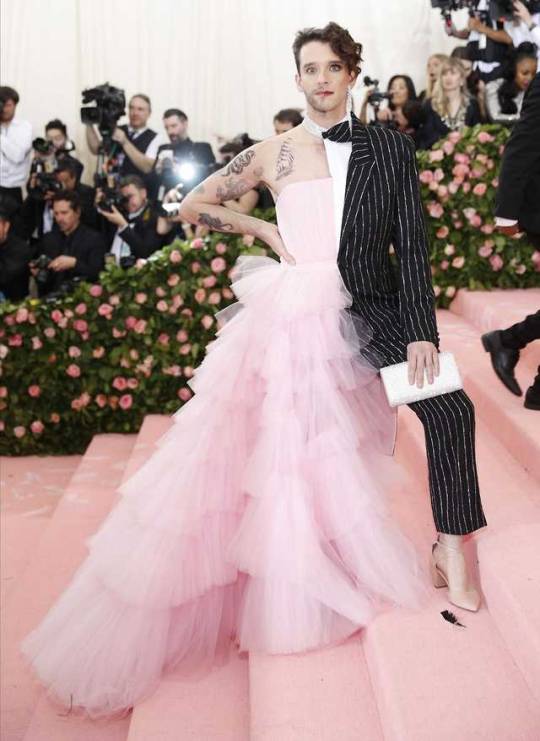 "CAMP is gender without genitals"
Actor Micheal Urie went to vaudeville and drag oldest trick, wearing a Christian Siriano ensemble that was half pinstripe suit and half tulle evening gown, obviously taking inspiration from Susan Sontag's Notes On Camp, where she writes: "Camp taste draws on a mostly unacknowledged truth of taste: the most refined form of sexual attractiveness (as well as the most refined form of sexual pleasure) consists in going against the grain of one's sex". The cross-sexing was taken to a Camp extreme with make up and accessories, with male signifiers applied on the dress side and female ones on the suit side. Attention to detail is pretty Camp.
"CAMP is an art without artists"
Ezra Miller's Burberry look by Riccardo Tisci combined touches of cabaret, androgyny, Surrealism and the extravagance of Couture for an extremely take on Camp. The almost severe satin cape and mask based on his own face revealed a bejeweled corset cage over a pinstripe suit with a train and a face covered influx make up and trompe-l'oeil eyes. The adoption of high art styles for totally frivolous purposes is totally camp, Ezra's take on it becomes dark and personal: "The celebration of camp is almost funereal" Miller told Vice of his look. "It's almost like it dies as it walks in the room. But I think it consumes the other as well. You know? I think it's like fire and oxygen".
This totally fits with another part of Sontag's Notes On Camp: "What is extravagant in an inconsistent or an unpassionate way is not Camp. Neither can anything be Camp that does not seem to spring from an irrepressible, a virtually uncontrolled sensibility. Without passion, one gets pseudo-Camp – what is merely decorative, safe, in a word, chic".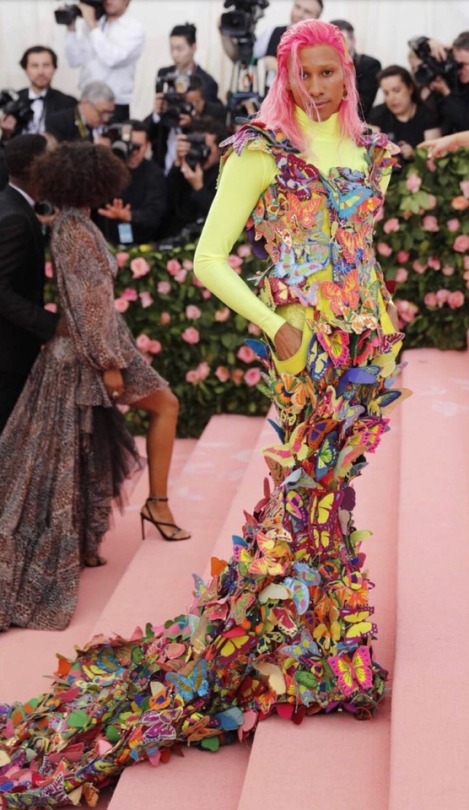 "CAMP is moral anarchy which makes room for the self without altering the attitudes of society"
Actor Keiynan Lonsdale's Manish Arora dress covered in hand-embroidered glow-in-the-dark butterflies paired with a neon lycra turtleneck, long pink hair and a no-make-up fresh face is a perfect example of Camp's reliance on context; on a catwalk this would be "just fashion", (in a fashion show context some might even say that the a-gender androgynous horse has beat beaten to a pulp with Louboutin stilettos), but on a red carpet, on a queer actor, it takes on a seriousness of subtext that even the garishness of form and color can't completely hide.
"CAMP is a form of historicism viewed histrionically"
Actor Billy Porter's Egyptian look, designed by The Blonds, is a perfect example of how Camp can transform history through a prism of extravagance and irony. Inspired by a classic Camp performance, Diana Ross' in Mahogany, the look is a mix of different references that leave ancient Egypt behind to delve into the Hollywood excesses of films like Cleopatra, turning the whole affair into a spectacular performance that is pure Style over Content.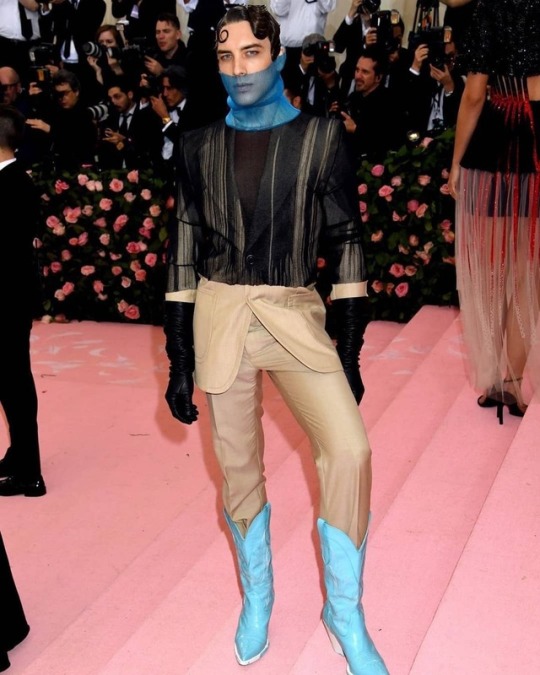 "CAMP is a disguise that fails"
Australian actor Cody Fern in Martin Margiela Artisanal by John Galliano is playing quite literally with the idea of the veil as a revealing instrument, the literal play on gender norms and symbols is Camp even without relying on excess and decoration.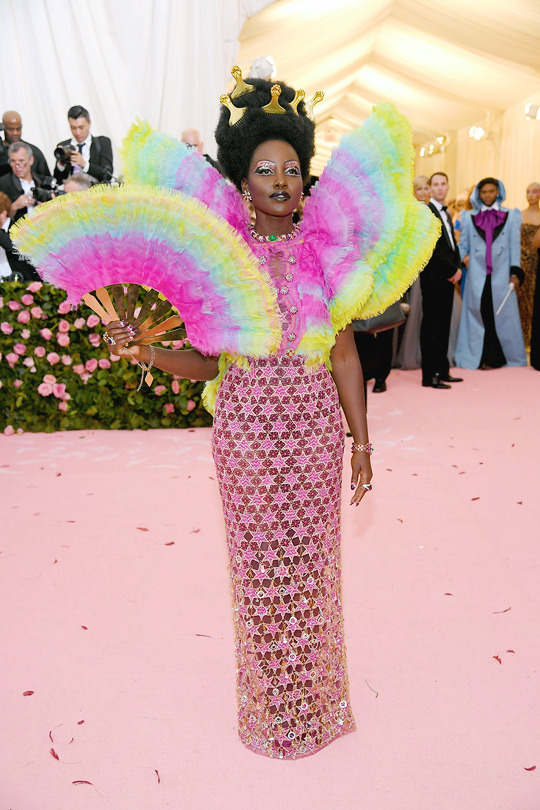 "CAMP is character limited to context"
Lupita Nyong'o's Versace gown, with its unicorn wings and over the top Couture details, paired with a proud afro decorated with gold combs, is a personal fantasy of Afro-American power that blends AfroFuturism, Italian Couture, stars, unicorns and POP in such a breathtakingly, dementedly fabulous way it defies any criticism. When something is so inexplicable yet undeniable, it can only be described as Camp.
"CAMP was a prison for an illegal minority, now it's a holiday for consenting adults"
The Kardashian-Jenner family obviously thought that if the movie Showgirls is Camp (which, by the way, I don't think it even remotely is, it's just a very bad movie with a big budget), then dressing as very expensive stripper-prostitutes complete with over the top Madam would be sooooo Camp. I'm sorry girls, it isn't, let's go no further than Bruce La Bruce's Notes On Camp/ Anti Camp to understand where they went wrong:
"What is Bad Straight Camp? Examples would include the exaggerated and stylized streetwalker/stripper style co-opted by many contemporary pop music celebrities, from Rihanna to Britney and Christina on down, a performative femininity by females filtered through drag queens that has transmogrified into an arguably more "avant-garde" style (Lady Gaga, Nikki Minaj) characterized by hyper-referentiality, extreme hyperbole, a crudely obvious, unnuanced female sexuality, and even a vaguely pornographic sensibility which, unhappily, is post-feminist to the point of misogyny: a capitulation to the male gaze and classic tropes of objectification to be found only in the worst nightmares of Laura Mulvey. (Let it be clear that I am obviously opposed neither to pornography nor to male spectatorship per se, but rather to the continued attempt to erase all autonomy of women to control their own destinies outside of their participation in these played out patriarchal institutions). Obviously it's not the form itself that is reactionary: strippers, street-smart drag queens, female porn stars and hookers have often evinced a radically exaggerated appearance that transcends and deflects patriarchal co-optation. The problem is its utter and complete normalization and de-contextualization away from subversive or transgressive, countercultural impulses in the service of capitalist exploitation, utterly heteronormative in practice and corporate in tone. The great gay camp icons of the past – Barbara Stanwyck, Tallulah Bankhead, Marlene Deitrich, Mae West – had a sexual ambiguity (all were either practicing lesbians or bisexuals, or, in the case of West, played with androgyny to the degree that her final performance – her autopsy – was necessary to prove her biological femaleness) that extended deeply into real life".
"CAMP is in the eyes of the beholder, especially if the beholder is Camp"
Co-chairs of the Gala, Lady Gaga, Harry Styles and designer Alessandro Michele apparently tried their best, but in my humble opinion only Michele really pulled off a look that is undeniably Camp. Gaga arrived at the event with a dementedly huge gown that could have fit the theme, but, let's be clear, Camp isn't just a matter of dimensions, as TV critic Judy Berman joked on Twitter:
As the great Susan Sontag so famously wrote: "Camp means the dress is big"
(this could be applied to many guests of the Gala who thought just adding a few meters of fabric made their look "Camp"). Unfortunately Gaga's 16 minute "performance" and "outfit reveals" (they work on RuPaul's Drag Race, but aren't as effective on a red carpet) ending in the ultimate Bad Straight Camp stripper look totally cancelled whatever hope of achieving a Camp look the singer had. Harry Styles on the other hand didn't seem too comfortable with his look, which wasn't that over the top to begin with, and by the fit of the pants it looked he and Michele didn't have much time to work on it.
"CAMP is not necessarily homosexual. Anyone or anything can be Camp. But it takes one to know one"
Honorable mentions go to:
Joan Collins as Alexis Morell Carrington Colby Dexter Rowan, her Dynasty Camp character, in Valentino Couture.
Singer Kacey Musgraves in Moschino, dressed as the Moschino special edition Barbie designer Jeremy Scott created especially for the Met Museum exhibition.
Actress Natasha Lyonne in a Jean Paul Gaultier Couture catsuit with Klaus Nomi oversized shoulders, fun detail, she carried a see-through bag shaped like a pill and filled with cigarettes.
RuPaul was supposed to wear a gown to the event, but designer Zaldy decided a few days before to make him a flamboyant suit covered in sequins in a pop-zebra pattern with a zebra head on the shoulder complete with feather mane along one sleeve.
Costance Wu in Marchesa channelled Camp silent movie stars, down to the exaggerated poses and 20s make-up and hair.
Celine Dion in Oscar De La Rents is Camp as a Cher Las Vegas show, I wish she had gone to the original, Bob Mackie, for her look, but the campiness is undeniable.
Singer Lizzo in a Marc Jacobs ensemble that recreates a famous scene from the Super Camp movie What A Way To Go!
Producer Jordan Roth wore an Iris Van Herpen cape with an optical effect that made it look like closed curtains when closed and then an Opera House when open, Camp as theatre and performance. "The line design of the waves create a three-dimensional bubble effect when moving that's designed to move faster than the eye can follow. It literally tricks the eye (and the mind)", Van Herpen explained. "When Jordan opens his arms, the glitch bubbles stretch and reveal a new layer in between them, a silk fabric printed with a full theater in 360 degrees." The image combines photos of Paris's Palais Garnier, the Metropolitan Opera in New York, and the Royal Opera in Stockholm, all taken by photographer David Leventi.
Zendaya in Tommy Hilfilger dressed as a lit-up Cinderella, complete with stylist dressed as Fairy Godmother and crystal (vinyl) slipper lost on the stairs. Commitment.
As a footnote, I have to say this Gala was very inclusive of queer people, featuring drag queens, trans people and out LGBT celebrities and advocates, who for their part really pulled all the stops to represent what Camp means to our community.
Finally, here's the full page of Camp Rule's from Philip Core's book, it might help you understand the theme and judge the looks yourselves.