MORE THAN MACHINERY, WE NEED HUMANITY… NOW ON COLLECTIBLE DRY VOL.13 STARRING OUR COVER GIRL MARTHA HUNT
Photo: Caleb & Gladys
Fashion: Sayuri Bloom
Model: Martha Hunt @IMG
Make Up: Joseph Carillo @Atelier Management
Hair: Felix Fischer @Factory Downtown
Manicurist: Kana Kishita
Production: Staci Grabina & Ilaria Niccolini @FTL Moda
Set Design: Sergio Esteves
Digital Operator: Chris Vongsawat
Photo Assistant: Sergio Avellaneda
Post Production: Mario Seyer
Voice Over: Kacie Marie
Earth is our home. A perfect place – to create colorful life, to create diversity. But how will our future look like? Will we still share it with all the biodiversity we share now? Will we remember earth only from images somebody took in the past? Or will be able to enjoy the same earth, maybe even a better earth?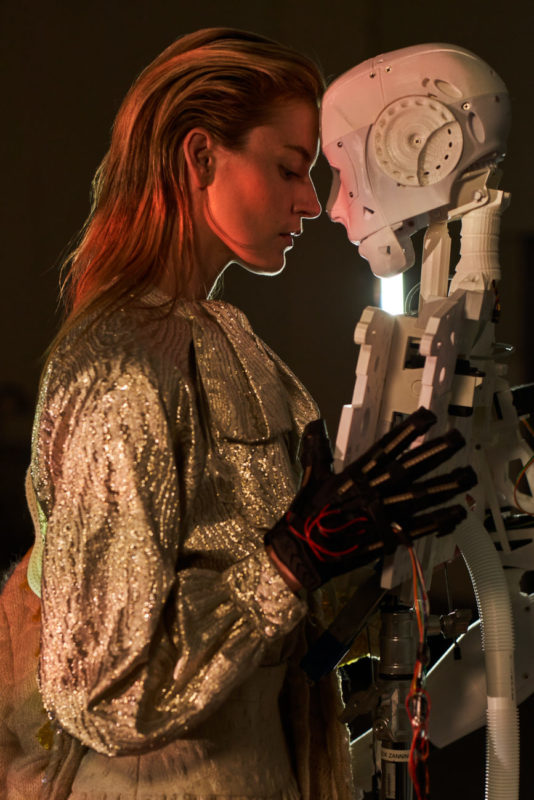 Iridescent gold shirt Gucci
[…] What happens if all the diversity we know will go to its point of zero? We should appreciate every day we are allowed to live on it and can breath by ourselves. Soon maybe, if we don't act, we will be forced to wear breathing machines and masks. We all should live more considerate, more thankful for what we have and should treat our planet with more respect.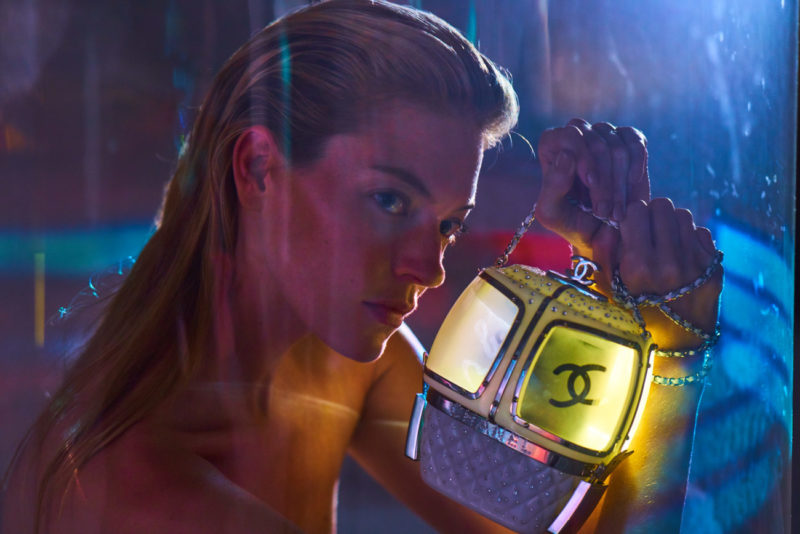 Resin, strass and silver-tone metal evening bag Chanel
[…] "We want to live by each other's happiness. Not by each other's misery. We don't wanto to hate and despise one another. And this world has room for everyone, and the good earth is rich can provide for everyone. The way of life can be free and beautiful, but we have lost the way. Greed has poisoned men's souls, has barricaded the world with hate, has goose-stepped us into misery and bloodshed. We have developed speed, but we have shut ourselves in. Machinery that gives us abundance has left us in want. Our cleverness, hard and unkind. We think too much, and feel too little. MORE THAN MACHINERY, WE NEED HUMANITY. More that cleverness, we need kindness and gentleness. Without these qualities life will be violent, and all will be lost. The aeroplane and the radio have bought us closer together. The very nature of these inventions cries out for the goodness in men – cires out for universal brotherhood- for the unity of us all."
Charlie Chaplin
We all are responsible for what we will leave to the people after us. We can do better if we work united together. We can save us.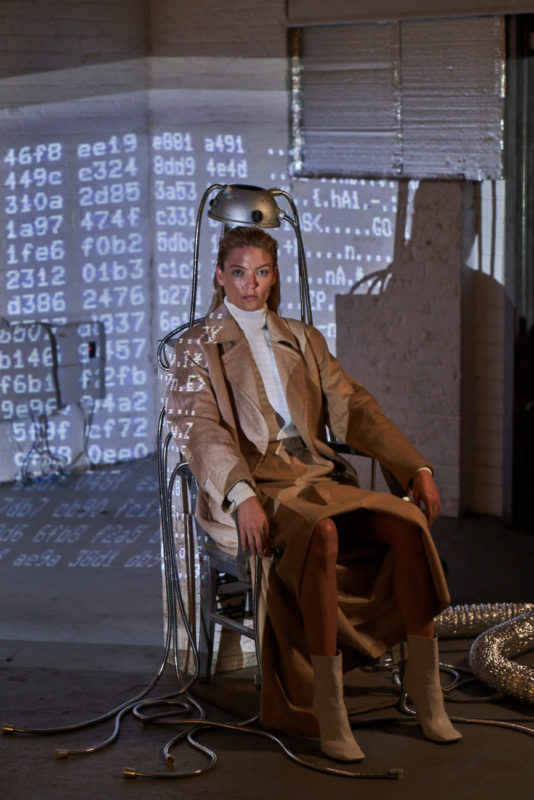 Pure wool long coat and skirt Max Mara White turtleneck dress underneath Sportmax Nubuck leather heeled boots Fendi
Full fashion story and article on "Metropolis" issue, now on newsstand!
Cover: White printed top Cedric Chalier Transparent vynil bra with multi ring details Jivomir Domoustchiev