MIU mIU CROiSIèRE 2020 CoLLECtION ReWROTe HORsE-RAcING StYLE's RULeS
Text by: Annarosa Laureti
Resort Collections never cease to amaze us! Last appointment was that of Miu Miu Croisière 2020 Collection, set at the Hippodrome d'Aunteuil, Paris, this 29th June, just before the beginning of Haute Couture Week.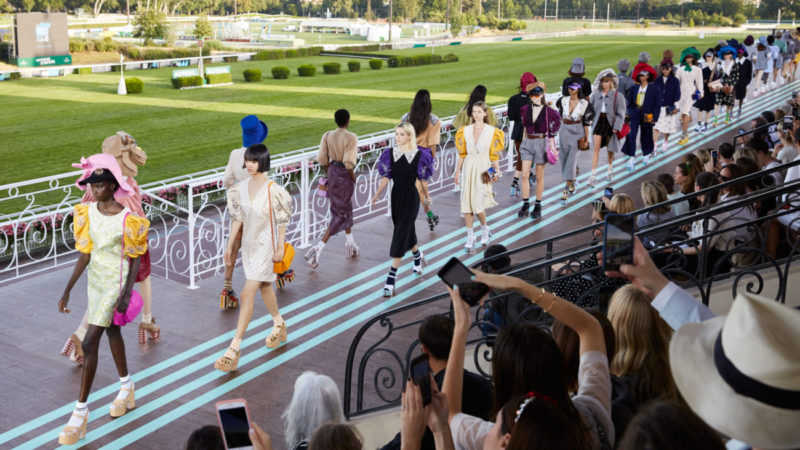 Miu Miu Jockey Club event was more than a simply fashion show. The schedule indeed included a horse race and a fabulous party… The amazing location was redesigned for the occasion by AMO design studio, creating the catwalk on a wide balcony facing the green racecourse.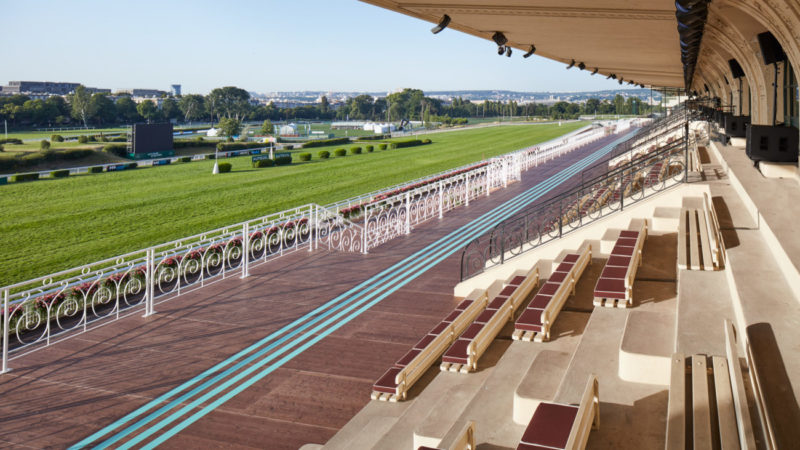 During a romantic Parisian sunset the show went on stage presenting super chic outfits as truly homage to the posh horse-racing world. Horses and jockeys take over dresses of midi length and puffy sleeves. Precious and embroidered collars embellish casual as well as classical jackets. Monastic décolleté are mixed up with more daring ones. Miu Miu lady confirmed once again to be the chicest ever, also while wearing a sporty polo shirt. Loving oversized shapes she never forgets to enhance her femininity highlighting the wasp waste with a belt.
If you want to join the exclusive Miu Miu Jockey club remember to mind about the accessories! Unmissable, in fact, are a shoulder bag and super high wedge heels. The hat, indeed – the undisputed Hippodrome's King – turns double!
To end, among floral and geometric patterns, the color palette – though including bright lamps of yellow and violet – plays with acid and cold tones, simply perfect for an unconventional-bourgeois young girl.
Cover: Miu Miu Jockey Club, Croisière 2020 Finale, Courtesy of Miu Miu