NEW YORK, DOWNTOWN, AND THE CHARM OF ITS COOL VINTAGE SPIRIT COME TO MILAN WITH MOSCOT'S NEW FLAGSHIP STORE. THE CEO HARVEY MOSCOT TALKS TO US ABOUT THIS NEW EXCITING GOAL OF THE CENTENARY EYEWEAR BRAND
Text by: Fiammetta Cesana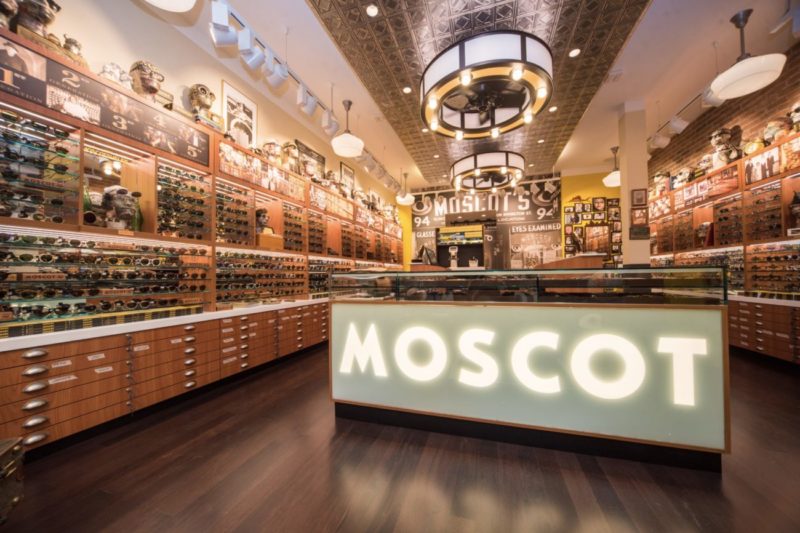 The five-generations family business, Moscot, became cult in the eyewear world being able to preserve its strong identity over a hundred years of fashion history. From Andy Warhol to Jonny Deep, to Leonardo Di Caprio, to Helena Bonham Carter, to Lady Gaga, till Michelin-stars chefs like Bruno Barbieri, since always international celebrities have been conquered by the classiconic – term coined by Harvey Moscot himself blending the words "classic" and "iconic" – New Yorker glasses.
Today, with the leadership of Harvey and Zack Moscot, fourth and fifth generation respectively, the eyewear brand inaugurated its second store in Italy. On the occasion of the opening in the artistic heart of Milan, Brera neighborhood, we had the chance to meet the CEO and president Harvey Moscot. This brilliant and joyful man revealed us his love for jazz music, Italian culture, and the importance of quality design and craftsmanship to carry out the heritage brand's fashion and science world.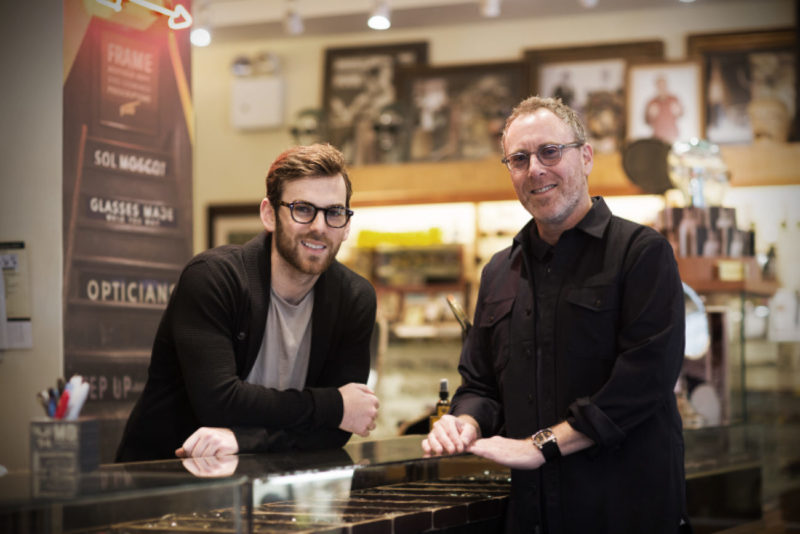 Fiammetta Cesana: I have to say that this shop is impressive. It perfectly tastes like Milanese Downtown. Where do all these vintage objects come from?
Harvey Moscot: My family has been searching for particular objects since more than hundred years. My parents are very big art collectors, they love both paintings and sculptures and always brought things from the house to the shop. My father, as my grandfather did, loves to be surrounded by objects and ornaments that make them feel home, because at the end of the day we all spend more time in workplace than at our house.
FC: Do you think that Milan's and New York's fashion and metropolitan culture are actually affine?
HV: Milan is for sure the happy center of fashion in Europe, and it's very similar to New York in this way. They are both growing so fast, every time I come to Milan the urban environment is more energetic, exciting and prominent for fashion and culture.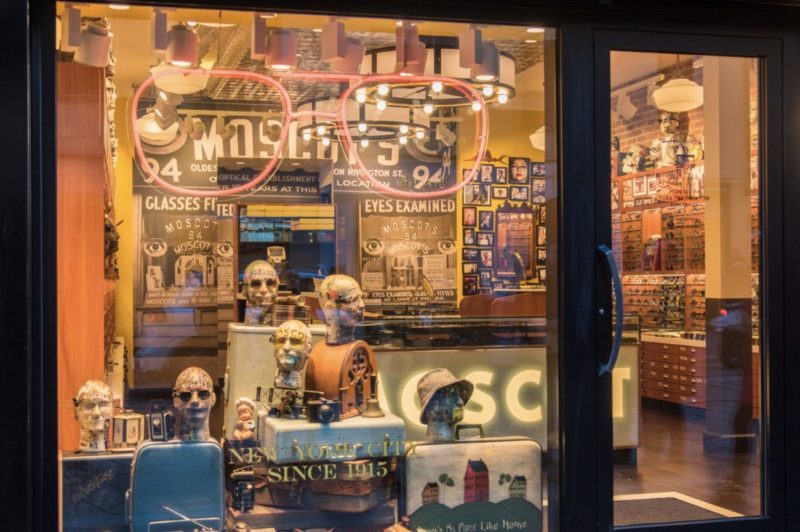 FC: Why did you choose Brera district for your new flagship store?
HV: It felt the most aligned with our beginning roots in New York City. Brera is a neighborhood that reaches art and culture likewise Orchard Street in Manhattan, which used to be affordable in the 60s and 70s and became home of all types of creative individuals, from musicians to authors, poets, to filmmakers, all coming to our shop.
FC: Indeed many are the stars of cinema and art world who fell in love with your glasses. Does it happen sometimes that some of them come to you asking for a bespoke frame, maybe for a special event?
HV: Yes it happed few times. We have done something customized for some chefs in New York, like Graham Elliot.
FC: Chefs are really turning in the most stylish people…
HV: So true! Many of our loyal costumers are chefs, Bruno Barbieri too. This makes us very proud as they have also a great style influence on their fans.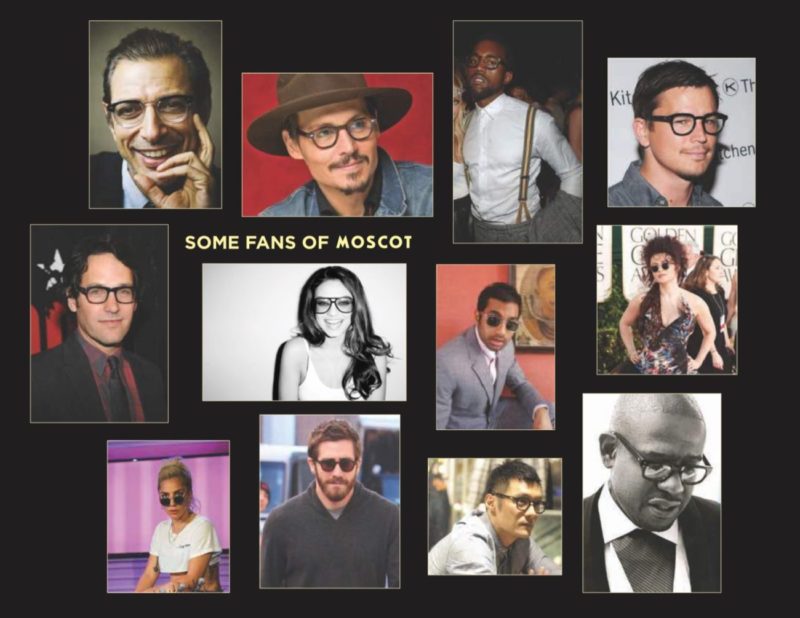 FC: With two degrees cum laude in Optometry, you are also a guitarist and a songwriter. Have you ever considered the music career?
HV: I've studied jazz guitar since I was a teenager, it's my passion. I love to write songs too, as my son Zack, but unfortunately I could never sing. So I realized I had to consider doing something different in my life. I've always loved helping people. The optical industry is actually a great merger of healthcare and fashion… One day, a very quiet day, I was playing my guitar in the shop and people started to come in. At the end of the day we had our final record and we usually play our vinyls in the shop at 6 o'clock.
FC: So here it is the Moscot music! How much is it important in your field to have a good balance of scientific and artistic talent?
HV: Very important! My background as an eye doctor is very important because a lot of what we do is eyewear prescriptions. So we understand the meaning of a well-made pair of glasses, how accurate, perfect is has to be. It is an art and a science.Today there are so many different options of prescriptions lenses, so we need to properly guide people in choosing the best frame to perform in everyday life. This also creates a durable bond with the client, since their face and eyes at 20s are different at 30s and 40s… and we can guide them through their changes. We also have different sizes of the same frame, which is very important and unusual for many fashion brands in this industry, so we can adopt the customer's favorite frame to his lenses. This is a great way to combine science with fashion.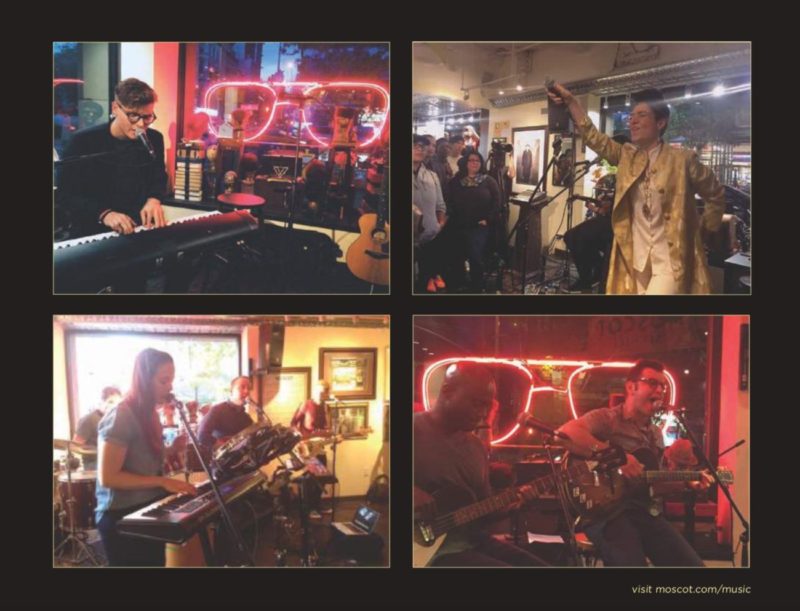 FC: Talking about helping people, I read about Moscot Mobileyes Foundation in New York. How does it operate in town?
HV: We started it in 2006 as a way to give something back to the city of New York, which gave us a lot. It was time to show citizens our appreciation. Well, it was 2006, I didn't have any grey hair then, and by that time there wasn't the Obamacare, so many people didn't have access to the healthcare. So it was a great chance for us to really help people by providing free quality medical eyecare and eyewear to underserved populations. It is near and dear to my heart. You know, when people pay for your service they just say "thank you", but when you help them for free they are truly grateful, they hug you. This made all our team feel so good!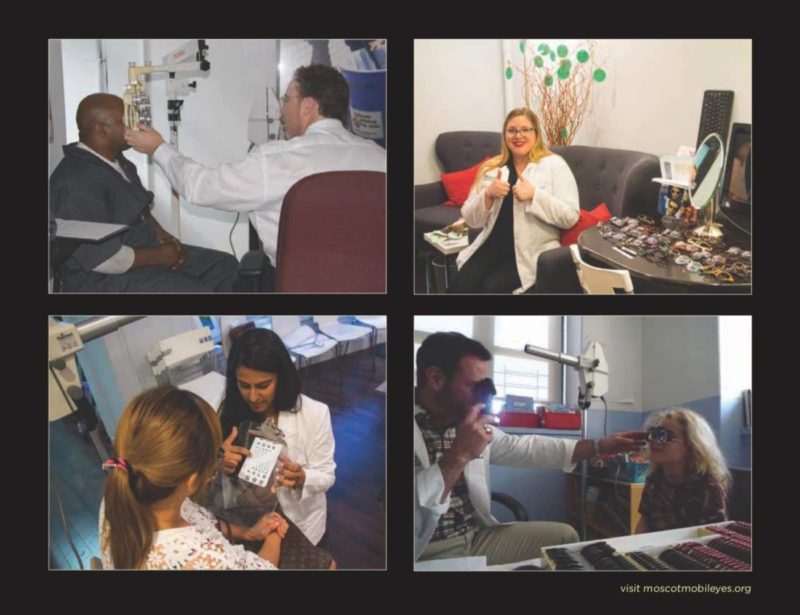 FC: What about the limited edition you created for the new store's opening?
HV: Zack, my son, which is the chief design officer, took our most iconic frame giving a fashion-forward twist to it. He took the Lemtosh combining it with crystals and a flat lens. We think Milanese will like this new combination. I am wearing them now even if they are sunglasses.
FC: So it is based on your most iconic, or put it better, CLASSICONIC frame?
HV: Very good! Bravo!! Classiconic is the word!
FC: Was Moscot born in 1915, right?
HV: Actually the father of my grandfather came to New York, speaking no English, in 1899. My grandfather, a great man who I worked with, and his father were opticians. It all started in the Lower East side, we had here our first shop since 1915, but then they put down the whole building so we moved on the other side of the road. Then we opened other shops around the city. Have you ever been to New York?
FC: Unfortunately just one time, in 2012
HV: You should go again, it changed a lot!
FC: I will! Well, you've grown a lot since your great-grandfather first set foot in New York… you've opened shops in Paris, London, Tokyo, Seoul, Rome and now finally in Milan! Is today the eyewear more or less important in fashion industry compared to previous Moscot's decades?
HV: Now eyewear has been accepted as a fashion accessory since the past 5 to 8 years, in America and Europe too. It moved from a medical device to a legitimized fashion object. People now have more than one pair of glasses, as they have multiple ties, scarves and shoes. Also, we used to have more male costumers, but now we conquered women too. They like, even prefer, male frames, as they make them feel confidence and bold.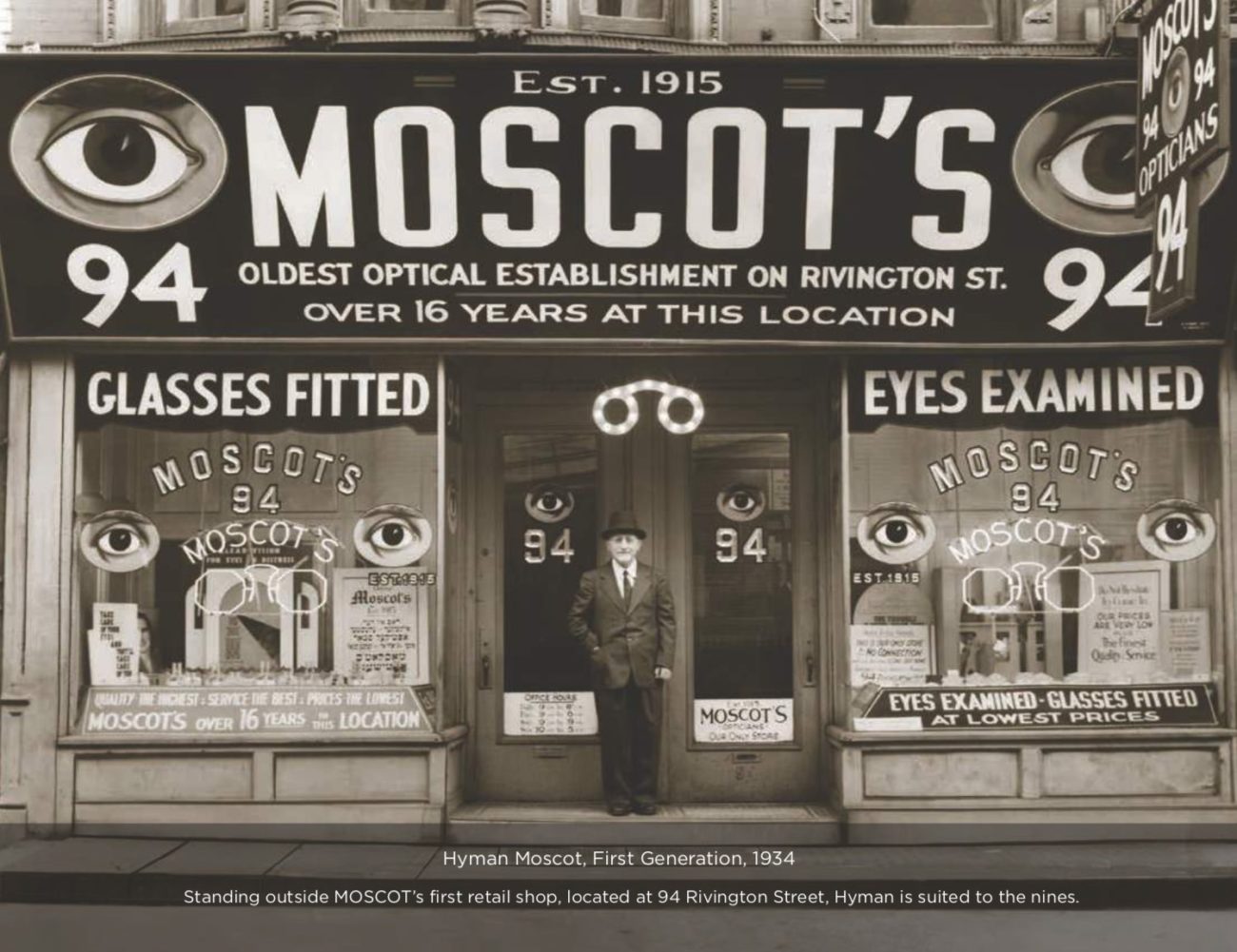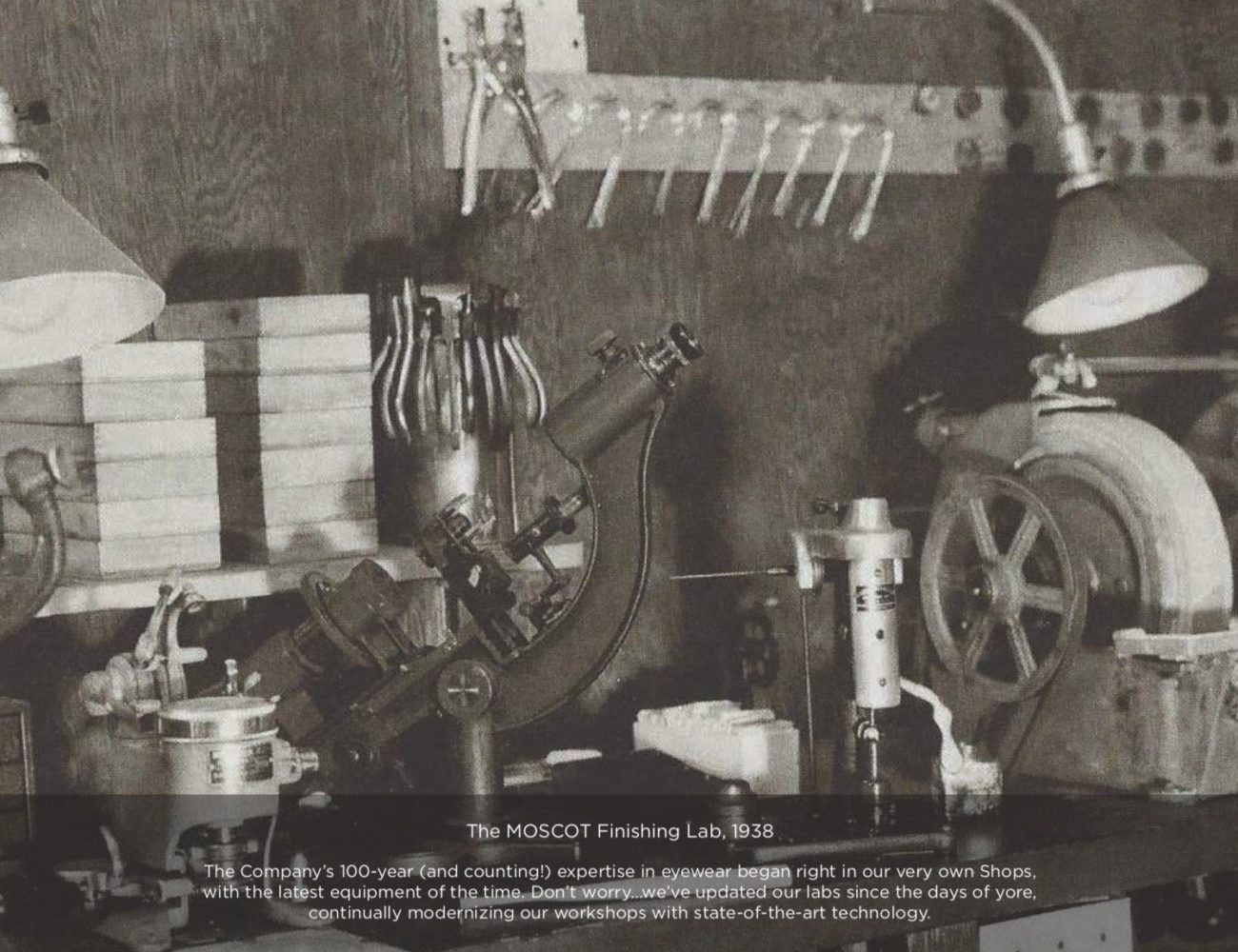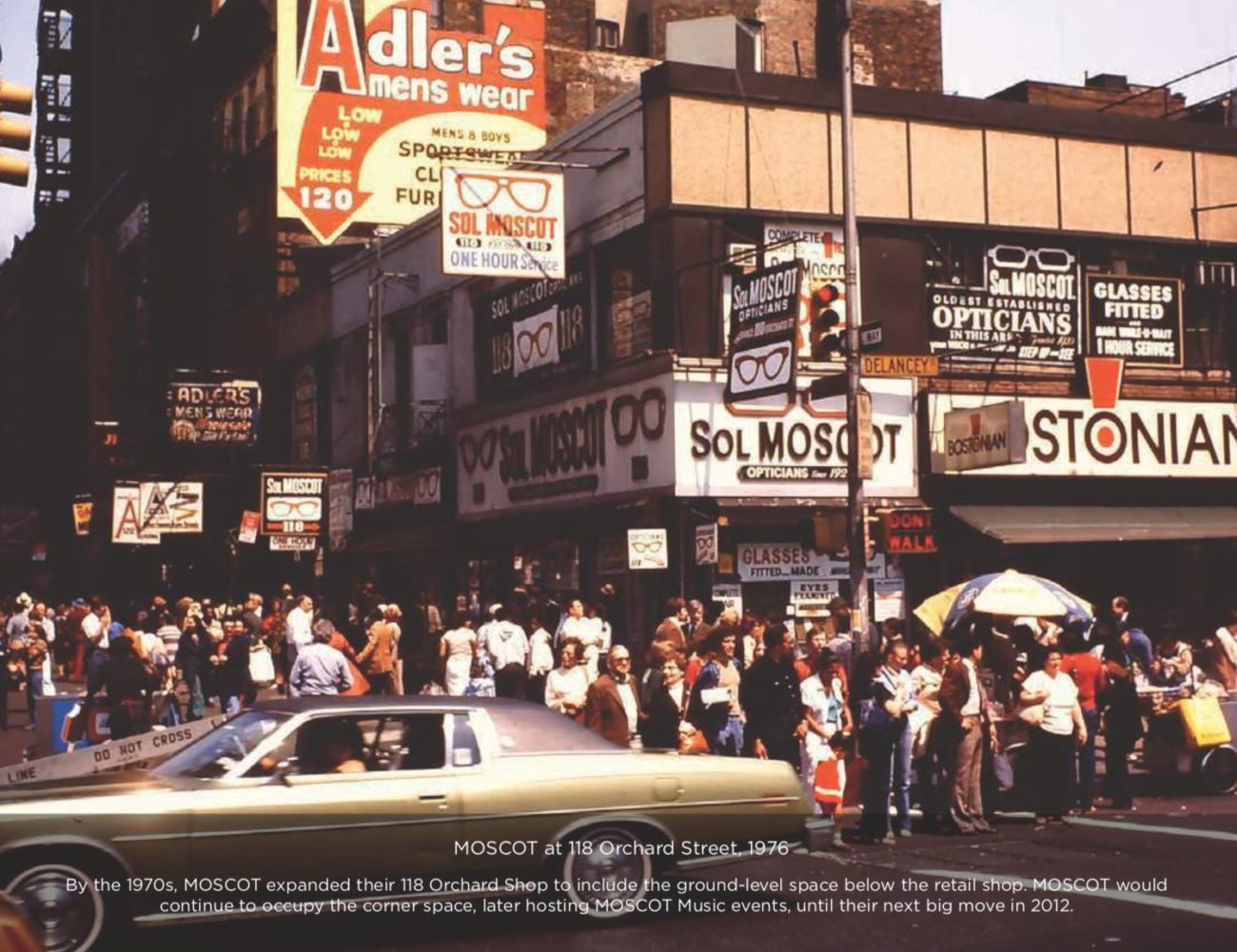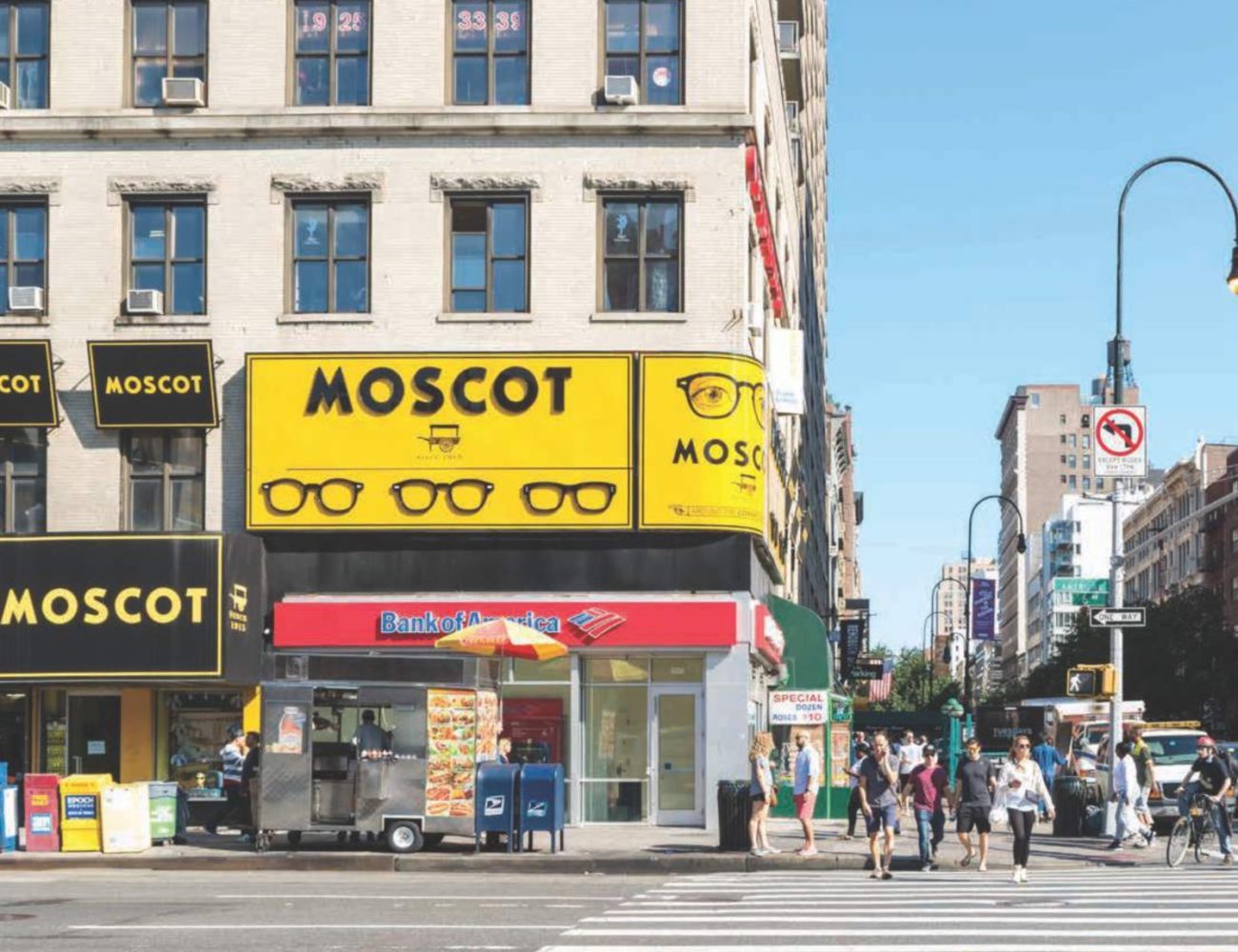 Moscot_eyewear_history_New York_flagship store
Moscot_eyewear_history_New York_flagship store
Moscot_eyewear_history_New York_flagship store
Moscot_eyewear_history_New York_flagship store
FC: The fact that your son, Zack, is the first of the Moscot's men to be also a product designer is bringing a relevant impact on your brand's millennial evolution?
HV: Tremendous. He is the whole force behind the digital, which is crucial today. He's almost 30 and can reach young generations. He's also having twins two girls! So Moscot will have its first female CEOs soon!
FC: Wow congratulations! They will be the coolest Moscot ladies!
So what do you love the most about Milan?
HV: Milan has been changing a lot since the Expo, I love its energy, and the Italian culture in general. The architecture, the arts, the food… But you know what I like the most? The Negroni!
FC: Fair enough! Do you think that artisanal values are important for the brand's long lasting identity?
HV: This is something we put a lot of attention into, the way we manufacture our products is fundamental. We make functional what is usually just decorative. Our clients need to feel the quality. Our glass are strong, thick and sustainable, you can have this frame for 7 years and it won't break.