Vibrant pops of colour and neutral-tones inspired by natural landscapes materialise fluid touchpoints. The result? Beautiful lightness.
The earthly backdrop of burnt sienna and sandy fawn hues that burst forth from the latest Nanushka Resort collection are surprising nods to nature—specifically, various extraordinary offerings embody the beauty of imperfection (a hand-woven number with crater-like textures; the saline grey surface of River Danube in Hungary) that register far rarer than basic beige. To be clear, creative director Sandra Sandor sublimated these chromatic anomalies—so much that the cascades of fringes from the new-season bags in the accessories grouping of ensembles were specially abridged to achieve poised ease. But the effect wouldn't be nearly as riveting without the secondary influence of its added sculptural touchpoints like those of the Fringe tote, an artfully woven from natural raffia and adorned with tassels across the base, which makes it a marvel applied to the material that gives it a structural finish. While Sandor wasn't aiming for theatricality—rather, for utmost buoyancy—her cinched forms and cosy-styled pieces could have been screenshots from a sweetly ragged, metropolitan fashion story from the past.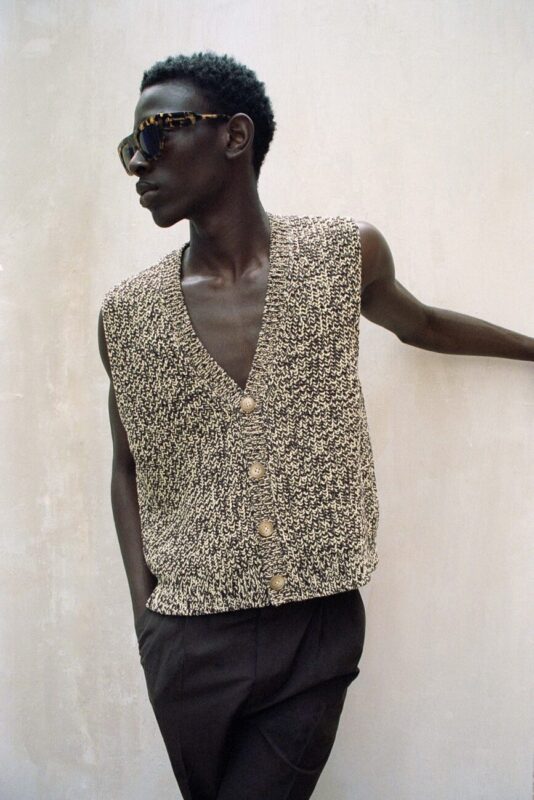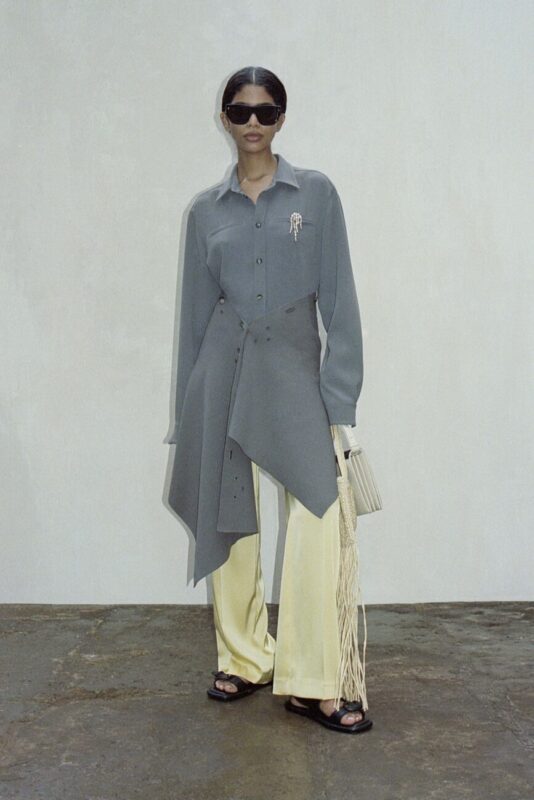 Indeed, Sandor's studies in London teamed with her penchant for the Bauhaus movement have consistently helped her conceive dimensional silhouettes—see the newly realised embellishments such as crochet stitching and the embroidery featured throughout the accessories range, strengthening the recurring theme of aesthetic practicality—so her exploration of flow felt noticeably lighter and fresh this season. Likewise the recognisable colour-blocked, polished looks in modern technical fabrics combined with knits to form classic silhouettes, whilst lightweight satin variations are juxtaposed with alternatives to animal skins such a snake, cowhide and pony. Vibrant pops of colour and neutral-tones inspired by natural landscapes materialise in both loose and form-fitting designs, as layering remains an intentional styling expression. For a label that positions itself as "aesthetically functionable" (showcasing as part of Budapest Central European Fashion Week's Spring/Summer 2023 lineup this September—the key network for emerging designers keen to suffuse their collections across central Europe and globally) these registered as valid entry points, and the use of panelind and asymmetric necklines would be as ideal for an art trip as a corporate setting.
As for the eyewear collection, which Sandor suggested is noticeably different to convey fluidity, serves as a natural extension of the season's take on gender neutrality. A final shout-out goes to those finely-crafted menswear gilets, gently volumised, easily among the irresistible hybrids of the season so far.