A dazzling wave of new faces show what's next in fashion
Words Gianmarco Gronchi
Sometimes we look at runway shows and we feel like we have already seen everything. A sense of boring sameness catch us, and we would run away to uncharted paths. But real breakthroughs need time to spread, and we have to wait for them. We are pretty sure that designers who will shape fashion in the next future are still at work nowadays, but if you're not fashionistas, you probably won't see them on the cover of the magazine, or on your Instagram feed neither. Nontheless, they're here, and we have to look at them now, if we want to know what will be flashy and sexy on fashion world. Between physical and digital, sartorial attitude and Internet aesthetics, upcycling and high fashion, a new generation of fashion designer is arising. If fashion can really face the issues of a terrifying contemporary world – climate changes, social justice, gender gap and so on – all of us should pay attention to new fashion designers. Their voices could be the means to give substance to our thoughts. Their creations could be the aesthetic key to better understand what's going on around us and, as a consequence, to better understand ourselves.
Sofia Masciotta
Among the many repetitive and falsely provocative collections, it was the collection of the young Sofia Masciotta that shone during the eighth edition of Milano Moda Graduate. The brilliant student from the Costume & Moda Accademy was in fact awarded with the Camera Nazionale della Moda Italiana Fashion Award by a prestigious jury, which included, among others, Carlo Capasa, Renzo Rosso and Suzy Menkes. Her collection was inspired by the increasing population of jelly fish in the oceans, as a consequence of global warming. She researched on biomaterials, in order to create a totally water soluble fabric collection, with minimal raw material costs. The Fashion Award winner has proved that it is indeed possible to make groundbreaking creations combining careful aesthetic design research with a clear social statement. Impalpable materials mould the bodies in a sequence of flounces and trainings, with an amazing attention to tailoring. A romantic vision that has its roots something in between Dior's New Look and Alexander McQueen's sartorial dreams.
Edoardo Gallorini
There are two keywords to describe Vanity Cocktail collection by Edoardo Gallorini: glamour and seduction. For the Spring-Summer 2023 Gallorini has been inspired by Emmanuelle, a cult erotic movie from the 1970s, which perfectly epitomize the brand motto "L'erotica noia borghese" (Erotic bourgeois boredom). A whole cinematic aesthetic, which pays its homage to alienating atmospheres and cursed loves of Antonioni and Pasolini, is used to create collection of jackets, shirts and kaftans in ultra-light silk, which glide over the female body shapes, fuelling desires and perversions. The gown-kimono is a key piece of the collection and is enriched by handmade prints with figurative luxury tea room and exotic gardens motifs. At first glance, this collection looks demodé, but is able to adapt a feeling of decadent, baroque romanticism to modern times. Gallorini pays attention to fabrics too. in fact, most of the fabrics utilized come from warehouse leftlovers and they are certified by Maeba International, to guarantee recovery and traceability. Moreover, the whole manufacturing process is developed between Veneto and Como, enhancing craftsmanship and Italian local labor.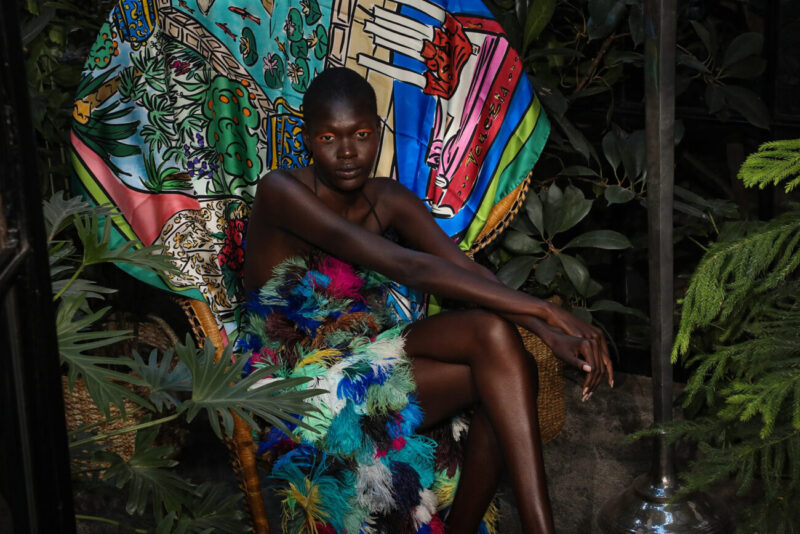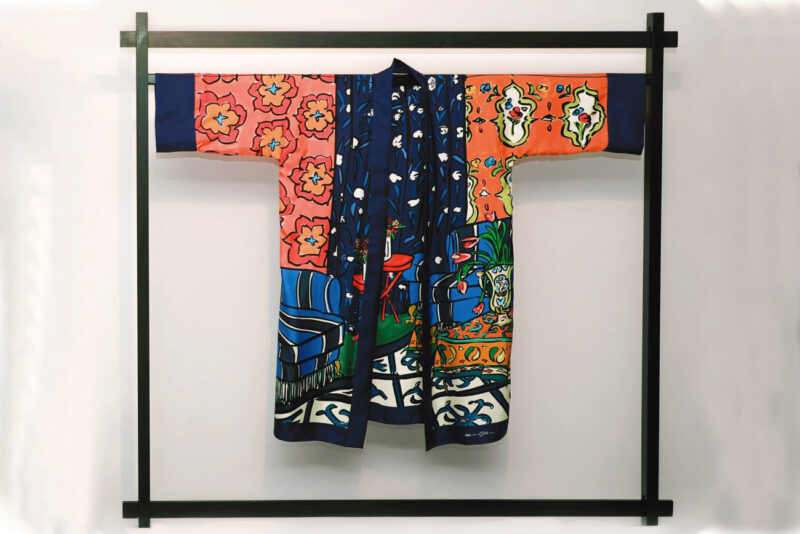 A Better Mistake
At its debut on Milan fashion Week calendar, A Better Mistake show its Spring-Summer 2023 collection, that aims to mix art, fashion and experimental music. Born during the Covid lockdown, A Better Mistake takes inspiration from cyberpunk and Internet visual universe, but it wants to have a real impact on consumers' real life. In fact, the collection show several collaboration with international visual artists. The Drop collaboration is realised in partnership with artist Kushlet and it's part of the drops see-now-buy-now. Eternal and Hero prints, instead, have been created by the New York based artist Running File, while the Gate one has been developed in collaboration with Milanese artist Ultra Creature and it has been used also for the Modular earrings. This Summer collection is characterised also by the launch of the project Artist Collection, conceived for collaboration on show pieces. The brand wants to break down barriers between creative disciplines and its experimental attitude is confirmed by the presentation they set up. Far away from static and regular model type, the presentation was not a mere showcase of clothes, but a performance with dancers from La Scala theater in Milan, voguing and rave scene. Dancers were wearing pieces from the new collection while performing on the sound by two Berlin based DJs, Alva and Raven. The installation "Alter Dimensions" explores and develops different f0rm of artificial space, on an creative dimension suspended between digital, physical and metaverse.
Durazzi Milano
With her sophomore collection, Ilenia Durazzi, founder and creative director of Durazzi Milano, demonstrates that attention to details always pays off. Born in 1988, she worked for Maison Martin Margiela and Nicolas Ghesquière at Balenciaga. Her style is rigorous and minimalist, looking more to modernist architecture and design than to fashion history. Durazzi Milano chooses the path of architectural cleanliness, of studied geometries, of a calibrated elegance that is eye-catching in its simplicity. The Sirens collection is a triumph of intersecting lines and volumes, for a modern and never boring minimalism. But Ilenia Durazzi seems well aware that today even formal rigour cannot be divorced from comfort. In fact, the silhouettes are precise but never rigid and sometimes break out in the lightness of linen or organza: a perfect match between elegance and functionalism. Perhaps it is no coincidence that Ilenia Durazzi's work harks back to one of her greatest passions, namely her love of horses and horse riding. Leather boots and accessories thus refer to a horseriding outfit that might have been born from the clash between Oscar Niemeyer and a English polo player from the 1940s. A simple, decisive and, also, brave vision that cannot fail to convince with its clear aesthetics.
Avavav
Some months ago, she broke social medias with his unisex Monsters shoes. Now, Beate Karlsson and her Florence-based brand Avavav has landed on Milan fashion scene. And Avavav debut on the catwalk couldn't be nothing but spectacular and provocative. Maxi mammoth-paws alike boots or footwear made from industrial rubber sheets matched by supersticky bodysuits with acidulous colours and appliqué glitter for a collection that wanted to question the general idea about richness. The young fashion designer forces her audience to provocatively confront the will that anyone, tacitly or not, has to appear. The collection is an exaggeration of the idea of kitsch, an bombing attack on good taste that deliberately chooses to flaunt, consequently mocking the stereotypes of the fashion world. The Y2K aesthetic becomes the metronome that marks the rhythms of fashion and separates what is socially accepted from what is not, what is fashionable and what is outdated. In a ruthless and ironic metanarrative of fashion, Avavav presents hoodies and tees with the slogan "cash cow" printed on in, but also bootlegs where the logos of brands such as Fendi, Louis Vuitton, Gucci and Dior merge with the labels "AV" logo. There is also a necklace made with three Rolex watches: the forbidden dream of so many swaggy fuccbois. The fashion show also held big surprises, with models falling on the runway. A powerful metaphor for the self-seriousness of the fashion world, so unresponsive to error and, often, so grotesquely ridiculous.