In a new encounter between art-design and fashion, Dries Van Noten menswear collection is inspired by the 1960s design icon Verner Panton.
Text by: Fiammetta Cesana
Showing a fresh and colourful male wardrobe, Panton's unique prints explodes over Parisian runways with the Belgian creator, 50 years later the launch of the Panton chair.
Who was Verner Panton?
During the age of cultural revolution and interdisciplinary studies, the Danish architect and designer Verner Panton promoted an aesthetic transformation of the interiors. After his studies at Royal Danish Academy of Fine Arts in Copenhagen, in 1955 he founded his independent studio, becoming one of the most visionary designers of the time. His extensive use of bright colours and geometric patterns explored a close relation between all the spacial elements: from furnishing, ceilings, walls, to textiles and lights.
This year marks the 50th anniversary of the iconic Panton chair, produced by Vitra. Presented in 1968 at Cologne Furniture Fair, the "S" mono-block chair is offered in a variety of Panton tones, enhancing the psychedelic style of its creator.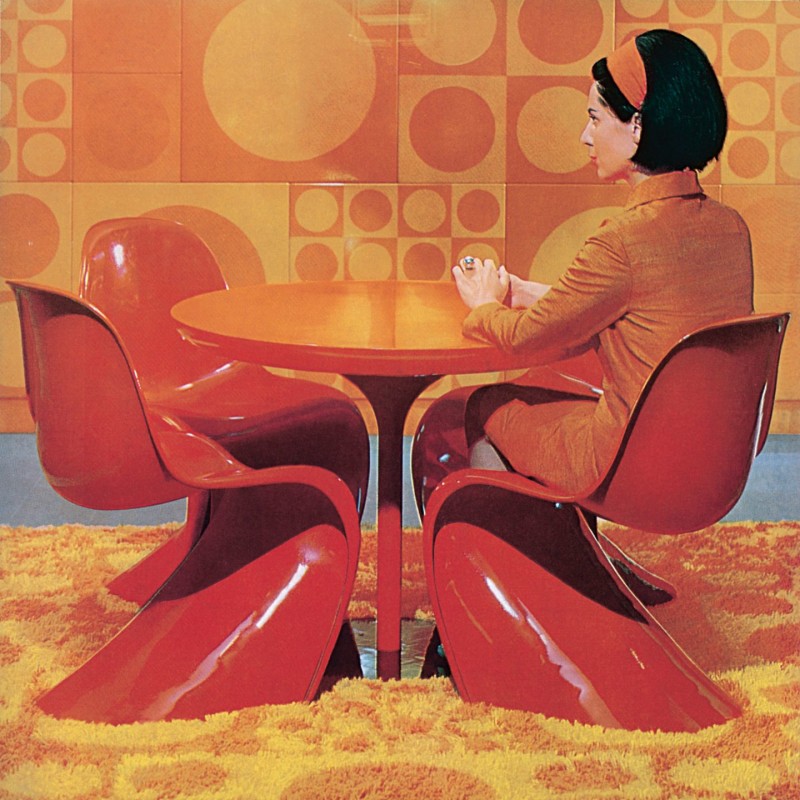 How does Dries Van Noten celebrate Panton's creations?
"Optimistic", the SS19 menswear by Dries Van Noten, comes from the fusion between transformational clothes and the intensity of Panton's colours, giving Paris a real catwalk of art.
Textile and shapes
Contemporary shapes are based on the sportswear concept, offering soft, masculine silhouettes and simple cuts. Even the materials, from stiff cotton, linen, nylon, to the "Bum-Bags" in pony skin and raffia sandals, get aligned with the elegant yet practical spirit, leaving the center of the scene to Panton colours.
Colours and prints
All the magic of this collection comes out of the prints, where a dazzling colour palette paints the show. From cubic, wavy and retro prints, to those picturing body's parts – such as Verner's hand and his wife's eye – Panton's works take a new life in Dries Van Noten's dresses, turning up as an electric rainbow performance.
The high saturation of emerald, blue, red, orange, yellow, ink, cocoa, brings back to our mind the Visiona events curated by Panton in 1960s-70s. In those occasions, the designer creates immersive colourful installations in a space-like-centre, in order to introduce the public to new visions of architecture, design technologies, and innovative fabrics. Any colour combination was established according to the human psychological perception of it.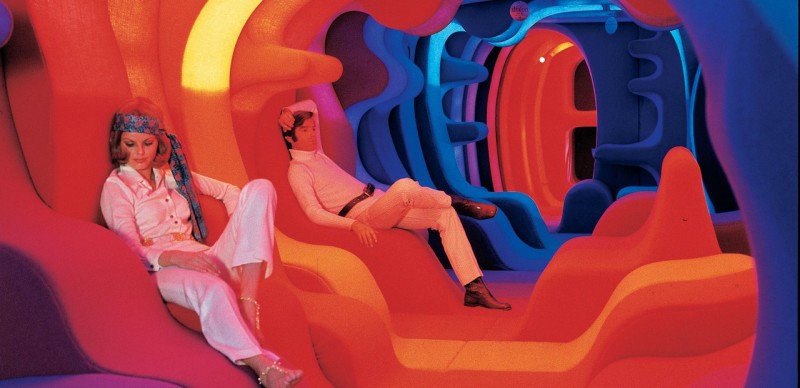 Dries Van Noten was not the only one celebrating Panton's 50th anniversary…
Prada men's SS19 runway pays tribute to the designer enacting an intergalactic space with Panton's inflatable stools. Called the "Cartesian Space", the show enhances Verner's focus on how lights influence the surrounding space, by using these transparent cube-shaped seats to create a profusion of lights and colours.