BARBARA KRUGER'S AND DIOR'S PROVOCATIVE BIG WRITTEN WORDS SHOW THE IMPORTANCE OF TODAY'S IMMEDIACY AND REBELLIOUS SPIRIT OF THE PAST
Text by: Fiammetta Cesana
The accurate choice of strong key words has always been at the core of most of social and political actions. Historically, slogans and signs are with no doubt the bench mark of any manifestation, strike, protest and occupation worth its salt. Modern times have discovered the power of public influence and aggregation of these means not only by carrying them on posters to the streets and reciting their pressing verses over and over again, but even by setting them within the walls – as well as the floors – of exhibition spaces. The result is that impactful collections of words, questioning exciting systems and urging the change, turn into real forms of art.
On the other side, fashion industry's protagonists have also made their creations as platform of direct social messages by printing straight-to-the-point statements on clothes, from t-shirts to embroidered jackets and pants till designing entire collections covered up with massive bold words.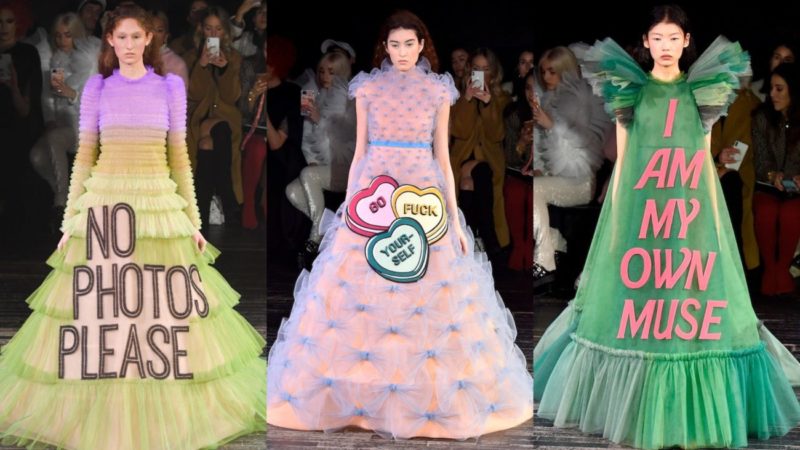 Then, "mottos", thanks to the intrinsic immediacy of their communication approach, seem to be increasingly integral part of our ultra fast-paced reality, where private and public relations are based on the accessibility of digital interconnection. One of the most loved Instagram profiles worldwide is indeed @dudewithsign, with more than 5 millions followers, managed by an American boy who articulates his feed by being immortalized around the city raising written messages on a billboard that hit conscience with irony on popular cultural matters.
In a world where politicians, opinion leaders, activists, artists, professors, and anyone who wishes to express themselves publicly, are called to translate their thoughts in 280-character limit, where there is no time to read long speeches or follow too articulated debates, the concise and easy-consumable nature of slogans is evidently dominating contemporary forms of global language. So today we want to see how the work of two great cultural producers, responsible for shaping our collective visual imagery and refined aesthetic conscience, is giving slogans new meanings and functions. The graphic designer and art director Barbara Kruger and Maria Grazia Chiuri, Maison Dior's creative director, indeed, offer us two significant examples of the contemporary evolution of big and illuminated signs' implement in art and fashion respectively.
Over the 80s Barbara Kruger introduced the use of photographic collages – silkscreen on vinyl – accompanied by social and political statements into the mainstream art scenario. Still today the graphic artist's act of juxtaposing black and white photographs, collected from old books and journals, with white scripts on red colored background, are totally iconic and contemporary. As evidence of Kruger's timeless popularity, her "talking" collages closely resemble the most used type of graphics provided by our favorite social media's functionalities. Building an Instagram's 24h story indeed, we are offered, between the main options, to post a picture by sticking over it a multi-sizes caption with "strong" font on a colored background – which is actually very Kruger-ish!
Also the logo of the 90s brand Supreme visibly looks like to her composition of colors and font; however when the American artist was asked what she thought about this suspicious similarity she acted indulgent declaring "I don't own a font".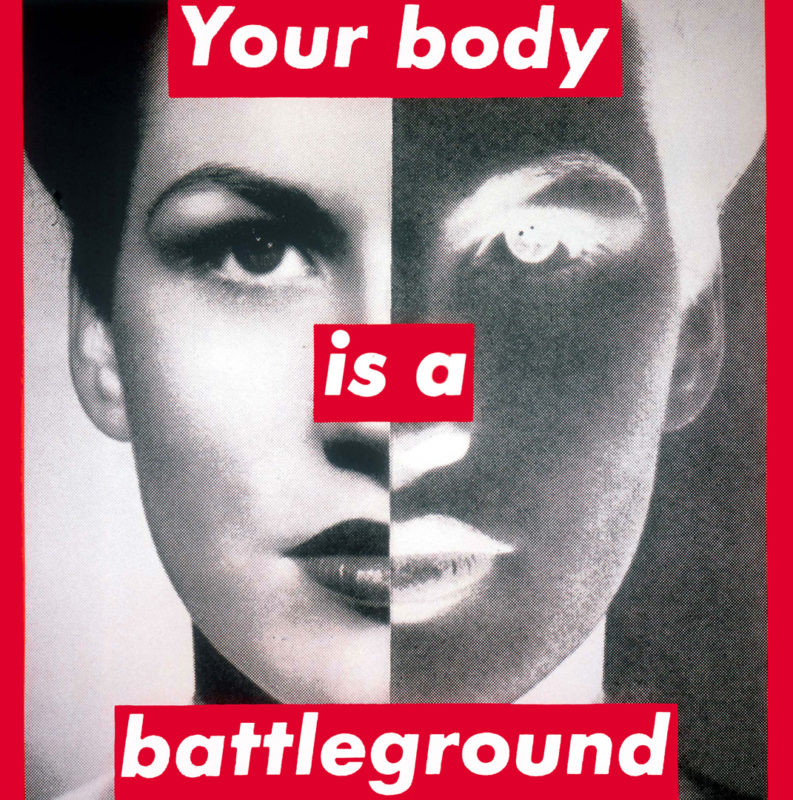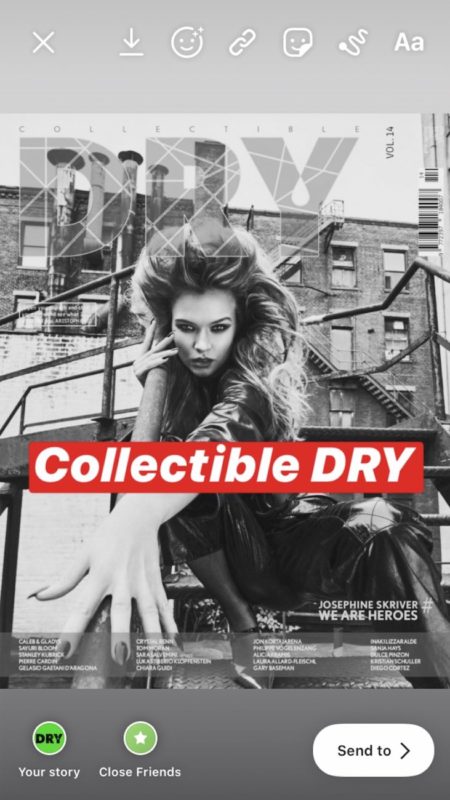 Her signature red white and black letterings have been covering, since 2012, the Lower Level Lobby of Hirshhorn Museum and Sculpture Garden in Washington DC, by screaming questions and doubts on society all over walls, floors, ceilings and escalators too. The entire museum's room has been transformed in a site-specific artwork, called "Belief+Doubt", where Kruger uses the outspoken message of her words to install doubt in everything that we take for granted. Moving around this loudly speaking room, like finding ourselves immersed in the discontent of an angry crowd manifesting to the streets, we are asked to question controversial hierarchy of power – "WHO IS BEYOND THE LAW? WHO IS FREE TO CHOOSE? WHO SPEAKS? WHO IS SILENT?" – and the vicious circle of consumption – "YOU WANT IT. YOU BUY IT. YOU FORGET IT."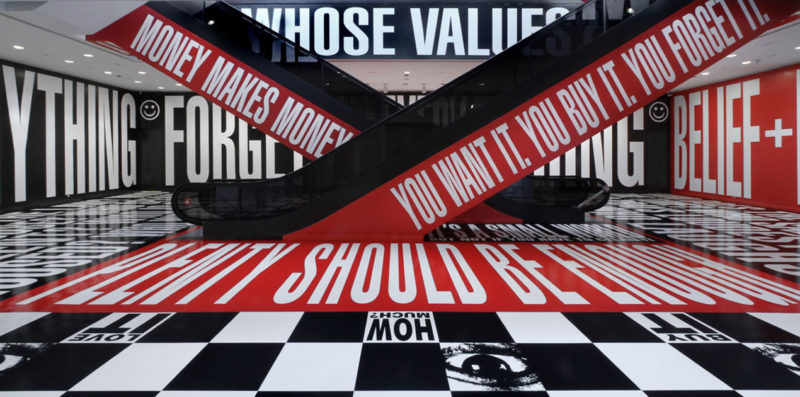 Adopting a similar approach, underling the performative use of language as shake-up and motivational public input, Maria Grazia Chiuri chose to collaborate with the collective artist Claire Fountain by hosting Dior's last Parisian fashion show within a stadium-like installation with big feminist slogans. Inside the Jardin des Tuileries, the location, exclusively built for the show, became home of the works of Claire Fontaine: illuminated signs aimed to highlight the contradictions of society in relation to gender equality. Sharing the same passion and commitment to self-supporting feminism's objectives, the maison's creative director and the collective transformed the fashion show into a journey through the history of woman's emancipation. Each suspending phrase indeed refers to a particular feminist slogans. "I SAY I" comes from the 1971 manifesto by the Italian Carla Lonzi (and also the title of an exhibition about women supported by Dior scheduled on March at National Gallery of Modern Art in Rome), "WE ARE ALL CLITORIDEAN WOMEN" is a statement used by the collective artist to claim that women's pleasure has not necessarily be connected with reproduction, "CONSENT" as a flashy traffic light acts as both an imperative and a question, "PATRIARCHY = CO2 PATRIARCHY = CLIMATE EMERGENCY" insists on the harmful way of producing without defending life on Earth…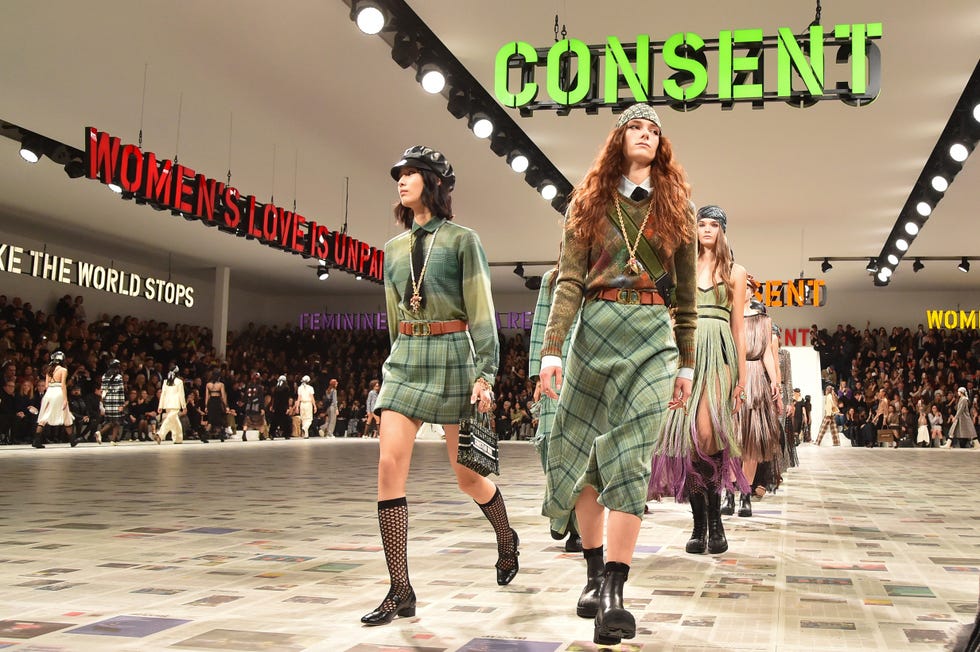 These unflinching banners of words, contrary to Kurger's ones, do not stand by themselves as work of art but closely interact with the show by materializing the emotional charge behind the brand's creations, gathering spectators in a peaceful and poetic moment screaming against a male-driven system. However, like in "Belief+Doubt" installation, the overwhelming power of written thoughts is not less sharp than a traditional protest, but it breaks up boundaries by relentlessly invading the entire space – as a homage to the 1949 photograph of Henri Matisse by Robert Capa, indeed the models catwalk on an eloquent runway as a new version of Claire Fontaine work "Newsfloor", where pages from the French journal "Le Monde" are glued on the floor.
Dior's fall winter 2020 collection enhanced a new function of exhibiting cultural claims. Instead of printing words on garments or turning them into accessories or decorative applications, Chiuri used the lettering the other way round. Feminist slogans indeed are no longer a message transmitted through the clothes but they became the actual speaker-container of the fashion's product.
In a time in which virtual constructions dominate our intellectual and social understanding, slogans seem the best way to reach to people's conscience. However, in order to accomplish a real change, we need to get concrete achievements out of digital communications. Kruger's and Chiuri's use of words as a site-specific artwork and a fashion's box combines today's necessity of a clear, no-frills message with the materiality of their huge colored presence, brining us back to the authentic spirit of past revolutions.