Embroidery as a sacred and ancestral gesture, eternalized through the constant dialogue between ancient myth and contemporary art. Sylvio Giardina's new collection exhibited at Palazzo Farnese.
Words: MARCO NICOSIA
Ancient myth, refined embroideries, performative art and fashion merge together in the site specific event /gal-le-rì-a/, on the occasion of Sylvio Giardina's SS23 haute couture collection show. Curated by Alessio de'Navasques, /gal-le-rì-a/ winds through the sumptuous halls of Palazzo Farnese, the Roman seat of the French Embassy.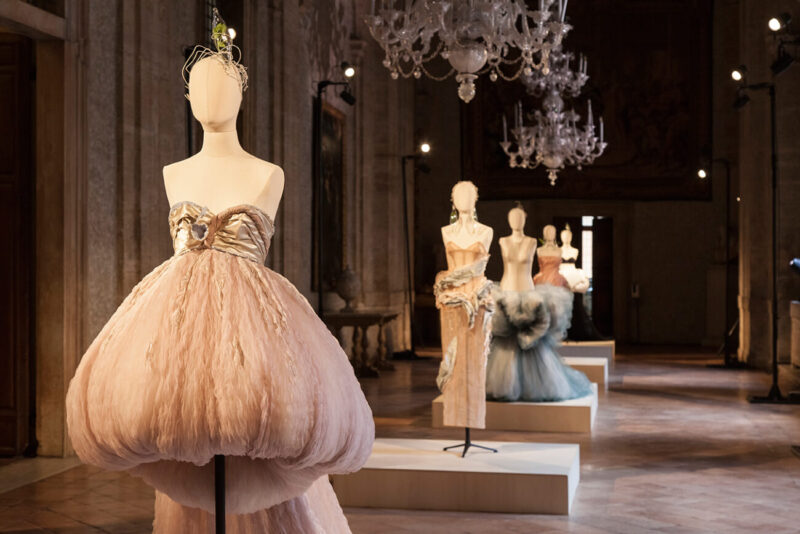 Giardina bravely underlines his roots, deeply anchored in the past, while creating an exclusive and experimental collection, expanded through visual art. The audience is welcomed into the Ercole Farnese Hall, where it can immediately feel the sacredness of the embroidery. The space — surrounded at 360o by aquatic and metallic sounds of Filippo Temperini — is dominated by a high loom, suspended like a spiderweb between the floor and the coffered ceiling, whose geometries then dissolve in the crystals painstakingly hand-sewn by two young students from Accademia Koefia.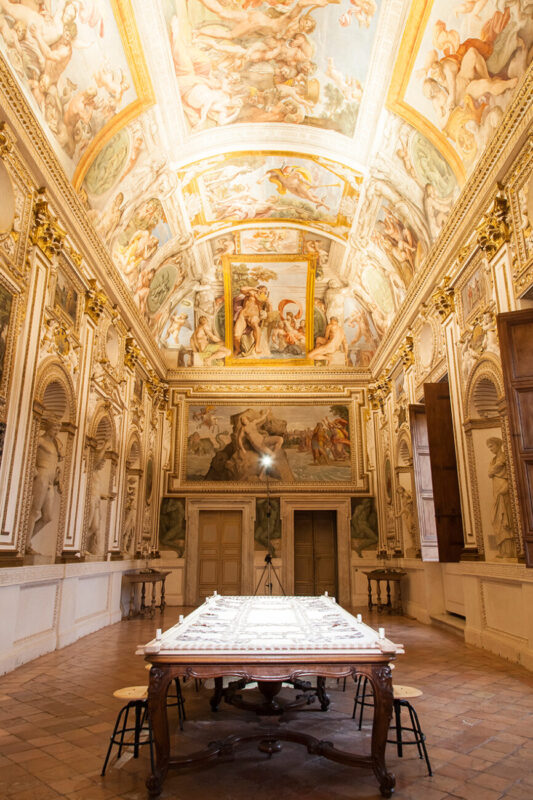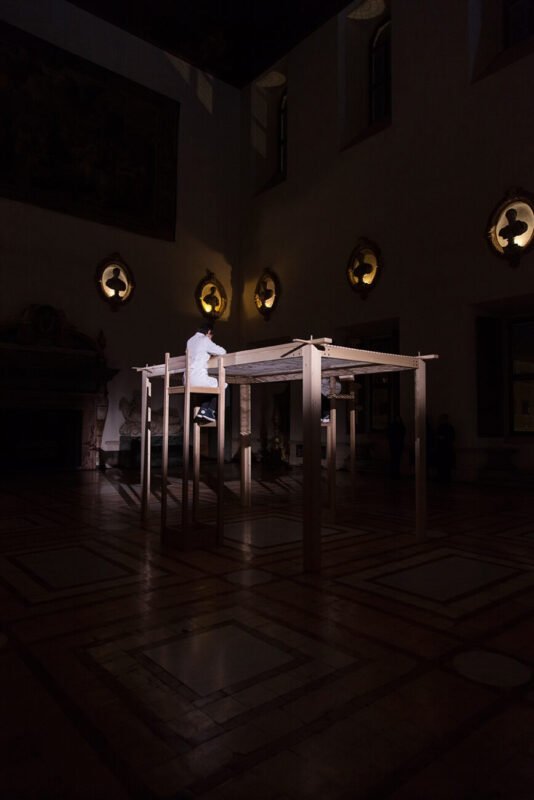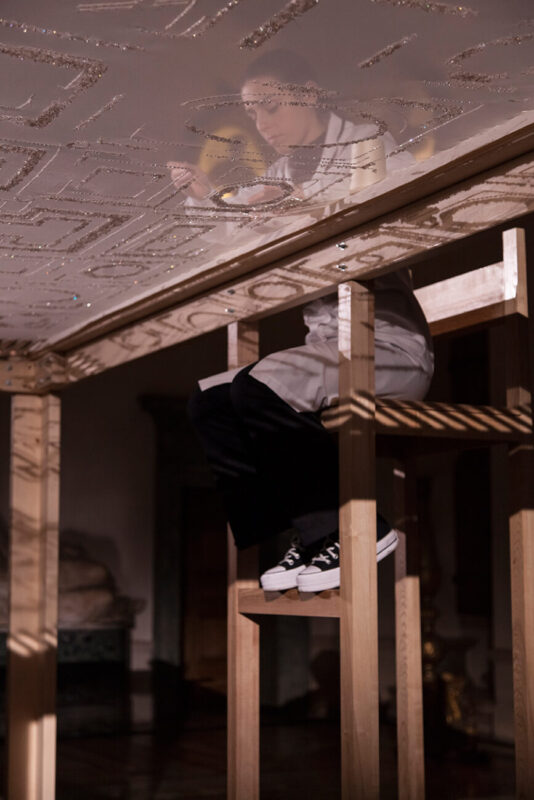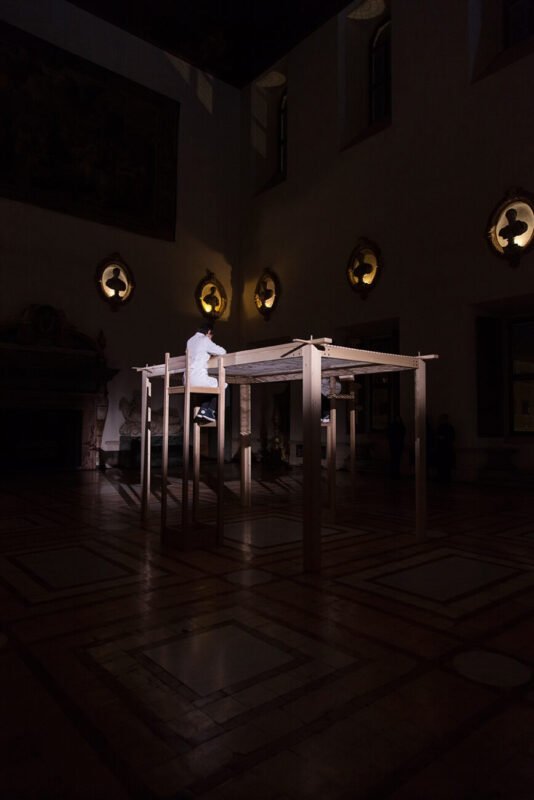 The Murano Gallery, with its towering pink chandeliers, hosts the heart of the event in the long corridor. The six dresses from Giardina's collection — displayed one after the other as in a gala, conveying haute couture's solemnity — evoke the natural and airy element through soft colors, nebulous shapes, unexpected contrasts between black and white. The harmony between fashion and nature is crowned by face accessories, which keep the large ampoules containing plants, suspended like drops of water. «Palazzo Farnese with its perfect proportions, expression of the intellect as the center of the universe in the humanist vision, provokes a reflection on the relationship with nature, a return to that universal dimension in which man is part of the cosmos and the biosphere» , states the curator de'Navasques.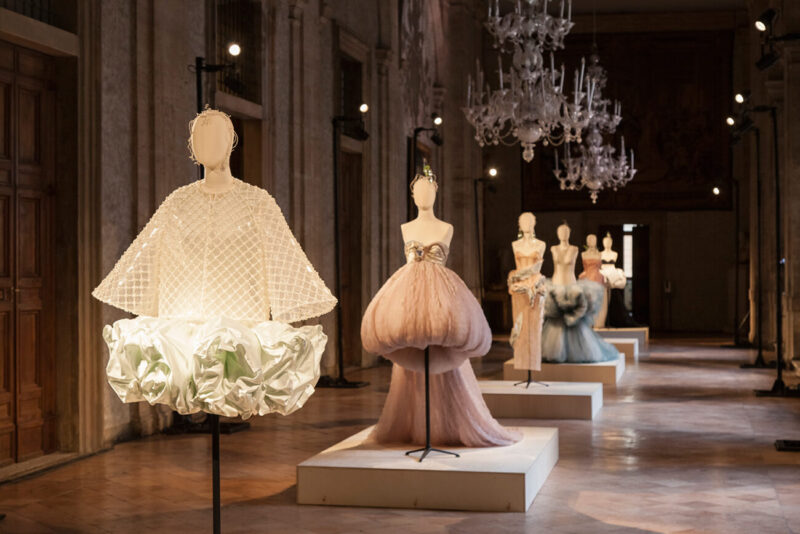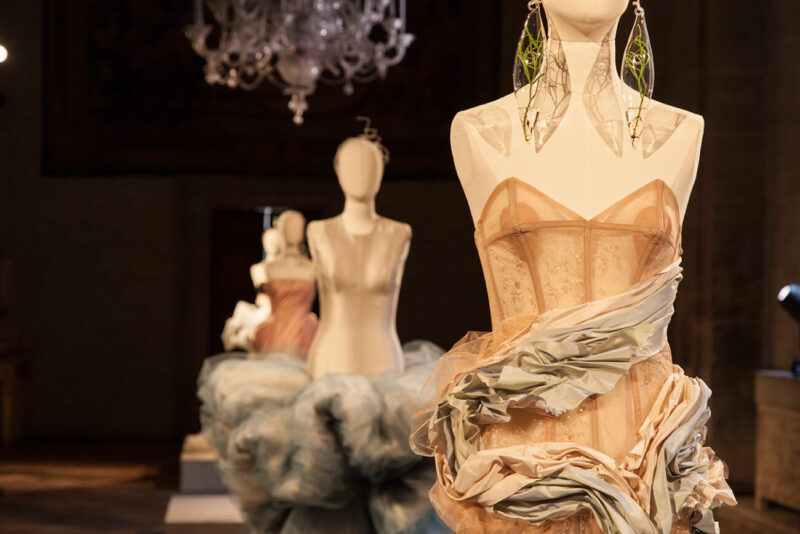 The itinerary ends in the Carracci's Gallery, where a more peaceful and fairy-tale atmosphere reigns. The famous vault — frescoed by Annibale Carracci at the end of the sixteenth century — reflects the Triumph of Bacchus and Ariadne in a large wedding cloth worked by the careful and delicate hands of eight embroiderers, alternating crystals, floral seeds and gold threads. The meta- narrative decoration is inspired by Catullo's Carme 64, in which the Latin poet's eye lingers on the wedding blanket of Peleus and Thetis.