Bouke de Vries and the paradox of celebrating the imperfection of a broken object: an exhibition in Milan
Text by: Fabrizio Meris
The practice of London-based Dutch-born artist Bouke de Vries perfectly reflects our time, feeding on the contemporary paradox of beauty: uniqueness and perfection wrapped in the aesthetic banalization of consumerism. His artistic vision stems from his experience as a ceramics conservator. The artist refutes the underlying western attitude that once something is
broken it is only fit to be discarded. Even those who take care of preserving works of art often choose to disguise the memory of the suffered trauma as much as possible. De Vries, on the contrary, considers himself closer to the Japanese tradition of repairing important objects so that the breakage is celebrated, rather than hidden. "I want to give these objects, which are regarded as valueless, a new story and move their history forwards," he has said. "A broken object can still be as beautiful as a perfect object," he adds, citing the Venus de Milo, armless but still venerated.
I met Bouke de Vries in Milan ahead of his new exhibition at Officine Saffi for an exclusive interview.
You started your career in London in 1985 straight from Central Saint Martin's School of Art working with John Galliano and later with Stephen Jones and Zandra Rhodes. What do you remember of the spirit of that time?

It was such an exciting time in London. I think it was the last time when everything was possible: you could always find somewhere to live and if you wanted a job, someone always knew of one. Nightlife was equally exciting, I remember going to Taboo every week, everyone dressed to great excess with Leigh Bowery at the centre of it all.
How do you think that spirit has changed?
I think it all changed with the economic success of London, the rise of property prices forcing people out of the centre of town and everything becoming much more competitive. Then in 1990 you switched careers and studied ceramics conservation and restoration at West Dean College.
When did you realize you wanted to share an artistic message through your own creations?
Almost ten years ago, I had come to a stage in my work as a restorer when I knew that I was pretty good at what I was doing. But I needed something else to challenge me and give an expression of myself.
Today who do you think is an interesting voice in British fashion?
It's been really good to see what Johnny Coca is doing at Mulberry, reinvigorating the label and giving it a fresh outlook. I was very fortunate to create a still life of English blue and white transfer wares for their s/s18 presentation and so my career has come full circle.
Five words to describe your work?
Beautiful, quiet, thoughtful, witty, subversive.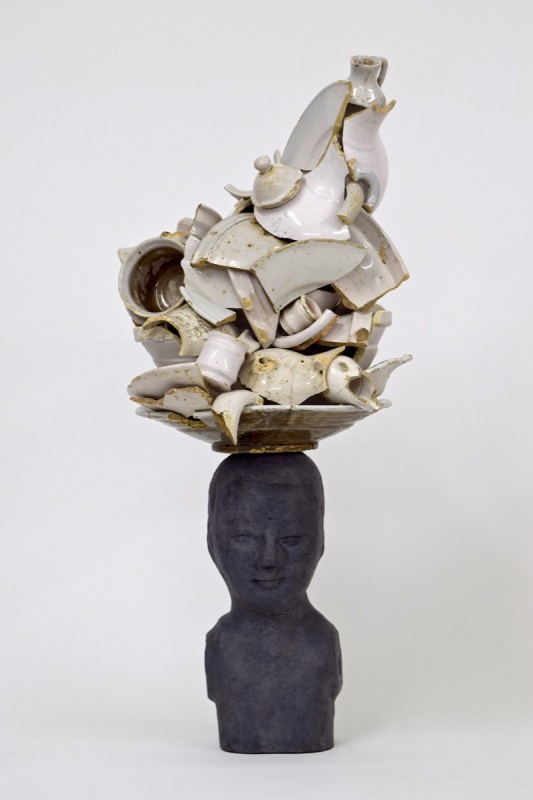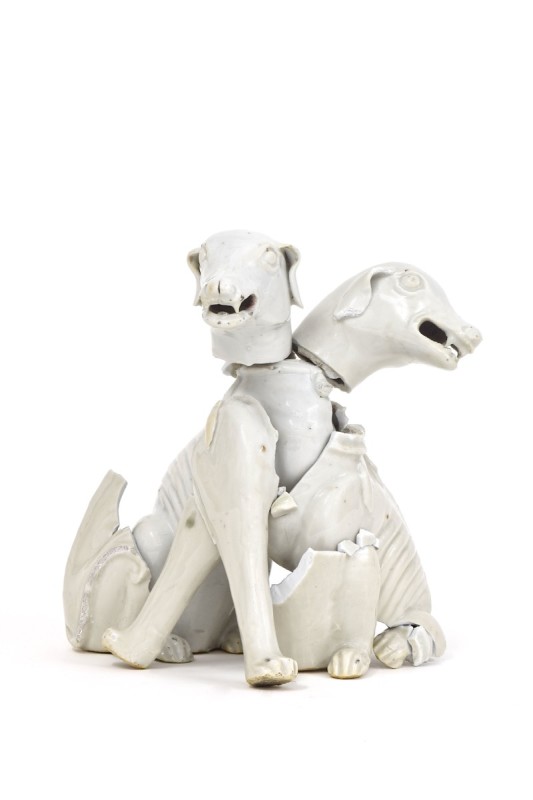 What is the driving idea behind your new exhibition in Milan titled "Sometimes I look east, sometimes I look west"?
China and Holland are the extreme poles of my narration. China has been the driving force in ceramic manufacture throughout history; and Holland became a world power in the 17th century via their trade with the east. Ceramics played a pivotal role in this, not only from China but also Dutch Delftware, a lot of which was in fact inspired by Chinese porcelain.
When did your fascination with China start?
Actually when I began studying ceramics conservation at West Dean Collage in 1990. Studying Chinese ceramics history made me look at other sides of Chinese history. The resurgence of China as a global power is totally fascinating. As Napoleon said: "China is a sleeping giant. Let her sleep, for when she wakes, she will move the world."
Which is the most important inspiration you have taken from your country, the Netherlands, in your work?
Undoubtedly it is the 'still life' school of painting. I return to it all the time. It was instilled in me from a young age and it's the Dutch way of looking at the beauty of everyday scenes that holds an enduring fascination. In the paintings by Heem, Kalf, van Alst and van Huysum common pottery – milk jug, teapot or cress drainer – is imbued with references to vanitas and memento mori. Fruits, flowers and the small insects that accompany them were, in fact, veiled indicators of ethical and spiritual references.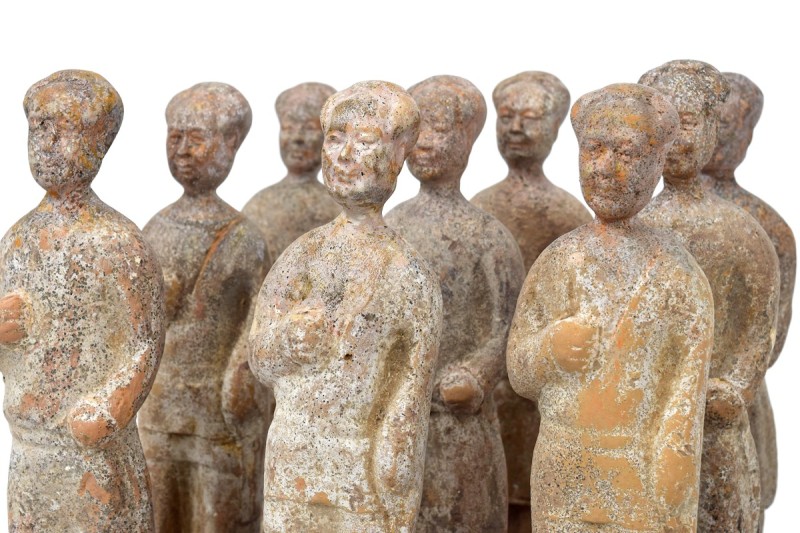 Can you describe three iconic pieces in the show?
First, the major piece in the show is 'The Wall 2', an installation of white delftware inspired by French-born, Dutch architect Daniel Marot, who created interiors and wall schemes of blue and white Chinese porcelain, which was a status symbol in the 17th and 18th centuries. In this installation I have used white delftware (which were everyday household objects) and have elevated them to a new status. Second is the deconstructed cocoon jar: this Han dynasty (206 BC-220 AD) jar is combined with butterflies not only making a direct reference to the 'cocoon' shape of the jar but also to the use of butterflies, a symbol of resurrection in Dutch still life. Thirdly, 'Two Tang soldiers' is a pair of Tang-dynasty (618-907AD) terracotta soldiers where one is left as found and the other is painted. Although we look at ancient objects – like Greek marbles – and appreciate their simple beauty, pure and white, in fact these pieces were originally painted, often in colours now considered garish. This pairing looks at both how we perceive them and how they were perceived when they were originally made.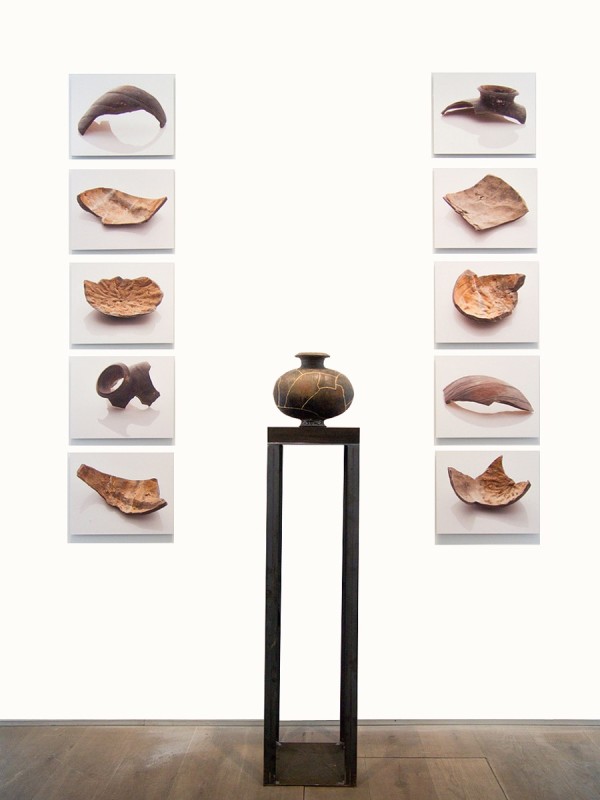 Who are your references in contemporary culture?
Everyone and everything. Not just contemporary but also ancient. High and low. From Queen Nefertiti ("Egypt" 2013) to The Simpsons ("Marge Simpson as Guan Yin Goddess of Compassion" 2014), via Susan Sontag and Ai Wei Wei. We are the first media generation, and we have grown up with access to knowing about anything, everything.
Why did you decide to create most of your works with no assistant and very little external help?
The works are very personal. They are about composition, balance and an aesthetic. A lot of it develops as I am working on it. It's not a task that you can give to an assistant. Also, I like the solitary process of working by myself.
Is quality still relevant today?
I think quality is becoming more relevant again today. There was a time when quality was not regarded as an integral part of a work and the idea was of the essence. But now I think there is a return to the artist as maker, showing their skills, crafting something beautiful.
Bouke de Vries
Sometimes I look east,
Sometimes I look west
24.01 – 14.03.2018
All images courtesy of the artist and Officine Saffi
Officine Saffi
Via A. Saffi, 7 – 20123 – Milano
www.officinesaffi.com