colectibleDRY in coversation with Tomo Koizumi: The visionary designer talks music, queer culture, and his fashion inspirations, from Roberto Capucci to Rei Kawakubo, in a stimulating discussion merging the cultural heritage of the Western and Eastern world
Interview by: Domenico Costantini
Tomo's portrait by: Tim Walker
Hi Tomo, how are you? It's so good to see you again!
TOMO KOIZUMI: Hey Domenico, I'm good, thank you. How are you? Long time no see!
I'm good, thanks!
TOMO KOIZUMI: I think that the last time we saw each other it was in a club in Rome.
Yeah, exactly. It feels like a lifetime ago. But tell me, how's everything going with you? What are you up to right now?
TOMO KOIZUMI: I'm good, I'm in Tokyo right now.
What are you working on at the moment?
TOMO KOIZUMI: Well, I've decided to skip this season, so I am going to have one collection per year on my schedule, that's why right now I'm working on the development of my new collection.
That sounds really promising. The last couple of years have been very eventful for you, you've also been awarded some amazing prizes.
TOMO KOIZUMI: You're right, like the LVMH prize.
Well, we can't wait to see what you're going to come up with this year, but let's get started with the questions. Where do you find inspiration for your work?
TOMO KOIZUMI: I'd say I don't have one specific source of inspiration, but many. I love making colour matching, so I like to look at a lot of different paintings, especially abstract ones, and at the colours I find in nature, whether it's flowers, gardens, or mountains, as I tend to get new stimuli from everything that surrounds me. Because we are not allowed to travel abroad, at the moment I am staying in Japan, where I am designing a collection inspired by Japanese traditional cultures. So, for example, revisiting things such as Kimonos or Kabuki, which is Japan's traditional theatre, basically our own version of opera. I started going to Kabuki theatre last year, during the first wave of pandemic. I find it quite fun and inspiring. There are also a lot of Japanese traditional crafts that are really interesting and spread all over the country, so I normally travel a lot to research these kinds of practices and see how I could incorporate them in what I do.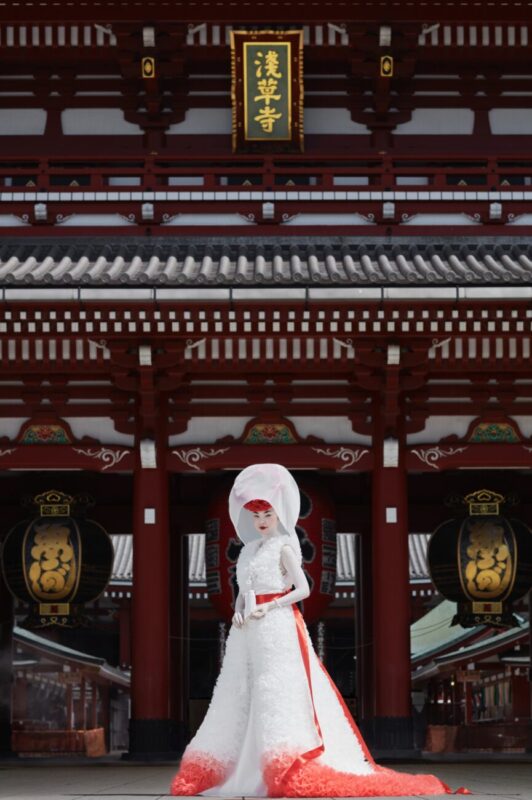 Obviously, your Japanese background is key to your work. However, whenever I look at your creations, I cannot help thinking of designers like Roberto Capucci, also known as the "silk sculptor." In fact, I can see some sort of fashion continuum linking Capucci's interest in textile experimentation, his geometric volumes, and architectural style with the vision guiding the production of your own garments. That's why I would say that, at least from my own point of view, your way of conceiving and thinking about fashion is way more European than that of other Japanese designers, think of Rei Kawakubo or Issey Miyake, whereas your approach to this world is way more influenced by the Western appreciation of sculpture. I truly love your work, I've also just seen your latest Vogue Japan cover and I find it incredible!
To what extent would you say the pandemic has affected your creative inspiration?
TOMO KOIZUMI: I think coronavirus has made me think a lot more about my own background, so traditional Japanese culture and habits. This is mostly due to the fact that, right now, I cannot travel anywhere else but within the country. I cannot show my collection overseas, but I have to do it here in my homeland; yet, it still needs to have a very strong visual narrative. That's probably what made me decide to use my own culture to design the upcoming collection, because it makes it more powerful and coherent with the stimuli I am gathering at the moment. Plus, it comes really naturally to me, as it embodies my cultural roots. I really love to use my Japanese heritage as a source of inspiration for my work.
That makes perfect sense. If you were to pick the designer that inspires you the most, who would that be?
TOMO KOIZUMI: As you mentioned before, Capucci does play a huge influence on the creation of my garments.
You know I've actually met Roberto Capucci a few times? I got to speak to him several times, and once he even showed me his creations. I remember there was this one dress, named "Farfallone," which was entirely sculpted out of silk. Can you imagine how difficult doing that must have been? It's way more complex to get a similar result with silk than it is to do so with other fabrics such as organza.
TOMO KOIZUMI: Yeah, that's absolutely amazing.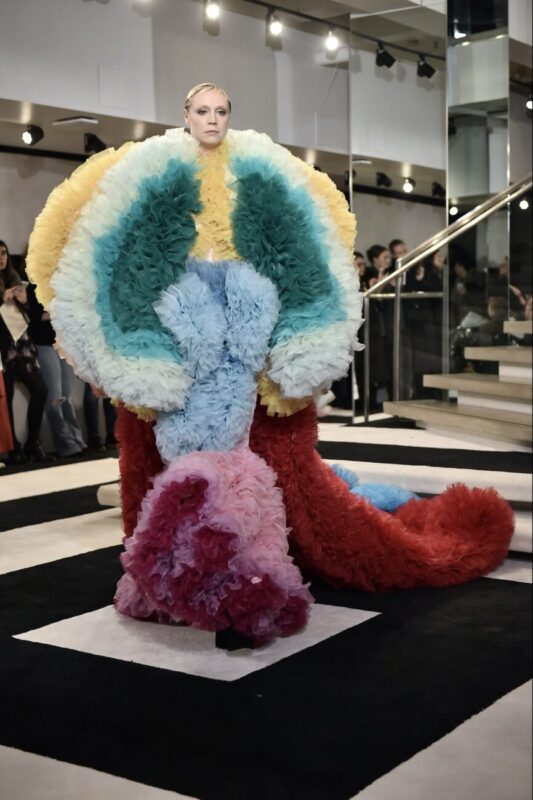 What do you think about the "disciples" of the Japanese fashion tradition? I'm thinking of names such as Issey Miyake, Rei Kawakubo, and Yohji Yamamoto.
TOMO KOIZUMI: Well, yes, I definitely draw inspiration from their work, although I must say that, through the years, I have been way more exposed to the production of European designers, think of names such as John Galliano, who's my fashion idol, or Christian Lacroix.
Yes! I can also see some references to Viktor & Rolf SS 2010, when Róisín Murphy performed the Crookers' remix of groundbreaking song "Royal T" on top of a cube while the models were parading on the runway wearing dresses sculpted in tulle. That's what I meant when I said that your work is more in line with the European fashion tradition. Are all your clothes produced in Japan?
TOMO KOIZUMI: Yes, my collections are entirely produced in Japan, every piece is custom made and unique, so it tends to be more expensive than normal production.
Your work is proper haute couture.
TOMO KOIZUMI: Yes, it's made to order.
Have you considered doing any ready-to-wear collections too?
TOMO KOIZUMI: I mean, to some extent, I am already working in this direction. I have done collaborations like the one with Emilio Pucci and Acai, where we created capsule collections that were more ready-to-wear than haute couture. Working with a brand like Emilio Pucci is something that, because of the incredible heritage of the fashion house, can be seen as every designer's dream. So having had the opportunity to work with the Maison on that capsule collection is something that I am really happy about. The team was really supportive throughout the realisation of the project, collaborating with them has been such an exciting experience. I'd also really love to work more with costume making from this year or next year onwards. In fact, not many know that I actually started out as a costume designer. At the first stages of my career, I was designing dresses for singers, actors, and such. I have been doing so for more than 10 years now, and that's why I would love to work in places like LA, Hollywood, or New York so as to be more active on the American entertainment scene.
At Emilio Pucci, also known as "the Prince of prints," the most important aspects of each collection are colour and geometrical motifs.
TOMO KOIZUMI: Yes, exactly. The capsule collection we designed in our collaboration was very colourful and happy, and that's something that I truly enjoyed about the whole experience.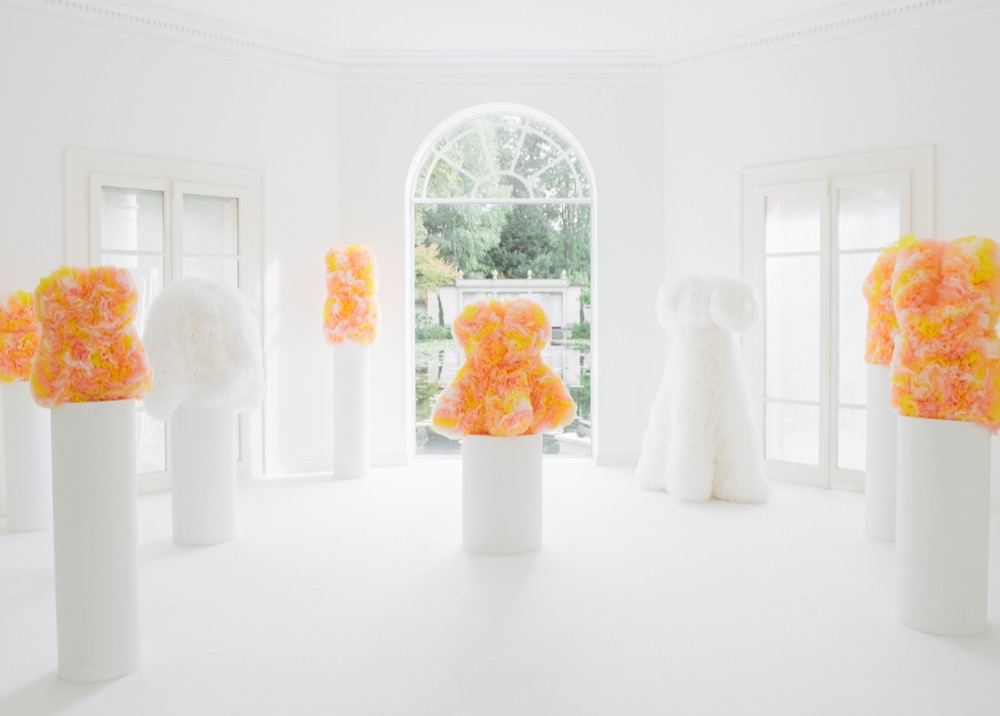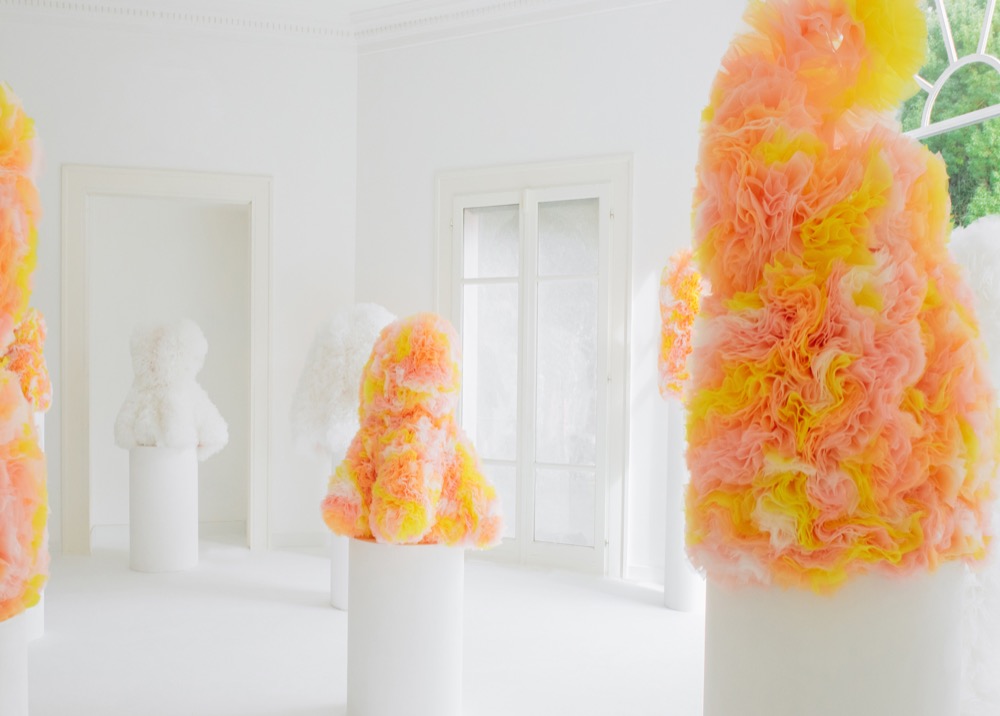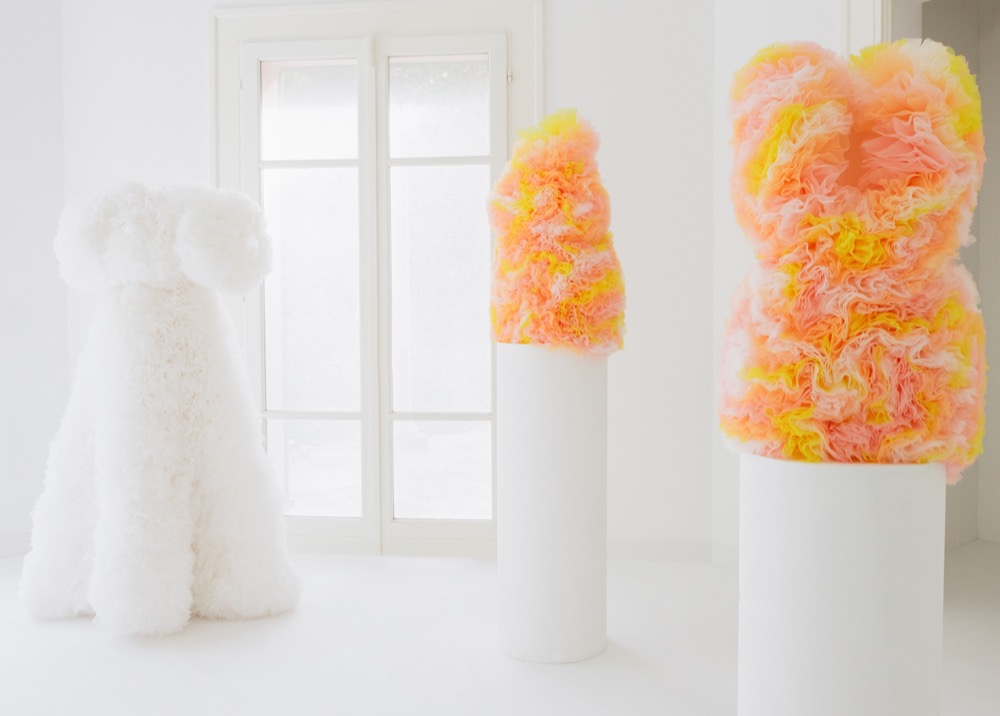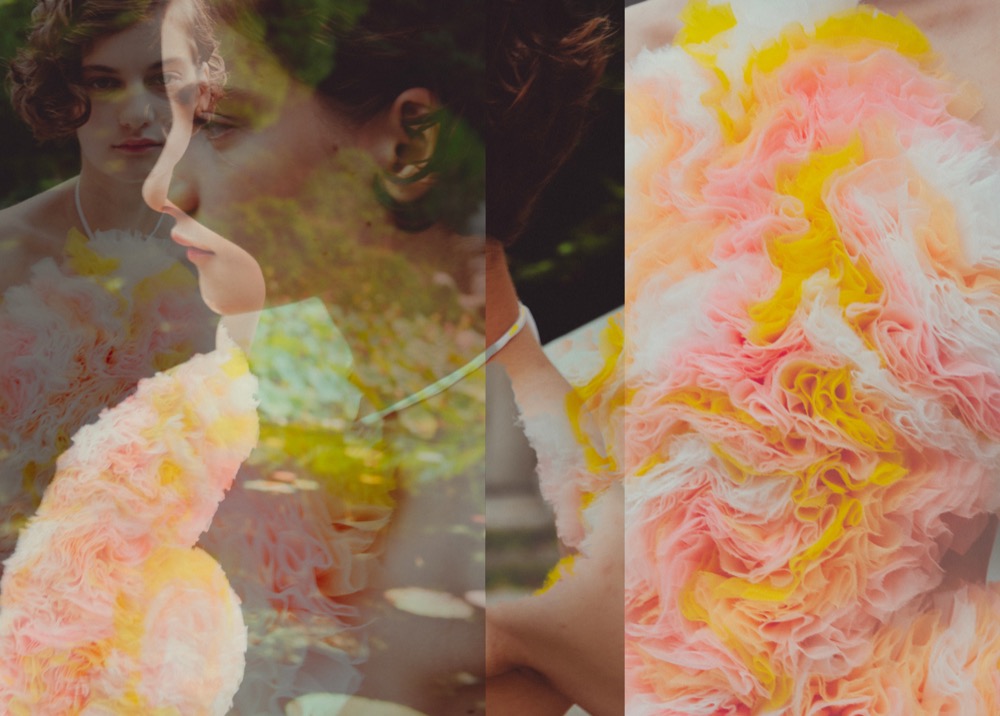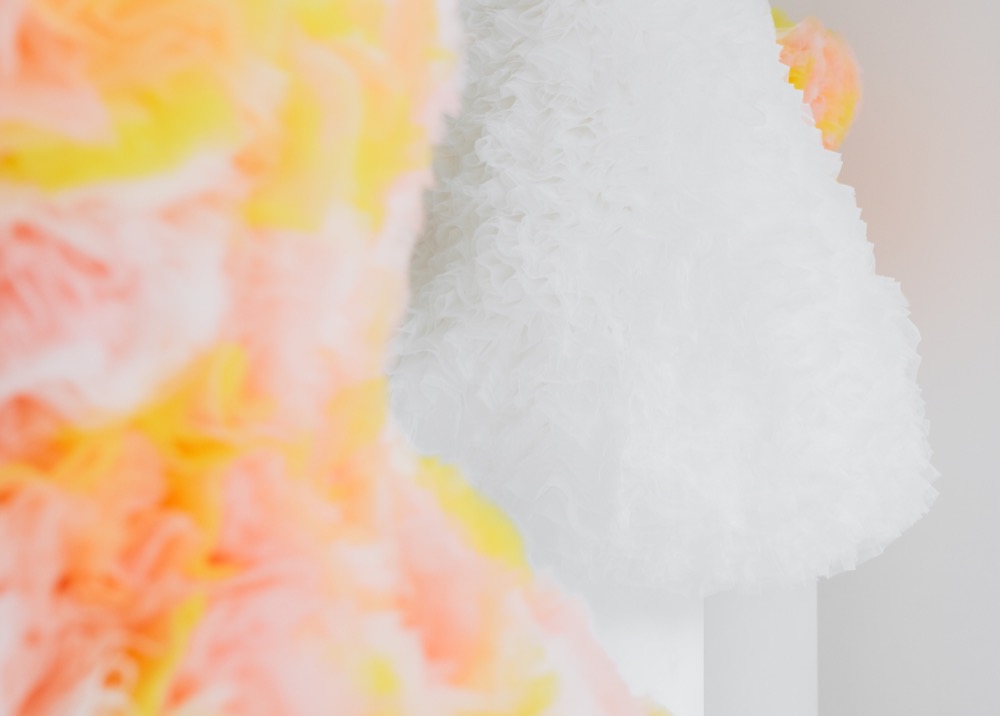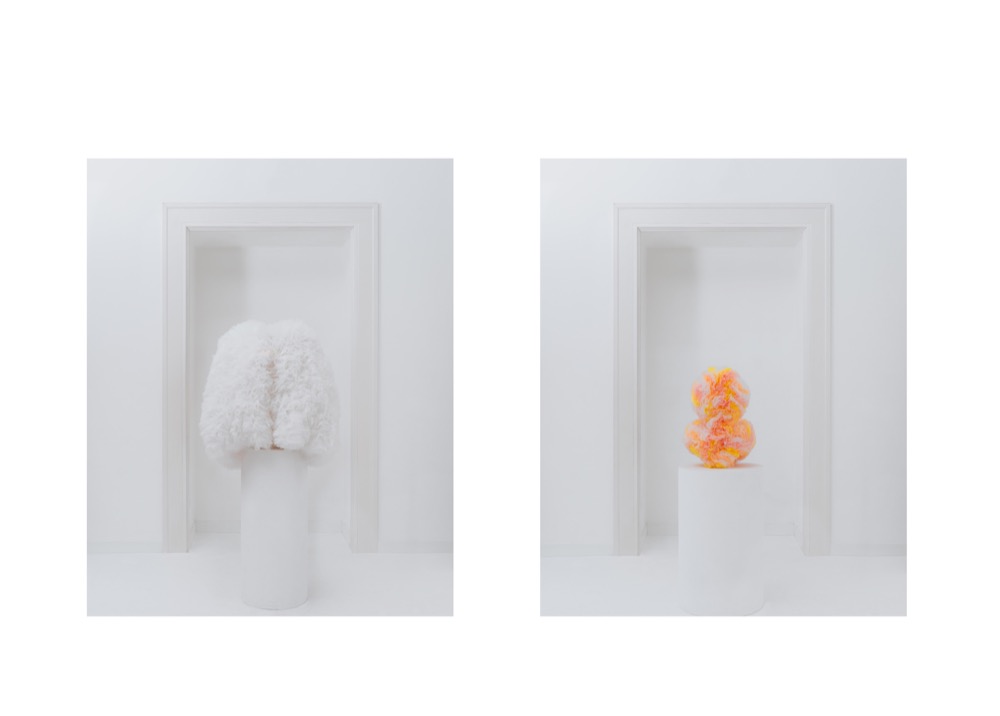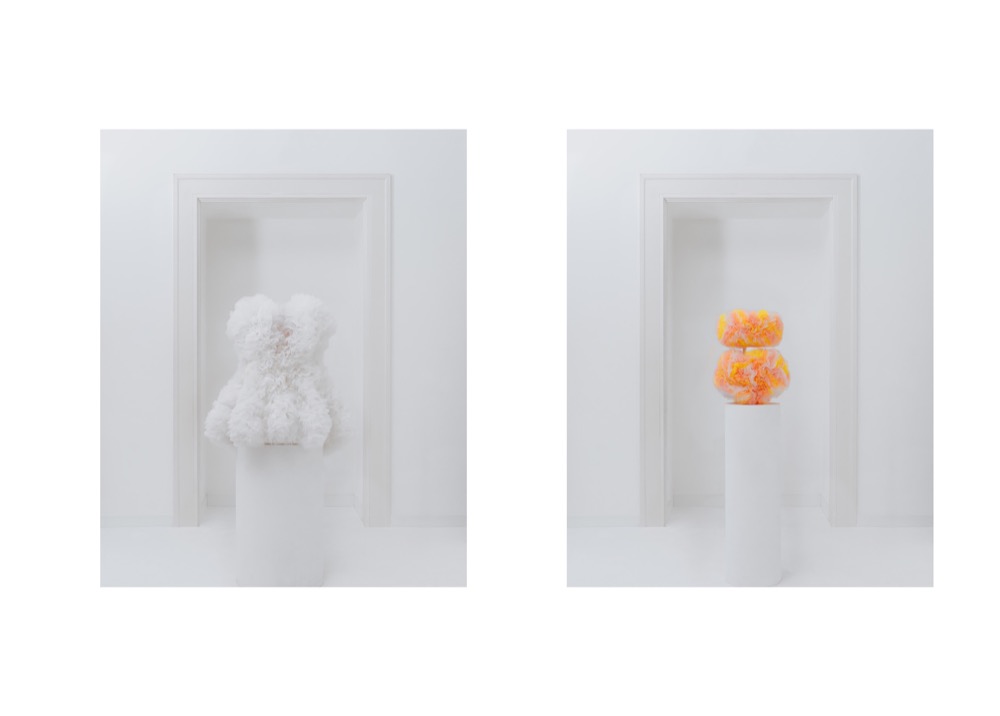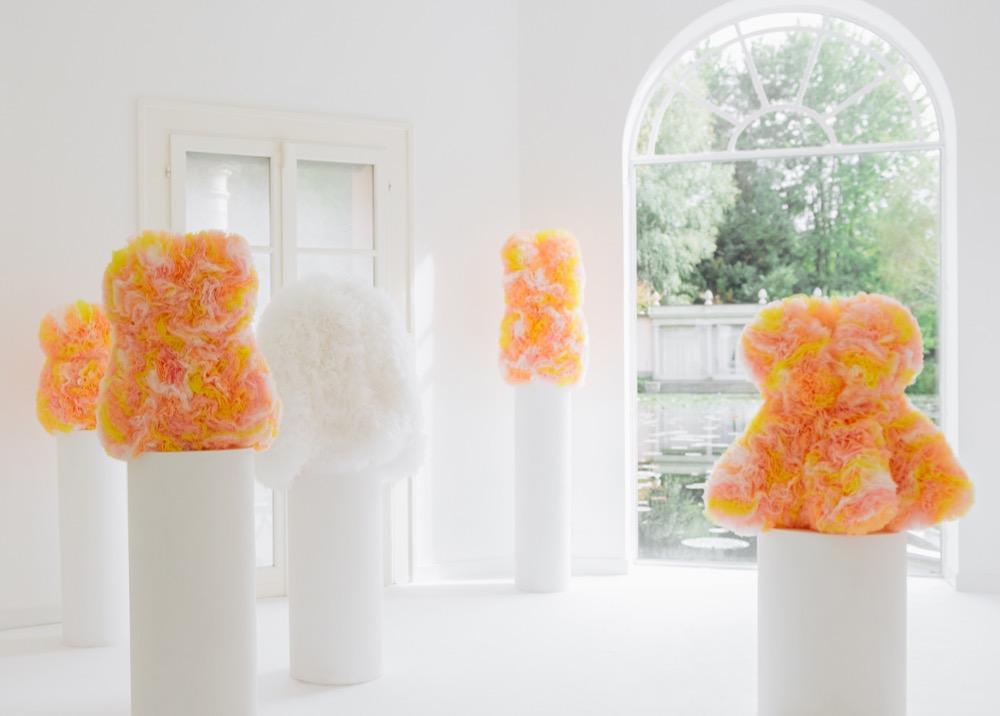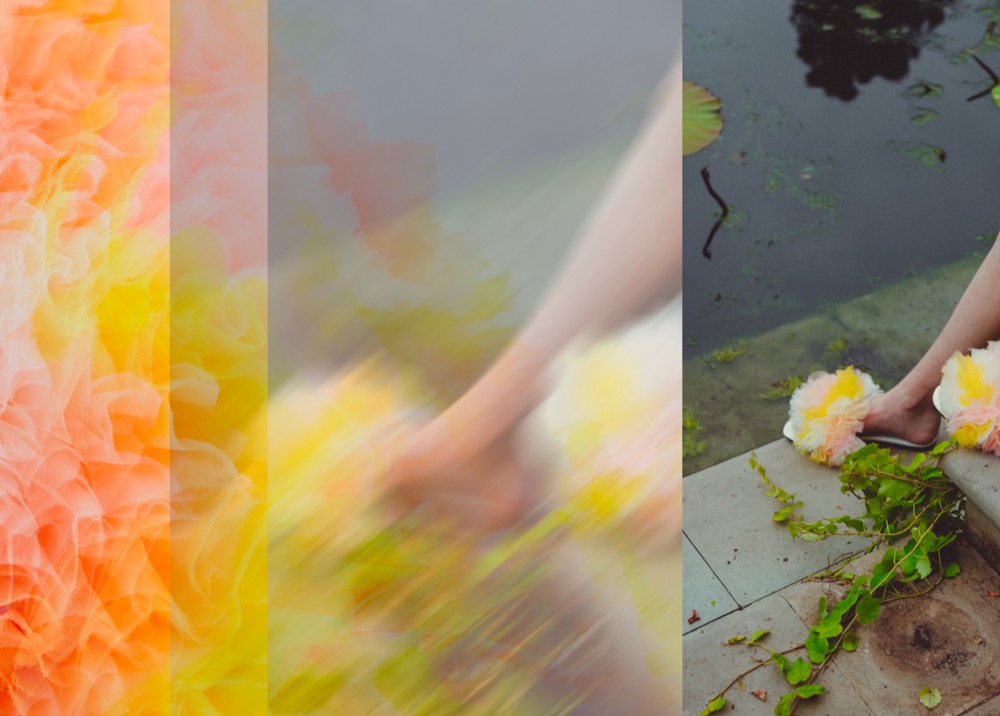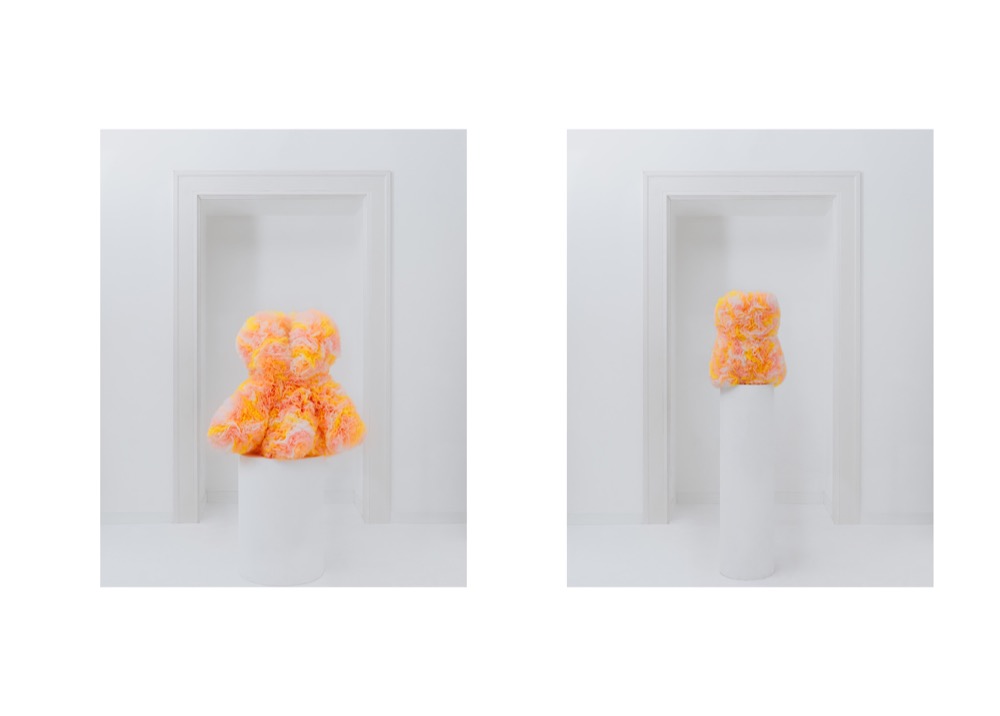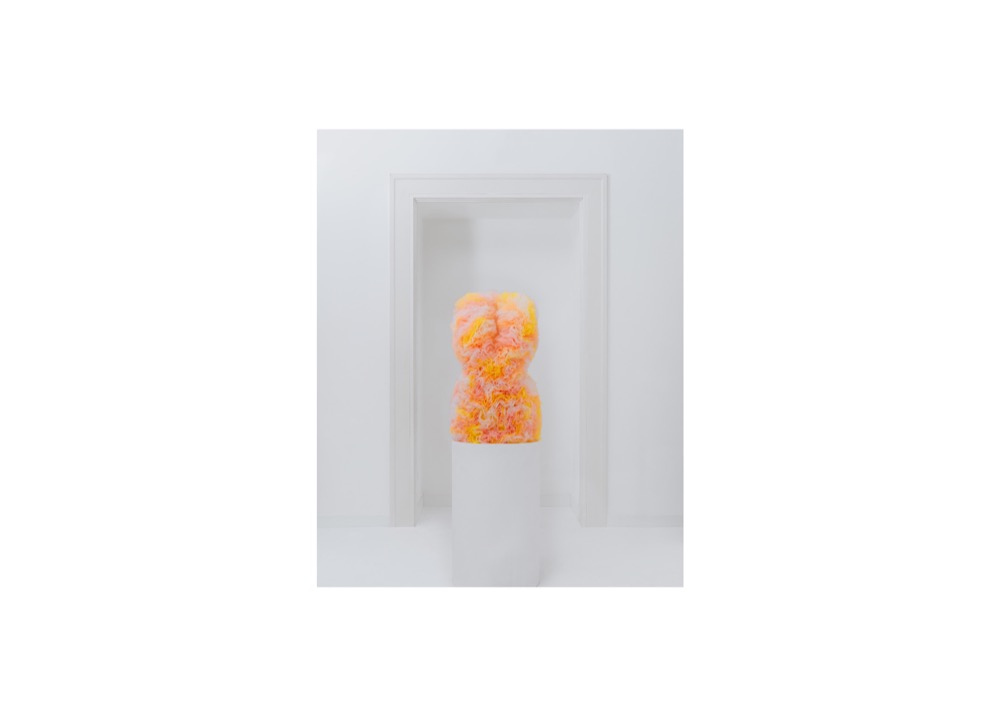 TOMO KOIZUMI X PUCCI CAPSULE SPRING SUMMER 21 COLLECTION
TOMO KOIZUMI X PUCCI CAPSULE SPRING SUMMER 21 COLLECTION
TOMO KOIZUMI X PUCCI CAPSULE SPRING SUMMER 21 COLLECTION
TOMO KOIZUMI X PUCCI CAPSULE SPRING SUMMER 21 COLLECTION
TOMO KOIZUMI X PUCCI CAPSULE SPRING SUMMER 21 COLLECTION
TOMO KOIZUMI X PUCCI CAPSULE SPRING SUMMER 21 COLLECTION
TOMO KOIZUMI X PUCCI CAPSULE SPRING SUMMER 21 COLLECTION
TOMO KOIZUMI X PUCCI CAPSULE SPRING SUMMER 21 COLLECTION
TOMO KOIZUMI X PUCCI CAPSULE SPRING SUMMER 21 COLLECTION
TOMO KOIZUMI X PUCCI CAPSULE SPRING SUMMER 21 COLLECTION
TOMO KOIZUMI X PUCCI CAPSULE SPRING SUMMER 21 COLLECTION
TOMO KOIZUMI X PUCCI CAPSULE SPRING SUMMER 21 COLLECTION
"SULLA RIVA"
a short film featuring Tomo Koizumi x Pucci capsule spring summer 21 collection
art director Antonio Piccirilli
film director Tommaso Acquarone
What do you think while putting together your dresses? I mean, I almost struggle to find terms appropriate to describe your creations as, just like Capucci's ones, they almost resemble sculptures.
TOMO KOIZUMI: I get what you mean. Obviously, it's not easy, but I have practiced a lot and improved my technique, which has basically become my signature style now. So I can do it in a very natural and intuitive way.
I bet you must have gained some proper skills through the years! May I ask you what kind of fabric do you use?
TOMO KOIZUMI: I mostly use polyester organza. Right now, there is one Japanese company that is making 100 percent recycled polyester with discarded plastic bottles. So I have recently started using this fabric as it is a sustainable alternative to traditional polyester.
That's interesting. How important is polyester to Japanese fashion? When I look at polyester, a name that immediately pops into my mind is Issey Miyake, where most dresses are completely made of such material. I bet many brands are now turning to recycled polyester in Japan, just like Prada had to do with nylon, which has always been the leitmotiv of the fashion house's garments.
TOMO KOIZUMI: Yeah, well, I think that Japanese polyester is really good quality. I know that a lot of European brands rely on Japanese polyester to produce their collection, as it's really high quality, very strong, easy to care, and cheaper than other imported fabric. Plus, it comes in many different colours. For example, I normally use polyester organza, which is available in more than 190 colors, so it's incredibly good when it comes to choosing colour matching.
That's crazy, you definitely have a huge variety to choose from! How important to you is sustainability?
TOMO KOIZUMI: You know, regardless of the most recent discussions about it, I have always tried to make my work in the most sustainable way. My collections are custom made, so there is no extra stock, but each item is one-off so, in that sense, it's already way more sustainable than other pret-a-porter collections. Another aspect of my work has to do with the fact that the dresses I make are dresses that people can keep forever, or even end up in a museum.
We're on the same page on this, I think that haute couture could serve as one of the most appropriate responses to massive production and waste within the fashion industry. That's something we should all be aware of. I'd say that awareness, in this sense, should become the key word of the future.
TOMO KOIZUMI: Yeah, I understand what you mean and, yes, at least from this point of view, haute couture seems to be a feasible path towards sustainability in fashion.
What do you think about upcycling?
TOMO KOIZUMI: I really love it. This year I have used a lot of deadstock fabric from my previous collection to create some mini dresses that I like a lot. I like the idea around upcycling and I'd actually love to try and experiment more with it to see what can come out of it.
Sure, but don't you think that, sometimes, this dystopian research for ethics within the world of fashion can pose some limits to creative expression? There are moments when it seems that we are no longer "free" to create whatever we want to create because there are too many issues at stake that need to be considered.
TOMO KOIZUMI: Yeah, I think fashion has become way more complex than it used to be. Still, we should not allow any of those issues to serve as an obstacle to our creativity, but rather develop new inspiring solutions that encapsulate the best elements of both the past and the future of fashion.
That's a very good answer. What sort of future do you think is awaiting fashion?
TOMO KOIZUMI: Well, that's quite a difficult question. I mean we can already see how the latest events and COVID-19 have changed the way Fashion Weeks used to work. Still, I think that ever since it was created, fashion has always been changing.
Of course. This sort of links back to what Dries Van Noten said last May in his manifesto.
TOMO KOIZUMI: Yes, exactly, it's time to change fashion. I think this is a very interesting turning point for the evolution of this sector. I want to follow in the footsteps of what Van Noten said; in fact, I'm doing it already: that's why I decided to only have one collection per year instead of following the traditional season calendar. I think one is enough for me and I also believe that there are already too many clothes out there, so I hope that, as time passes by, people will progressively recognise that and adjust to a new way of doing and experiencing fashion. We really don't have to produce so much stuff but rather only create what we actually need. Of course, we want to preserve the beautiful, irreplaceable nature of fashion, but we must learn how to convey that in a more conscious way.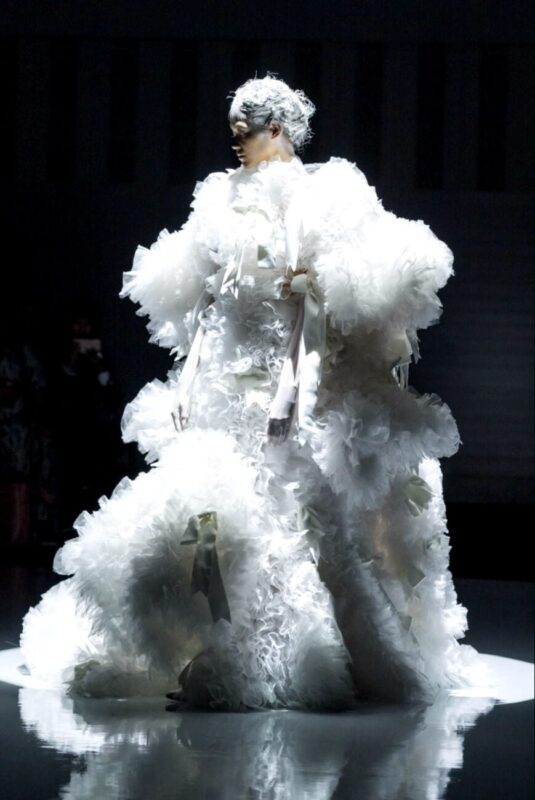 I absolutely agree with what you just said. We all know that music and fashion are interconnected on multiple levels: as the former influences the latter and vice versa in a never ending spiral of shifting trends and habits. Who would you say is the music artist that has influenced you the most?
TOMO KOIZUMI: Well, one of them is definitely Björk.
Really? Omg, I love Björk. I actually met her while I was with our friend in common Giuseppe Longombardo, Gucci women's ready to wear designer, at Terme di Caracalla in Rome. We ran into her in the backstage and, for me, it was such a huge explosion of emotions, as I am totally obsessed with her. Now that I think about it, she's also quite active in the Japanese music scene and I think that her work is deeply inspired by the tradition of your country. You should do some sort of collaboration with her!
TOMO KOIZUMI: Yes, I think she is quite fascinated by Japanese culture.
Exactly. In "Homogenic," her third one, she wore a Kimono by Alexander McQueen in the cover image of the album in 1997. So we can see that just like it happens in fashion, even in music there is a constant exchange of influences between the Western and the Eastern world.
TOMO KOIZUMI: I would really love to work with her. You know, I had actually got the contact from her stylist, Edda Gudmundsdottir, towards the end of last year but then the concert where I was supposed to team up with her got cancelled, she was meant to play in London, so yeah, I'm still waiting for that one to happen! Another artist I truly love is SOPHIE, although she has unfortunately passed away. It was so sad, I really wanted to dress her with my creations. I also really like Kim Petras, do you know her?
Not really!
TOMO KOIZUMI: Yeah, she's German but mostly performing in the US. She's a transgender music artist. She's really cool, so I really love her!
I must check her out. How open is Japan towards the LGBTQ+ community?
TOMO KOIZUMI: Overall, Japan isn't really open to gay or trans people, so there are many people who are still forced to hide their sexuality. Still, there are people trying to advocate for same sex marriage rights in Japan, although that's something we are still fighting for. Personally, I think that's really great, I would be happy to help them in any way because if we could get married with people from the same sex as ours, it would be something incredible. In that way, everyone could be happy. I don't have many transgender friends here in Japan, but I do know one transgender woman model in Japan, who came out publicly, so she's trying to change the situation in the country, and I think that's really cool.
That's very insightful. Now, let's think about the future and about the day we'll finally be reunited in Italy. I can't wait to dance all night long again following the rhythm of loud music. Please, whenever you get the chance to, you should bring along some of your fantastic dresses, so that we can wear them and fly around just like you did the last time I saw you wearing your beautiful skirt!
TOMO KOIZUMI: I'm really looking forward to it!
Well, Tomo thank you so much for taking the time to speak to me. It was a pleasure having this chat with you.
TOMO KOIZUMI: Thank you so much, I had a great time.