ARE THE ANSWER TO GATHER HUMAN AND DIGITAL: VALENTINO'S HAUTE COUTURE FALL WINTER 2021 IS LIVE TODAY FROM CINECITTÀ…
Text by Fiammetta Cesana
The human being is at the center of this project. A dialogue in which the human and digital touch come together without overlapping with each other.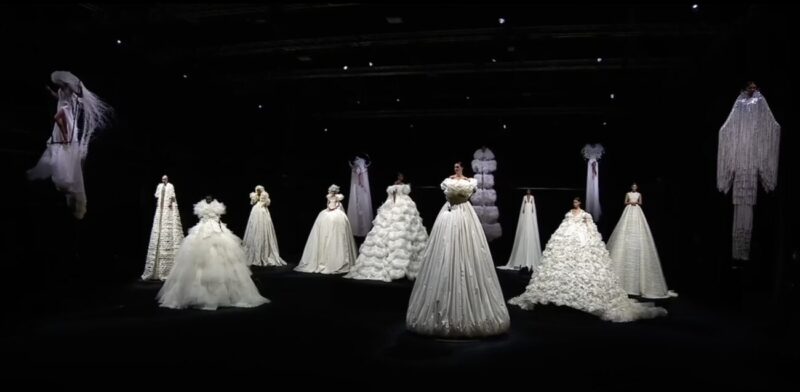 Due to the consequential restrictions of Covid-19, Valentino's creative director, Pierpaolo Piccioli, has decided to postpone the presentation of the new haute couture collection "Of Grace and Light" to today, July 21, in order to give tailors the right time to work in the ateliers safely and with the same quality of always. The Haute Couture Fall Winter 2020-2021 collection, announced weeks ago in a teaser by the totally eversive, globally renewed, photographer Nick Knight, which has been released on Fédération de la Haute Couture et de la Mode's website, was officially showed yesterday with a live streaming performance at Cinecittà, in Rome.
These new haute couture creations, Piccioli suggests, aim to find equilibrium, perfect synthesis, between the human work and digital support. As we've been seeing, in the post-Coronavirus world where the oblige of distancing has boosted technological innovation, the use of digital has resulted, in fashion as well as in the whole economic and social system, extremely precious and inevitable. However, the Italian creative direction absolutely doesn't want to sacrifice the fundamental role of human in the imaginary and productive process. Nothing can replace humanitas.
So how to blend the two working hands, the human and the digital one?
Piccioli's answer is grace and light. Hence the name of the collection.
"A Couture creation comes to life only through movement, light, colors and music, but above all through the human being who is in it, embraced, welcomed by the fabric. What a dance and a dream. Couture is alive, and so is the dream" – Pierpaolo Piccioli
The words of the creative director are joined by those of Knight OBE, considered among the most visionary photographers in the world. His operas, portraying from David Bowie to Alexander McQueen to Lady Gaga, have transformed photography from a representation of reality to a means to revolutionize the concepts of identity, beauty and contemporary iconography.
"Our source of inspiration was Loie Fuller, an incredible pioneer of modern dance, who influenced the Art Noveau movement, which in turn is reflected in the freedom, elegance and grace of this collection by Pierpaolo for Valentino. Pierpaolo and I wanted to create a Renaissance of fashion, totally free to speak a language based on beauty and fantasy" – Nick Knight OBE
Music also plays a central role in this first visual dive into Valentino's "Of Grace and Light". Tastes of the collection are accompanied by the notes of the artist FKA Twigs personally chosen by her, which become the soundtrack of the project. FKA Twigs is a new voice, detached from timeline, which combines with Couture's magic in a dreamful gaze to the future, as the imaginary spirit of fashion should be, but also identifying itself a new realization of space with the human at the center.
Here some previews of the live performance of Valentino's Haute Couture Fall Winter 2020-2021 collection from Cinecittà. To watch the whole show visit: Valentino.com