Do you want to know more about Hidoi Kokomo Tachi? It's the brand of two young and talented fashion designers from Milan, Giuseppe Casafina and Matteo De Toma, featured on our #6 paper issue cover
Interview by: Stefania Seoni
Model: Xena Zupanic
Very young, they graduated last February with a BA in Fashion Design at NABA. Their last capsule collection showed at Milano Fashion Graduate, in 2017, broke the patterns both for design, for bulks and political and antagonistic narration. For Giuseppe and Matteo every move, every naive and obsessive embroidery, gets a strong meaning, a message that couldn't be read in a slogan but that could be perceived by every creation, by the stratification of tissues, by coding, as in a rebus, their deep ideas. Even though they've chosen a difficult path, they are giving us a very strong creative power.
Where were you born?
Places doesn't matter, we don't belong to one place. We imagine floating in a reality not geo-located, this reality is the sum of all we catch.
What exhorted you to choose Fashion, and its creative form?
The need to express ourselves in a world that we don't completely like. Full of images but empty of substance, governed by profit and not by creativity, a world where it's necessary to convert your ideas into dresses out of tendencies and market research. We don't submit ourselves to the system, we deform it.
What's your approach when you start thinking about a new collection?
First phase is to not rule by rationality. We create links between topics which we particularly take care even if they look very distant between them being paradoxical and unreal. They hide their real meaning behind a stratification of languages becoming not decodable. As two bulimic people, we binge of data and then we reject them. We write oneiric tails exasperating the present.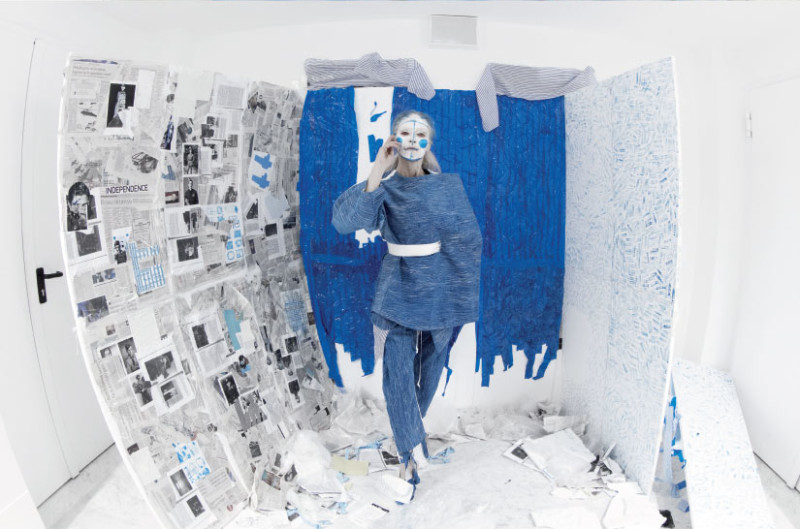 Your creations are hard, the artisanal aspect related to the couture, your ideas create a punk attitude, can you explain how you transmit them to your collections?
It's an obsessive-compulsive process in which repetition of elements is different every time. Our labor force is so far from the logic of industrial production. Every cloth could have the importance that nowadays has not, he could have a worth and a story to tell. This is possible by choosing accurately lines, bulks and time dedicated to realization. Today everything is rushed so we try to find the time to stop and think. Our work is an answer to the frenetic life without any logic.
How do you experience the fashion atmosphere in Milan?
We're living like misfits. It's to say that we don't want to adapt ourselves to a not-stimulating reality, where young people keep feeding this obsolete mechanism, it needs risk. They want a public, they want to be idols.
Are there any personalities that get you inspired?
Personalities that give us inspiration are many. Start from Fallaci to Iris Apfel, from Patty Pravo to Piero Ciampi, from Puccini to De Andrè, from Nina Simone to Tilda Swinton, from Carol Rama to Louise Bourgeois, from Maria Lai to Yayoi Kusama, Marlene Dietrich, the Marchesa Casati, Rei Kawakubo, Elsa Schiapparelli, from Coco Chanel to Rick Owens. Ending to the enigmatic woman we meet every last Sunday of month on Naviglio Grande. Also, the clouds of Thursday morning. What gives us inspiration is their attitude, them being countercurrent, their force, their weakness, them being groundbreaking.
What is your routine in Milan? Do you love any special places?
We love all places that don't make us feel in a metropolis: streets at night, majestic stairways, antique markets, villas in Porta Venezia, forgotten courts, quiet bars, alleyways in Brera and the Naviglio in the rain.
What's your dream? How do you see it the near future?
There's a sentence that we feel strongly, it says: "[…] è questa parvenza cosi uguale a tutto. Sono e sono stato una nuvola, un prato. […]" (is this semblance so similar to everything. I'm and I was a cloud, a lawn.) – Aldo Nove.
We wondered about the world, about what we wanted to tell and how ugly such thing is, the countersense and the exhausting paradox. A world made by dancing, fast, lost, blind souls, in which intelligence is ignored, politeness is renegade and foolishness is listened. We looked for abhorrence in a war without witnesses, there aren't real winners. The frantic greed of complaint made us filled: we rejected our disgust bulimic, without truth, with the same violence we used weapons, dresses, words. We deployed antithetical icons, won and winners. We ridiculed dictators of all time without neglecting guilty silences. We got lost in an irrational fury without exit. We didn't give up, we restarted more aware and more rational. We sewed again our uniforms raped by the war, we didn't remove their scars. These scars talk.