"PARaSITE" BY BOnG JOON-Ho TRIUmPHES AT CaNNES FiLM FEStIVAL 2019
Despite all the rumors wanted to see winner Pedro Almodóvar and his "Dolor y Gloria", the Palme d'Or went to the dark comedy "Parasite" by the Korean director Bong Joon-ho. No way for the Spanish director who could, however, console himself just watching the actor Antonio Banderas taken the stage of the Grand Théâtre Lumière as the winner of the Prix d'interprétation masculine for his Salvador Mallo's role, the very Almodóvar's alterego.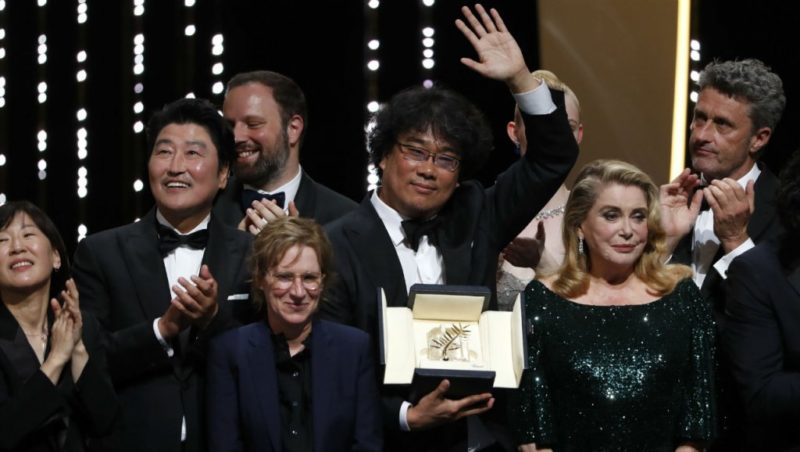 New entries in the award-winning cinema
This year, the 72nd Cannes Film Festival jury and its president Alejandro González Iñárritu decide to snub several acclaimed names like those of Terrence Malick or Quentin Tarantino – who has literally taken the croisette with his made in Hollywood cast – or Xavier Dolan, Diao Yinan… Best director prize indeed went to the Dardenne brothers (Jean-Pierre and Luc) for "Le jeune Ahmed" while the Jury Prize was ex-aequo won by Ladj Ly for his "Les Misérables" and by the Brazilian Kleber Mendoça Filho and Juliano Dornelles of "Bacurau". Emily Beecham then won the Prix d'interprétation feminine for her role in "Little Joe" directed by Jessica Hausner and again the Grand Prix went to another woman, Mati Diop for her "Atlantique".
A surprise for Italy
Italy left with some bitter and some sweet taste too. Despite the success obtained from the public, "Il traditore" by Marco Bellocchio didn't achieve anything, even a prize for the amazing Pierfrancesco Favino's interpretation of the mafia informer Tommaso Buscetta. However Italians can be proud of an unexpected suprise: the finale scene of the winner movie "Parasite" – as requested by the Korean director himself to the Italian distributor – sets to the notes of Gianni Morandi's 60s success "In ginocchio da te". Then also the Italian singer was really impressed, declaring on his Instagram account that he will be sincerely honored if someone invites him to sing in South Korea.
Finally, for a better solace to our patriotic spirit we have to mention and remeber as well Chiara Mastroianni, the beloved daugther of the Great Marcello, who has won the Un Certain Regard's Prize for Best Performance, playing in "Chambre 212" by Christophe Honoré.
PALME D'OR
GISAENGCHUNG (Parasite) directed by Bong Joon-Ho
GRAND PRIX
ATLANTIQUE (Atlantics) directed by Mati Diop
BEST DIRECTOR PRIZE
LE JEUNE AHMED (Young Ahmed) directed by Jean-Pierre & Luc Dardenne
JURY PRIZE EX-ÆQUO
LES MISÉRABLES directed by Ladj Ly
BACURAU directed by Kleber Mendoça Filho & Juliano Dornelles
BEST PERFORMANCE BY AN ACTOR
Antonio Banderas in DOLOR Y GLORIA directed by Pedro Almodóvar
BEST PERFORMANCE BY AN ACTRESS
Emily Beecham in LITTLE JOE directed by Jessica Hausner
BEST SCREENPLAY
Céline Sciamma for PORTRAIT DE LA JEUNE FILLE EN FEU (Portrait of Lady On Fire)
SPECIAL MENTION
To Elia Suleiman for IT MUST BE HEAVEN
Cover: 72th Cannes Film Festival © Photo – La Pointe courte : 1994 Agnès Varda and her children – Montage & design – Flore Maquin