Turn up the music! with Thomas Costantin
Leonardo: Hello Thomas Costantin… I like calling you by your name, as it withholds the artist in you. You're extremely young and you're already playing in clubs and at events, composing and producing, wow! Tell us how this passion was born…
Thomas: This passion was born a long time ago, I was a kid and on Sundays I used to watch MTV, at the time it was the only music channel, they played videos all day, it was beautiful.
Then I bought the first walkman, few years later the CD player arrived… at one point my mother gave me a Pioneer console and from there it all started!
For many years I seldom went out and didn't have much of a worldly life, music has always been my best company, such that at one point, the music others were playing wasn't enough for me therefore, I decided to create a small studio and then my project as a producer THO.MAS. was born.
It was under that pseudonym that my first EP, "Fire", came out on February 26th, with Emerald & Doreen Records.
L: When you create a set, do you do it freely or according to your mood?
T: When I mix it's always a fusion of my mood and that of those watching me, meaning the audience.
I tend to be very happy when I have many new pieces to play, it goes a little slower if I don't find pieces that satisfy me (it happens rarely), because I'm less enthusiastic.
From time to time, I will to start with a little darker mood (which is more my style), but when I have in front of me a very lively public eventually the excitement/chaos pulls me in as well. Thats the best part of working behind the console, interacting with others.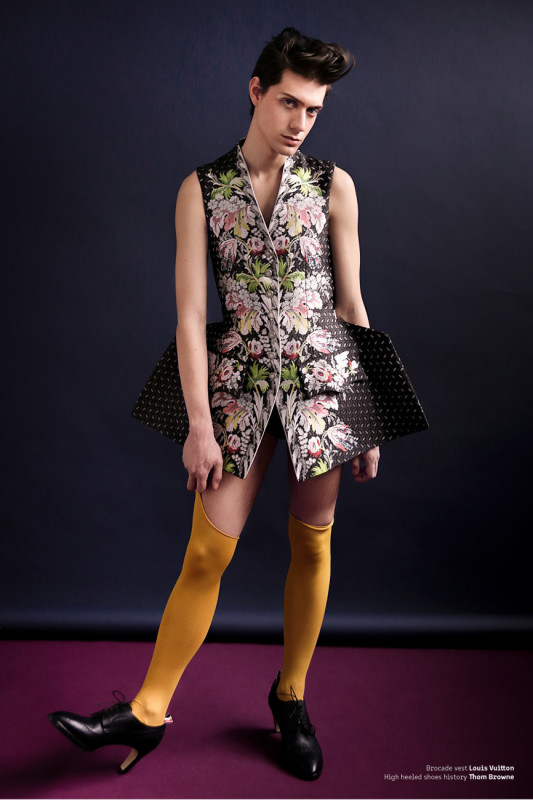 L: The project we wanted to create on CollectibleDRY during the upcoming Milan Design Week; actually creating an analogy between photos and music, each look for a different beat, could you describe it in a few words?
T: The project aims to be a sort of a multimedia Design Week Diary, a mood for every day that brings together a party look or a walk in the streets of the Fuorisalone, with a specific soundtrack. More than that I don't want to reveal, the music and images will speak for themselves.
Public Design Week Dates:
– Wednesday 18 \ 4 \ 2018 from 07:00 pm Dj set + an installation and presentation of wallpapers and furnishing fabrics by Simone Guidarelli, in via Della Spiga 30 at the "N.30" Store
– Thursday 19 \ 4 \ 2018 Dj set dancefloor from 11.00 pm for Blend House by B-CROMA, via Ventura 15 at "FLORISTERIA"
Photos by: Lorenzo Marcucci
Style and Text by: Leonardo Persico
Grooming by: Stefano Tambolla
Artist: Thomas Costantin
Post Production by: Massimo Silvestri
Clothes
Prada, Moschino, Gucci, Louis Vuitton, Thom Browne, Canali,MSGM