RED CARPET is a miniseries in four chapters recounting the opening days of the Venice International Film Festival through the eyes of a visual artist.
Cristiano Carotti, sculptor, painter and film maker, balances documentary and fiction as his signature style; to his avail, the collaboration of actor Daniele Parisi, the project's only protagonist. The character interpreted by Parisi is an ever-changing mask, whose purpose is to guide the audience through the different meanings of the show.
This strongly symbolic, iconographic character, paradoxical searching an identity in Pirandello style, continuously attempts to mold himself to his surroundings, responding to external frenetic stimuli, and ends up disoriented, enacting his internal conflict that opposes the artist figure to this other kind of reality. Not for nothing, Carotti chose to work with an actor who was starring in the past two editions of the Film Festival. In 2016 Parisi won the Nuovatalent Award as Best Emerging Actor of the Venetian event and participated at this year's edition with the movie Il contagio (Contagion) by Daniele Coluccini and Matteo Botrugno.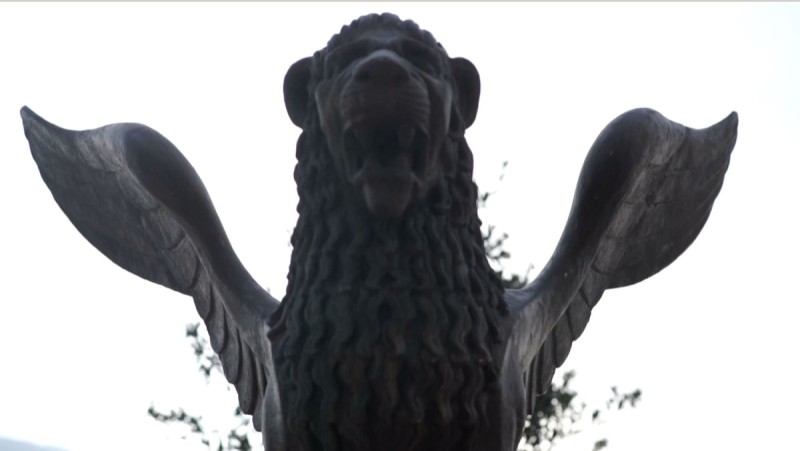 RED CARPET is a trip across the multiple souls of a feverish and schizophrenic city, performed by a liquid, mutant character who aims at the most sought-after target: the red carpet. The journey unfolds through a series of technical traits and brusque changes in style, as if paying homage to the multiple genres that nest within the cinematic universe: spaghetti-style western, crime, comedy, drama, with clear references to the work of authors ranging from Lynch to Sorrentino, among all. The project's foundation consists of a documentary shooting approach and the challenge, accepted by the director and actor/ main-character, to immerse the action and story in the unpredictability of reality, taking in account all variables entailed and unforeseen eventualities.