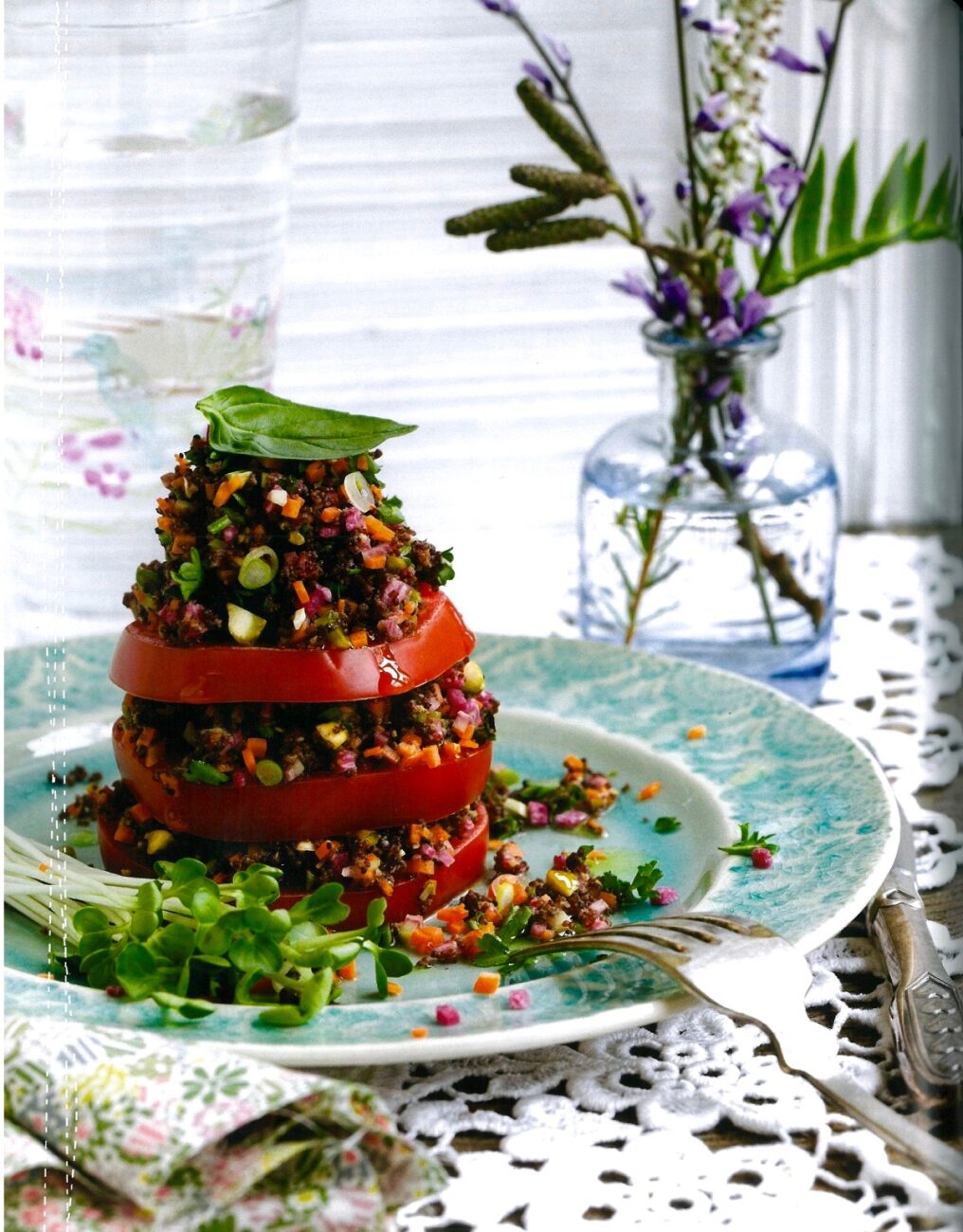 Pistachio Crumble
1/2 cup pistachios
sea salt
freshly grounded black pepper
pinch cayenne pepper
Crumble
In a food processor, mix the pistachios, sea salt, pepper and cayenne pepper until crumbled. Pour into a small pretty bowl and set aside.
Kaniwa Salad
1/2 cup soaked kaniwa, drained and rinsed well
1 cup organic veggie broth
1 clove garlic, minced
1 large carrot, scrubbed, finely diced
1/2 large watermelon radish, scrubbed finely diced
2 Tbsp finely minced parsley
2 Tbsp extra-virgin olive oil
Himalayan salt
freshly ground black paper
3 large tomatoes, cut into 3/8-inch-thick slices
Salad
Place the kaniwa in a medium pot, add the veggie broth and bring to boil, uncovered, over high heat. Turn down the heat to low and allow to simmer for 10-15 minutes. (keep a close eye on the pot because the water evaporates quickly). Remove from the heat, stir in the garlic clover and allow to stand for 10 minutes.
Pour the kaniwa into a medium bowl and ass the carrot, radishes, parsley, basil and olive oil. Season to taste with salt and pepper.
Arrange 1 slice of tomato on each plate. Scoop a generous serving of the kaniwa mixture over the top and cover with another slice if tomato. Spoon over more kaniwa, cover with 1 more slice of tomato and finish with a final pile of kaniwa. Sprinkle each stack with the pistachio crumble and dig in!