LEÏLA MENCHARI, QUEEN OF ENCHANTMENT, IN AN IMAGINARY ENCOUNTER
Leïla Menchari was the creative mind behind the astonishing and visionary displays of Hermès' showcases. Another irreplaceable loss in our creative world, a real passion for beauty, art and high craftsmanship, that we'll sorely miss.
Cover image: Hermès, Partir d'un Pied Léger, spring 1995, sculpture by Christian Renonciat
An essay by Chiara Guidi from DRY Issue #7
…if my life is worth anything, I am the result of time.
– Leonora Carrington, Down Below
Every vision has been my world, every tableau has been a page of mine, every rêve has been a tangible theatrical construction concocted in dreams, like a soft slice of bread soaked in milk and rosewater. Every vision was a consolidated image that could have had the skin of a rhinoceros or an ostrich's curly, floppy plumage (like in the 1978 Bestiaire).
Every vision was the cosmos of a corner of Paris, boasting a certain, safe and definite address, one secretly dedicated to the flaneurs. As for that beloved, wandering multicultural and ultra-generational ethnicity that I was addressing, it grew up with its hands in its pockets and its sight on the spleen, intent on encountering nocturnal brotherhoods. Every time the vision appeared, it was like alchemical fiction drawn from fantastical Argentine literature.
What could Adolfo Bioy Casares have to tell me of Feu d'Artifice (winter, 1987), where smooth and marbled columns support a sky-blue velvet drape as in a neoclassical carousel? Or, in Rêve de Cristal (winter, 2002), where webbed vanitas extend amidst walls of silk filaments produced continuously by spiders, hatching from the egg sack imagining, as Italo Calvino, Ottavia, an invisible city that now hosts nothing more than the pink wings of suspended butterflies set to free us from terrestrial illusions?
Remembering L'Année dernière à Marienbad – a flashback film by Alain Resnais in which Robbe-Grillet dialogued with Casares's plot of La invención de Morel – I dig deeper, polishing the suggestions and devices of rediscovery that are the snowy distance of Conte de Chats (winter, 1986), and Jules Verne's green rays in Les Grottes Imaginaires (winter, 1992).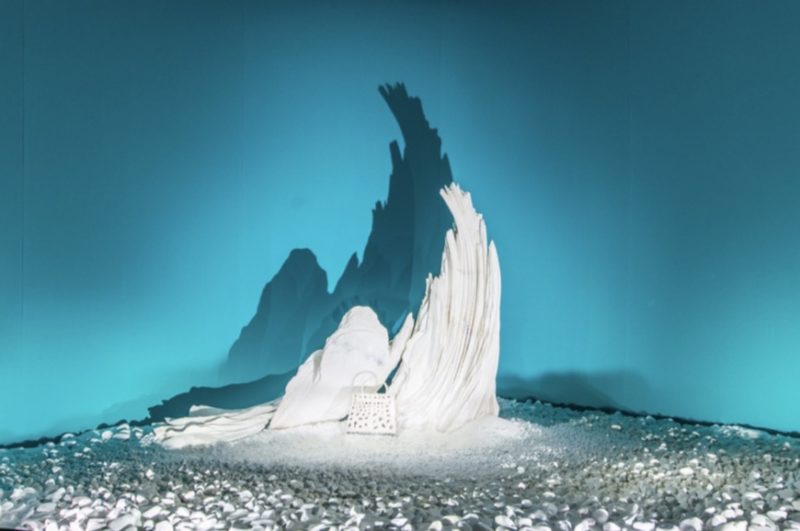 But Jorge Luis Borges's "moon across the bay" rises up like a jagged wave of marble and like a summit spikes in a Dolomitic manner above a carpet of sand, comparing and contrasting the other wave ahead. A horizontal wave, that of the famous iconography of The Great Wave off Kanagawa, a xylograph by Japanese painter Hokusai, represented on the evocative sponge canvas in La Vague de Marbres (summer, 1981). A wave of marble and seawater, of art and Orient.
Each invention, precisely because it is an invention, was generated by my severe executive discipline for studies, blended with a superb artisanal technical ability that I've always relied on in my collaborations, in order to build that marvelous book, my authentic "Menchari Codex."
It was created in Paris, at the corner of 24, Rue du Faubourg Saint- Honoré, for Hermès, a fashion house that has hosted the luxury of visions, among its elegant handbags (which have found taste here, and with it the epic seal of a fantastical tale).
"The Codex is a book initiated in 1978, when I still went around with a folder full of drawings to offer, kept locked and tucked under one arm; a codex completed in 2013 in which I, of this unique and original publication, was not only author but also the font. Inventions, visions, voyages, tableaux, rêves that forever display the same character: my character."
This is the never-before-seen declaration that Leïla gave me as a gift. A decisive declaration, one made relatively clearly, even if certain words seemed to come as whispers, though dictated by the peremptory nature of affirmation.
While her broad, gray silk foulard shirt, printed with mortar-, ash- and pearl-gray oblique stripes and hosting within its imposing neckline a necklace of Berber geometries which, with its narrow moves like the slow wash of waves on the sandy beach, allowed her to flower like a seashell. It showed an ethnic and nomadic style, evoking that alcoholic flavor and bittersweet scent of woods in a distillate of palm trees that knows how to narrate its "promontory" earth; terrain already unveiled by the etymological meaning of its very name: "to lay down at night."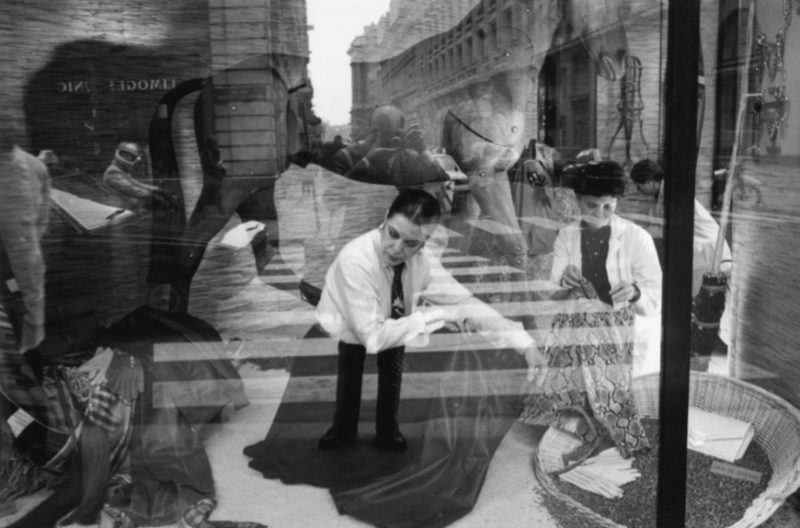 She got to know her land mostly when she was a young student, a designer, artist and feminist; a woman mapping the Tunisia Song, if we were to paraphrase the title by Margherite Duras and appropriate the warning set at the beginning of the text: "that the names of every city, river, nation, sea have first and foremost a musical sound." This is what Leïla did with objects. She sought out the musical assonance of colors, and what remained was a memory that applies musicality even in the memory of the places she passed through, and later reconstructed both as a traveler and as a researcher: wide, deep and symphonic views.
Leïla with smoky eyes, and with rings on her pinkie and wedding finger in hands that trace arabesque memories and illustrate pages (like any of her memories that have become visual dogma), indicating trajectories for me that are rife with suggestions; that dilate like the bandoneón in Carlos Gardel's Volver. The two of us met, after having ordered, in the Marais, at 30, Rue du Bourg-Tibourg, a thé vert Marco Polo from Mariage Frères. We were adding a voyage within the voyage, sipping memories. Memories, and journeys, that leafing through her book, emerged in accurate tableaux and collages of settings, in the scents of flowers and Chinese fruit from Tibet, amid the small, doubled shadow extended by the bifurcated fronds of the Australian Kentia palm, delighted by these teacups.
A shadow that casts its long point toward the white sugar jar overflowing with crystals and gems that had crowded not only the white porcelain of our teacups, but also tableaux like Automne (2009), a purplish and mustard-colored rêve in which an amethyst grotto similar to an apse hosts a winged horse: a mythological, galloping Pegasus; a free and wild beast.
This meeting, this encounter created as a truly imaginary interview of a genre that can only be accomplished with extraordinary people, which is precisely what Leïla is: a silent nocturnal soul; a Bretonian, "numinous" woman; a lady who has traveled her path "all the way to the end," who has transported handbags, foulards, carrès, jewels, flacons of Calèche into a galaxy in which they could all become "stars in a cosmos in the grips of metamorphosis."
Chiara Guidi, an art critic and author of pages of artistic literature, met with Leïla Menchari in an imaginary – yet possible – encounter. Menchari, born in Tunisia, is the artist who created window decorations for the headquarters of Hermès, at 24, Rue du Faubourg Saint-Honoré in Paris. An extraordinary woman and visionary who, over her course of training that bordered on surrealism, and equipped with a soulherm like the Aladdin's Lamp by Jean Cocteau, first dreamt, then carefully constructed "tableaux": visions set forth not only for the clientele, but for every one of her adoring flaneurs. The tool that made this imaginary interview possible was Leïla Menchari, the Queen of Enchantment (Actes Sud / Hermès), a volume boasting an exquisite cover with copper and silken hues, and filled with kaleidoscopic images that document, in double-paged spreads, a destiny to be leafed through and the corpus of her remarkable career, while at the same time restituting dreams and voyages: exotic destinations, flavors evoked, and detailed iconographic studies. Likening every display to a little theater in which every role should be played well, she said that "things that are made well never leave you indifferent. Beauty is what makes me grow". Those windows so famously populated by Birkins, Kellys, and other iconic pieces serve as silver thread of Chiara Guidi's fascinating storytelling.
* Chiara Guidi is the author of La rivoluzione siamo noi (We Are the Revolution), a guide to revolutionary female figures of the past one hundred years (1917-2017), as well as this interview with Leïla Menchari, which is destined to become another chapter in her book.