LONDON IS READY TO WELCOME THE CHINESE QUEEN MIDAS GUO PEI WHO LIGHTED UP FASHION WORLD
Text by: Annarosa Laureti
The modern King Midas, the Chinese couturier Guo Pei turns everything she touches into gold. However, unlike the Greek myth, this incredible skill doesn't come from a divine gift but is the result of great mastery and creativity.
Born in 1967, then starting her carrier when nobody in China knew about fashion design, from over 30 years Guo Pei has bewitched the Eastern world with precious creations from traditional Chinese craftsmanship, and recently has conquered Western one too.
It was 2015 when her name literally broke the Net. Party to this was the gorgeous Rihanna, who chose just a piece of hers to step on the ultra followed Met Gala's red carpet celebrating the inauguration of "China: Through the Looking Glass" exhibition.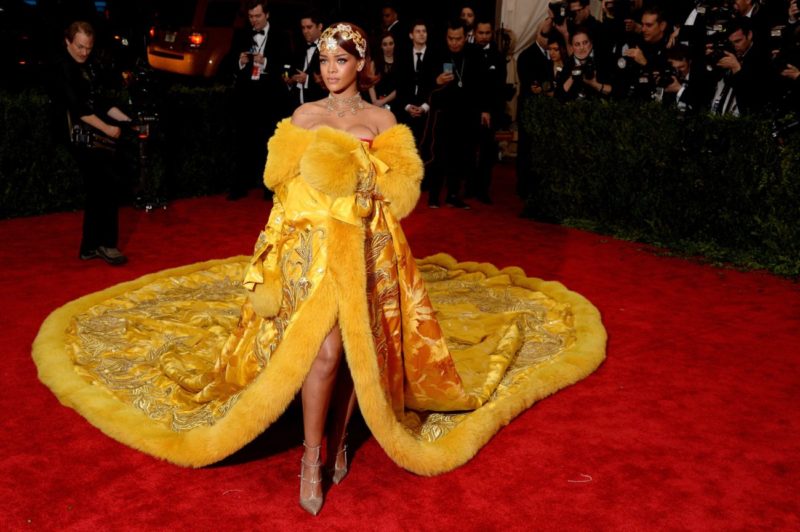 Compared by someone to an enormous omelette or pizza, that huge yellow embroidered gown – whose creation took 30 months – made the indisputable Barbados' queen a new Chinese Empress and consecrated once Pei to the Olympus of Fashion. Showing at the very New Yorker exhibition her "Xiao Jin" (Little Gold) creation – a Tibetan Buddhism inspired dress made of 24-carat gold thread and Indian metal wire embroidery painstakingly crafted over 40.000 hours – she became the first (and still the only one) Chinese Guest Member of the "Fédération de la Haute Couture et de la Mode".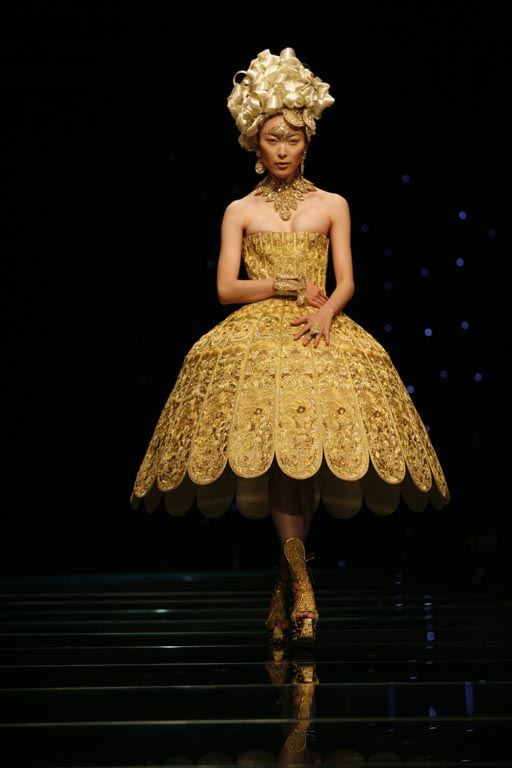 Taking inspiration from ancient myths and legends, as well as from the history and the traditions of her country, Guo Pei loves playing with the color of goddess making it the signature design element of her own creations. Other than being the sacred hue of the Ancient Chinese Empire, according to the designer "gold brings a special kind of power" able with its sparkle to lure everyone, nobody and no country excluded.
After engaging Paris during the latest Haute Couture Fashion Weeks with her gold mania, Pei is ready to conquer the grey London too. Two important appointments in fact are on scheduled this Autumn.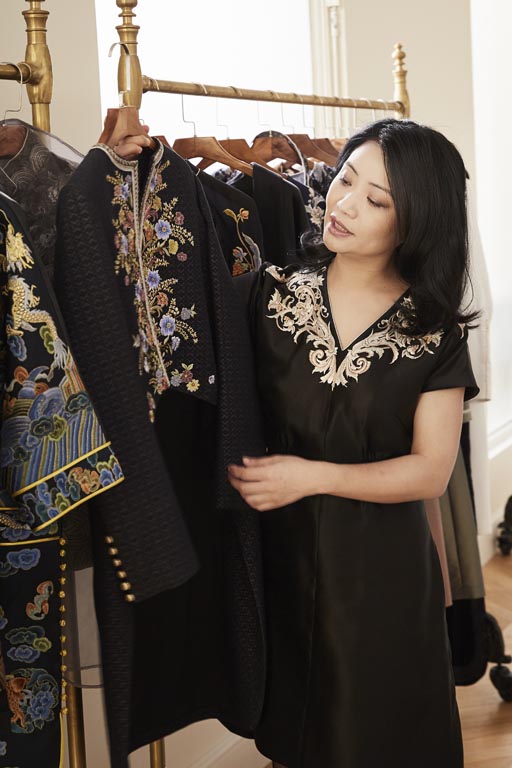 Gold: The Midas Touch
The first appointment sees Pei collaborating with Sotheby's for the next 29th October launch of the second edition of "Gold: The Midas Touch" sale.
"Working with a prestigious institution like Sotheby's has always been a wish of mine. I am thrilled to make this collaboration a reality" the designer said. "Through Sotheby's, passionate art lovers will have a chance to appreciate the true value of my couture creations".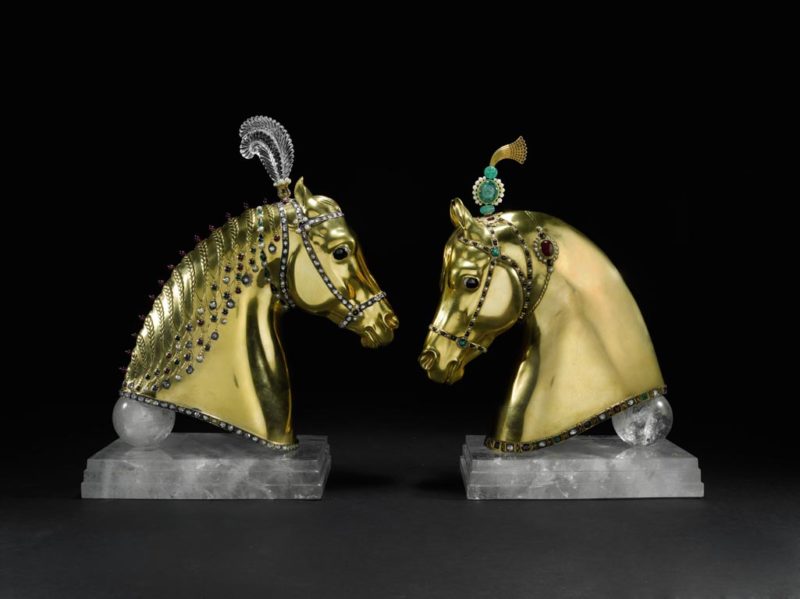 In particular after the great success of last year, the auction comes back again to bring together works from artists and artisans across the millennia, from contemporary painting and photographs to Asian and Indian sculptures and sacred objects, from ancient jewellery to decorative art and furniture. This time it will be enriched by the very Chinese designer's vision who was called to curate a selection of works to stand with four her designs, including the famous "Xiao Jin" and a gold Chinese Traditional Bridal dress inspired by Singapore's Peranakan traditional costumes hand sewn with gold thread in-laid and completed during among five years.
V&A's Fashion in Motion
Only three days after Sotheby's auction Guo Pei will present her first runaway ever in the UK at the V&A's Fashion in Motion event that for 20 years has been allowing people to freely attend fashion shows of both established and up-and-coming designers such as Alexander McQueen, Ashish, Christian Lacroix, Jean Paul Gaultier, Kenzo, Missoni and Vivienne Westwood just to name a few.
"Guo Pei's work demonstrates the height of what can be achieved in the skilled ateliers of an haute couture house" Oriole Cullen, V&A fashion curator, commented.
Feeling lucky to be included into V&A's platform and looking forward future collaborations too, the Chinese couturier will show her ground-breaking "Alternate Universe" collection – already seen at this year's Paris Couture Week – to a not-elite audience but to everyone who will book a seat online via the V&A website from Monday 21st October.
Couture Gold Touch
Named one of TIME magazine's 100 Most Influential People, the Chinese couturier is the umpteenth demonstration of the greatness of an artisanal art such as that of haute couture. Using needle and strings instead of a chisel or a pen, Guo Pei tells us through her designs ancient myths of unknown times and lands featured by melting pot dwellers. Since the first "Samsara" ("Life cicle") collection – shown in 2006 during China International Fashion Week – the fable the designer narrates sets in a new kind of universe where light and dark, good and evil's spawns coexist, where soldiers wear Napoleon's military uniforms and Eve's poison snake lays near monkeys of Aesop's Fables.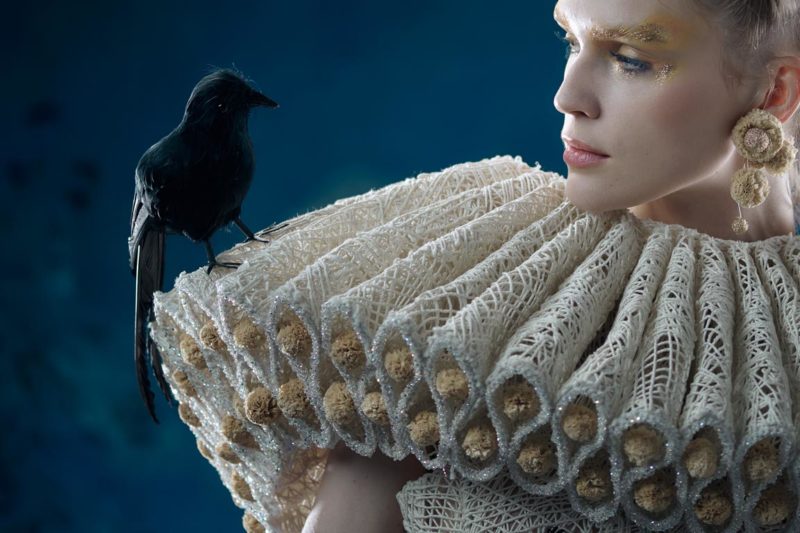 Letting us daydreaming maybe finally, amongst all these several historical, literary and religious too references, the designers will recount us that also the poor and foolish King Midas can live his coveted happy ending!
Cover: GuoPeiXSotheby's, ©Chris Floyd Sotheby's