Unseen has announced its sixth international photography showcase taking place in Amsterdam 22-24 September 2017.
Building on the success of previous editions, Unseen Amsterdam will showcase the best in new photography, by presenting emerging talent and new work by established artists.
In 2017, critical discussions around yellow journalism and fake news have come to the fore. Whether we are wholly conscious of it or not, we are constantly processing the images that surround us. In our modern times, photography is an omnipresent medium – in use everywhere, all of the time – and it has played an increasingly significant role in predetermining 'truths' about the world we live in.
Whether we should blindly trust these 'truths', however,
 is under scrutiny. As our frontiers expand, and we become relentlessly challenged by the constant flow of information we are fed, one thing is clear: it has never felt more important to become critical consumers of these images – to question what we see and seek our own conclusions. The power of photography, in all its forms, cannot be disputed. But this power does not lie in its certainties – it never has. Instead, it is most resonant when used to explore our condition through personal, subjective narratives
It is these narratives that Unseen – as a recently expanded platform for contemporary photography – has set out to explore this year, aiming to reflect 
the rich constellation of ideas, voices and thoughts within contemporary photography, and the broad scope of its practitioners.
(Emilia van Lynden, Editor­in­Chief and Joanna L. Cresswell, Editor, Unseen Magazine Issue #4)
To keep updated please visit: www.unseenamsterdam.com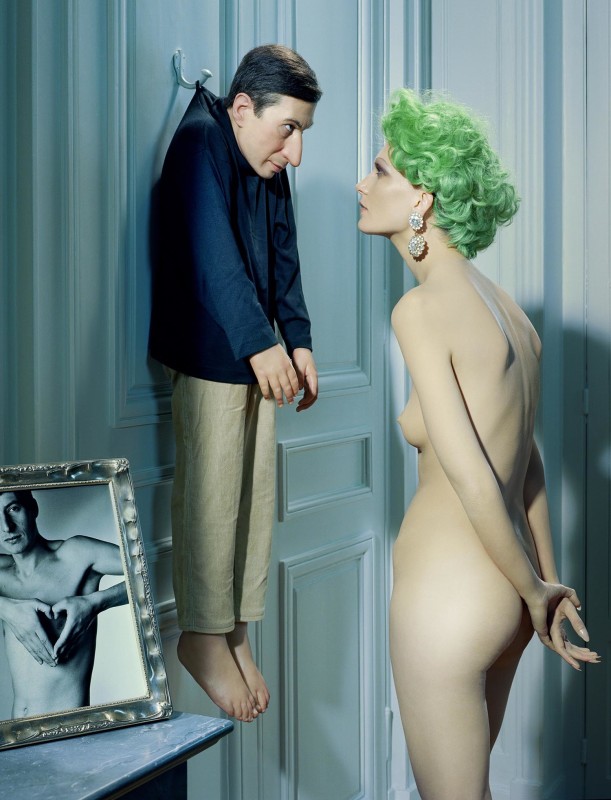 Unseen Campaign
In collaboration with Unseen, the Dutch multi-media artist Melanie Bonajo (1978, Heerlen, The Netherlands) created a series of photographic works that will be the first campaign image and the face of the sixth edition of Unseen Amsterdam 2017.
In her campaign series, Melanie Bonajo explores the relationship that future generations will have with nature. She questions whether our children will stand up against the power structures that are currently in place and will turn back to nature and the enchantment of the natural world. She investigates whether a new time will come in which the next generation might find themselves increasingly dehumanised or whether they are secretly creating a new mystical world.
Melanie Bonajo said, "Through this photos, I am giving a voice to the children and focussing on ethics based on the long-forgotten power of myths and fairy tale stories. The world of the child who still carries a vision or belief in magic, which was once so near to us all. I am exploring how we can pull the mystical spells of the plants into our living rooms in order to connect with these irrational shadows. In this series, you can follow the elves at work."
In her previous work, Bonajo has investigated how her generation has distanced itself from being spiritual due to the obsession with commodity based pleasures and technology. Her new work commissioned by Unseen is therefore a continuation on the theme of our shifting relationship with nature.
(Melanie Bonajo graduated from the Gerrit Rietveld Academy in 2002. Based in Amsterdam and New York, the Dutch artist works in various media, ranging from photography to music to videography. Melanie's work often revolves around themes such as feminism, nature and technology, and frequently visits the relationship between humans and their surroundings. Characterised by its experimentalism, Melanie does not want her art to abide by pre-set notions. Instead, she continually pushes her work to tread beyond the known. Melanie's work has been exhibited at Tate Modern, London; Foam, Amsterdam; Eye Film Museum, Amsterdam; PPOW Gallery and PS1/MoMA, New York; National Museum of Modern and Contemporary Art, Seoul; the Stedelijk Museum; Amsterdam amongst other locations.
Unseen CO-OP
For this year's edition, Unseen Amsterdam introduces a new, dynamic and interactive element to its platform; CO-OP, a space exclusively dedicated to the work of cutting edge, artist collectives from all over the world. CO-OP will take place inside the Transformatorhuis at the Westergasfabriek, which will be remodelled in a lively and inspiring social hub to explore pioneering works of art and new commercial formats. The thirteen international collectives are selected by Unseen and Lars Willumeit, the curator of the first edition of CO-OP.
Lars Willumeit: "I am happy about being offered the opportunity to co-conceive, co-enable and co-create CO-OP as a lively and exciting social hub, and exploring current collective artistic practices as part of this temporary meta-collective. CO-OP wants to foster and build forums of social encounter about contemporary image practices, as proposed by each of the thirteen participating initiatives. Additionally, we hope to contribute towards their sustainability."
The participant collectives are Britto Art Trust (Bangladesh), Colectivo +1 (Colombia), Dead Darlings (Netherlands), DER GREIF (Denmark), GUSH collective (Belgium), Huber Huber (Switzerland), Klara Källström and Thobias Fäldt (Sweden), LIVE WILD Collective (France), Ruang MES 56 (Indonesia), POIUYT (Italy), Radical Reversibility (Netherlands), Tendance Floue (France) and Nepal Picture Library (Nepal).
Unseen Premieres
Unseen is all about new photography, which is emphasised by the numerous Unseen Premieres that are shown every year at the fair. Premieres are photographic works that have never been physically shown at any gallery, institute or fair. At its sixth edition, Unseen Amsterdam will present Premieres by Miles Aldridge (United Kingdom), Nadav Kander (Israel), Douglas Mandry (Switzerland), Ruth van Beek (Netherlands), Tom Callemin (Belgium) amongst others.
Unseen Artists and Programme
Unseen Amsterdam invites over 50 galleries from all over the world to present new work at the fair. For its sixth edition, Unseen Amsterdam welcomes several new galleries, such as Purdy Hicks Gallery (United Kingdom) showing Susan Derges (United Kingdom) and Bettina von Zwehl (Germany) amongst others; Gallery Naruyama (Japan) showing Momo Okabe (Japan); Galerie Clémentine de la Féronnière (France) showing Adrien Boyer (France); Galerie Janine Rubeiz (Lebanon) showing Lara Tabet (Lebanon). Returning galleries include Danziger Gallery (United States) showing Liz Nielsen (United States); Galerie Ron Mandos (Netherlands) showing Hans op de Beeck (Belgium) amongst others; East Wing (Dubai) showing PHENOMENA Collective (Denmark); and Christophe Guy Galerie (Switzerland) showing Rinko Kawauchi (Japan) amongst others.
Complementing the fair, on-site at the historic Westergasfabriek in Amsterdam, is a three-day speakers programme featuring lectures and debates at the Unseen Living Room, as well as a celebration of the printed world of photobooks at the Unseen Book Market and much more.
Other key elements of the programme include a major exhibition and the ING Unseen Talent Award, an exclusive photography award created by ING and Unseen, focused on new photography talent.
Unseen Amsterdam 22 – 24 Sept – Westergasfabriek, Amsterdam
Tickets Unseen Amsterdam
Tickets are available from the 1st of June. For more info, please visit: unseenamsterdam.com
Unseen Ambassadors
Jeanette ten Kate, Reyn van der Lugt, Pieter & Marieke Sanders, Nicola van Roenne, Maryam Eisler