Artist Gian Maria Tosatti and curator Eugenio Viola presented the Italian pavilion at the Venice Biennale 2022
Text by Gianmarco Gronchi
"I would give the whole of Montedison for a firefly", as Pier Paolo Pasolini wrote on 1st February 1975 on Corriere della Sera pages. Pasolini described Montedison as the symbol of a failed humanity, of a hyper-technological society which, with its constructive squatting, has condemned fireflies to extintion. Two days ago, Gian Maria Tosatti used these very words by Pasolini to illustrate the Italian Pavilion at the next Biennale of Art 2022. Tosatti, who – for the first time in the history of the event – will be the only artist to exhibit in the Italian pavilion, this year curated by Eugenio Viola, spoke of evolution, but also of failure and loss.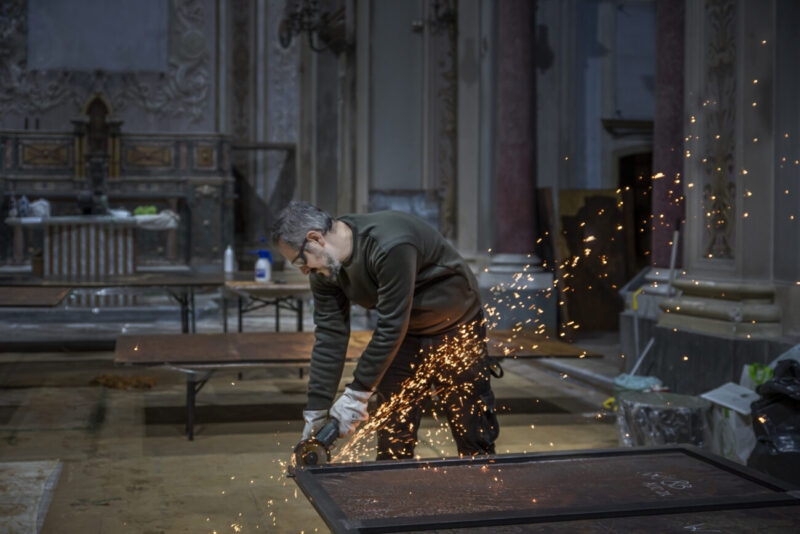 These will be the themes addressed in Tosatti's installation at the next Venice Biennale. The work, with the evocative title Storia della notte e destino delle comete (History of the night and the destiny of comets), "metaphorically retraces the rise and fall of the Italian industrial dream and prepares for the final vision, the destiny of comets, a palingenic and cathartic vision", which should offer "a proactive look at the present", as the curator Viola said. Tosatti's installation will therefore be an immersive one, reflecting on the failures of modern man, on the interrupted processes of physical and cultural evolution, but also offering a pars construens alongside the critique. Tosatti has also called into question Euripides' Trojan Women, a mythological symbol of a defeated civilisation. "While the whole world was sinking into the littleness of the human," says the artist, "we did not realise that we were not, and are not, evolving. We lost freedom, the freedom to be in one place or another, without proving anything. The story of the night of our Pavilion must end not with a way out, but an exit that can be a new perspective. We must find the courage to become what we should". The artist's work fits with the general theme of the event, Il latte dei sogni / The Milk of Dreams, chosen by the general curator Cecilia Alemani with the intention of investigating "other forms of coexistence and transformation" and celebrating art "for its ability to create alternative cosmologies and new conditions of existence". Tosatti and Viola's aim is therefore to accompany the visitor on a journey that illuminates the distortions of today, not from an escapist perspective but from an evolutionary one, to reconnect with that interrupted path of proactive and conscious growth.
Therefore, as Anna Maria Ortese wrote in Corpo celeste, quoted by Tosatti himself, "looking for a perspective is an iron duty". And in the next Italian Pavilion, it is the search for a perspective on the present that will give sense to this artistic operation.