An Interview with Karlie Kloss
Supermodel Karlie Kloss, in an exclusive video interview, shares her point of view on women and feminism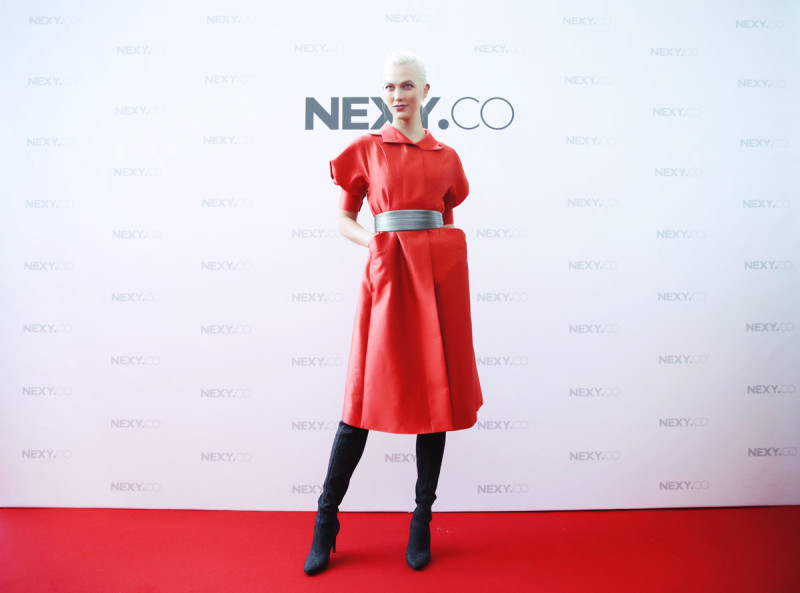 Text by: Michela Guasco
Saying that Karlie Kloss is a supermodel is reductive, to define this 25 years old we need to add at least enterpreneur, philanthropist, social media star and student.
In Milano as a special guest for the fashion show of Chinese luxury brand Nexy.co., we meet her backstage in the middle of the after-show frenzy to discuss topics she is "really passionate about" (one of her favorite expressions).
In real life Karlie is really stunning: taller than most models and now platinum blond, she wears a coral silk dress and sparkly cuissardes that would hit waist height on regular humans.
Her megawatt smile seems sincere and her handshake is strong, it all makes it very hard not to like her a lot.
D: You are a deeply involved in philanthropic projects (she started partnering with Momofuku Milk Bar in New York to make cookies to help combat hunger), does that influence your career choices?
KK: Yes it does! I started modeling at 15 and that is too young to make many choices. But in the past 10 years I have learned what I care about, what I want to identify with, what I feel passionate about, how I want to make a difference in the world. Being a model I have been able to build a platform and build a voice and I want to use it to make meaningful impact in the world. I am at a point in my career when I can choose, and I choose the jobs and the projects that let me express my voice.
D: Why did you choose coding, of all possible career paths you can help young girls with?
(Karlie has founded Kode with Klossy, a platform that offers coding scholarship and free summer camps to high school girlsI).
KK: Growing up I didn't have access to learn these skills. My school didn't offer it. Before my first coding class, the idea that I could build something with code seemed nearly impossible, but after only a couple of courses, I was working with my classmates to program a small drone. I realized that, just like art and fashion, code is about creativity, and that women who have these skills have the power to shape our future – and often have. Women are essential in forging digital progress and knowing how to code is the key to exploring and creating the newest frontier.There aren't many women in the technology industry yet and more over there isn't a lot of encouraging for girls to seek out these skills. But we live in a world that has been transformed by technology in every industry.
There so many work opportunities for young women in this field.
Coding is in the perfect intersection between creativity and technology. Girls want to develop the skill to be able to build an app, a website or a business.
I want to help them to make that dream come true.
Now that everybody is a feminist because she is wearing a t-shirt, do you think that fashion can do something serious about women issues?
I think fashion is a very powerful industry. There is a lot of influence that the fashion industry has and there is a lot of room for improvement. I am very optimistic. People in fashion can make images from runway and editorial are seen by millions of women and girls around the world.
I think there are many women in power in fashion companies: fashion designers, like Maria Grazia (Chiuri, creative director of Dior) the head of one of the biggest fashion houses in the world. Or on the business side of fashion: executives, owners, ceos. Many strong women are leaders in the fashion industry and are leading by example. There is still a lot of room for improvement. But I am proud of the industry I am in.
You were a top model before social media, now you are a superstar (6.8 millions followers on Instagram to this day, a YouTube channel and a blog).
D: Can success exist without social media in 2017?
KK: Thank you! I think that it is just a part of the world we live in today. I feel grateful that I started my career before that existed because I had an opportunity to learn what it is like to be a model without that added element. At that time it was more about being present, it wasn't about needing to project to the rest of the world what you were doing. Now it is very powerful: it's because of social media that I can reach many girls and let them know about many things I care about. I recognize that. It's a double edged sword though, your privacy is at risk. Social media is a very powerful tool, you have to learn how to use it.