THE LIGHTNESS OF LINEN EMBRACES THE MOST DURABLE BOND, THAT OF THE ITALIAN FAMILY, IN FENDI SS2021
Text by Diletta Accorroni
Already from the invitations – two packs of customized pasta Rummo, a recipe and some family portraits done by Delfina's husband, artist Nico Vascellari – it seemed clear that the the fil rouge of the Fendi Spring Summer 2021 Collection would have been somehow related to the idea of Italian Family.
In fact, what the wonderful duo Silvia Venturini Fendi and Kim Jones put in place, represents an Ode to the pure and magic family's sphere.
The collection was conceived during the lockdown, so all those feelings related to the "Home-dimension" come out as no surprise.
Home is protection, solid connections, strength, warmth and affection. Home is a nest where everyone co-operate and where beautiful elements could be found. Such as bed linen, which are now wisely re-interpreted and which become the core element of a delicate, sweet and romantic collection. Behind this, the Italian tradition that wants mothers giving out as a present linen sheets to their daughters, once they got married.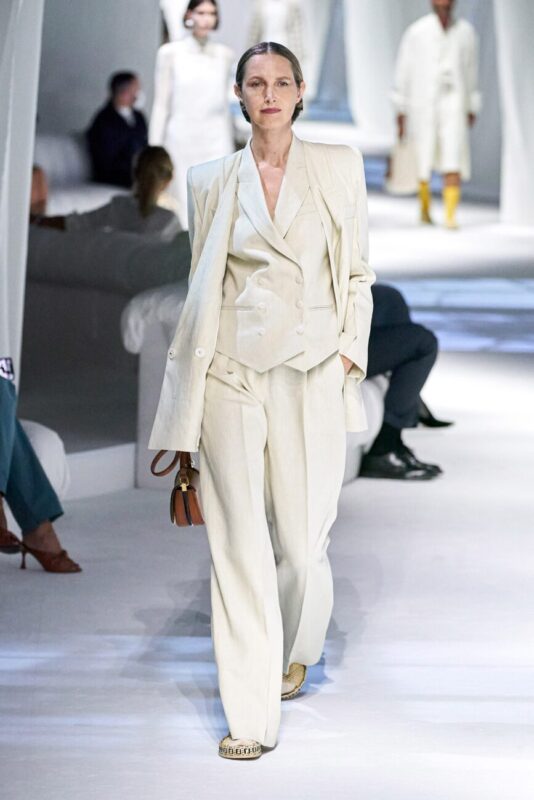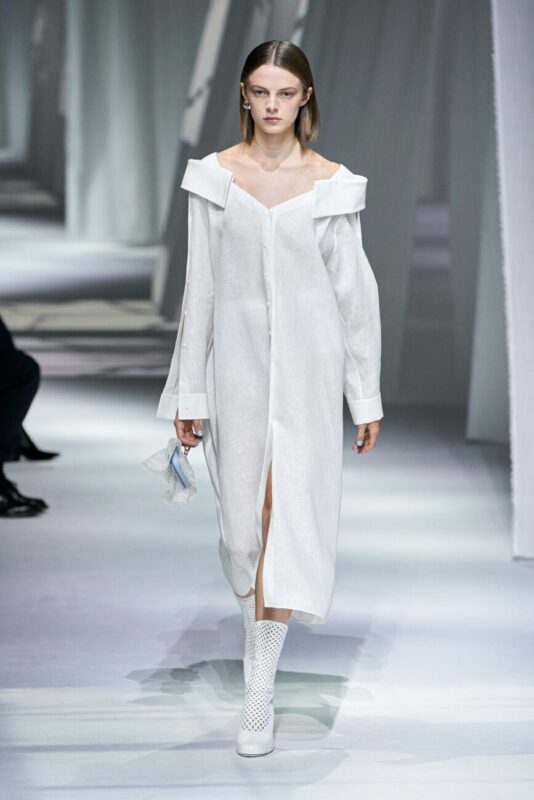 The designer reveals that linen has been picked up also because it embodies one of the most sustainable fiber, and this is a fundamental aspect within a collection alike, that mixes natural elements and family ties.
The importance of La famiglia, is also wisely reflected in the cast, where it is easy to spot a few examples of related models (mothers, fathers, sisters).
Coming to the collection in itself, it starts with a vast range of pastel and natural colours which then goes on with red, black and shades of grey. Colors such as yellow, orange and pink are instead mainly visible on the accessories. They consist in big glasses and hats, gloves, both picninc and beach bags, in different material and dimension and of course Fendi's musts: the Baguette and the Peekaboo. Caftans, apron dresses, jumpsuit, chemisiers are with no doubts the protagonists, while Lorenzo Senni's soundtrack represents the icing on the cake of a wonderful, deep show.