GOLDSCHMIED & CHIARI'S SITE-SPECIFIC INSTALLATION OF A 80S PARTY'S RESIDUES MOVED TO MILAN AND BECAME A SURREALIST QUESTION IN PANDEMIC TIMES – WATCH THE VIDEO!
Text by Fiammetta Cesana
We are about to end an expectedly tough year. The 31st of December used to be a night of folly celebrations, dances, trumpets and confetti, enormous disco ball's drop in NY Times Square… but this year we feel different, probably nostalgic of those glorious festive gatherings.
A question that typically began New Years Eve's plans, as well as opened a usual Friday night-out, Dove andiamo a ballare questa sera? (Where shall we go dancing tonight?), borrowed by the former Italian minister De Michelis to name a discotheques guide in 1988, today sounds so unnatural and melancholic. The question is also the title of a site-specific installation by the female duo Goldschmied & Chiari. Presented for the first time in 2015, the exhibition of the Italian 70s-born artists, as the title's question itself and the whole context of social life it refers to, totally overturned its significance and emotional impact due to 2020 isolation.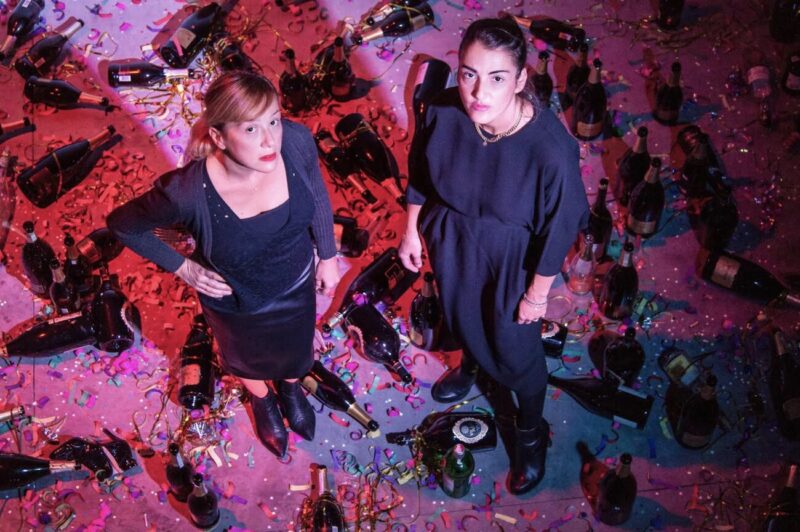 Where shall we go dancing tonight? shows the remains of a typical 80s Italian party: a floor with plenty of leftover bottles, cigarette ends, glittering confetti, lost shoes, and mirrors where smoke's images have been impressed on intensifying the sense of dazzling and perdition. Songs of the time plays on repeat, accompanying this wistful party-over scenario with no dancers. Since December 19, the exhibition is installed in Galleria Poggiali lightening up the street of Foro Bonaparte in the trafficked heart of Milan.
Five years ago, when the international press told about the funny case of the art installation cleaned up and thrown away by a meticulous museum's maid, also inspiring the Swedish movie 'The Square', Sara Goldschmied and Eleonora Chiari would probably have never thought that their opera would have entered times even more controversial.
This New Years Eve, with a curfew and distant from our dear ones, will be much different from the others. Rather than celebrating, we will just be hoping for a 2021 that rescues us. So in such complicated history's chapter, the Italian duo's installation really looks like a discourse of the past, both so close and so far away from all of us now, something that doesn't belong to our present, a reality that suddenly turned surreal, but that we eager to hear and say it again very soon.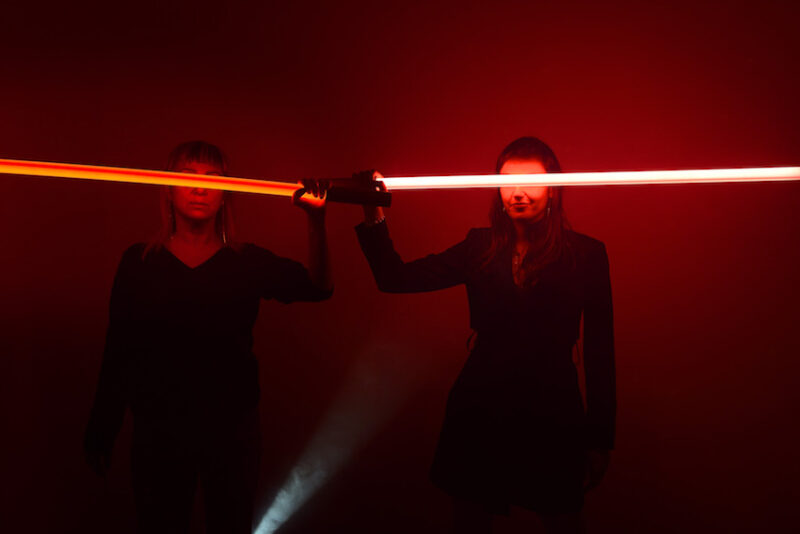 We wish you all a happy New Year, in the hope of a safer 2021 where asking 'Dove andiamo a ballare questa sera?' won't sound that incredibly weird.