This season, Chanel's Cruise show teetered on the sporty, evoking a laid-back glamour of the French Riviera
Words: Chidozie Obasi
Can a lady engage in races? Can she join her male counterparts with sporting a sturdy aura? Yes, if she's in the hands of Virginie Viard. The Maison's women (mm-hmm, ladies) are hardly a casual bunch: their day uniform can consist of driver's jumpsuits in printed tweed and silk, worn on the racing circuit, sporty blouses, plunging necklines and t-shirts embroidered with patches and flowers to satisfy both a customary clientele and a newer generation. (The Cruise 2022/2023 show softened the sports-meets-luxe zone through draped bustiers and long skirts made of ivory lace in the bedroom of Karl Lagerfeld's villa, La Vigie). Chanel's garments are never about flash-in-the-pan fads or jumping on the latest bandwagon. No sly irony here, though. This season, the Maison's lady leads a pampered French Riviera life, in Monte-Carlo, and that's just for starters. Of course, if anyone can approximate haute couture detailing and translate it into ready-to-wear, it is Viard.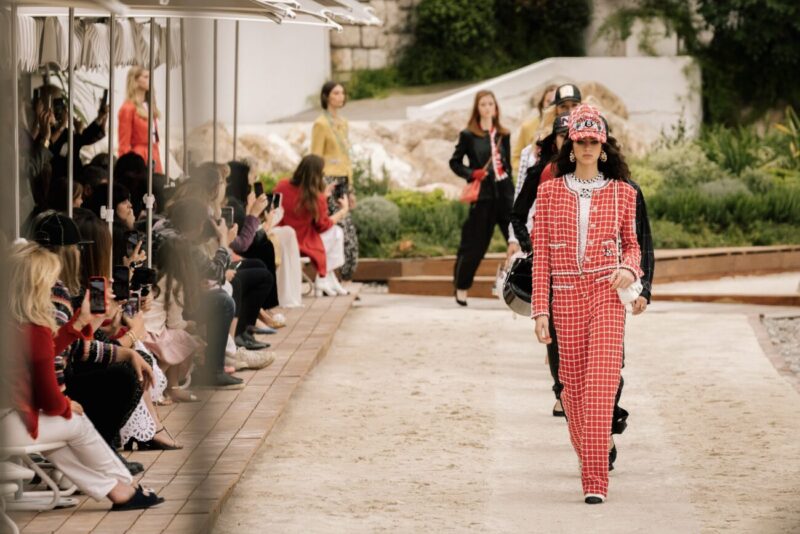 Cocktail hour dresses made a bolder statement, evoking the laid-back grandeur of the Riviera: they teetered on the sporty, with slender-sized bags and minute, poised bias-cut gowns with elegant décolletés that dazzled with a shower of draping and tennis-racquets shapes—presumably, Chanel's recipe for a day at the beach. Heady femininity was increased by sharp blazers shimmering with a constellation of beads, pears and sequins. Chequered tops in neutral shades feature pairings with macro-patterned skirts from the waistline down; wear them with organza trims or straw hats—si vous voulez. "To me, Monaco is a matter of feelings above all. That's Karl, Caroline, Charlotte," Virginie Viard expresses, poignantly, in the show notes. "From very early on, I knew we would hold a show there, and more precisely at the Beach Hotel […] From this magnificent venue, one can glimpse his villa, La Vigie. I will never forget the times I spent there: terraces and balconies, big umbrellas, baskets of flowers; so much beauty."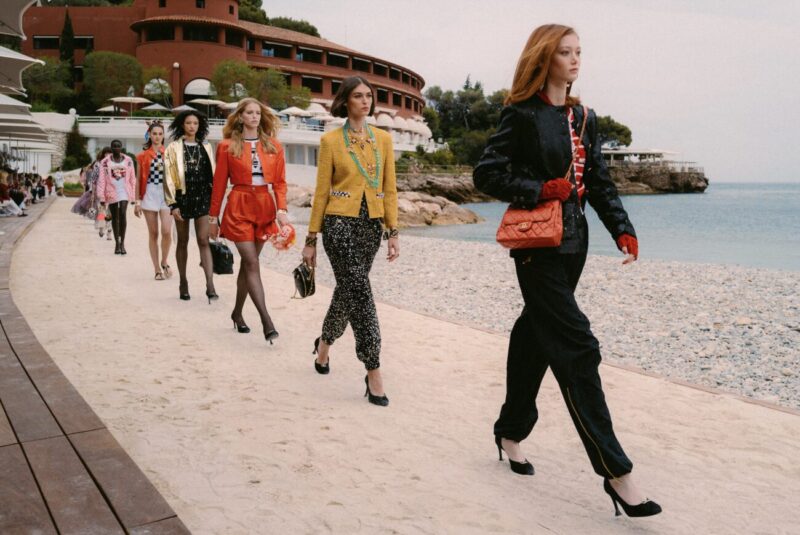 Chanel women aren't shy about their love for accessories, and they will find plenty of chuck-on sneakers with silver embellishments and softly-gathered fastenings to satisfy their strongest cravings. "A sporty atmosphere, but not only," asserts Viard, who deems Monaco is increasingly inherent to the sports-like attitude of Chanel. "There are lots of tweed or silk jumpsuits lined with light terry cloth. Many sequins and flowers shape embroidered plastrons adorning thinly striped long shirt-dresses with white high collars – a nod to Karl –, a sequined midnight blue dress, or backless tops worn over wide-cut trousers." Viard's token concession to timeless dressing? Make space for XXX (it reads extra, extra, extra) micro bags: too small to accomodate a portable charger, let alone a phone. In fact, they're meant to hold the bare minimum: a couple of cards, keys and lipstick. Accessories notwithstanding, Chanel's signature luxe was clear in the classic: be it suiting, peak-lapelled tweed jackets, checks and a rain of shimmers. On this occasion, there was a full battalion of them, in a holiday pluck that had a somewhat vague impression and didn't get into details. So here's the question: could timelessness ever reach the peaks of novelty, with a resonance that goes beyond conventions?
For some, a starburst of tweed may not receive a seal of approval. For others, there's Chanel.