For Alexander McQueen's spring 2023 show, Burton pushed those lines of silhouette and texture to create a collection that felt inherently striking in shape and form.While searching for humanity and connection, Sarah Burton exuded blooming darkness and frenzy pois
Twelve years after Lee Alexander McQueen's passing, his quietly potent—yet ever enduring—legacy is well underway. Flipping through the label's current collections, you could say the line has gotten bolder—Spring 2023 included Sarah Burton's darkest, most "abstract" colour palette yet: a full range of blacks, from pitch to a nearly chalk-like hue. The idea of a subtle, fuss-free colour on otherwise simple pieces is an evolution of Burton's conscious aestheticism: to design clothes to be worn and cherished in. Which is precisely the point. "This collection is about searching for humanity and human connection. The eye is a symbol of that humanity, a register of emotion, an expression of uniqueness. Our clothes are designed to empower. They are stripped back, dissected and focused on cut, drape and silhouette," commented the British designer in the press notes, nodding to an era of cognitive practicality fed by a willingness to embrace utmost elegance. "We also looked at the work of Hieronymus Bosch, at once dark and beautiful."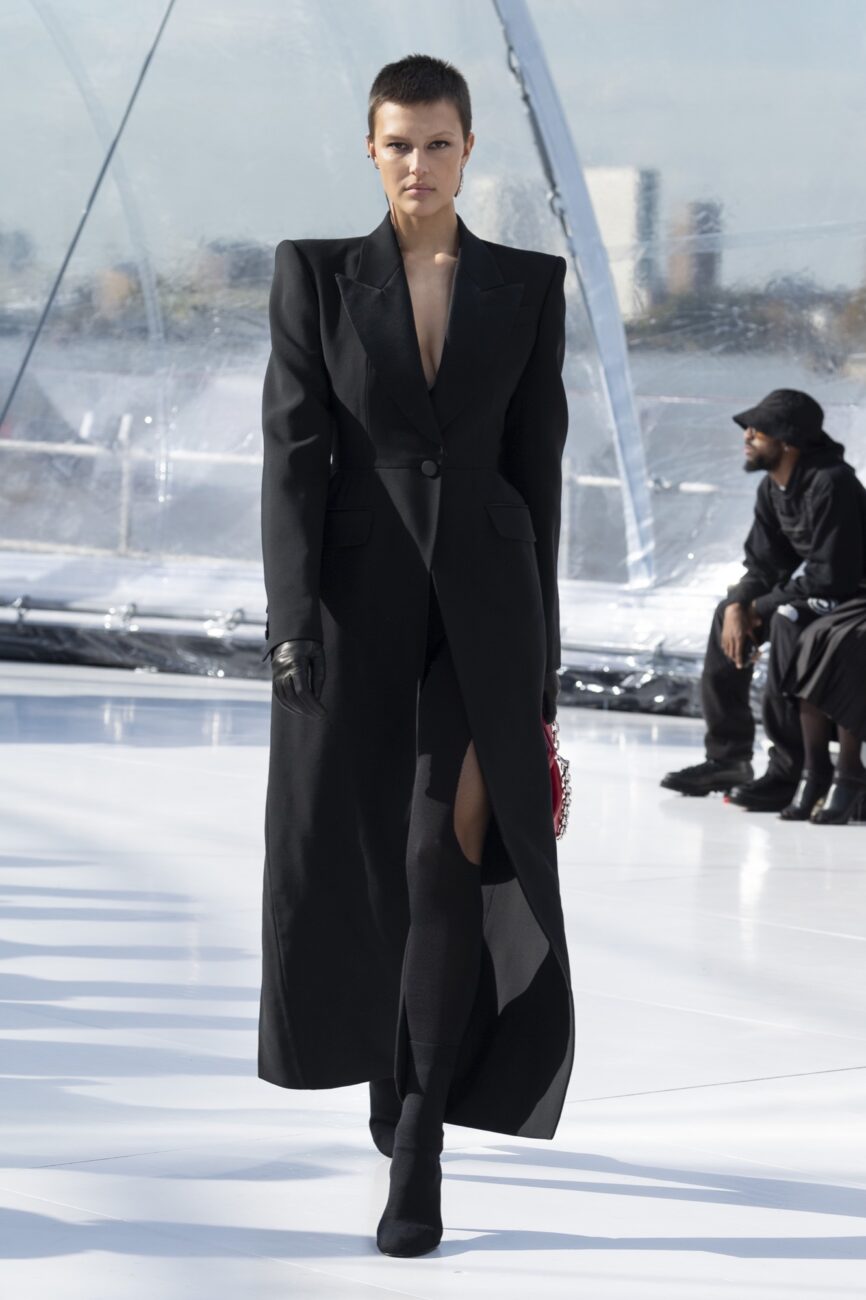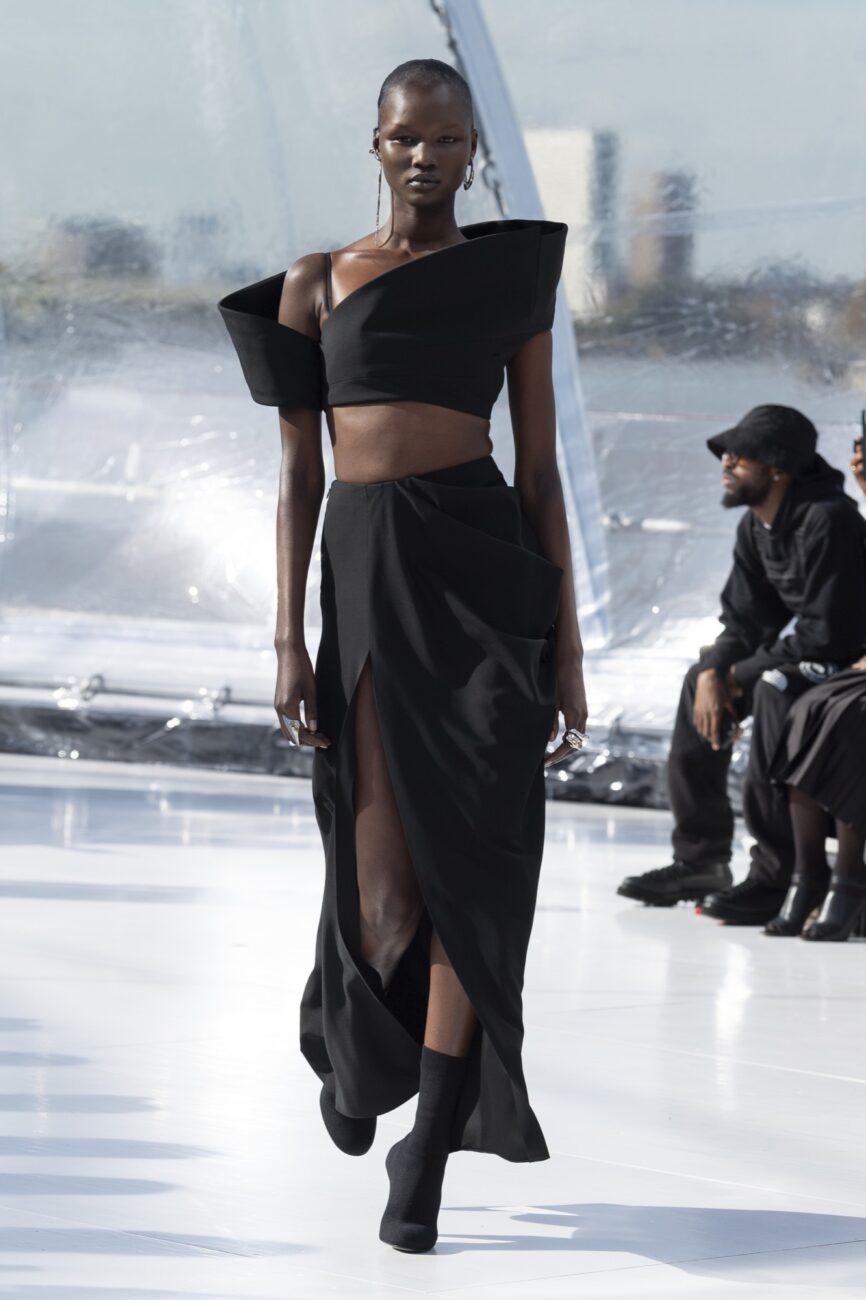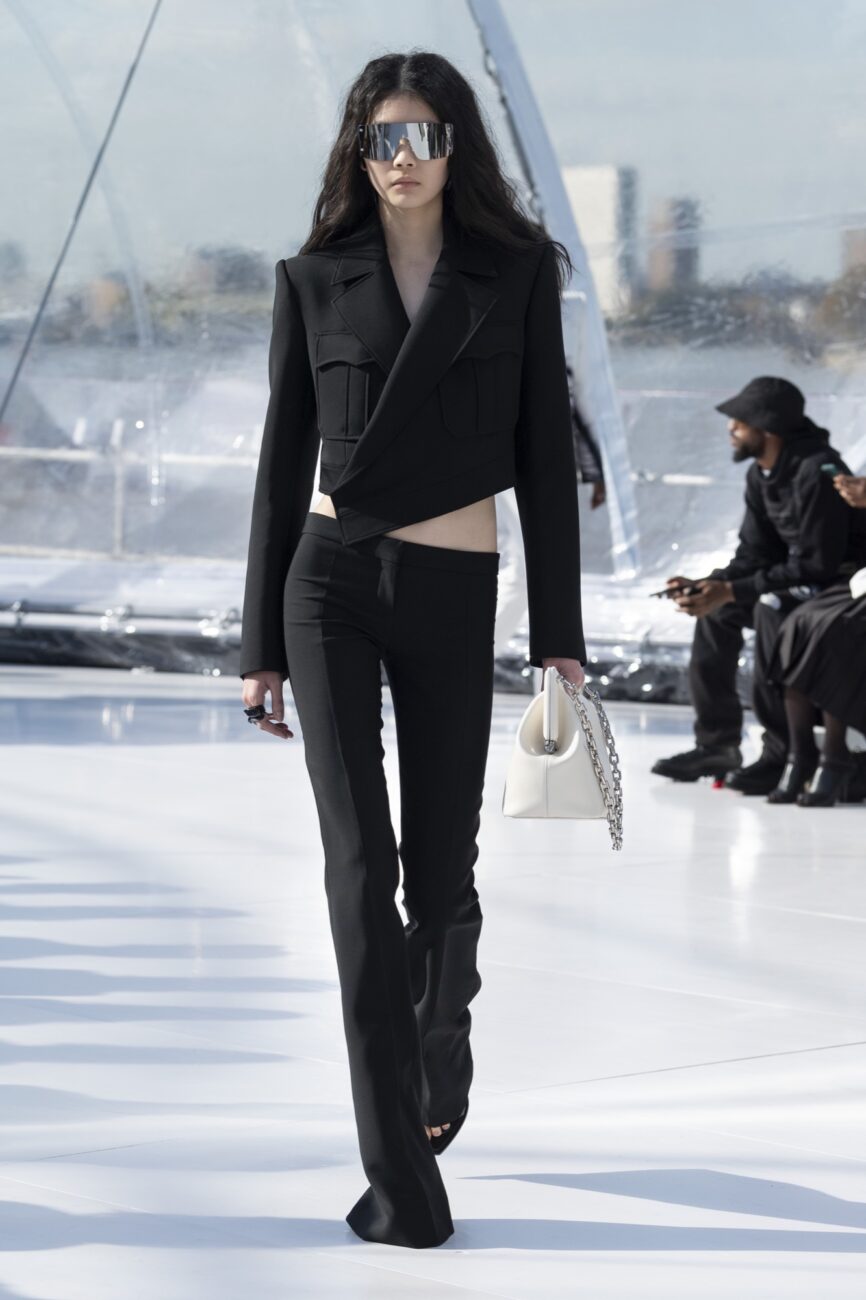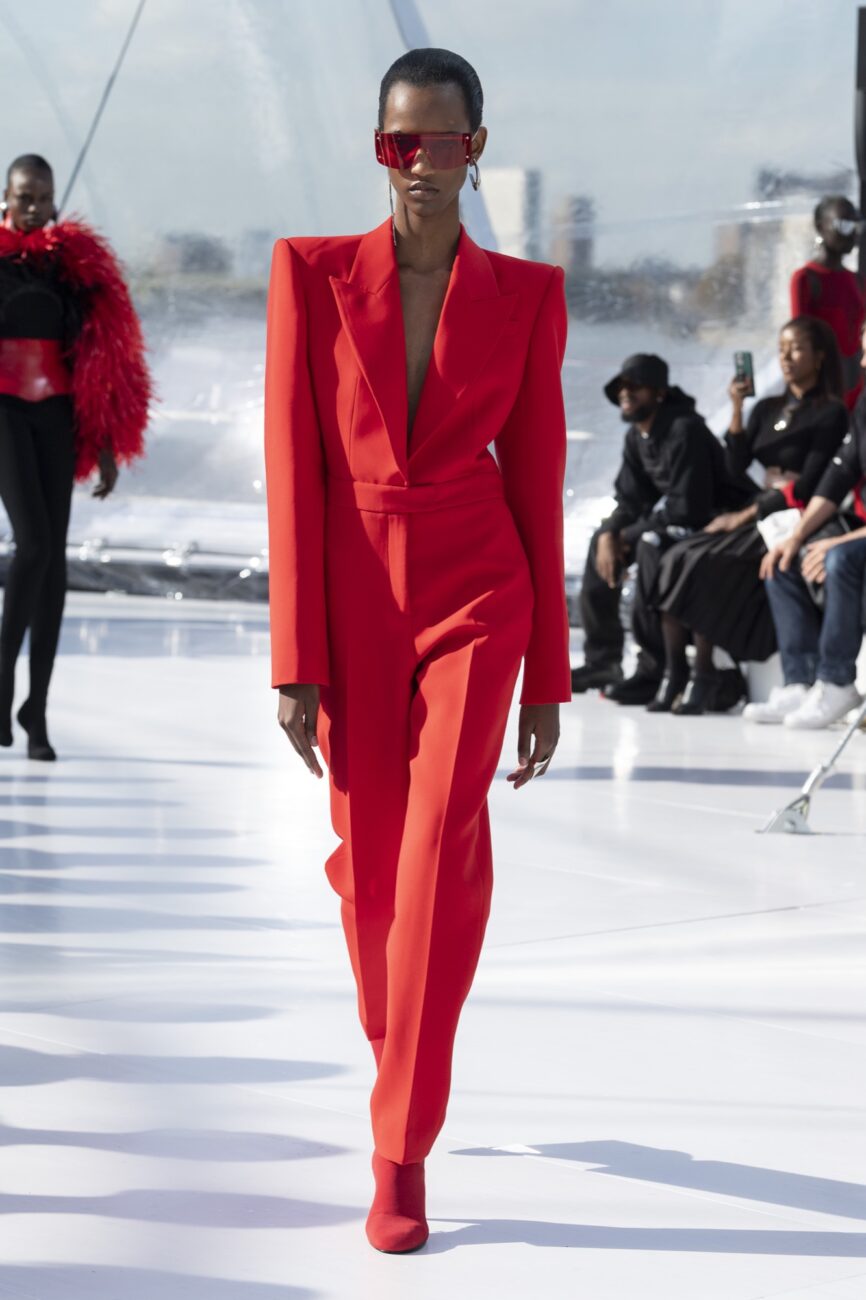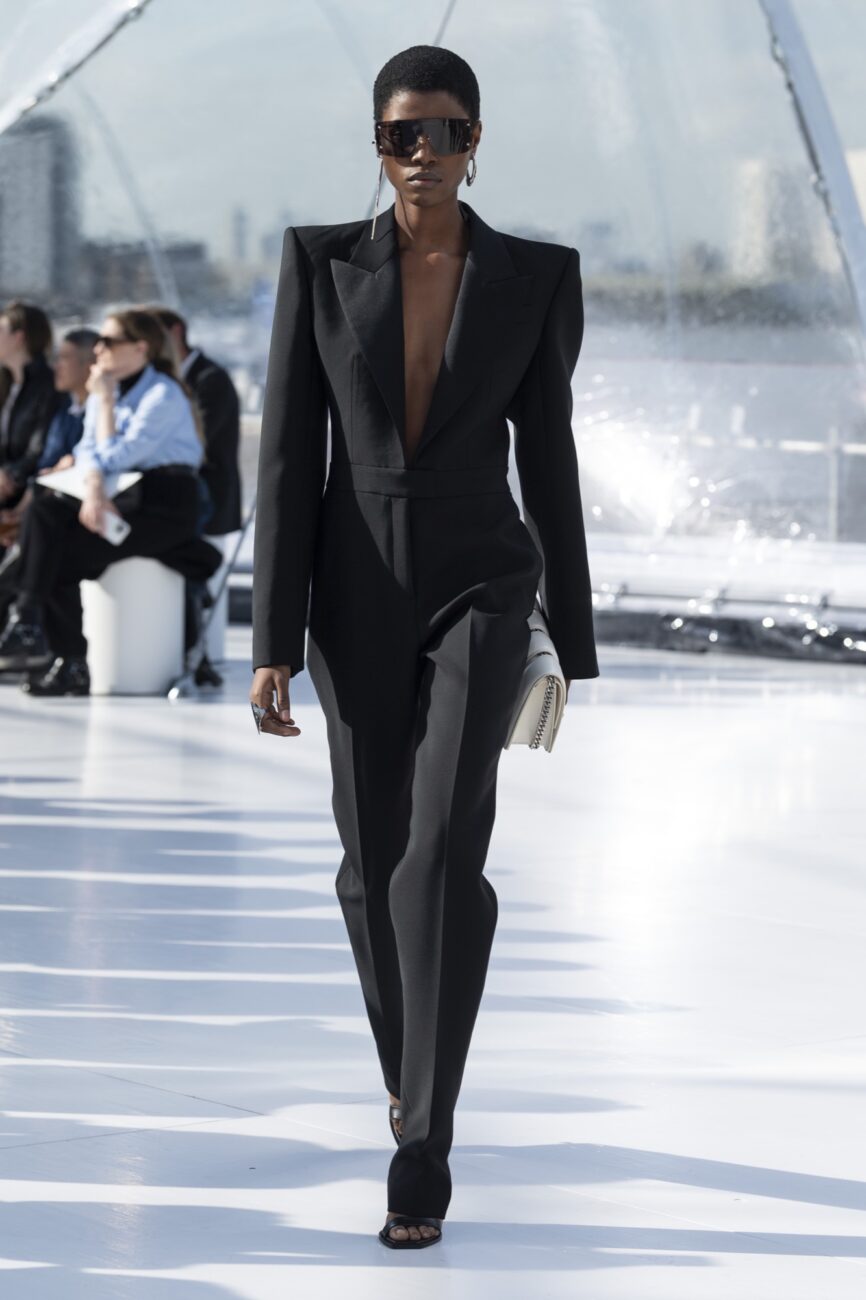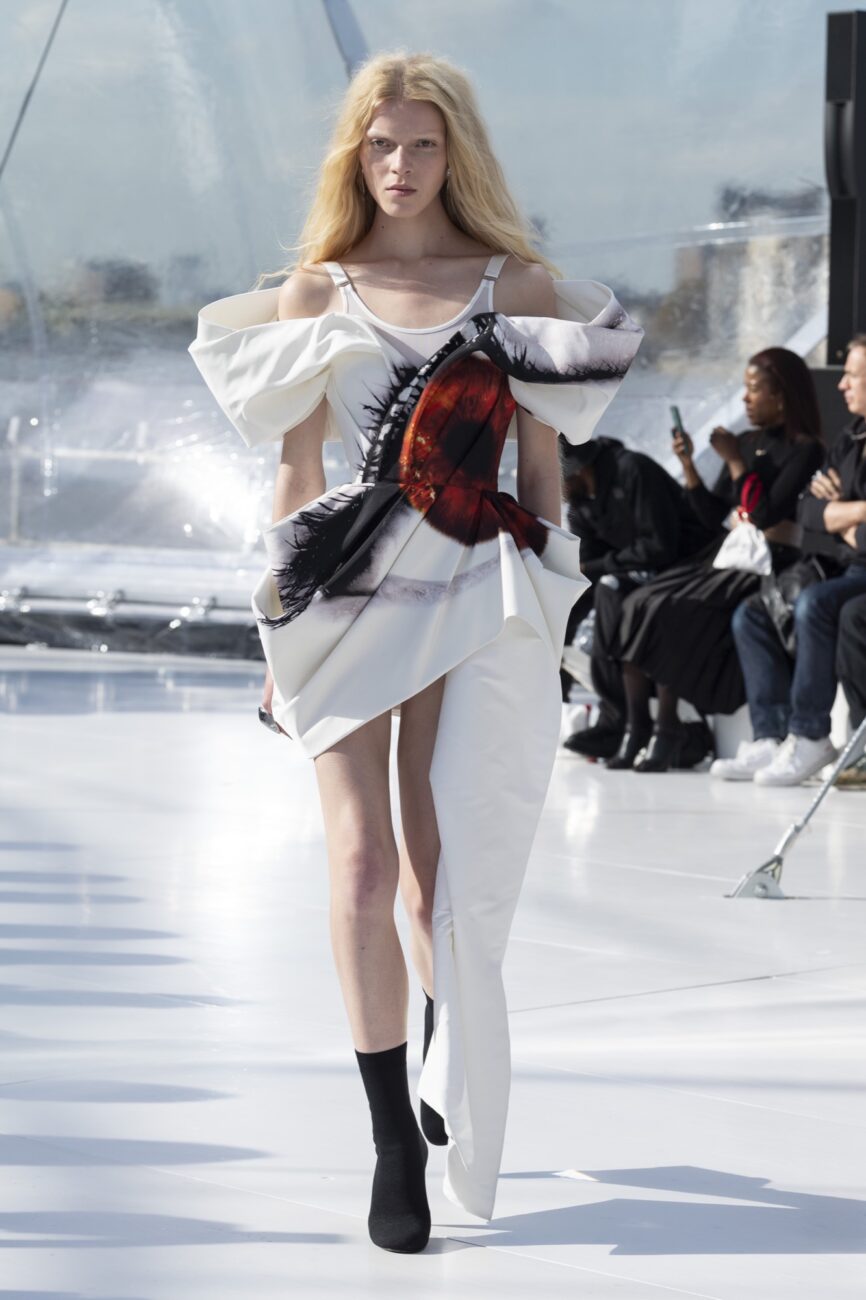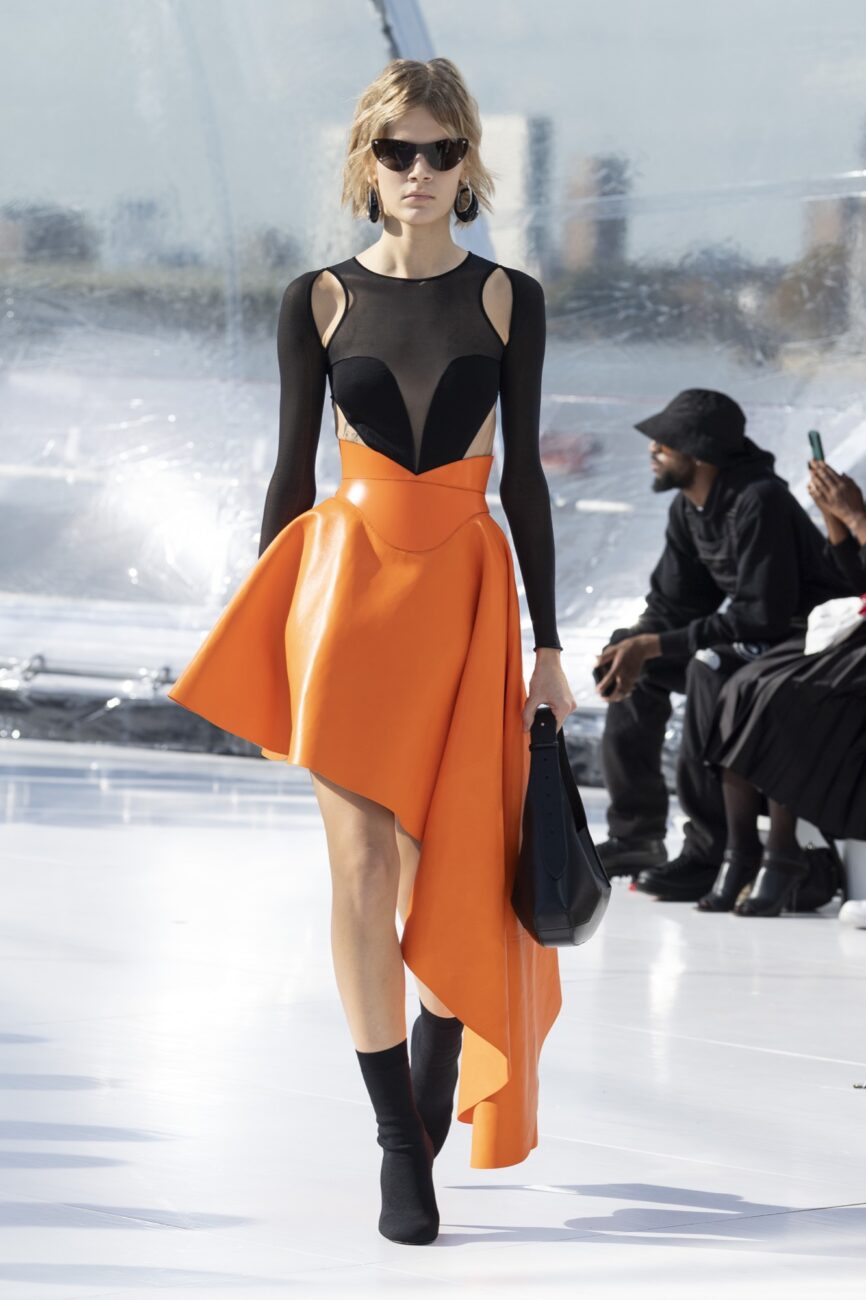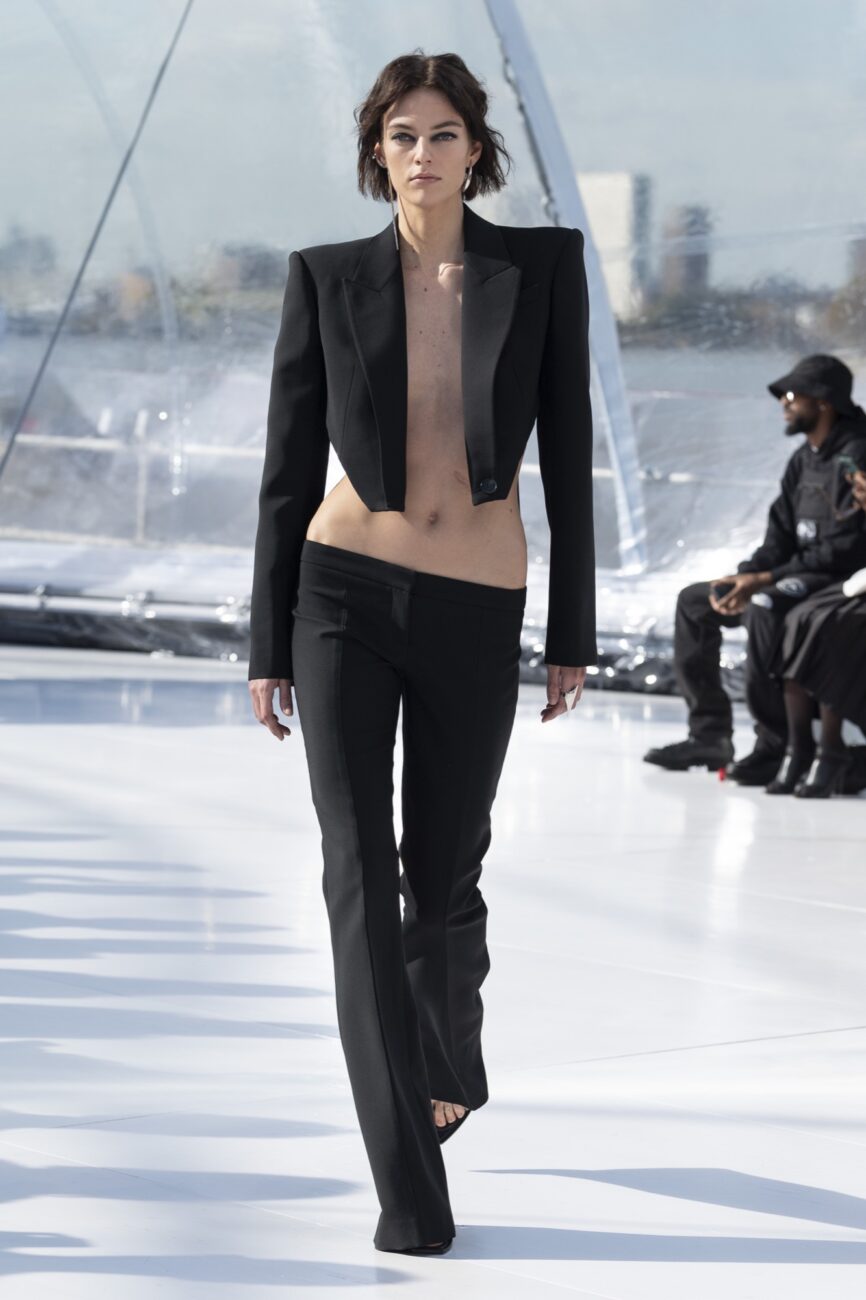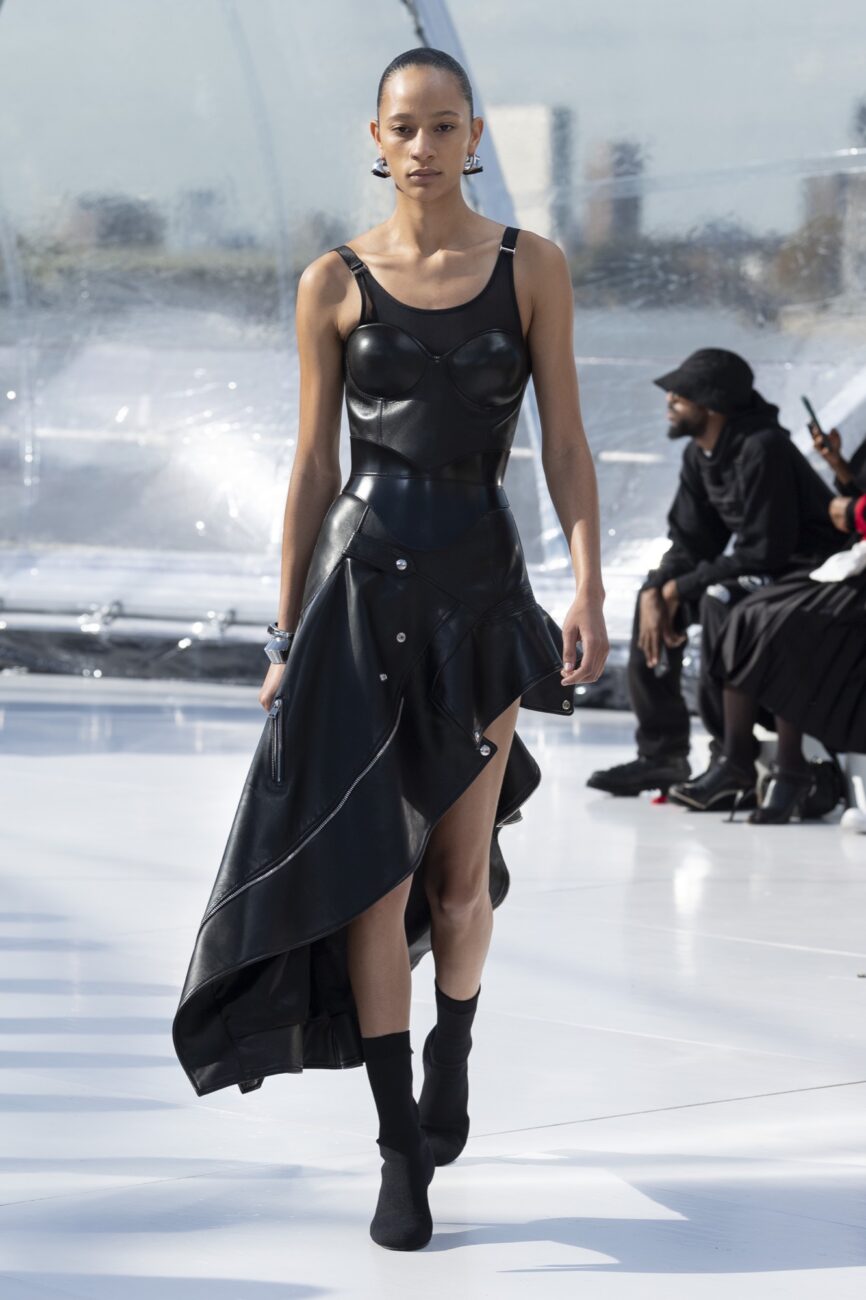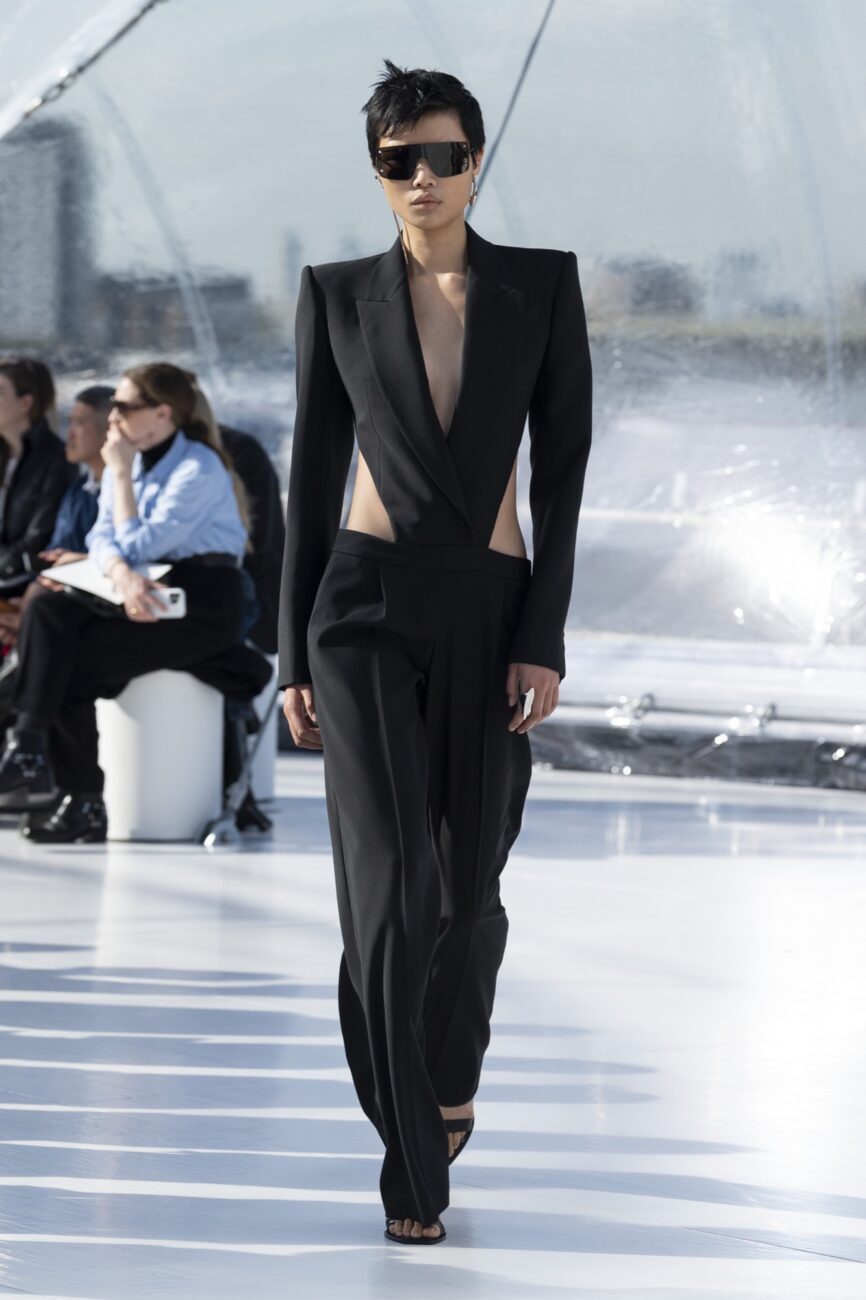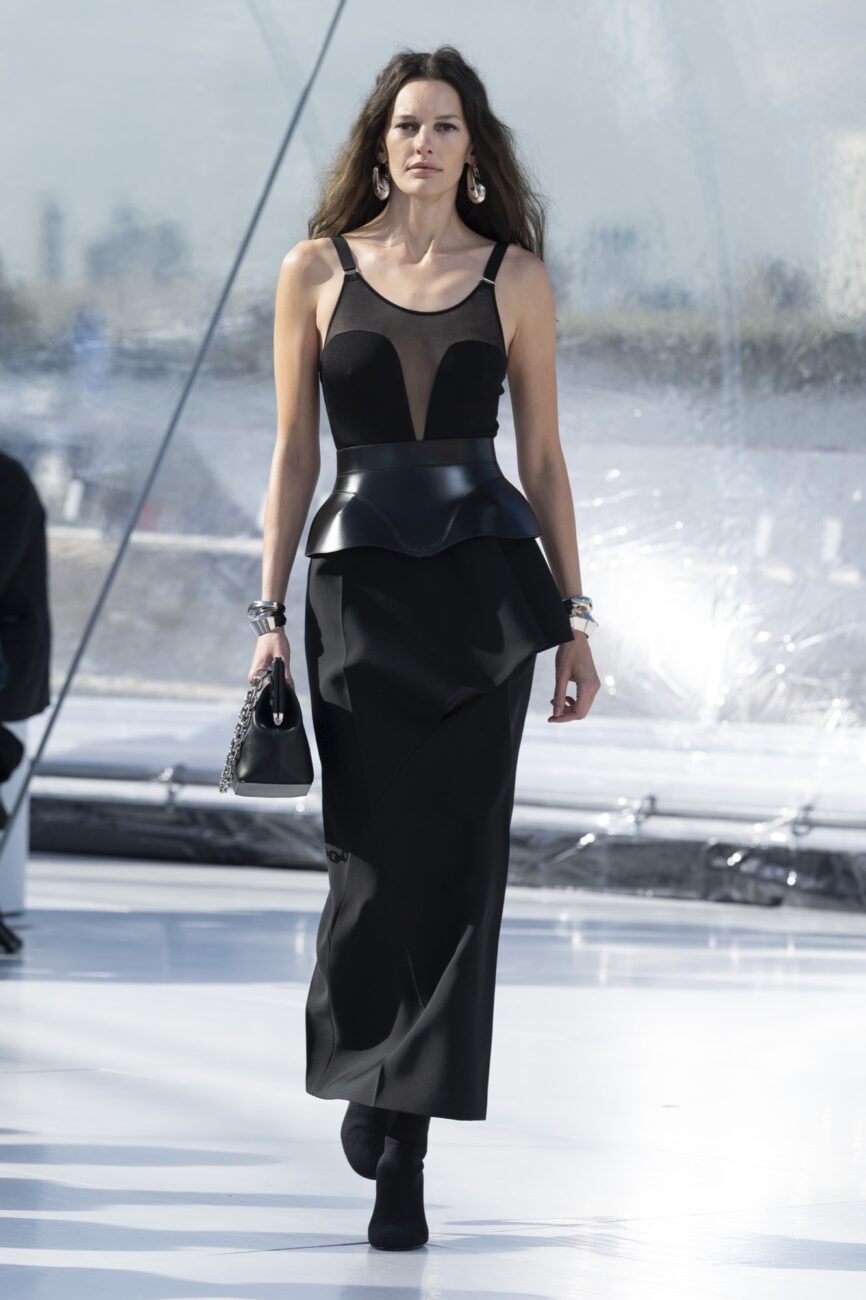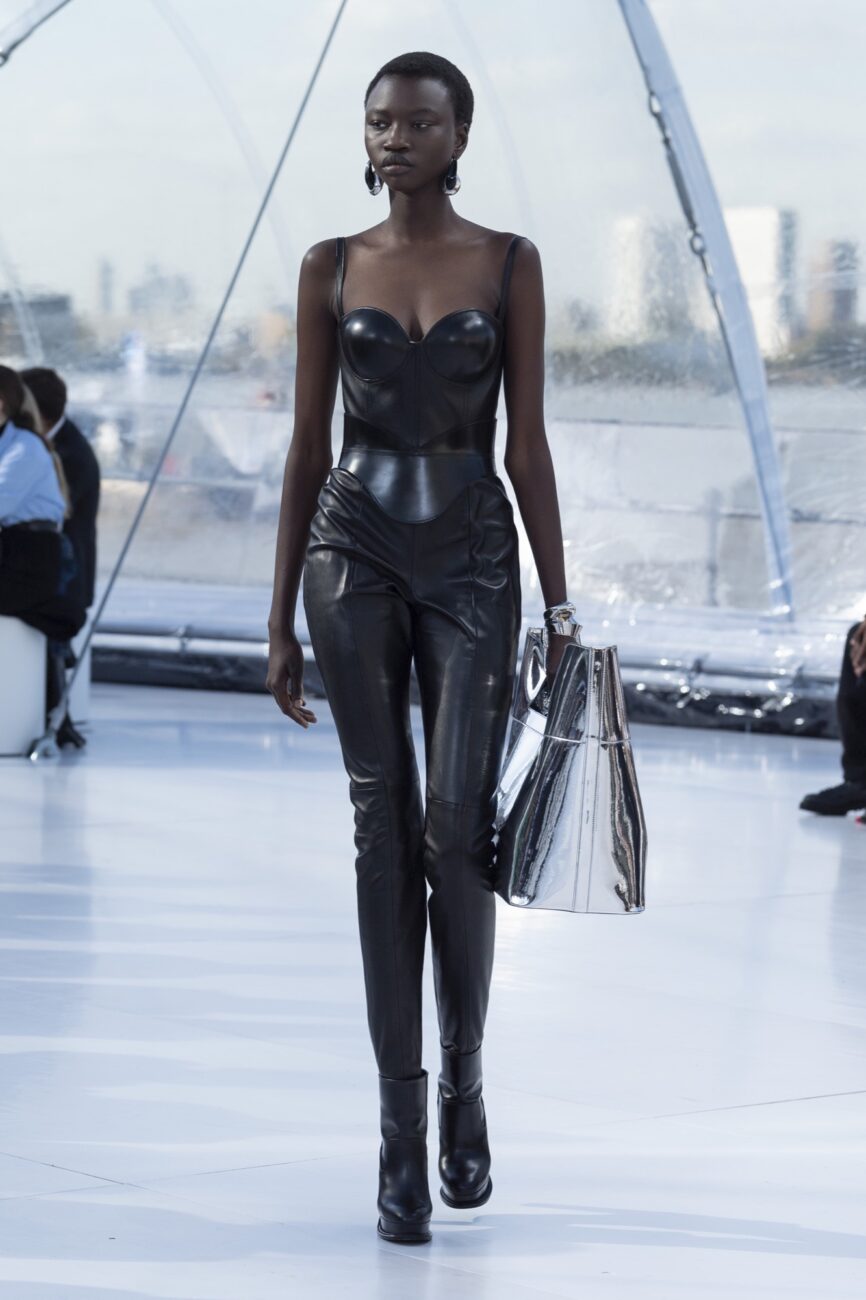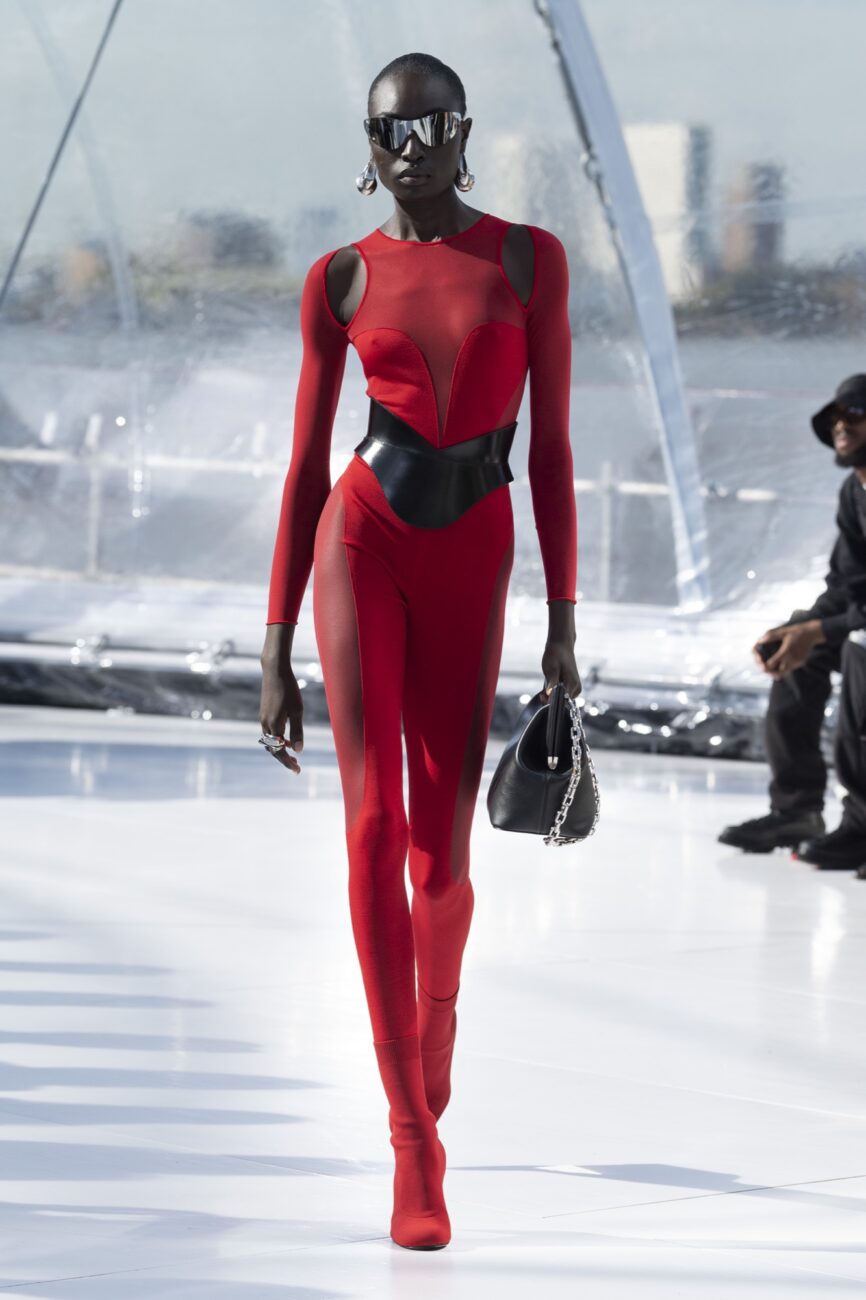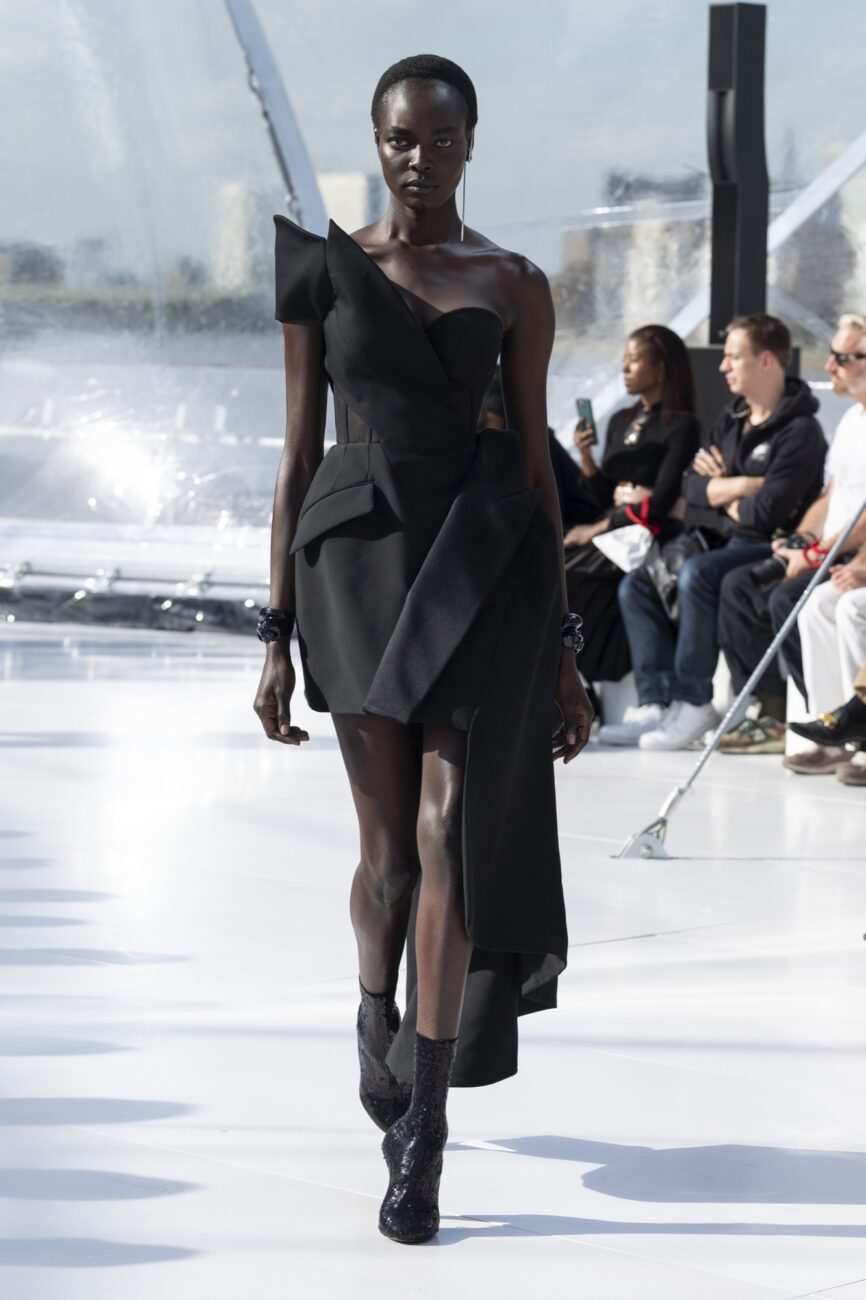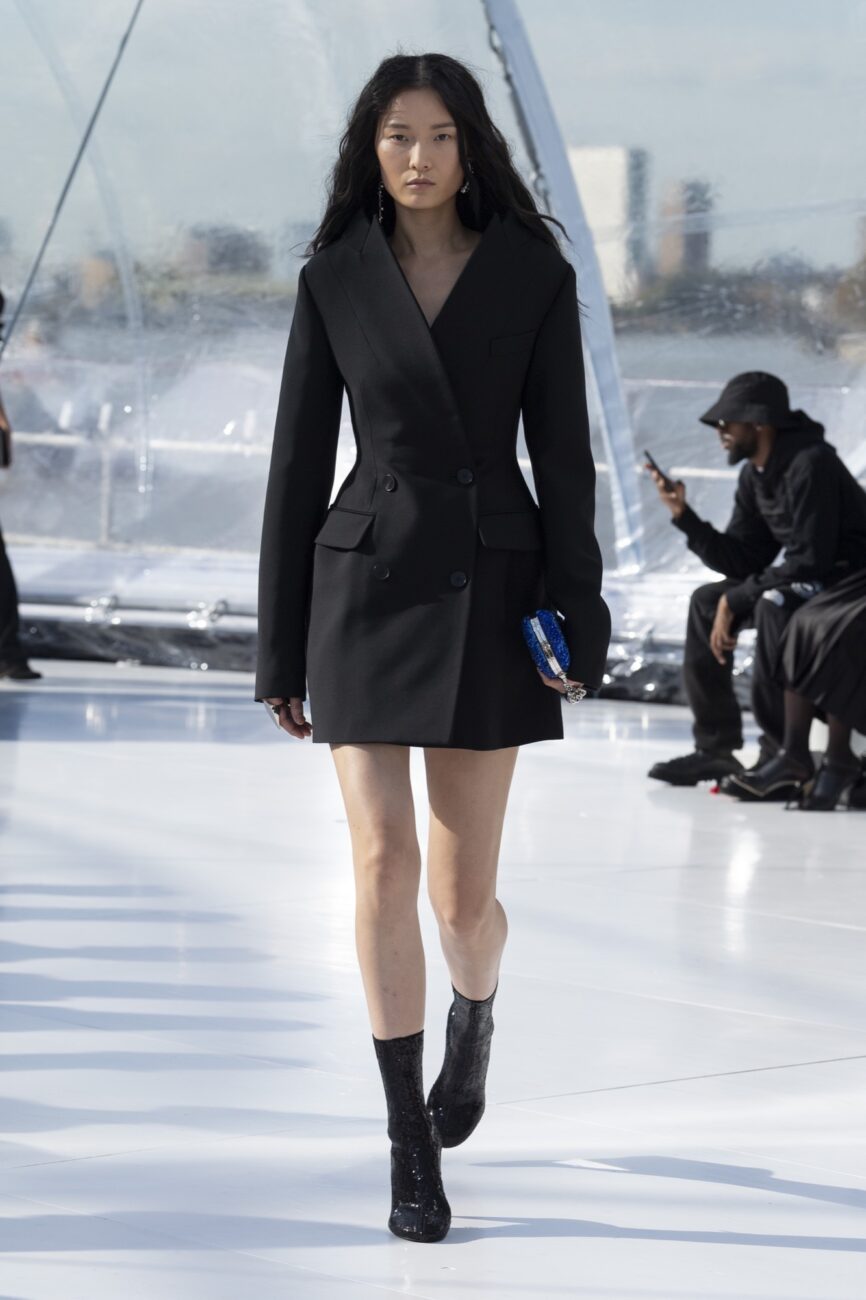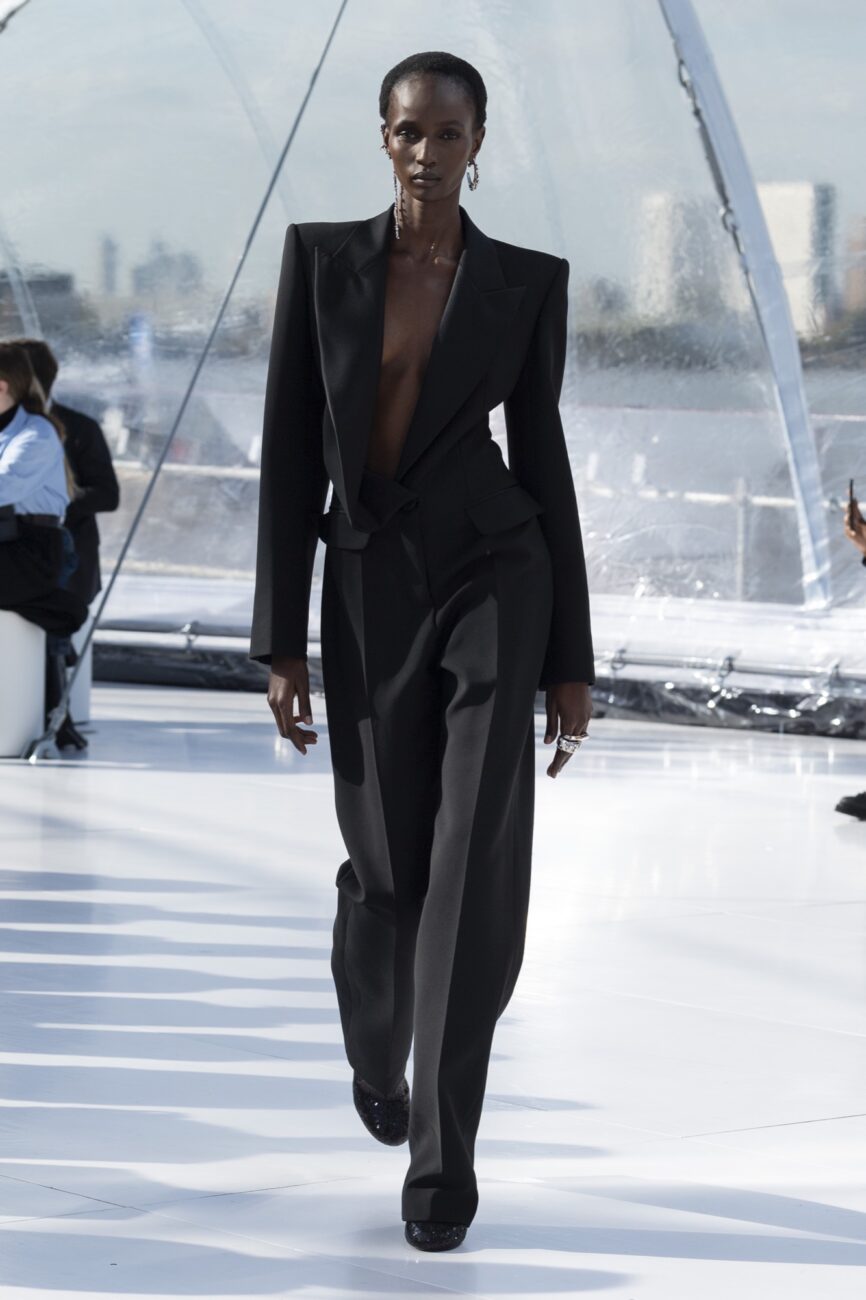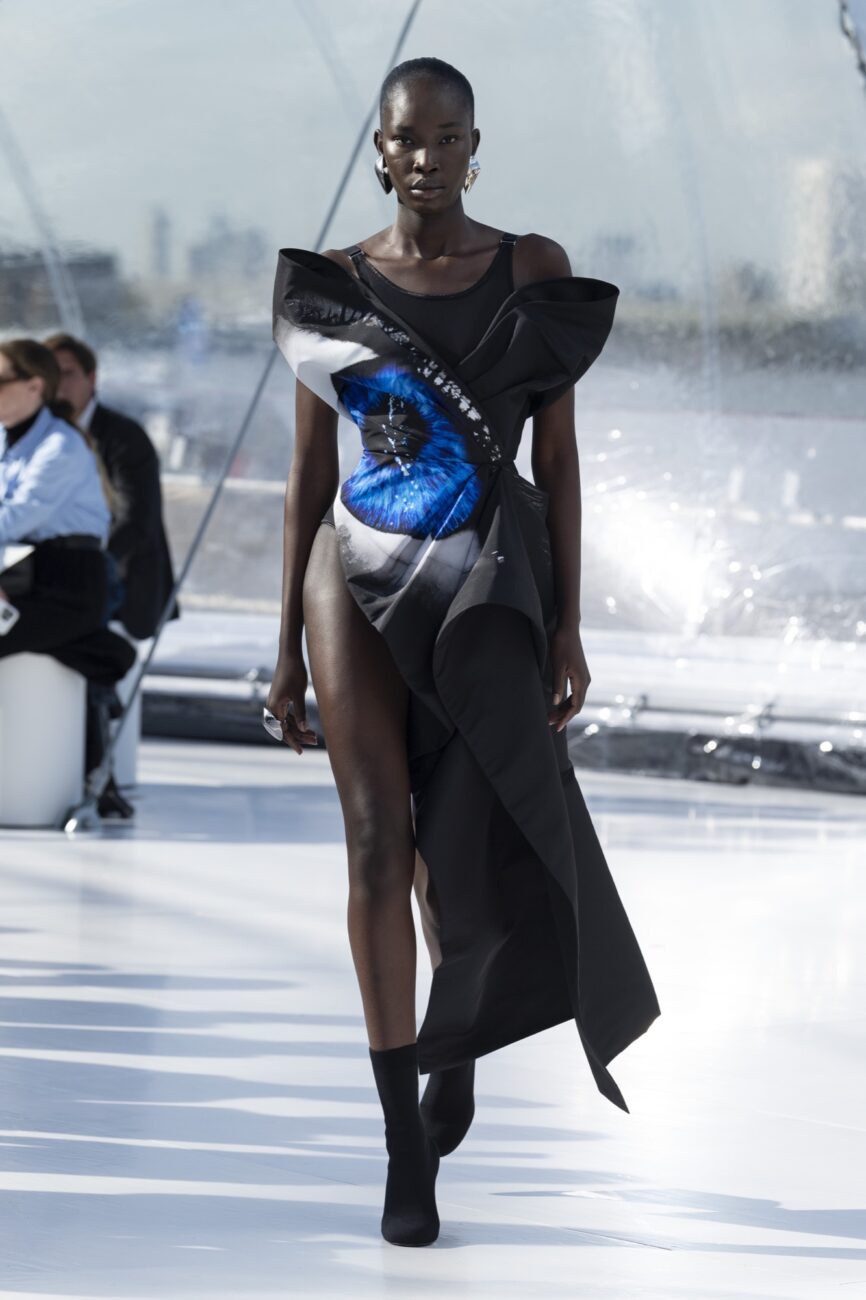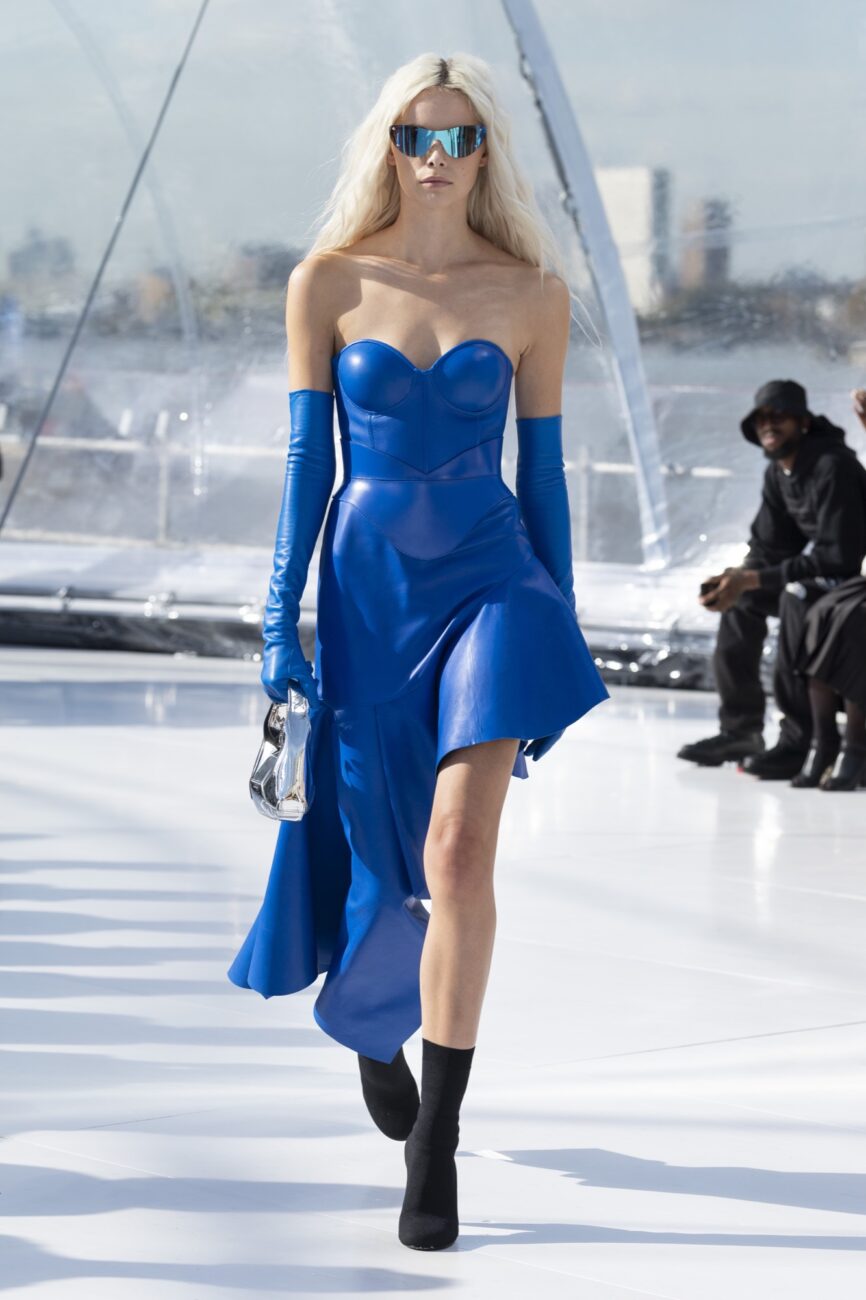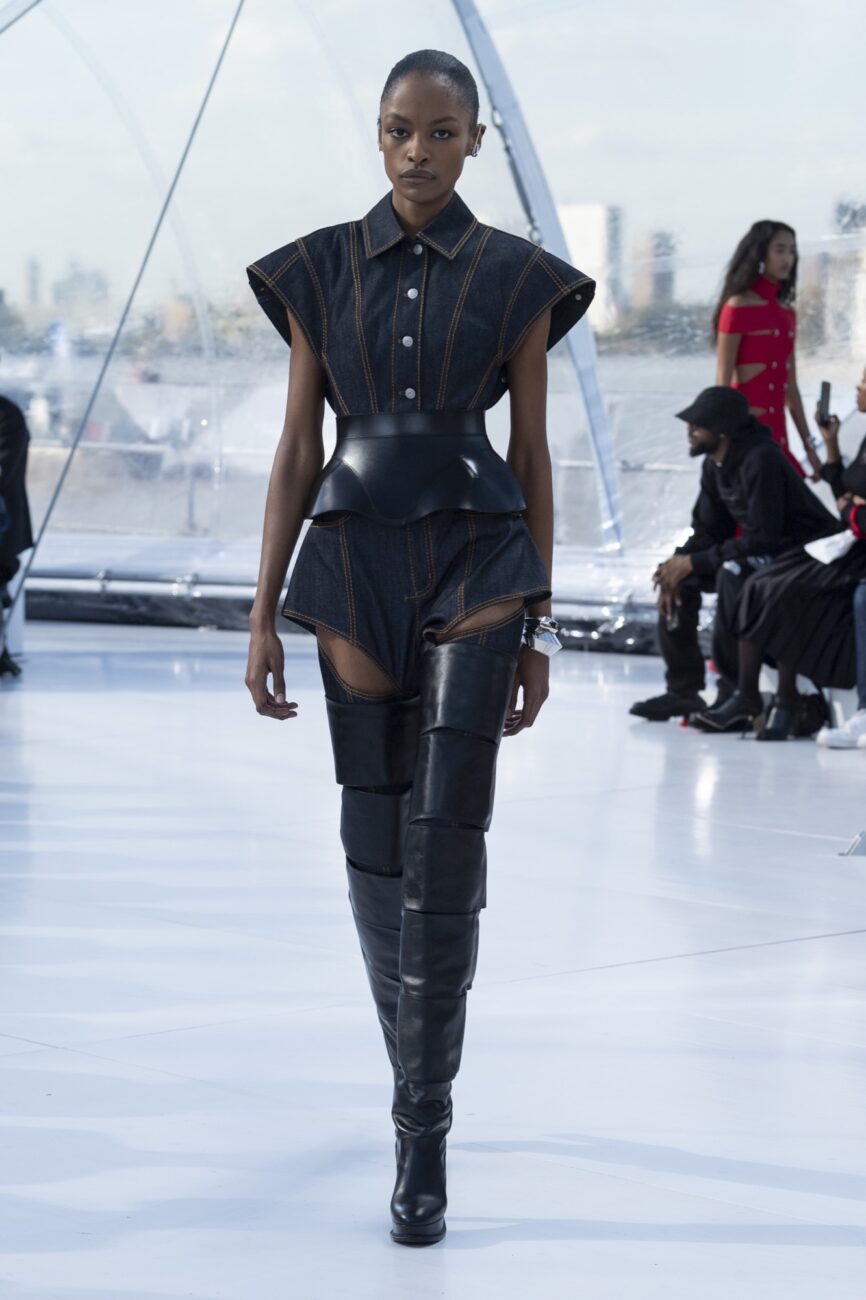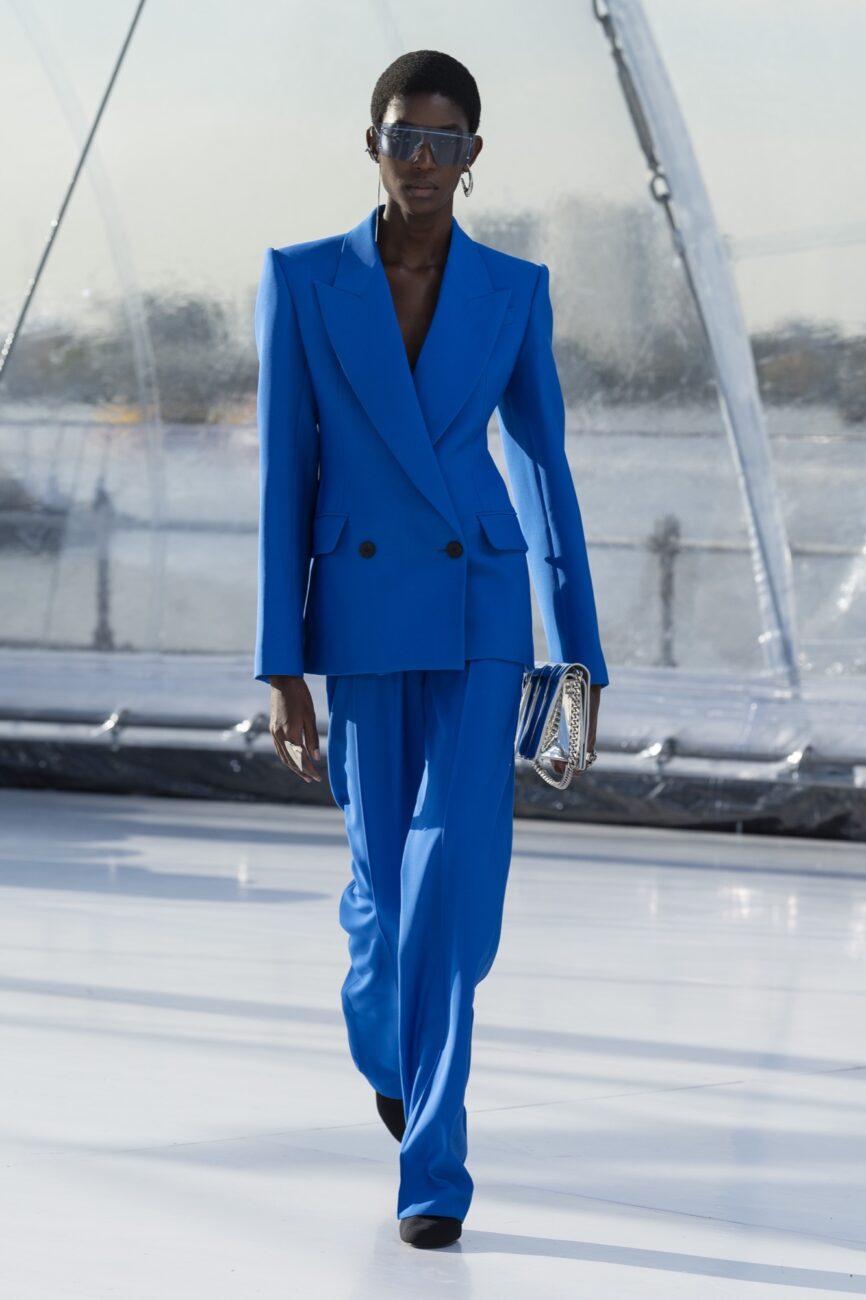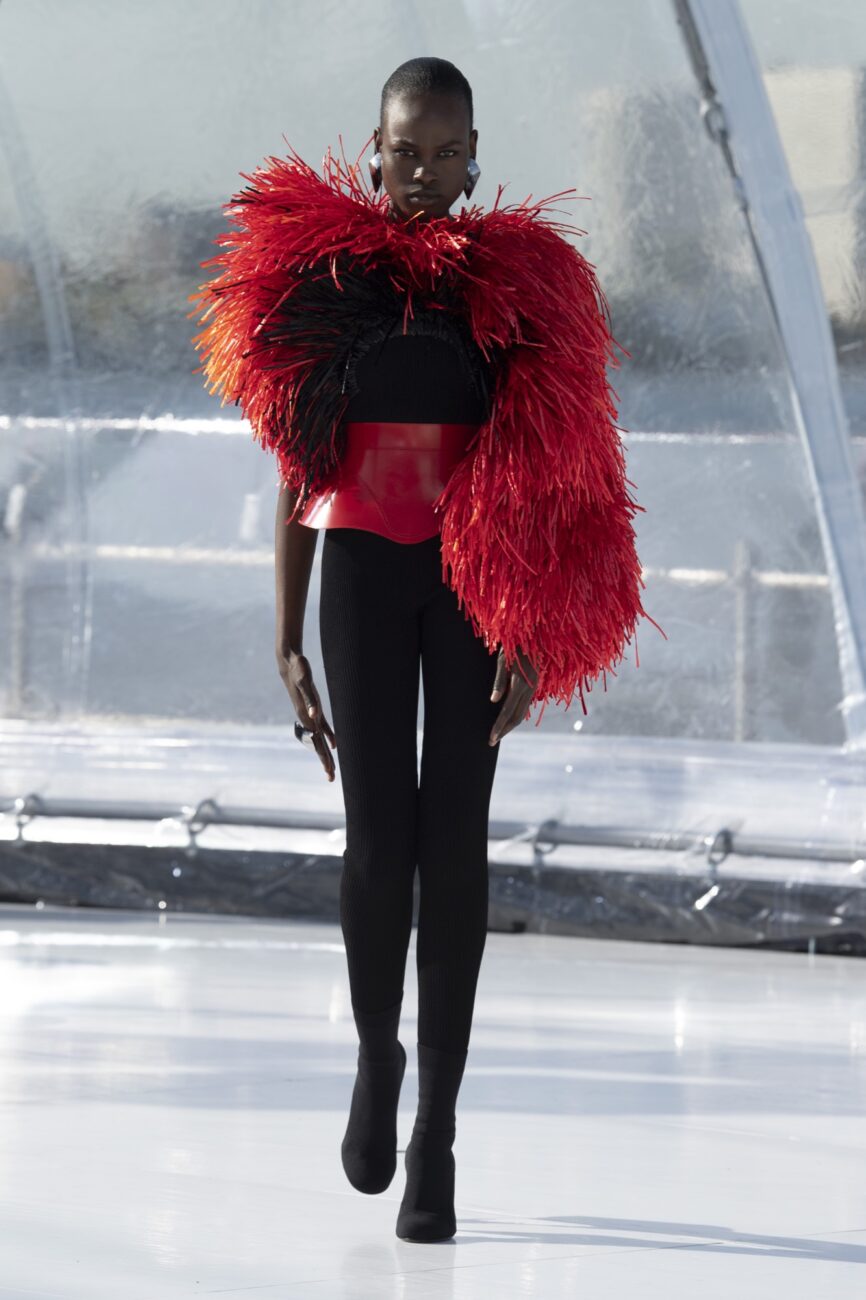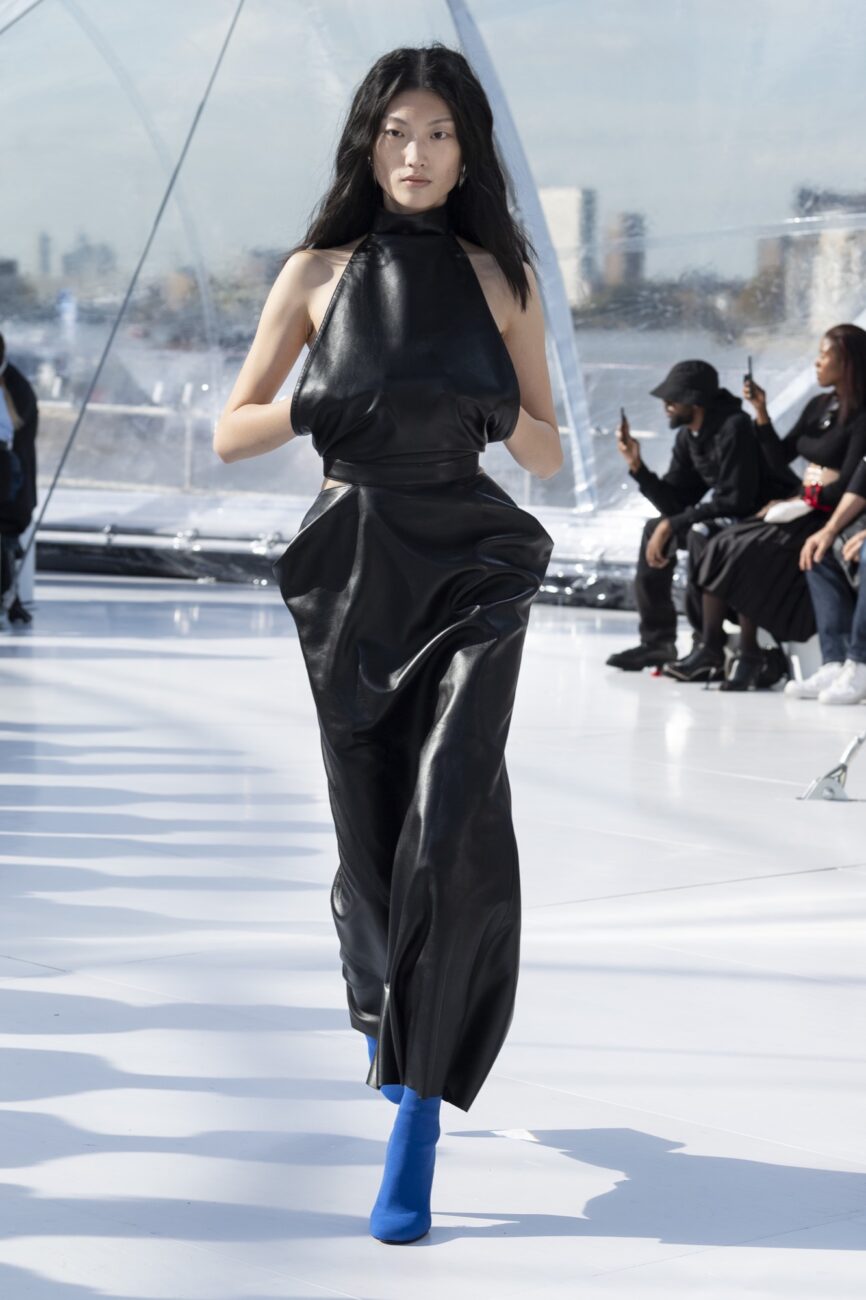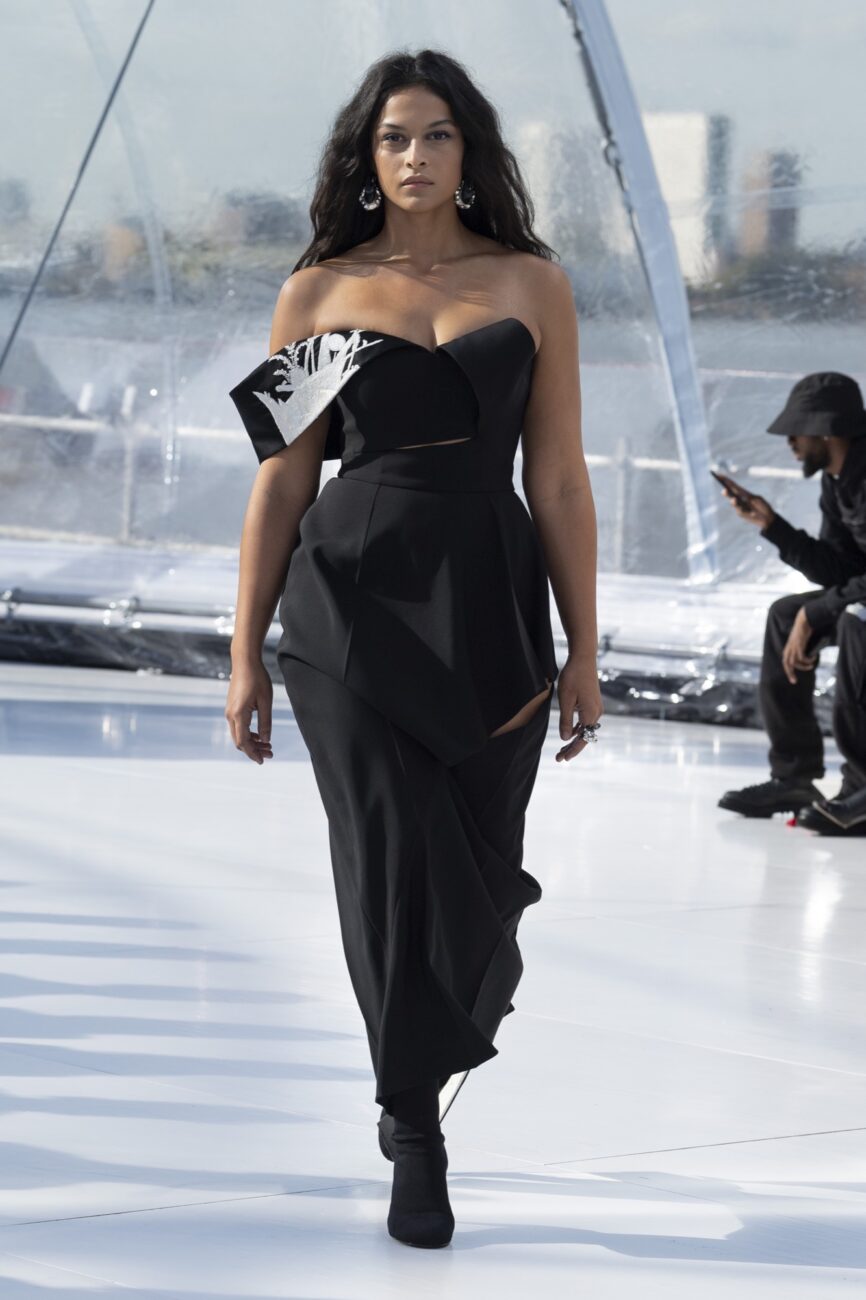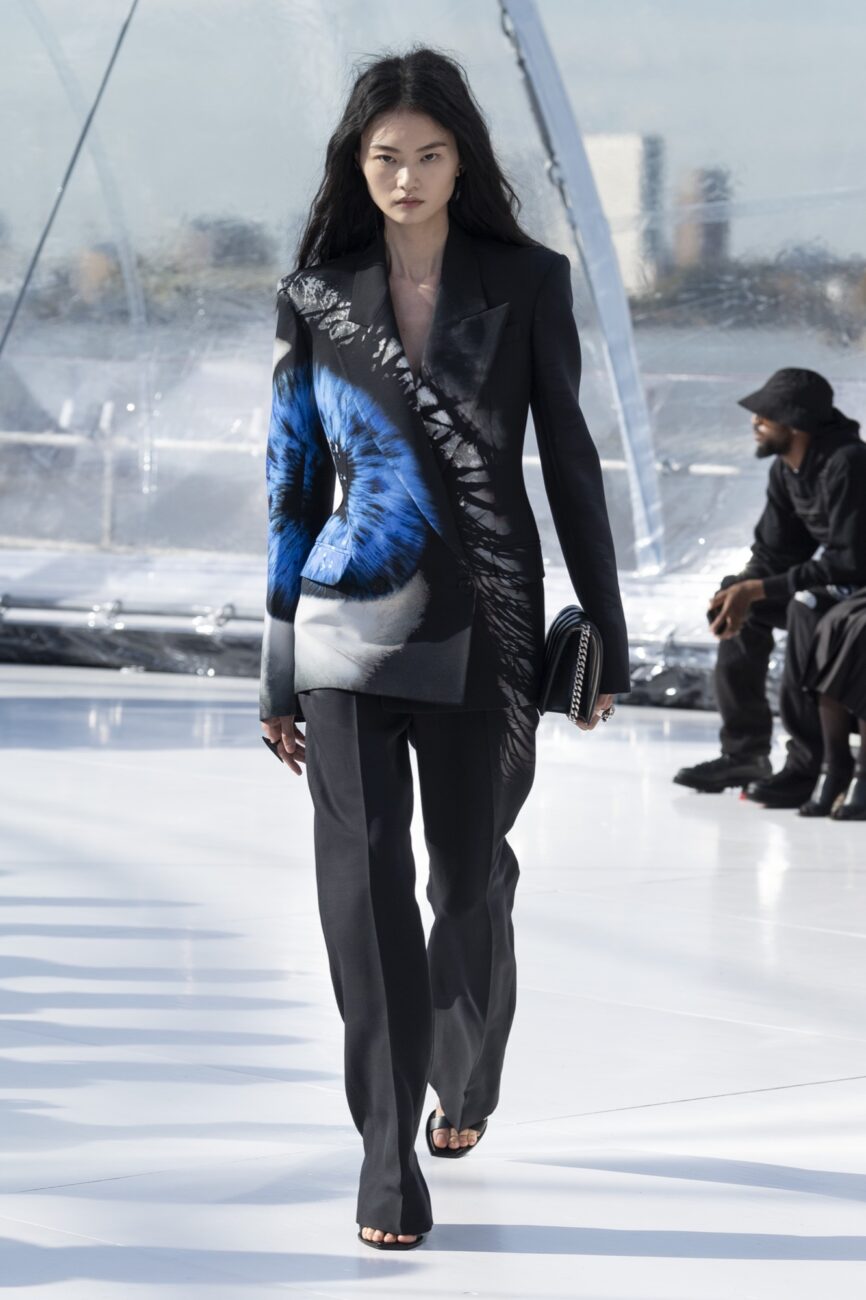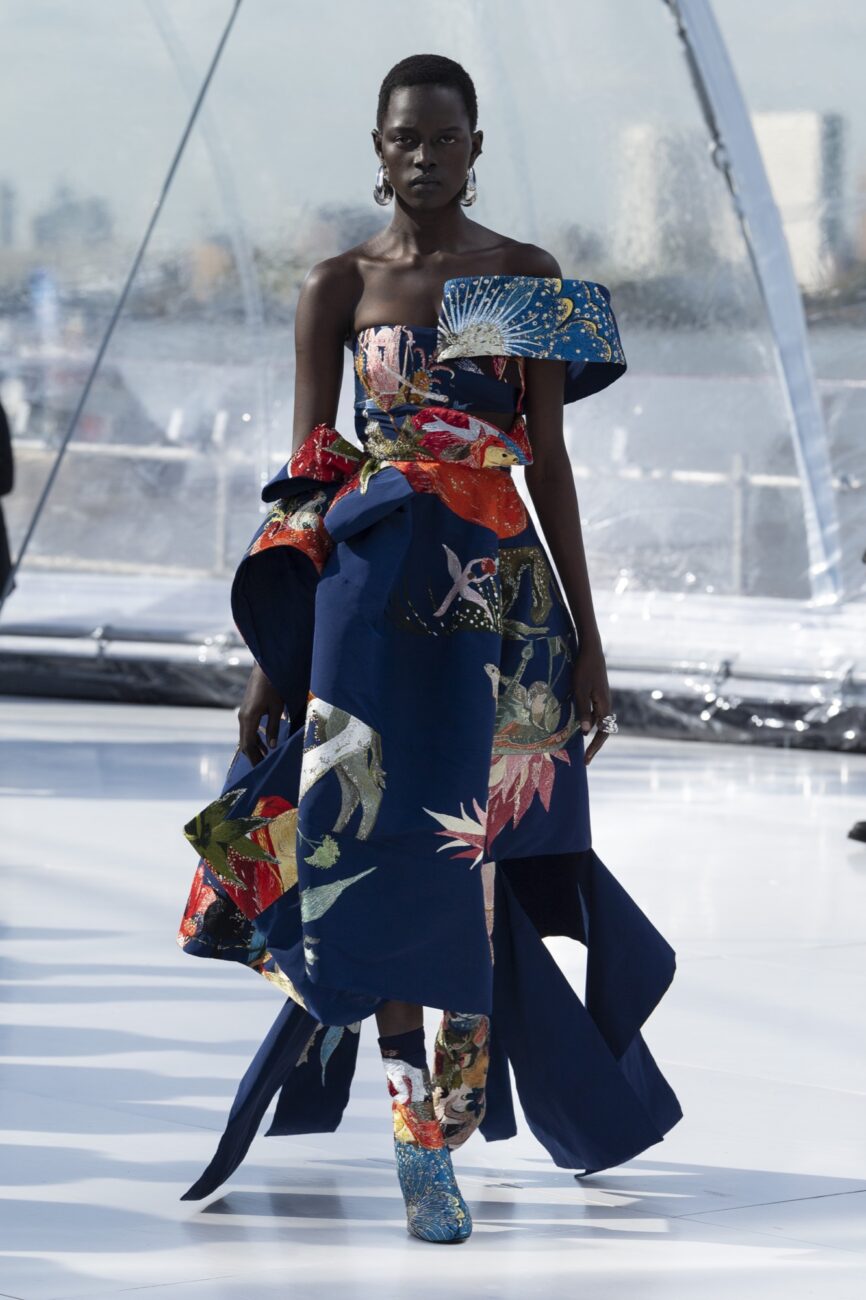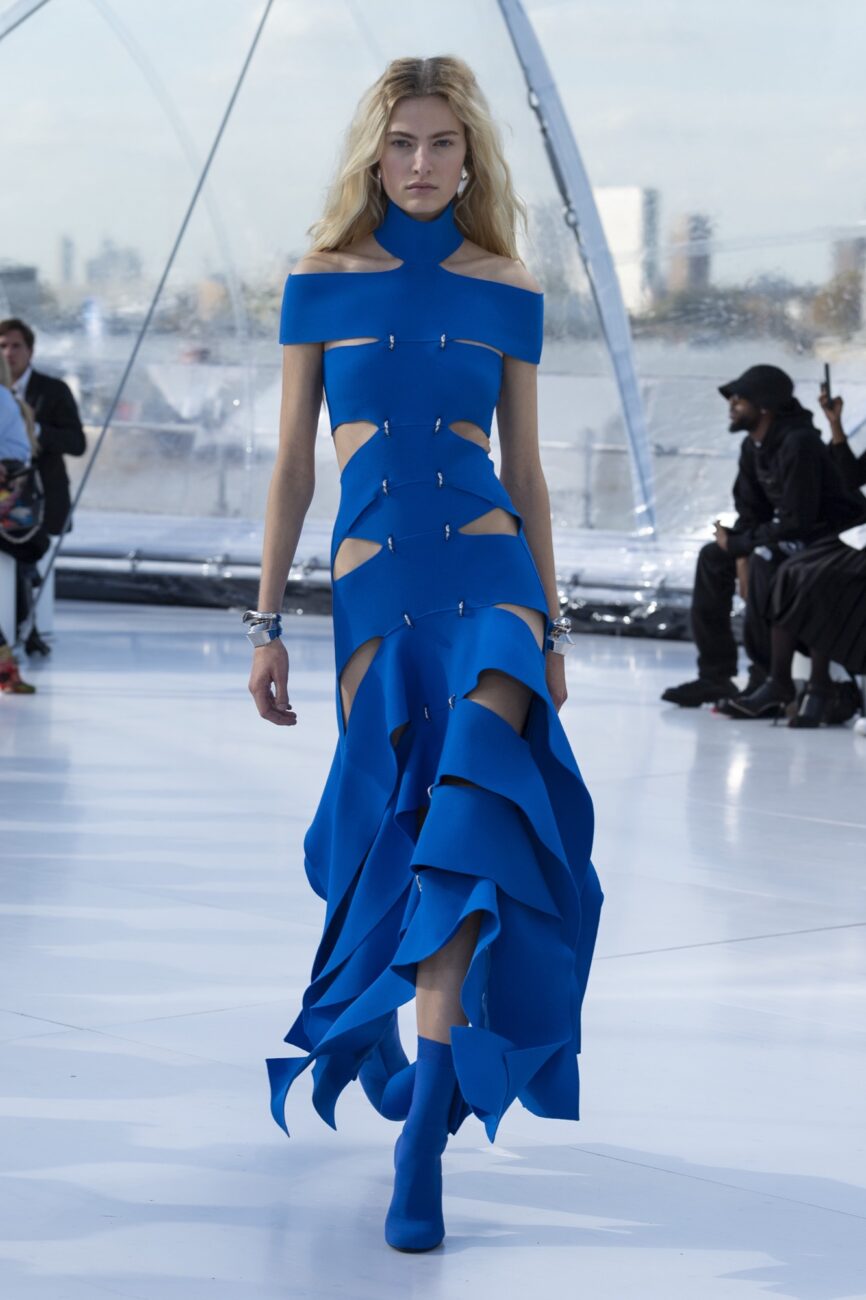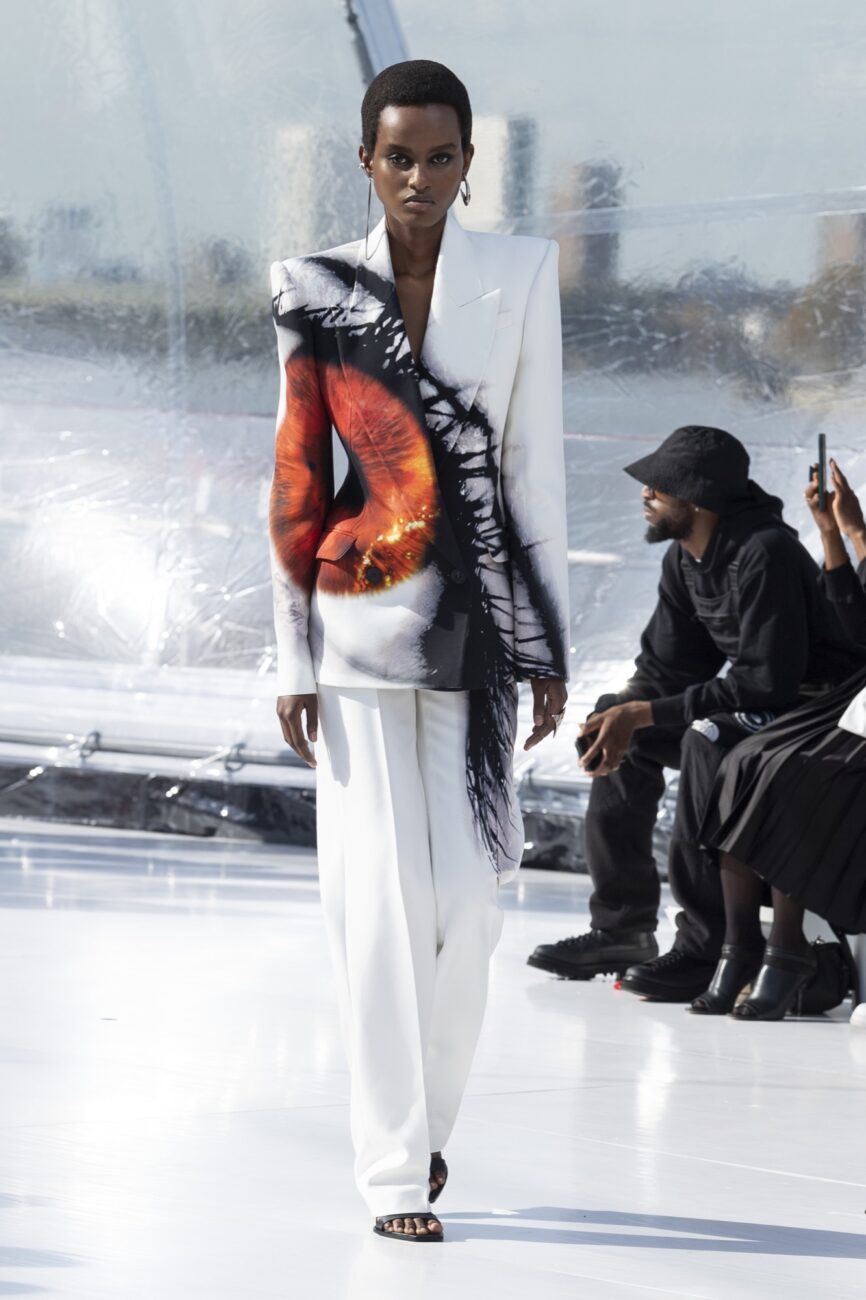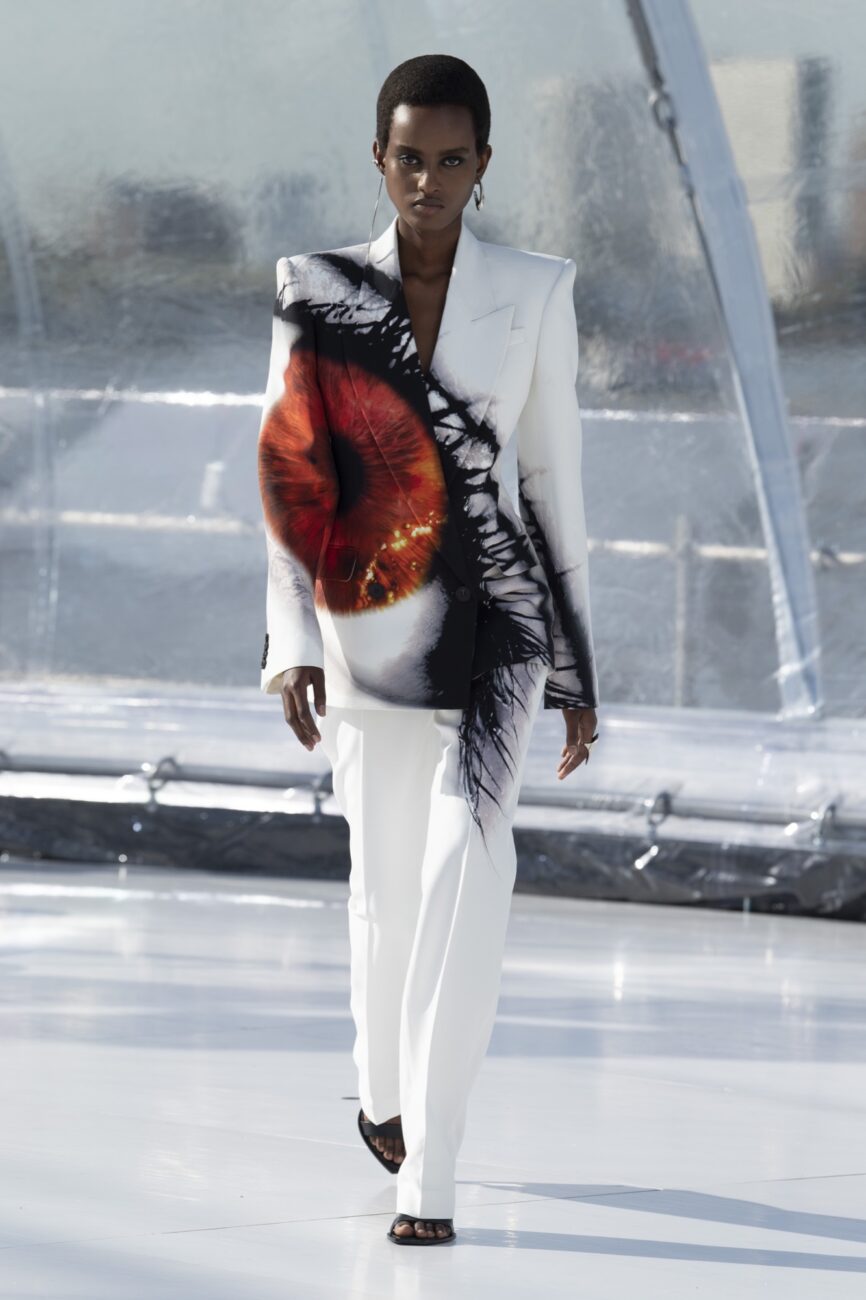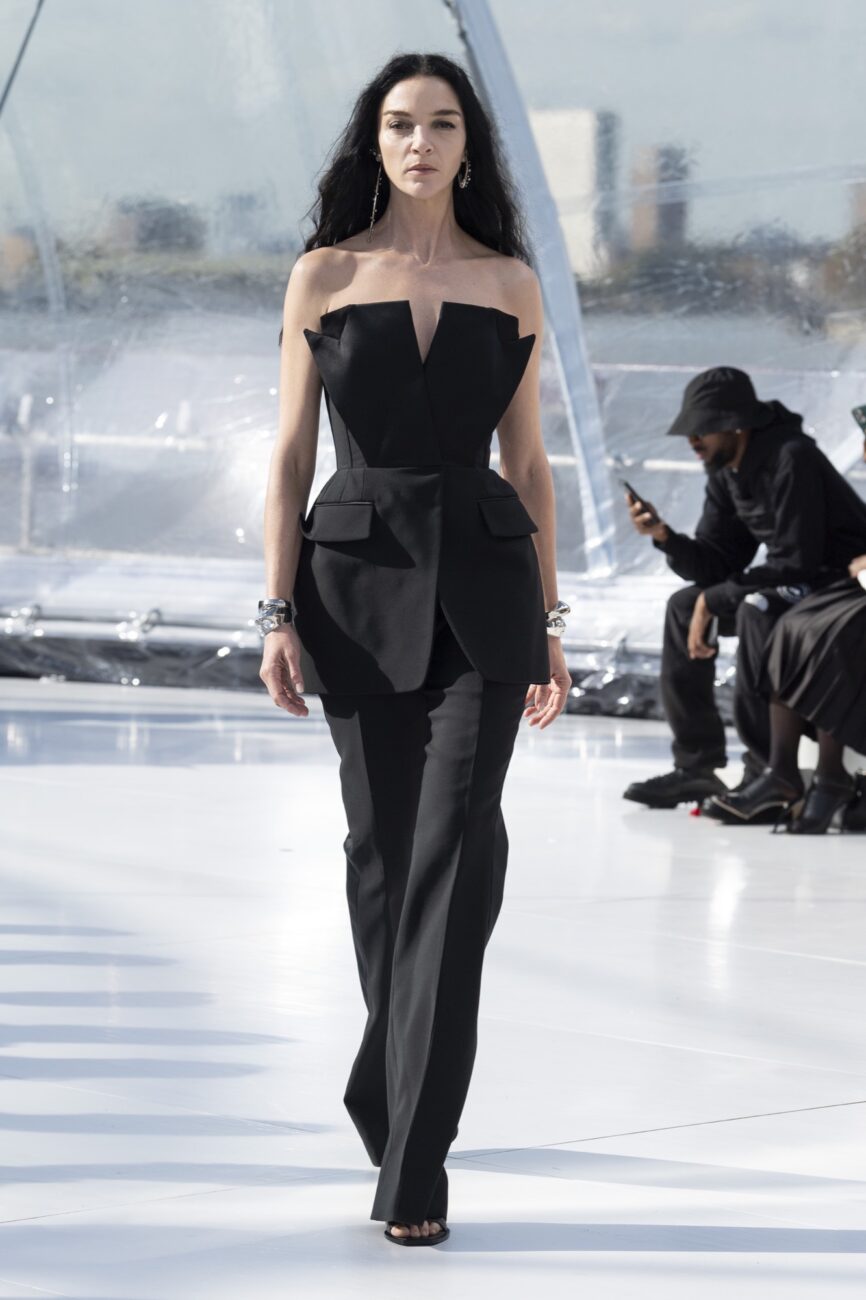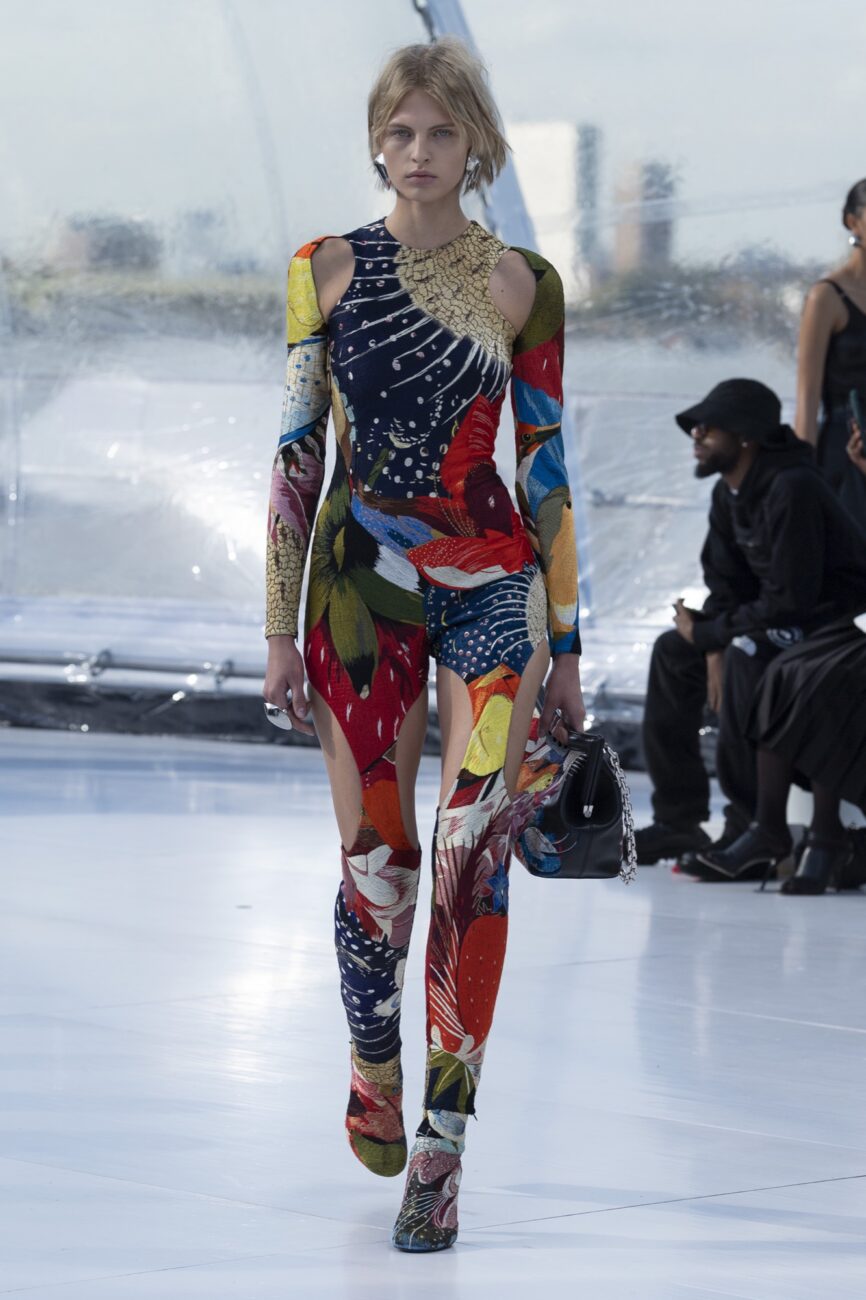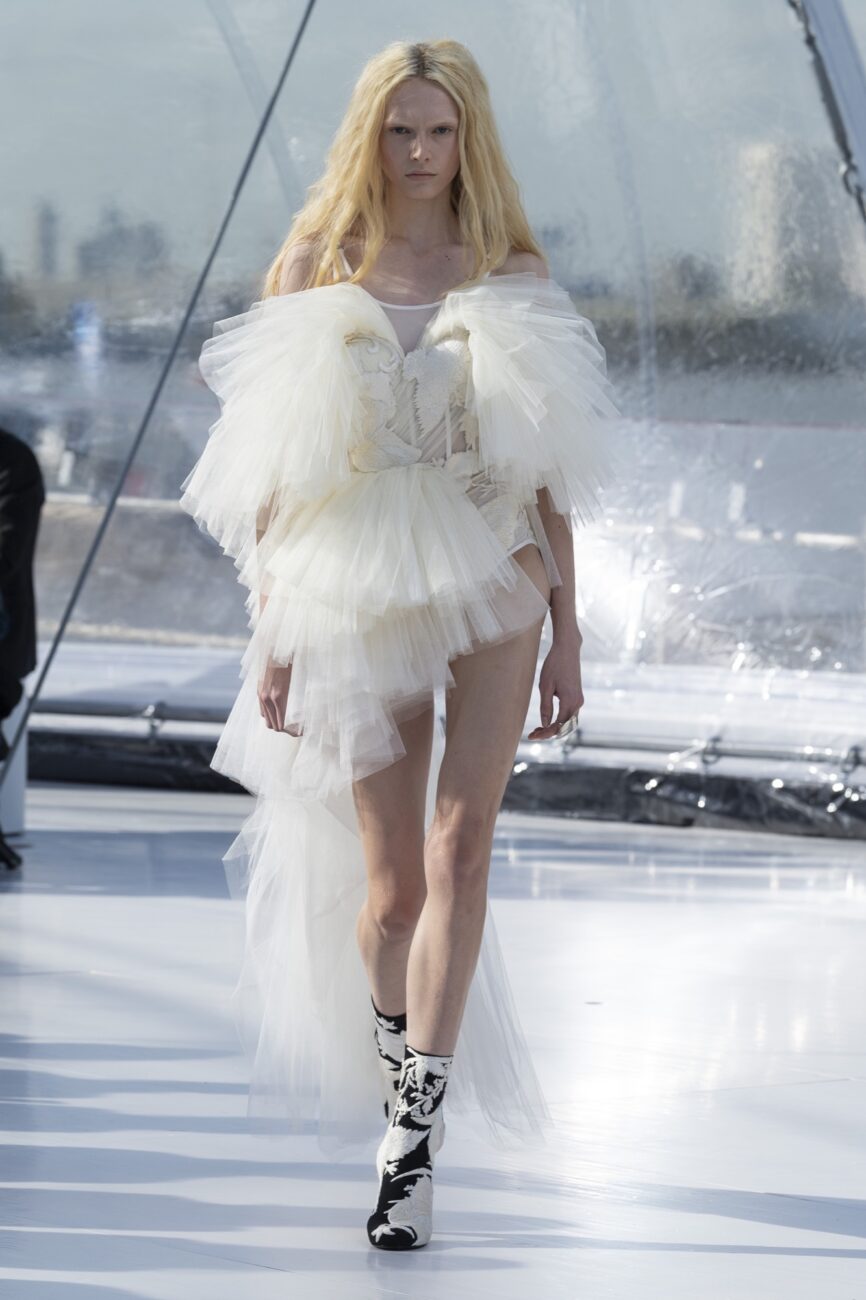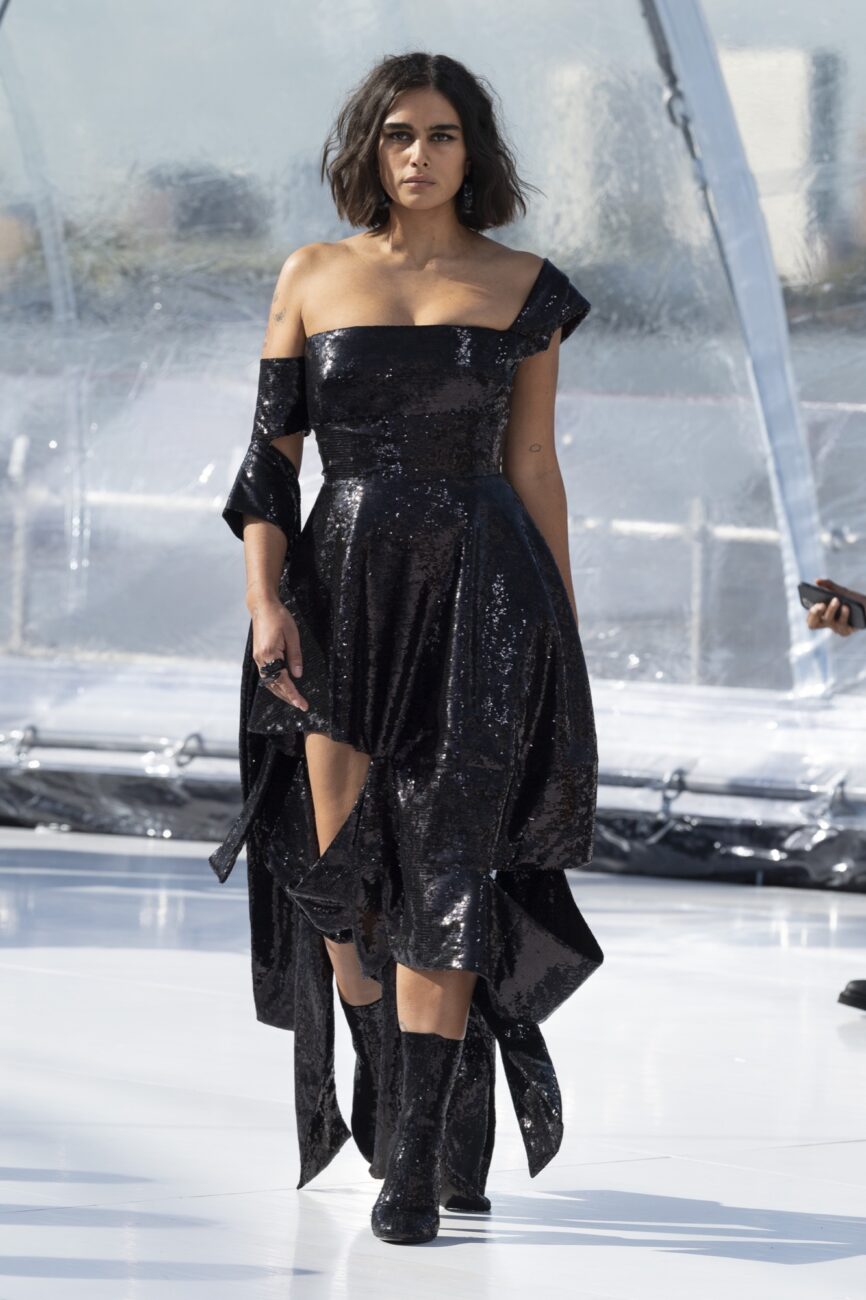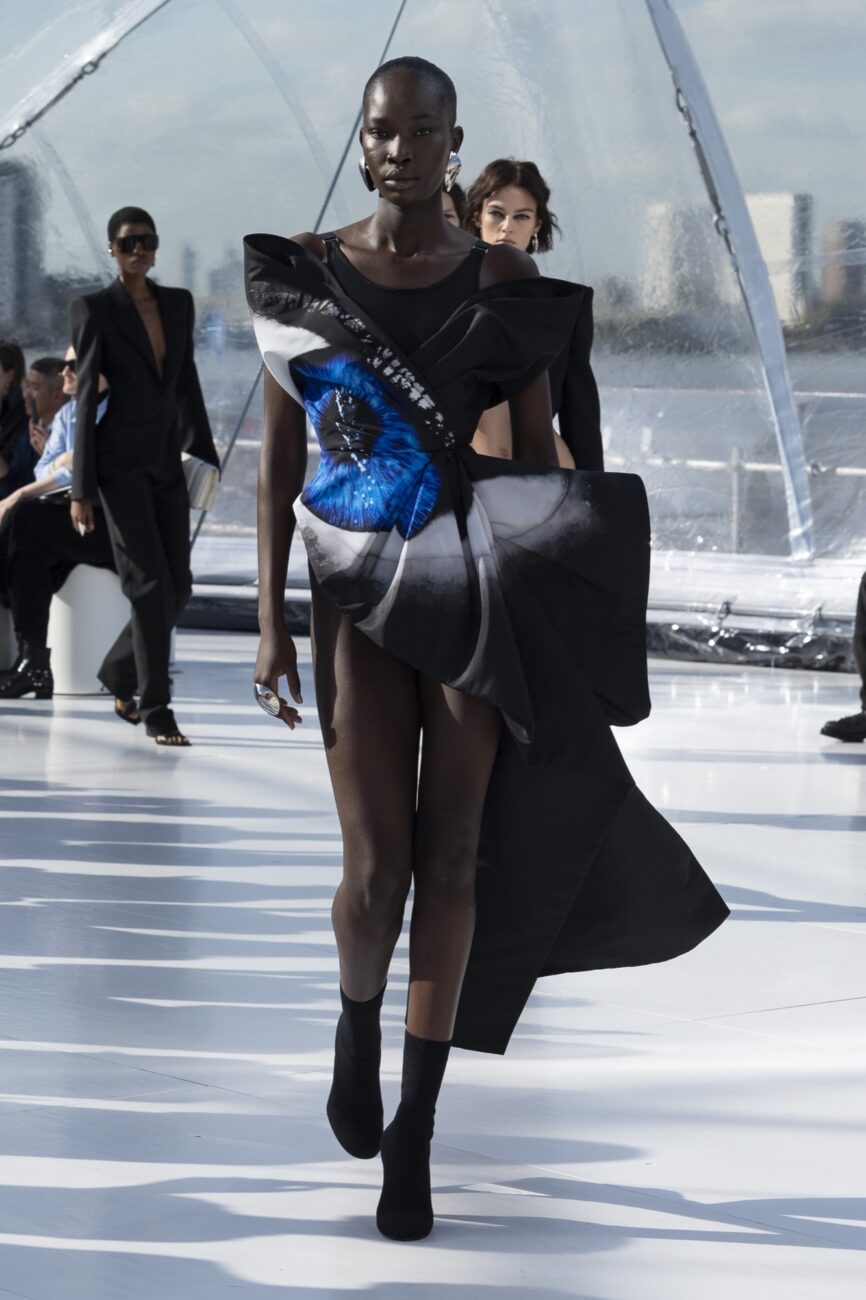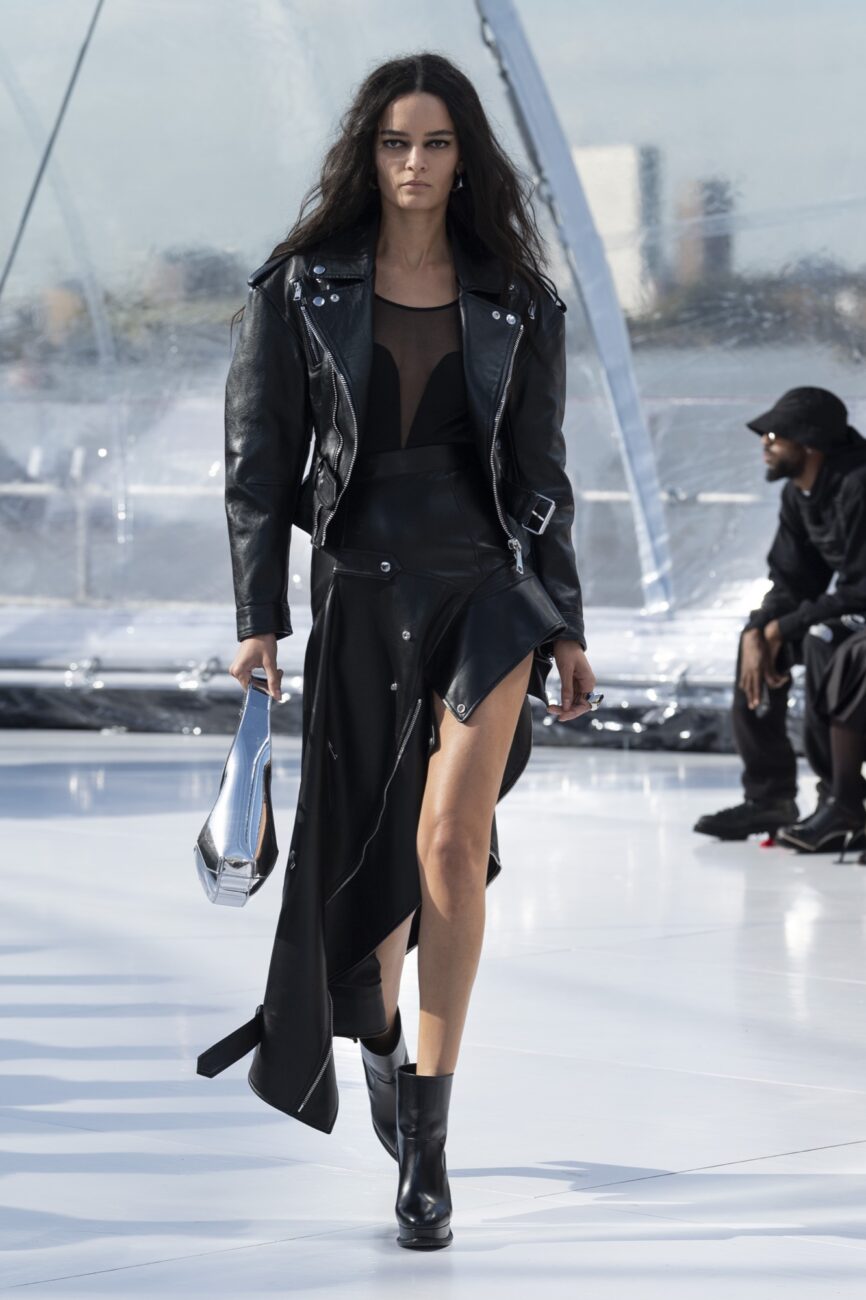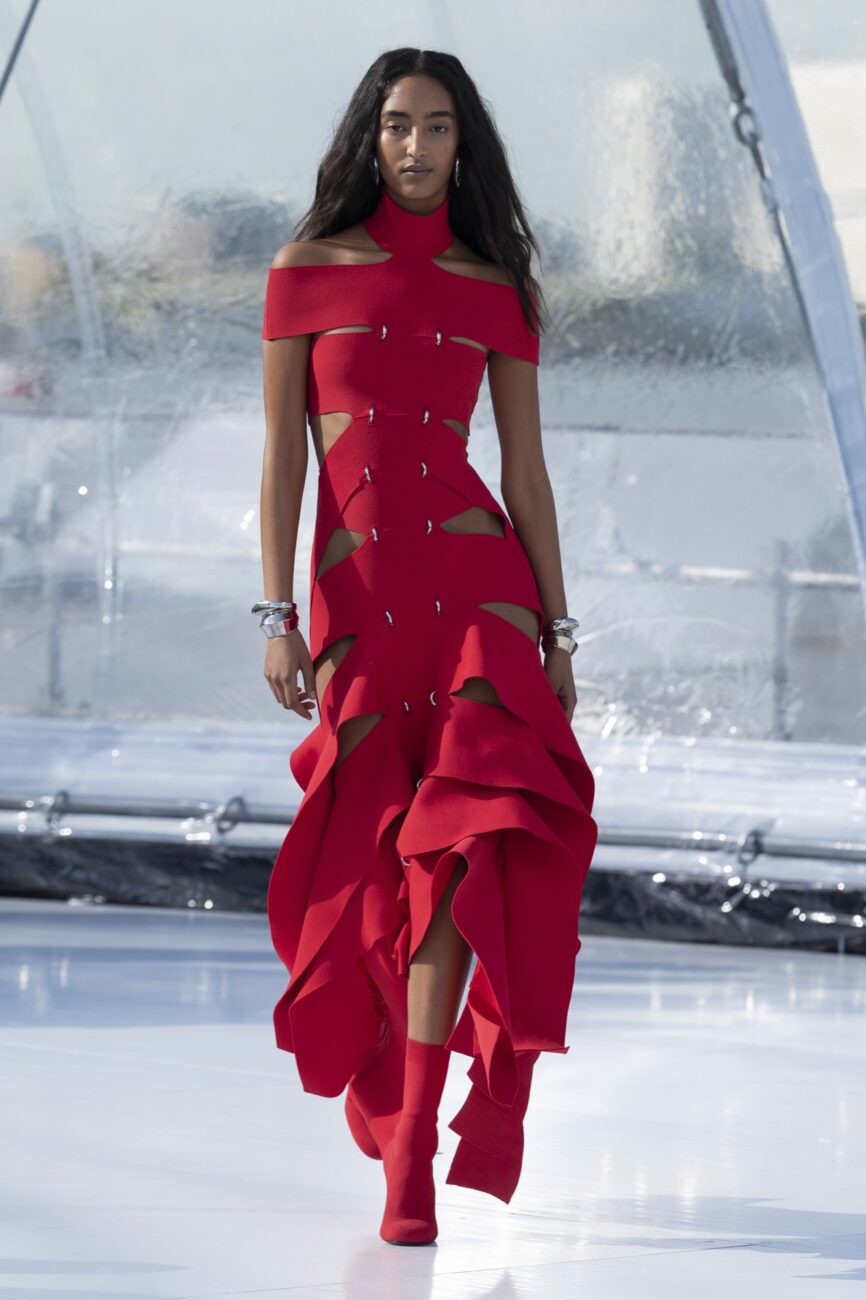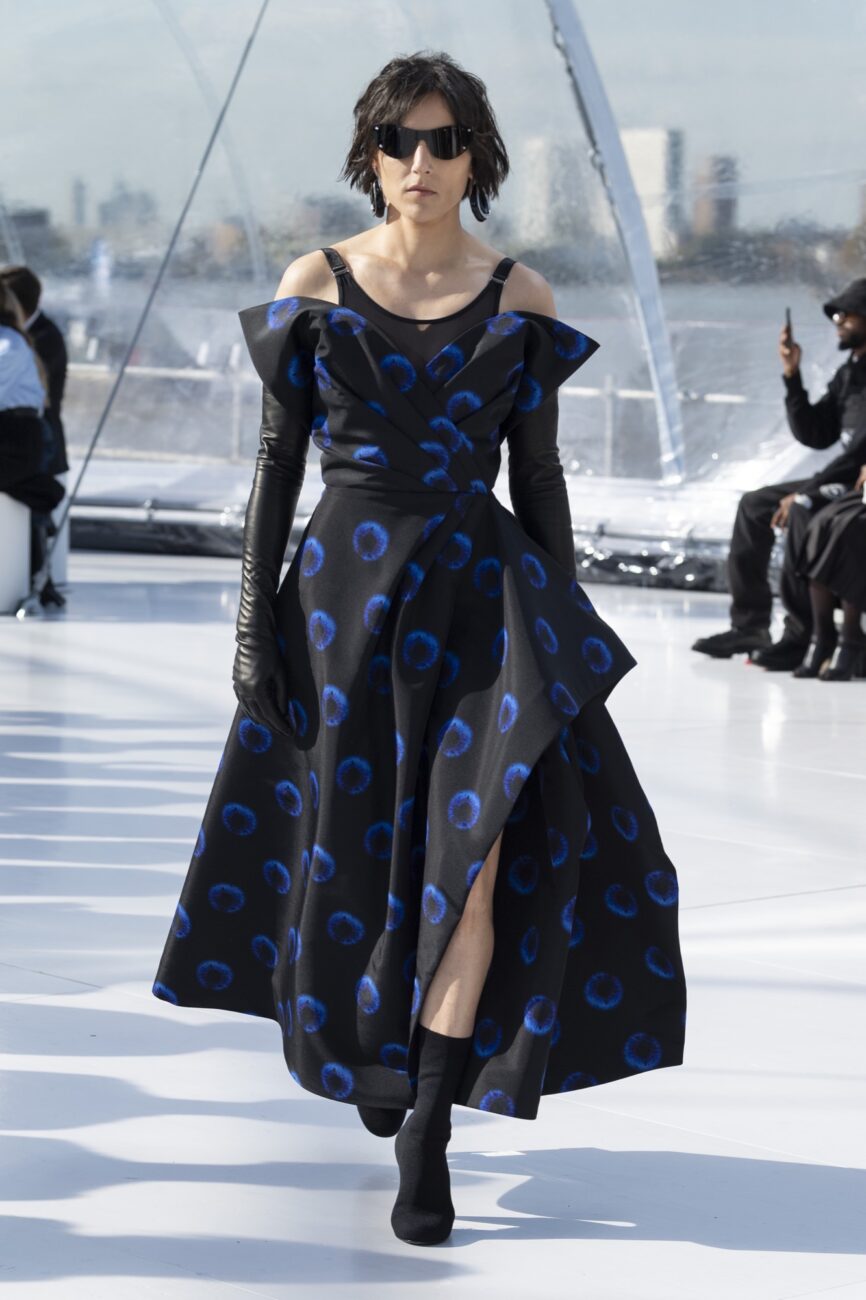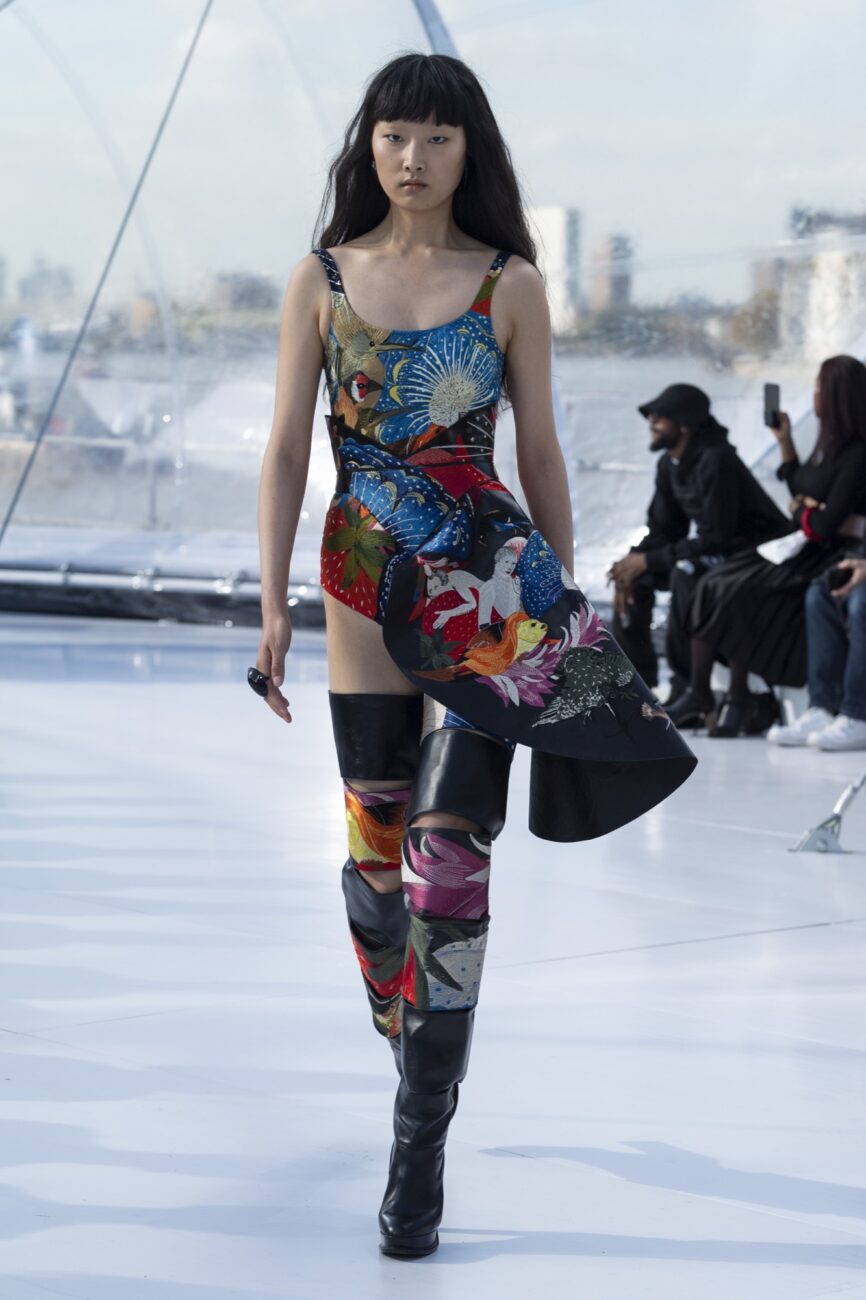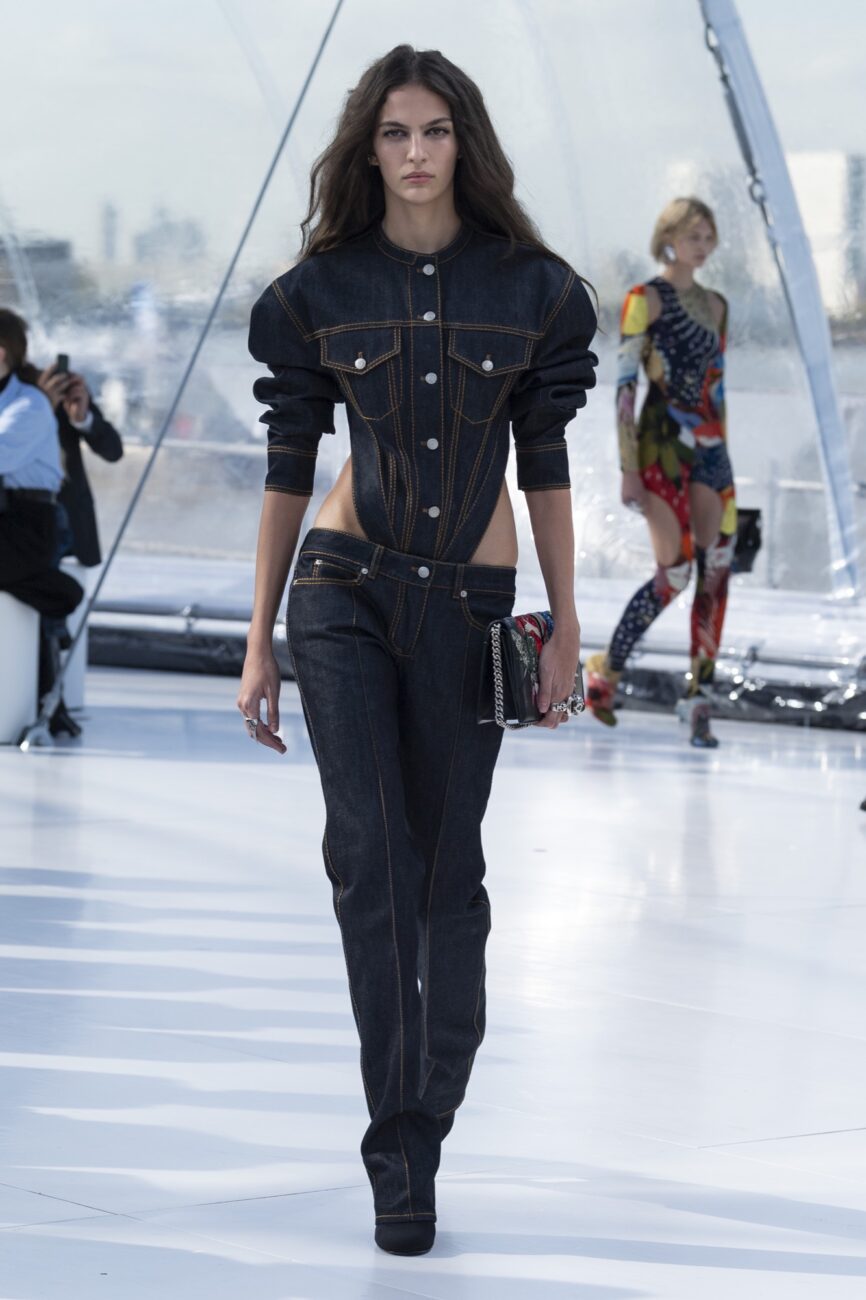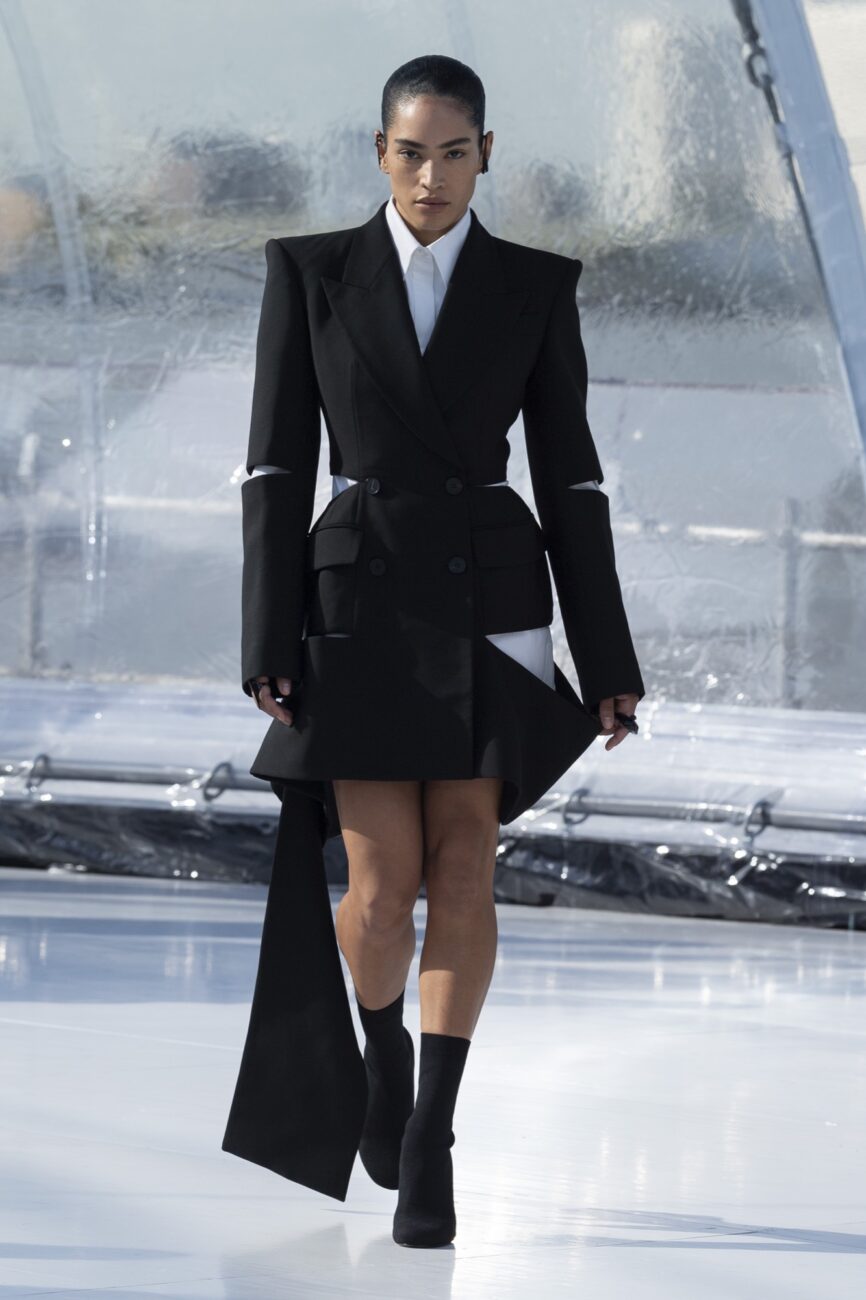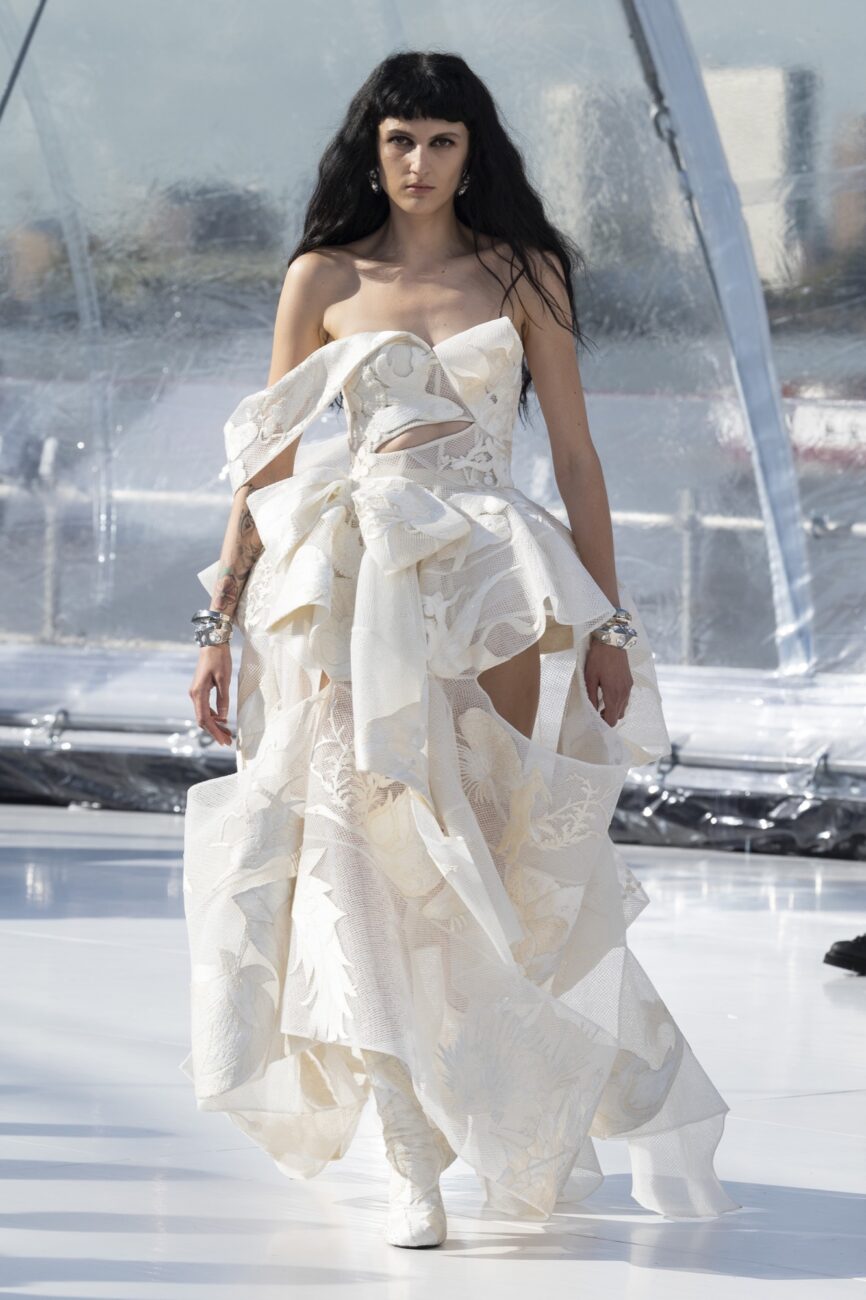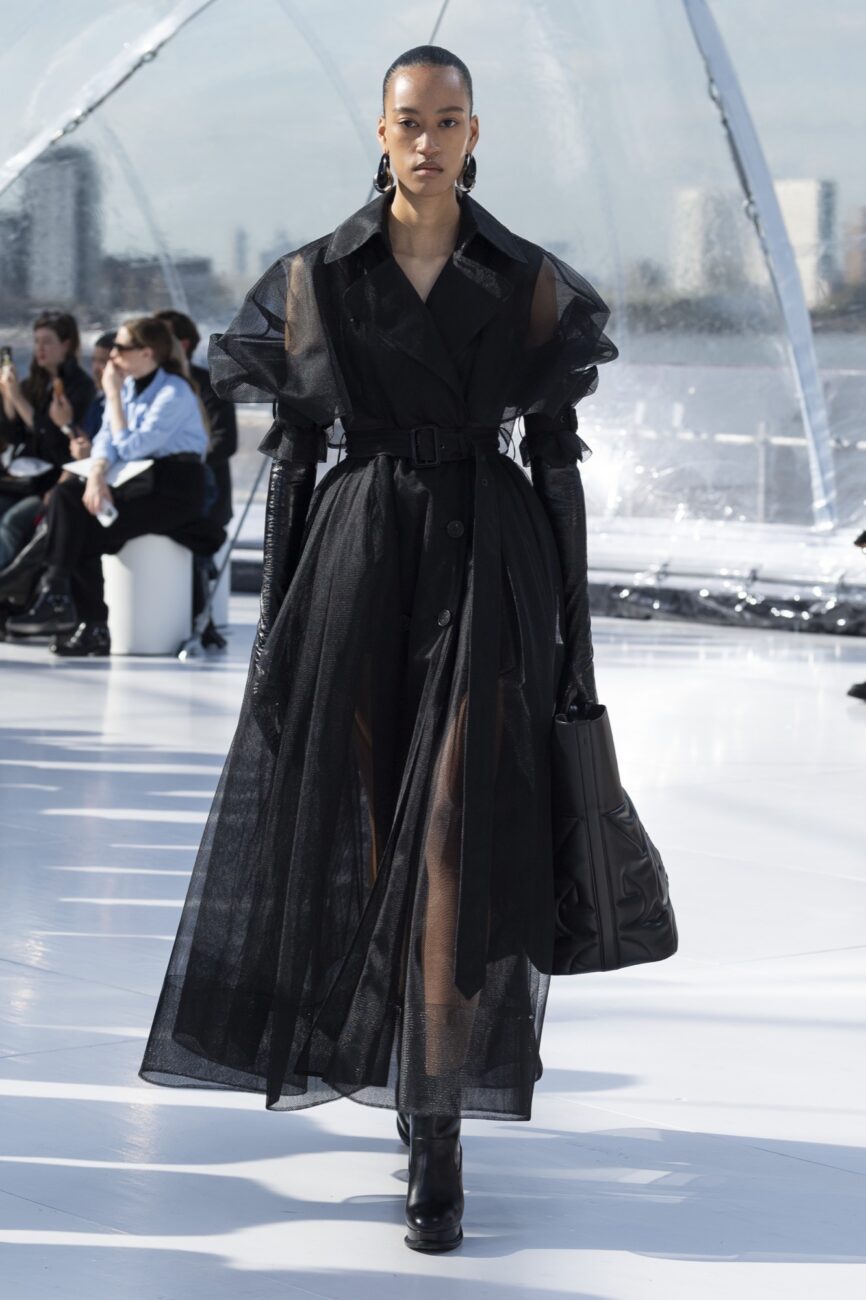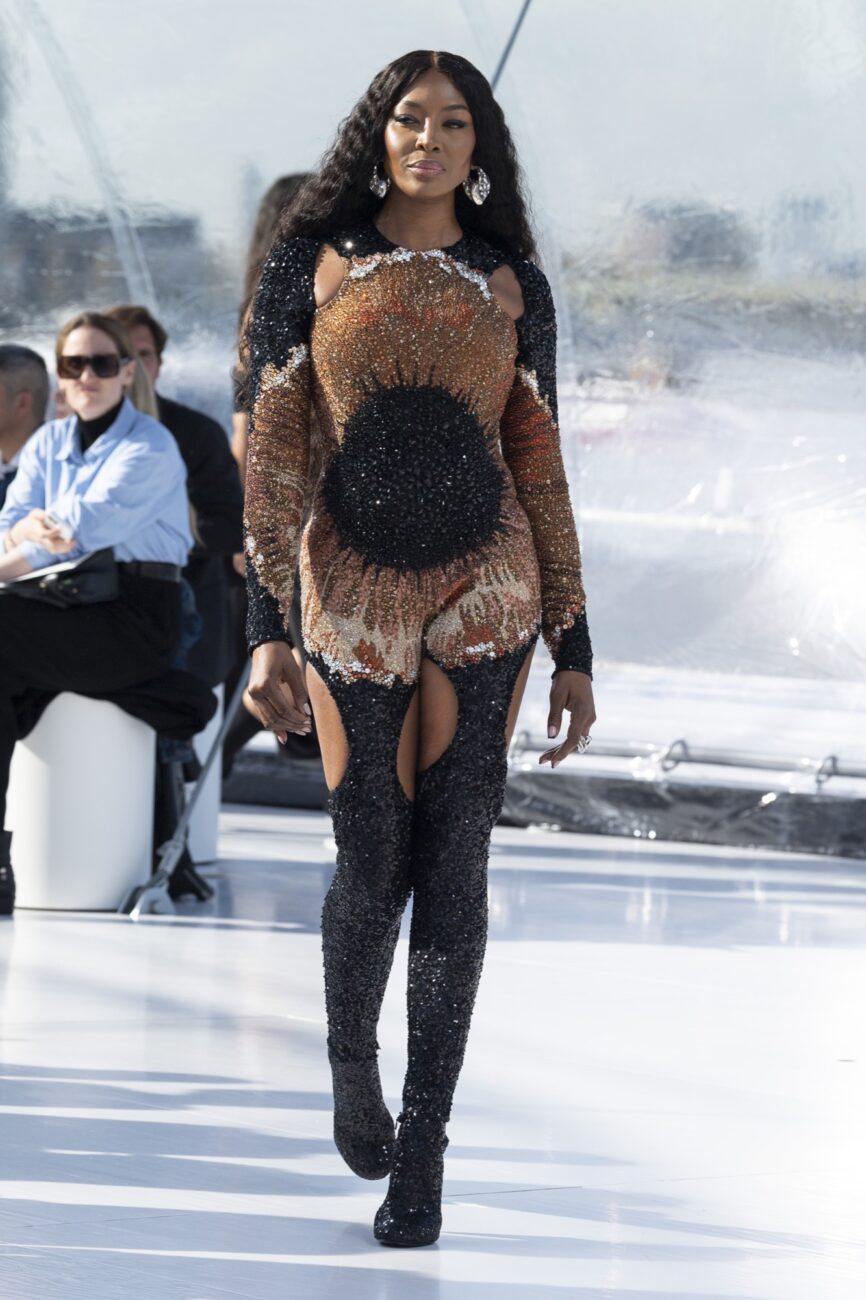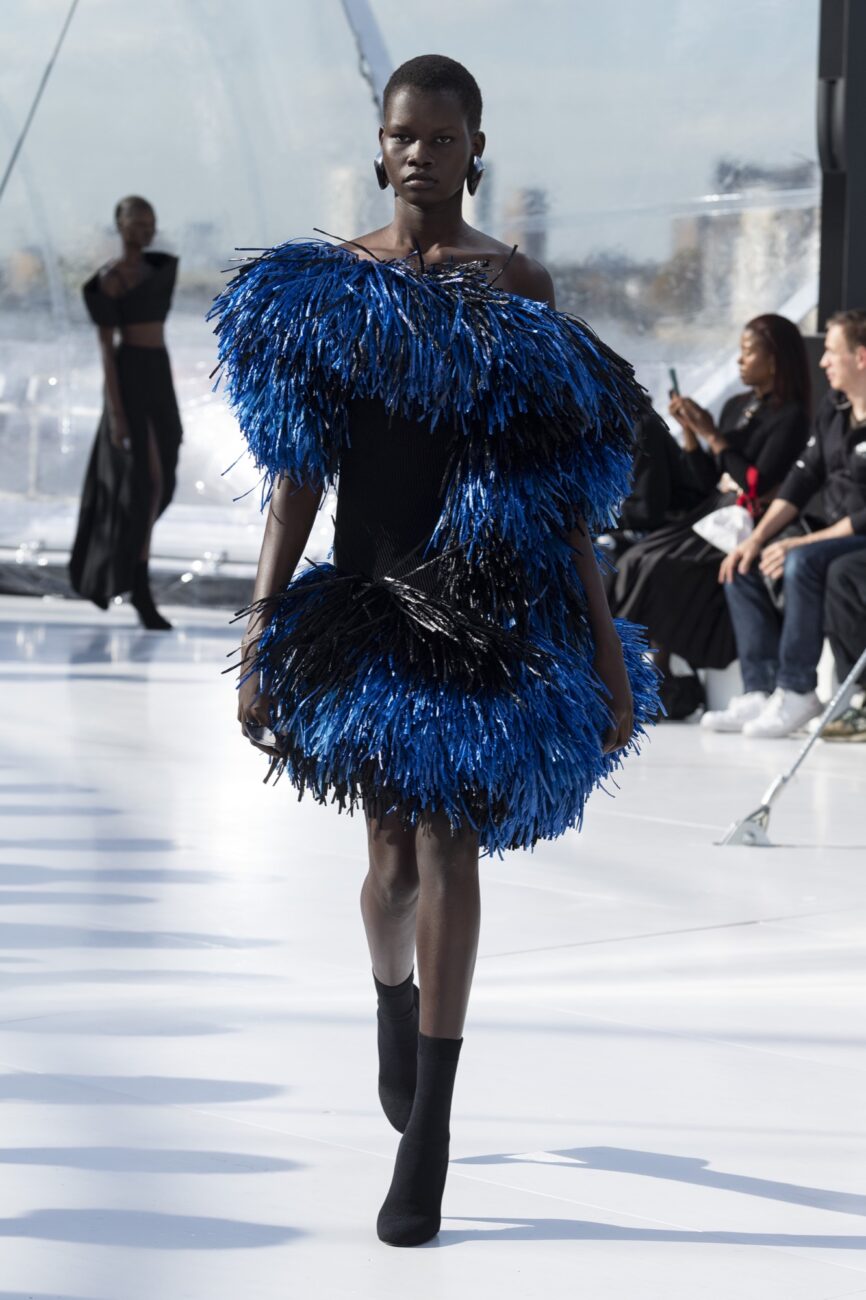 Spring clothes tend to be of the breezy, uncomplicated variety—the kind of stuff you want to wear on a balmy 30-degree, humid Mediterranean scorcher. That straightforward ease and no-brainer wearability may be two touch points Burton needs a little more coaching on, but back on the collection itself it seems Burton's creative paradigm works well for her. Her new skin-tight suits, black intarsia dresses, and viscose knits aren't items you need six months to decode and dump after; they're pieces you rush to scoop up on the most elegant occasion, with zero chance of feeling banale. (In fact, Burton is so adept at designing the stuff that buyers actually want to wear that they don't need much sampling: she produces full runs, so huge kudos for that). The lesson for the designer wasn't to become a commercial business, but to view every item she designs in a similar light to Lee.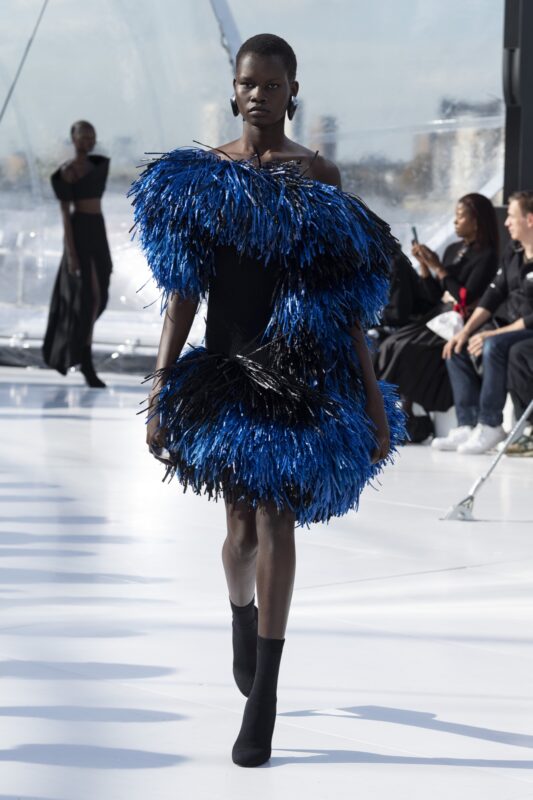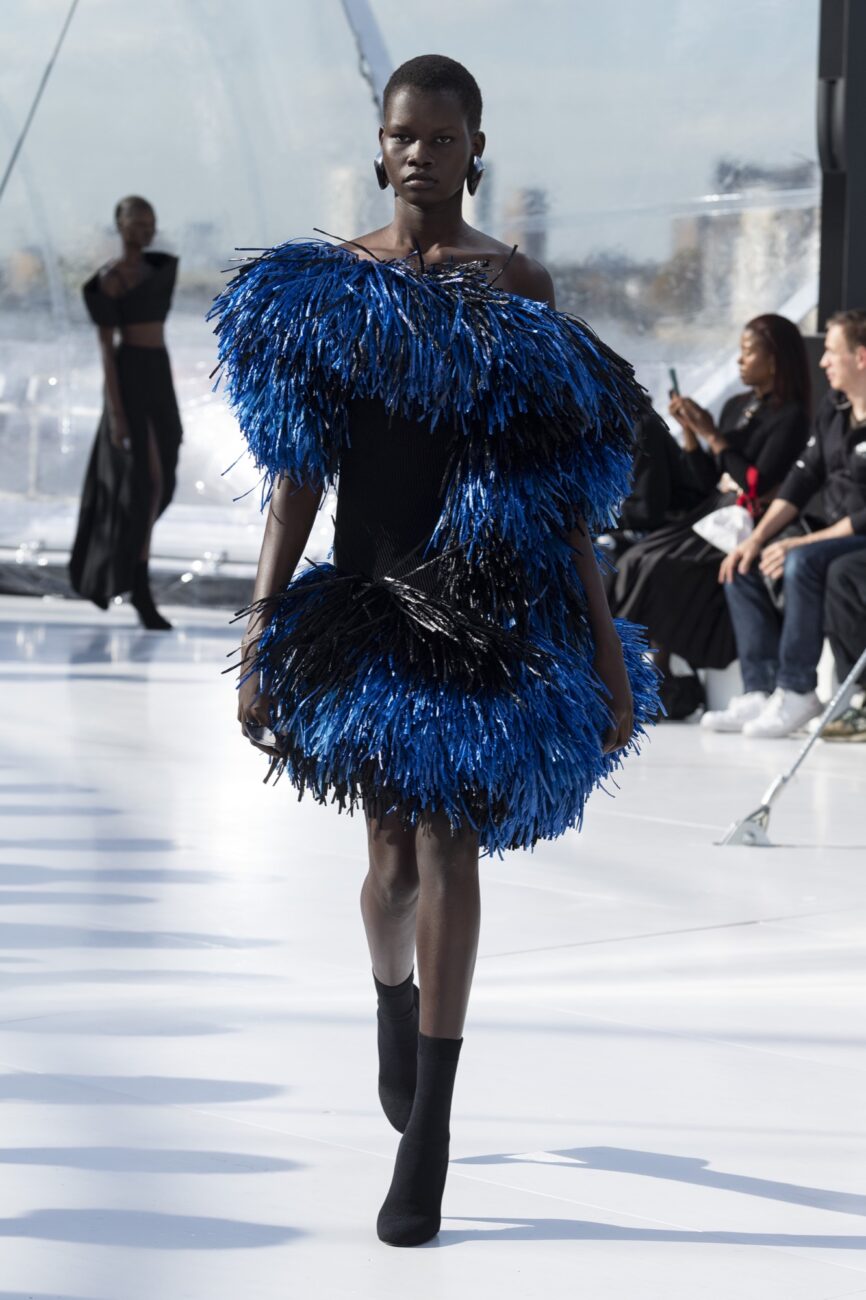 Burton's Spring 2023 experiment was an experiment in that item-driven approach, with surprising embroidered touches—see: the bodysuit in black mesh with satin stitch, or the dress in calico tulle, most notably with the Hieronymous Bosch worn by Naomi Campbell. Burton is a huge print lover, particularly ones able to fully grab a viewer's sight, but here she focused on the dark, highly-imaginative poise of the 15th and 16th century art depictions. Translated, this means a new wave of blown-up motifs layered atop dresses for a sophisticated touch, with lots of body-hugging gowns (one of the collection's best offerings). It would be nice to see more of those.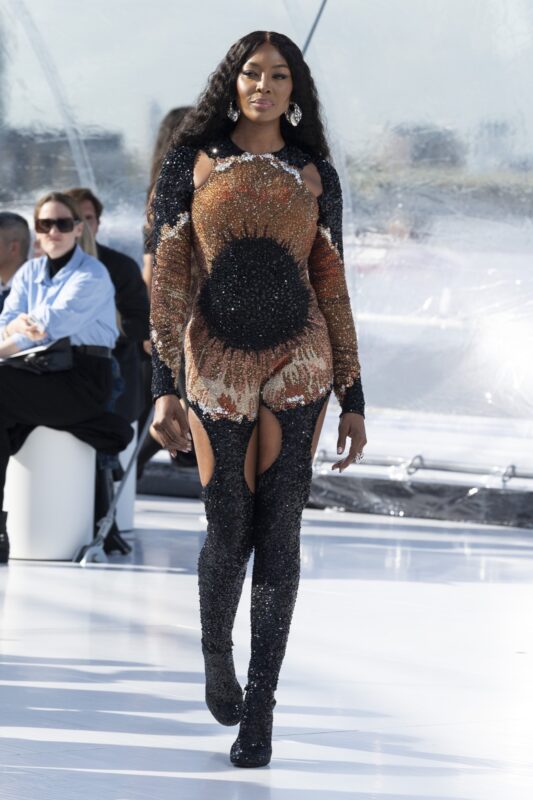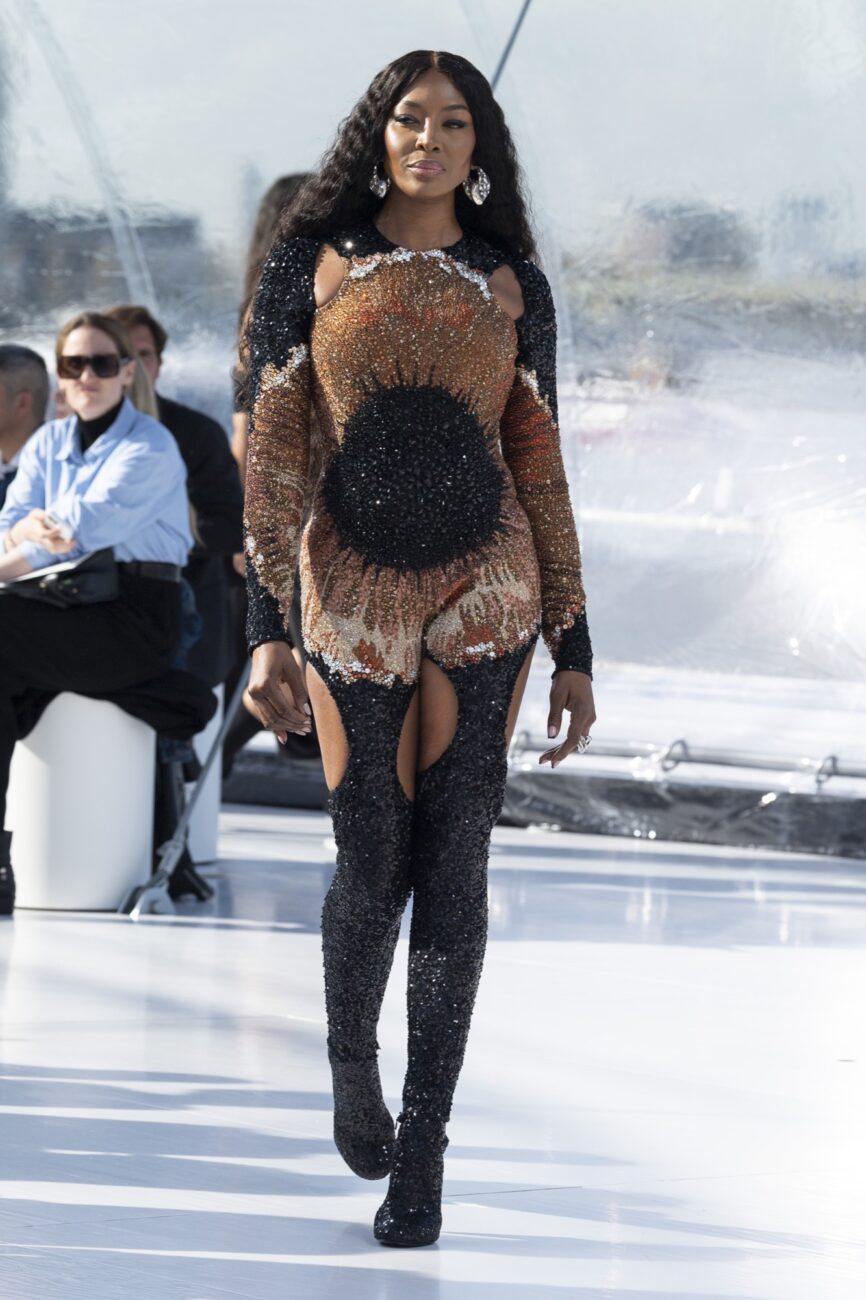 Yes, it feels more of a life philosophy than a wardrobe concept: collections are unleashed every three months, but here's a reassuring no-token logic to Burton's oeuvre. The irony, though, is that perhaps there's room for progress. Yet if, season after season, the designer adheres to a blooming-equals-glorious mantra, her "niche" may become somewhat humdrum. Clearly, however, is that quality flew high—an important measure of the brand's legacy. But when flowers become the palate cleanser, one may have reached peak pattern. All in all, not many could pull off a look like that—but in an increasingly saturated playfed of fashion players, volume play may truly be Burton's best lingua franca. (Pun intended).