DRY ISSUE #14: OUR COVER PEOPLE HAVE STORIES YOU'D KNOW…
We live in uncertain times. Although the immensity and accessibility of digitalization give us the illusion of being free to do anything we want with no consequences, nothing has to be taken for granted. Things that we easily and carelessly count on can change overnight. And if we don't slow down a bit, reflecting and learning accurately from wiser ones, respecting ourselves and the others, and the Earth we all share together, we will never be strong enough to survive inevitable life's contingencies.
So let's start from here: keeping always in mind the conquests that past generations provided us with, we can get the proper tools to build a prosperous future in defense of those same battles won.
DRY #14 traces back the greatest achievements of the last century which changed forever our perception of culture and society. And now, in a social media-saturated world where what used to be subcultures' purposeful rebellion is turning into controversial idols or fleeting Instagram celebrities, we want to talk about the true contemporary superheroes… those authentic people with strengths and weaknesses, with their own beauty and background, who fight everyday for their beloved ones, their rights, their body's and spirt's freedom, and for the health of our whole planet.
So celebrating the extraordinary beauty of people's own story, we chose four fabulous cover tales…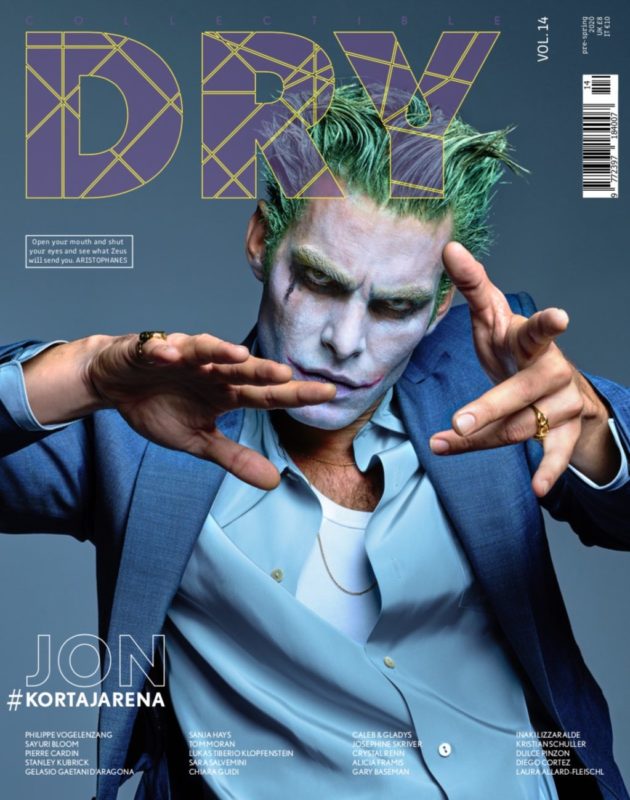 Transformed into the glamour-est Joker ever, Jon Kortajarena reveals in this cover his two worlds, that of fashion and of cinema. As always happens to superheroes, his life changed suddenly and unexpectedly. Being sure he would have become an architect, one day, it was 2004, the seventeen-year-old Spanish boy found himself disputed among the major fashion houses. A destiny that Jon hadn't foreseen at all, but which opened to him many more paths than he could have ever imagined. From the beginning he was particularly attached to Tom Ford and from the catwalks of the American designer he ended up debuting in his film "A Single Man". Jon also participated in two music videos of Madonna – of whom he became friend and still considers a real Queen. Among the films in which he took part are "Andròn: The Black Labyrinth", "Pieles" and "Double Duchess: Seeing Double, the Visual Experience". However, his greatest ambition can't be realized on the screen or on catwalks, but it represents an enormous and fundamental goal that we all must commit to: the care of a clean, sustainable and conscious world. This is the most important message that our superhero shares in his very prolific Instagram profile, the love for nature and respect for those who will be able to enjoy it in the future.
Jon Kortajarena wears a tail-coat suit with a short cut jacket Moschino
The type of man who hides the feeling with a veil of irony perfectly fits with an aura of Moschino Toy Boy, the new brand's fragrance of that amazes and always entertains with maximum charm. Amber woody-spicy freshness with surprising floral notes, including the unusual Rose NeoAbsolute, exclusive reinvention of the classic rose, the Eau de Parfum in several ounces is presented in the teddy bear bottle: here it is, the real toy. Moschino
Photography Philippe Vogelenzang. Fashion Andrea Colace. Model Jon Kortajarena @Select Model Management. Make Up Kathinka Gernant @Unspoken Agency using @Chanel and Egyptian Magic. Hair Hester Wernert @WSchupfer. Photographer Assistant Jorin Koers. Fashion Assistants Rashmita Goyal and Vasudha Arora.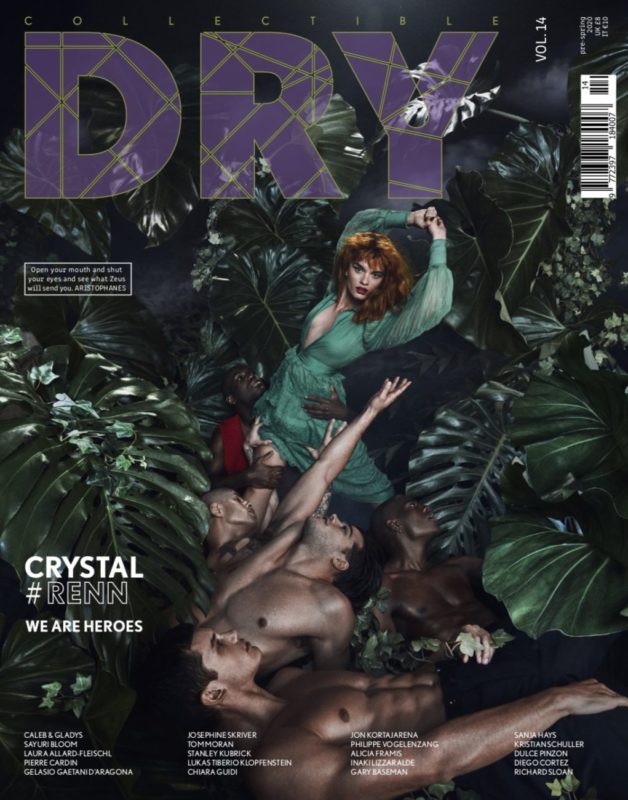 Her charisma and magnetism make this girl perfect in the guise of Poison Ivy of our "League of Legends". Crystal Renn is that type of person who projects deep confidence and seems unbreakable, simply because despite the great obstacles in life she, like a true hero, has always raised up again to pursue her dreams. She started her career at a very young age, she was only 14 and had lost many, too many, kilos. Crystal used to feel insecure about her body, like all we girls at that age, and she thought that forbidding herself from food was the only way to achieve her coveted goals. But then it came the actual turning point of her adventure in fashion and of her own life: she decided to resume a healthy lifestyle and correct dietary habits and became one of the most famous and beloved plus size models worldwide. Today this beauty tells us about the "superpowers" she acquired with her love for vegan food, meditation, piano and astrology.
"Not too long after my book "Hungry" came out, I felt the call to go deeper. […] Where I am now is a kind of borderline modern monk, and some near and dear ones to me wonder if I am too abstinent in some ways when they hear about all the different methods I apply to get to my peace, for example 8 hours meditation at a time etc. […] I have been personally studying Astrology and Numerology for quite a few many years now, among other things. People in the industry know, I mean if you have encountered me for one whole minute the likelihood is high, I already know all of your chart upon introduction, and am proudly 'that girl'."
Crystal Renn wears a green dress with lace details Gucci
Women who by nature give everything and immediately, generously, with no restrictions, are irresistible. Feelings to the first place. Like Gucci Bloom Ambrosia di Fiori, the new Eau de Parfum, structured not to slowly disclose into the classic hierarchy of fragrant notes, but to open them all in a flowers explosion. Velvety iris and damask pink make this intensified version of the basic bouquet a vertigo of ambrosia, nectar of the gods. Gucci
Photography Caleb&Gladys. Fashion Sayuri Bloom. Make Up Carolina Dali @The Wall Group. Hair Felix Fischer @Factorydowntown using Kérastase. Hair Assistant Connie Tsang. Manicurist Kana Kishita using @Apres Nails. Producer Jean Jarvis @area1201. Casting Director Bobby Gutierrez. Production Assistant Rafe Andrews. Set Designer Sergio Esteves. Retoucher Mario Seyer. Model Crystal Renn @JAG Models. Male Models Justin Halley @One MGMT, Andres Mosquera @New Icon, Tucker Des Lauriers @Next MGMT, Cory Alexander @Muse Models, Aaron Turner @New York Models. Photographer Assistant Sergio Avellaneda.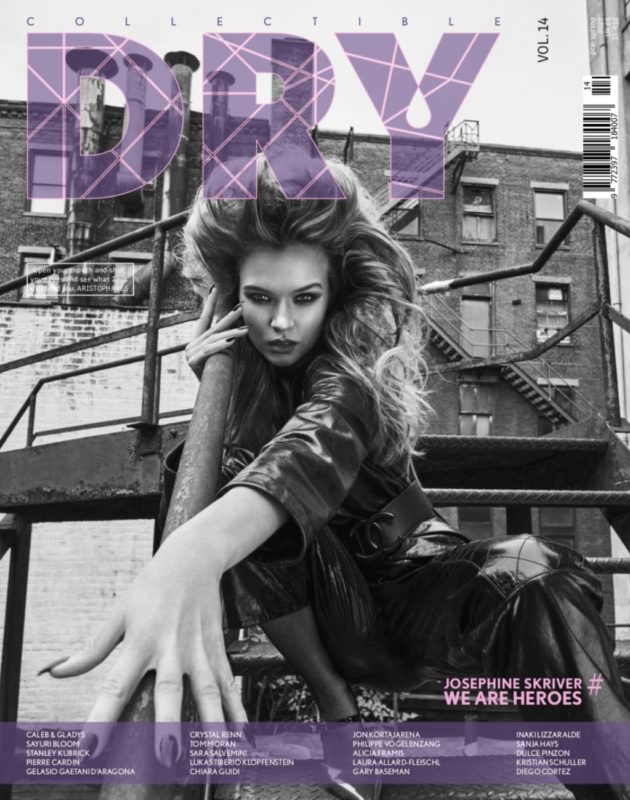 Then the enchanting Josephine Skriver takes over Gotham as a real cat-walker. Daughter of LGBTQ parents, ex football player, ambassador for the Family Equality Council, she is anything but a fragile porcelain doll. She was 15 years old and played football with her team when she was discovered by a scouter. But before starting what would become a very successful career as a model, which led Josephine to spread her Angel's wings on Victoria's Secret show, she decided to finish her studies. Her particular family background, born with IVF from homosexual people, has made this young lady a determined and true heroine-paladin of the LGBTQ community. The courage of '68 generation to go on the street and manifest for their equal rights brought to the first conquests in this very though battle, which unfortunately is still harmful and persistent; in fact, although the pledge of protecting minorities is enthusiastically resonant and widespread today, prejudices and discrimination are always on the agenda. The grit and splendor emanated by people like Josephine, however, demonstrate the power of who never give up and who makes the fondness towards their dear ones the honorable pretext to defend an entire social group.
Josephine Skriver wears a shiny lambskin jumpsuit and shoes Chanel
Personalities who make their mark. Starting from the manicure maquillage: here Chanel with Le Vernis N. 18, Rouge Noir, and Rouge Allure Ink Fusion No. 828, velvety radiance for the lips. Ultra Teint Velvet face base, Stylo Yeux Waterproof No. 451 eye contour, Khaki Intense, Ombre Première No. 58, Poupre Brun, shading. All by Holiday 2019 Collection Les Ornements de Chanel
Photography Caleb&Gladys. Fashion Sayuri Bloom. Make Up Victor Noble using @Maybelline. Hair Felix Fischer @Factorydowntown using @Kérastase (Factory Downtown). Hair Assistant Connie Tsang. Manicurist Kana Kishita using @Apres Nails. Producer Jean Jarvis @area1201. Production Assistant Rafe Andrews. Retoucher Mario Seyer. Model Josephine Skriver @Model Management Hamburg. Photographer Assistant Fernando Sippel.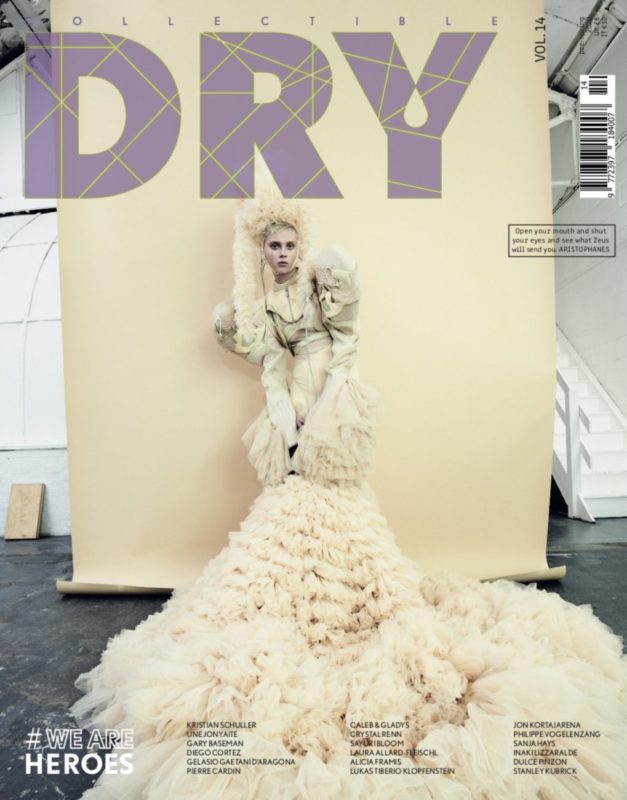 Finally, our beautiful stranger mermaid is Une Jonyaite. The Lithuanian model is paving her way in the fashion system as a real princess of the seas. Her impeccable elegance and free-minded spirit just remind that stubborn redhead Mermaid who didn't settle for the ease of living in Atlantis but desired to explore the whole world. She wears a splendid yellow fin-dress but through her gaze we see this girl running fast towards new great adventures. With very clear colors, angelic face, yet boyish hair cut, Une perfectly embodies the image of today's glam heroine: delicate and androgynous, sophisticated and bold. In a still male-driven world, sometimes it seems almost necessary for a woman to assume masculine attitudes and aesthetic choices, but the real strength, as showed by the model's spontaneous poise, lies in being true to ourselves and to our own particular femininity.
Une Jonyaite wears a mermaid dress with long ruffled skirt Windowsen
Dance with joy. As Tiffany declares, the highest authority in jewelry as a token of love, "The feeling that unites two people creates a flow of energy, arousing sensations of happiness and optimism". So Tiffany & Love For Her and Tiffany & Love For Him: just launched and already bestsellers, the two bright fragrances have different bouquets but "tied" in the sharing of the blue sequoia, a precious woody note that recalls the iconic shade of the Maison. Tiffany
Photography Kristian Schuller @Andrea Blood & Co Management. Fashion Sayuri Bloom. Make Up Shinobu ABE @CLM. Hair Keiichiro Hirano @Thelondonstyleagency. Casting Director Andrea Deanesi. Model Une Jonyaite @Premier Model Management. Photographer Assistant Florian Koellisch and Chris Chudleigh. Assistant Angeliki Sofronas.
To find out more about amazing stories of everyday supermen and superwomen, "We Are Heroes" DRY Issue #14 is waiting for you at newsstands, or visiting CollectibleDRY subscriptions