PIERANTONIO GASPARI WELCOMED US IN LOMA SPA TO EXPLORE THE MAGICAL WORLD OF KNITWEAR
Text by: Annarosa Laureti
Edited by: Fiammetta Cesana
Bringing knitting back to its glory is the core business of Pierantonio Gaspari, designer of the namesake brand (PierAntonioGaspari) founded in the late 90s.
Raised among the threads and looms of the family company, which used to be focused on fabrics, the Romagna-born designer decided to open the doors to knit production when he was captured by the sight of the first dedicated machines. Struck on the road to Damascus, he intuited the innumerable creative possibilities offered by one single thread.
Then, a technical experimentation and an unmatched product research began to make PierAntonioGaspari a reference name on the knitwear's international scene.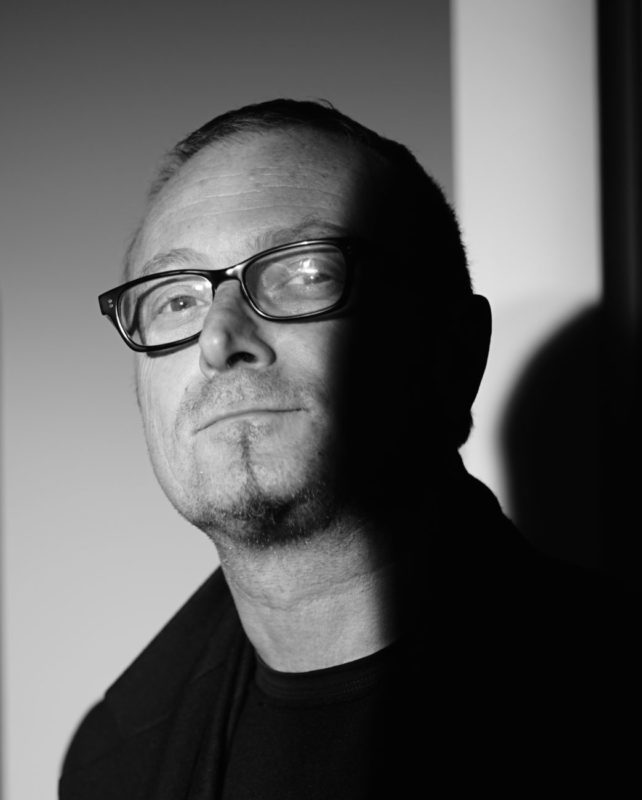 Welcoming us with open arms inside the company Loma Spa of Reggiolo – the leader in the production of high-end knitwear that cooperating with the designer for some years offers him its own know-how and innovative technology machineries – Gaspari tells us the story of "such a beautiful world that sometimes it would be worth to narrate with more emphasis".
A crossing centuries story
Knitting history, "started together with the very human's birth", could be easily divided into fundamental stop-overs which made possible some productions that "when I first approached knitwear weren't feasible", the designer claimed. From the first mechanical loom born in XVI century by a British pastor, the Reverend W. Lee of Calverton, we move to Jacquard loom – that allows the creation of multicolored fabrics – and to the first multi-head loom (the Cotton one), until discovering the first ever tubular jersey machine (shown at Paris Expo in 1889). Today a brand new figure emerge in the knitting world, that of the programmer, who joining technical knowledge of both knitting and machineries can create special knitted fabrics never seen before. An example above all is the tubular jacquard (featured in the last PierAntonioGaspari fall winter 2018/2019 collection) realized thanks to a particular technique where threads blow up by reacting with steam, and so creating a kind of 3D effect.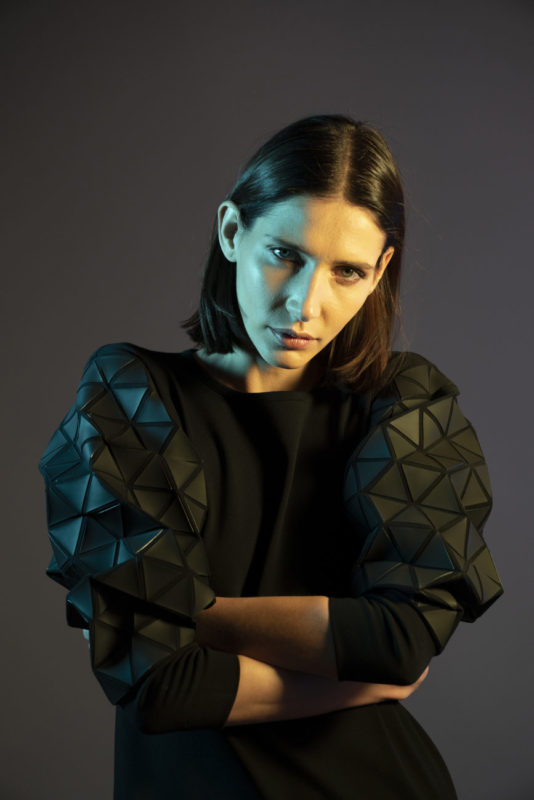 Knitting's creative freedom
"What makes handsome and interesting knitting is that you are able to create an infinity of different models starting from a simple thread" Gaspari said. "When you work with fabric you use a product that is the result of a choice of colors end weights that someone has already made. But in knitwear you start from a previous step: you have to select threads then only later will allow you to get your own knitted fabric".
Only when you finally reach the long-wished fabric, after several, in some cases countless, tests – "occasionally I wonder if what I thought can be concretely realized" he confesses – you can figure out the model, shapes and volumes of your final item.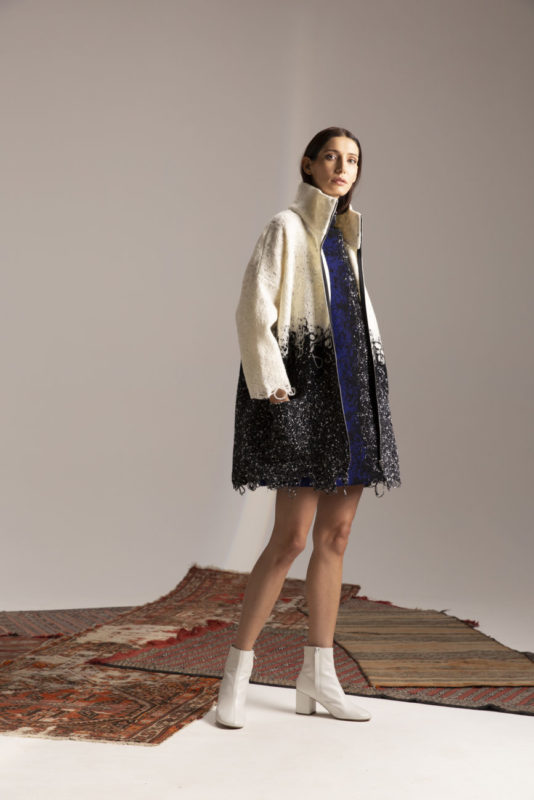 As a child playing with his favourite game, Gaspari reveals that when you begin proposing entire collections that leisure time inevitably turns into a real job. "The designer must analize the marketplace and the very production. Several and different knittings can conduct to similar final results and it is essential sometimes to understand the more convenient path to follow, also in economic terms".
Memories of a trip
However exceptions to the rule are all those designer's visions that don't allow any plan B. Then it comes out items such as the knitted puffer coat with fur effect knitting details on pockets of the ultimate fall winter 2019/2020 collection. Named "Rugs Collection", it was inspired by diverse traditional rugs (Gaspari's second big love) shoot along the Silk Road, in the Turfan depression, in Xinjiang, and in Nubra Valley, Himalaya, during some of his numerous Asian trips.
From the souvenir of a Londoner journey – "a crazy polka dot scarf" – comes the discovery of another particular knitting technique, the needling, that took Gaspari himself to collaborate with a little company in the Orkney Islands, Scotland, making him one of the firsts who proposed this procedure in Italy. "During the first season we sold few items but I decided to continue the research exasperating its concept".
"PierAntonioGaspari has always been synonym of research. When I create my collections I don't like looking back, I prefer looking towards the future – the designer continues – I love create garments that will last, unbound from temporary trends. The classical fashion concept doesn't belong to me".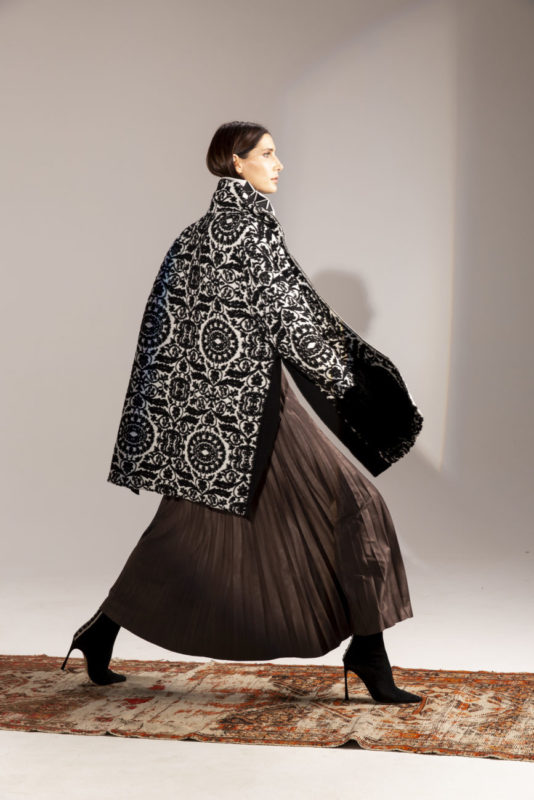 A world to be proud of…
Highlighting quite bitterly the current situation of knitting designer's figure – "We are less and less" – Gaspari, however, proudly claims the importance of Made in Italy factor, as well as that of the historical district of Emilia Romagna, in this industry: "Only Italian knit is worldwide consider as a fashion item".
"40, 50 years ago in every under-stage closet of Emilia Romanga there were the famous "magliaie" (women who knit e.d.). Yarn sales men was used to come to their own ladies to ask them the realization of the final products. In Italy we are lucky: the knitting industry could praise an high-quality craftsmanship. The main international fashion houses produce here the 98% of their collection's knitted part. Everybody have the machineries – they were born in Japan – but here, in Italy, we have a knowledge and an ability that has no equal".
Charmed by designer' story and garments, in the end we discovered a true wonderland to be proud of, where "the technical knowledge adds to that of the heart".
Cover: Kaftan and satin blouse with warp knitted details, PierAntonioGapsari SS 20 Collection, Courtesy of PierAntonioGaspari