Who's Brunello Cucinelli?
Text by: Fiammetta Cesana
Cashmere master, philanthropist, "custodian of beauty" and of a thirty-year-old millionaire company. A man who, as Kant had encouraged him at 17, has been able to make humanity a noble purpose and not a simple mean.
At the foot of Valle di Solomeo, immersed in a medieval Umbrian borgo, amid parks, vines and lush hill landscape, the young Cucinelli in 1978, full of hope and determination, founded his small business. Now listed on the stock exchange, that no longer tiny company, which has never moved from the borgo, is a colossus of the Italian luxury industry. Thanks to a brilliant intuition, that of coloring cashmere, he managed to make himself a global fashion icon. But it is certainly not the way today the sixty-year-old Cucinelli presents himself…
"I was a teenager, my father a big man: I used to see him coming back from the factory with misty eyes. Tired and humiliated. I'd have liked to go to his boss with a sword"… These injustices suffered by his father, a farmer-builder, urged Cucinelli to create a professional realm deeply respectful of the individual and his/her creativity. He pays 20% more than average the employees, tailors as well as cleaners and gardeners. The aim is to "restore dignity to manual labour and save this kind of jobs". He also forbids that at either administrative, commercial and production department, people work beyond 5:30pm, assuming that by respecting workers and, therefore, their lives outside the company, they are much more energized to develop creative projects and passionately dedicated into their job.
Today Cucinelli is involved in the "Progetto per la Bellezza" (Project for Beauty) which sees the acquisition of three new parks designed with the landscape architect Massimo de Vico Fallani. "Acquisition" is actually a term out of his vocabulary, since he considers himself nothing more than the custodian of a patrimony of beauty that must be perpetuated long after him. "Who builds as an owner does so in search of economic value, in view, one day, to resell. And he lives with the fear of losing it. The custodian builds it because in two thousand years that thing would still be there, and because everyone could enjoy it. And he lives in peace. Because happiness is living in peace with creation".
Contrary the general pessimistic opinion on millennials and their purely consumerist attitude, the philosopher-designer trusts contemporary youth and argues that now more than ever there is a need for authentic things, which can last over time and respect the environment. "I see the signs of a new and more human capitalism, because the Internet is exposing the lies of wise guys and forces us to the truth". What we need to work on, he says, is to reinstate legitimate importance to the work with hands and to stop to warn our sons with the proverb of "arms stolen to agriculture"… people, especially in Italy where craftsmanship represents an admirable wealth in the eyes of the world, they no longer have to fear to use their hands and to undertake professional paths distant from academic certificates. For this reason, he opened a school of arts and crafts, always in Solomeo, where young people are paid to learn tailoring, knitting and textile art, and agricultural crops.
His father, who didn't even know what "cashmere" meant, trusted him and his intuition, just saying "God help you". Here is the advice and lecture of Cucinelli today: relying on youth and their ideas, and never allowing fear to win over their hope of making it.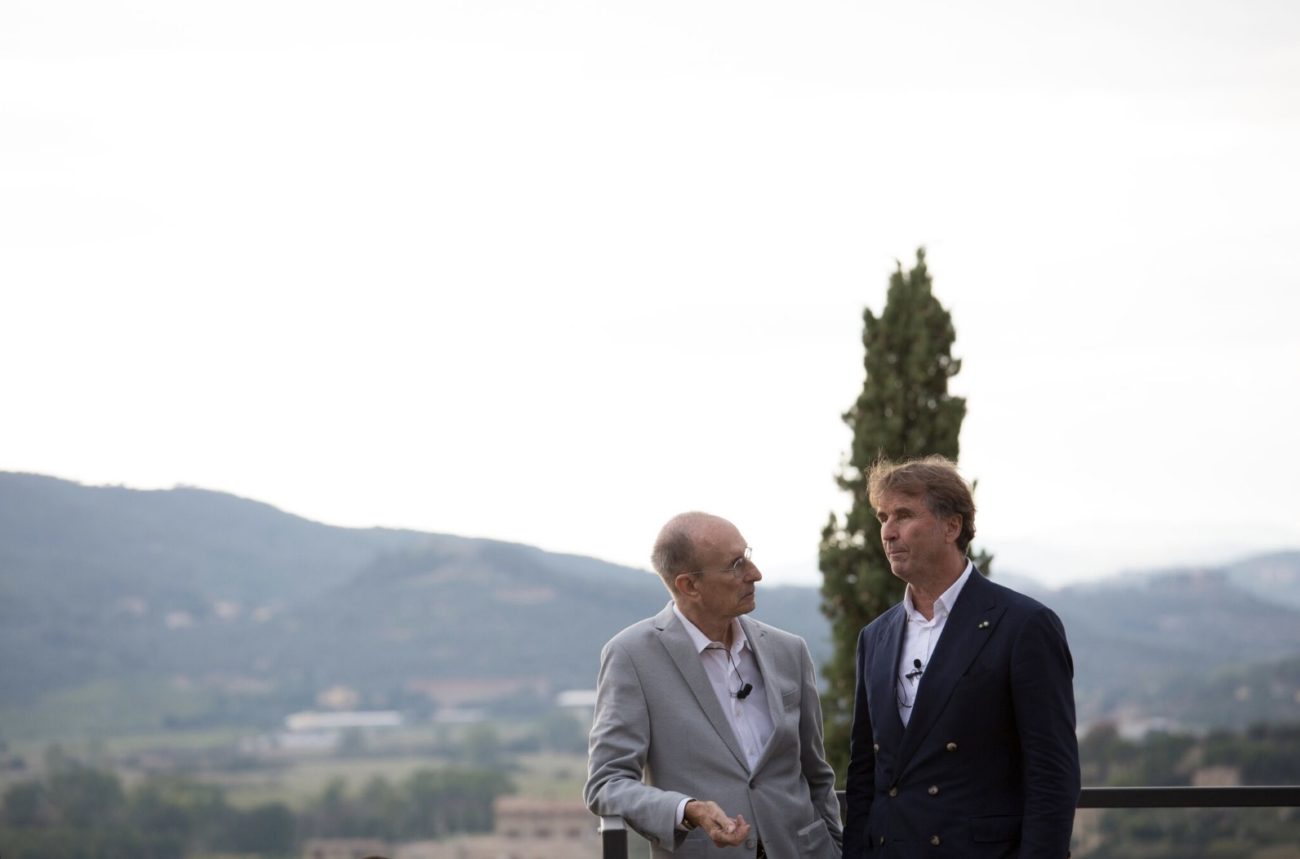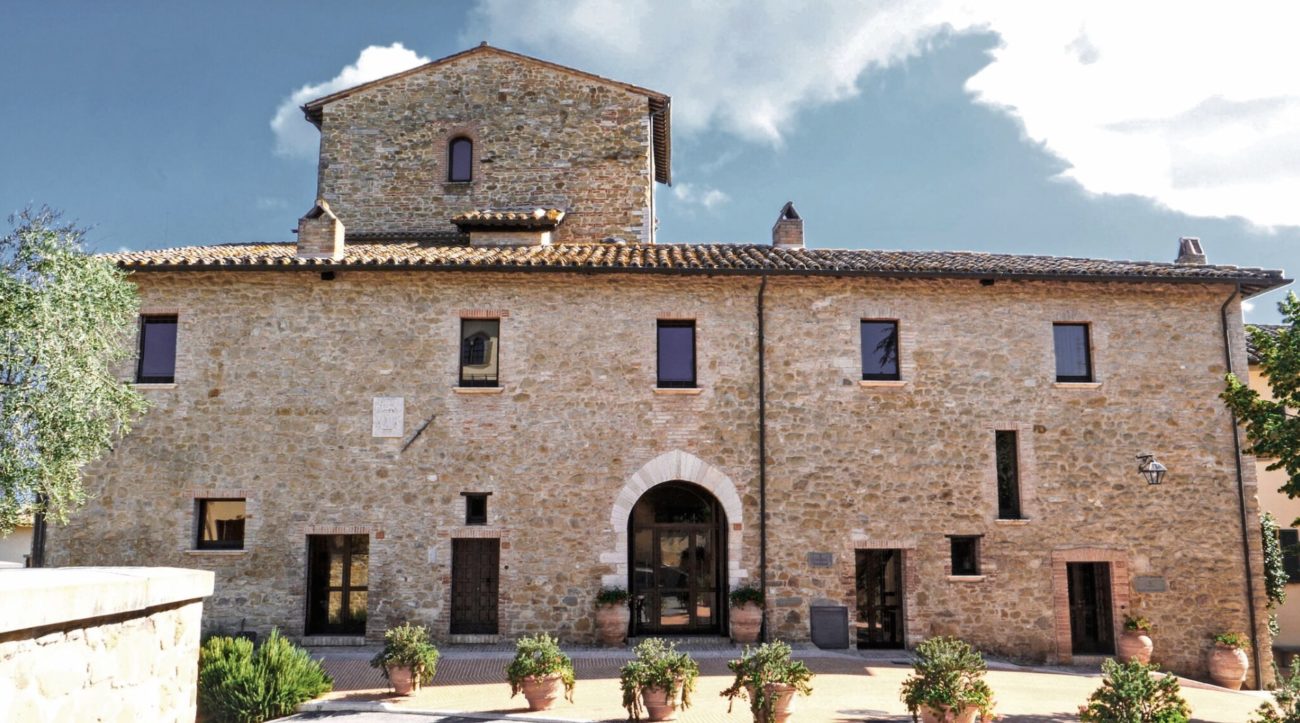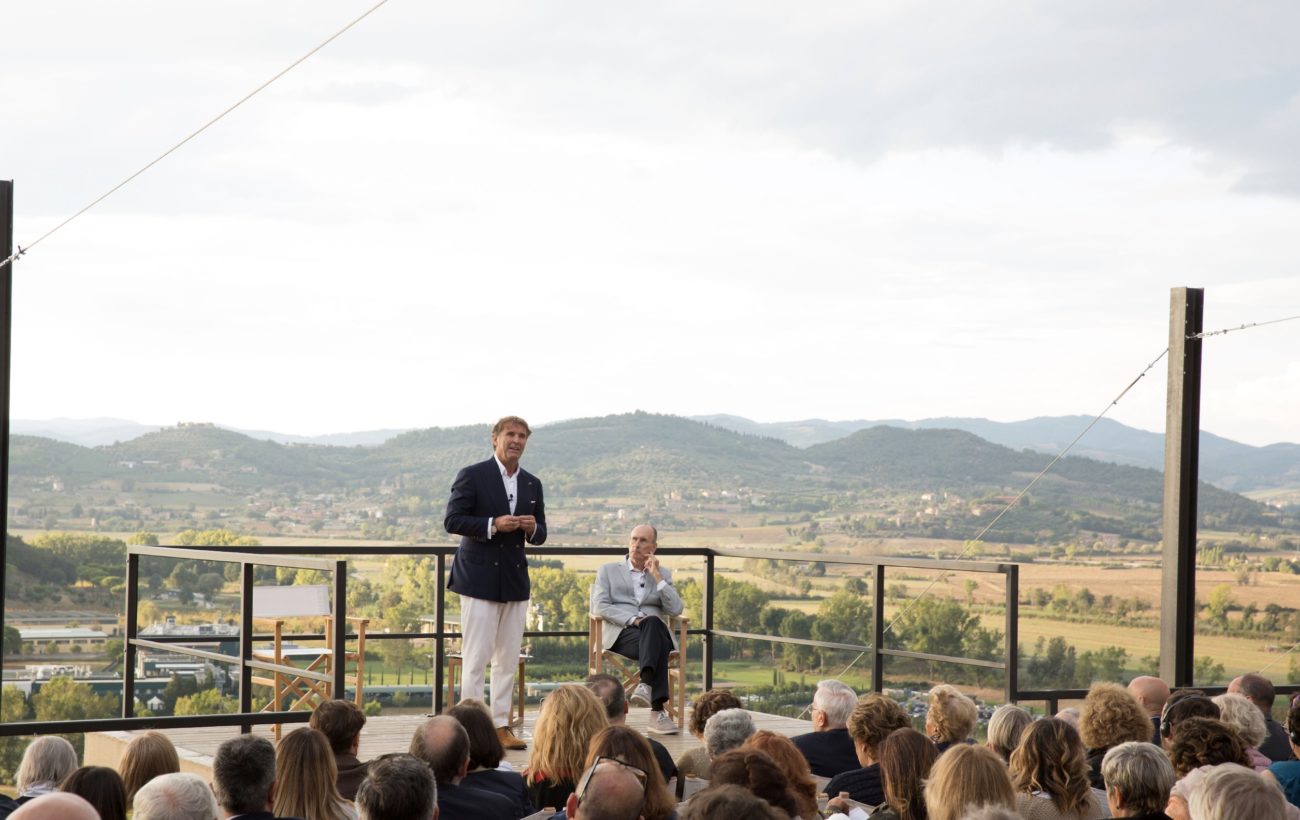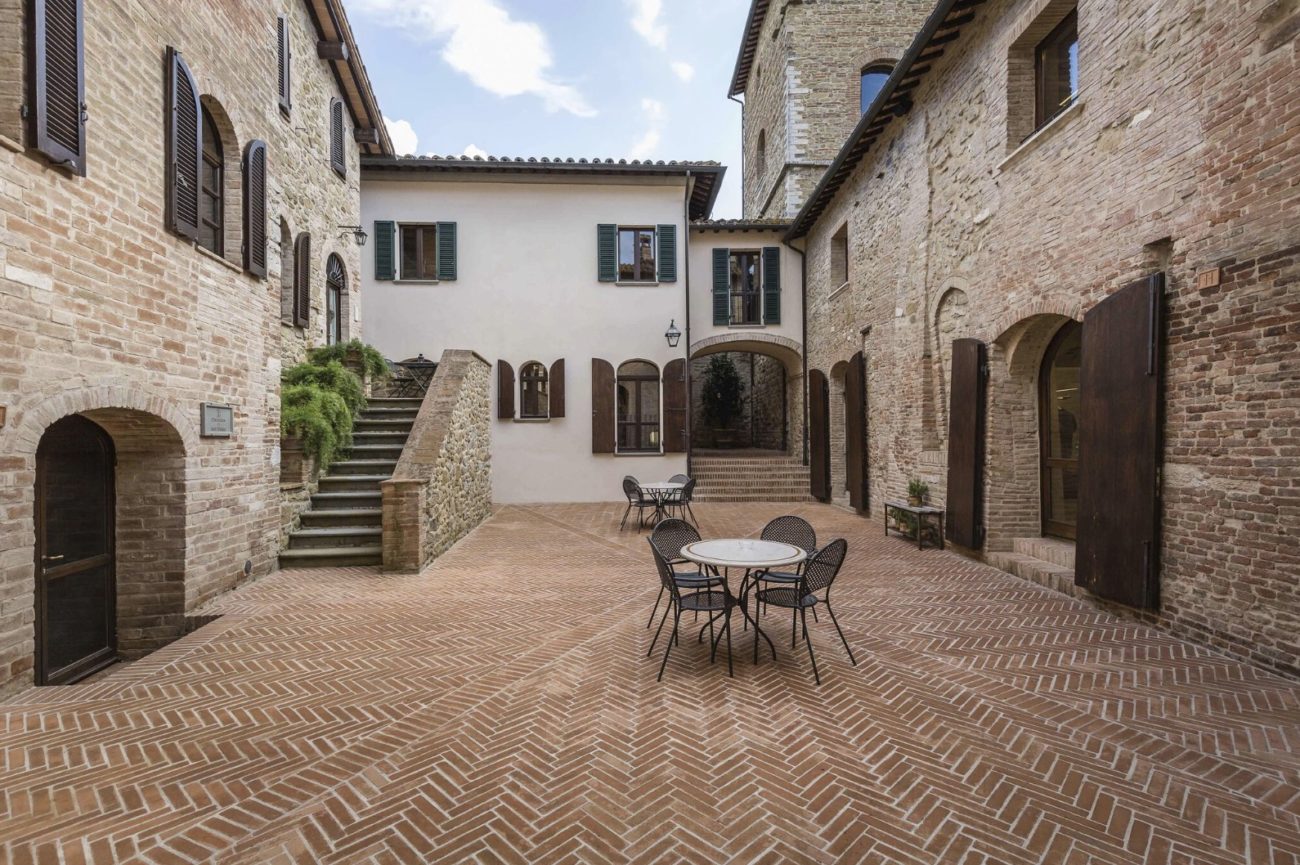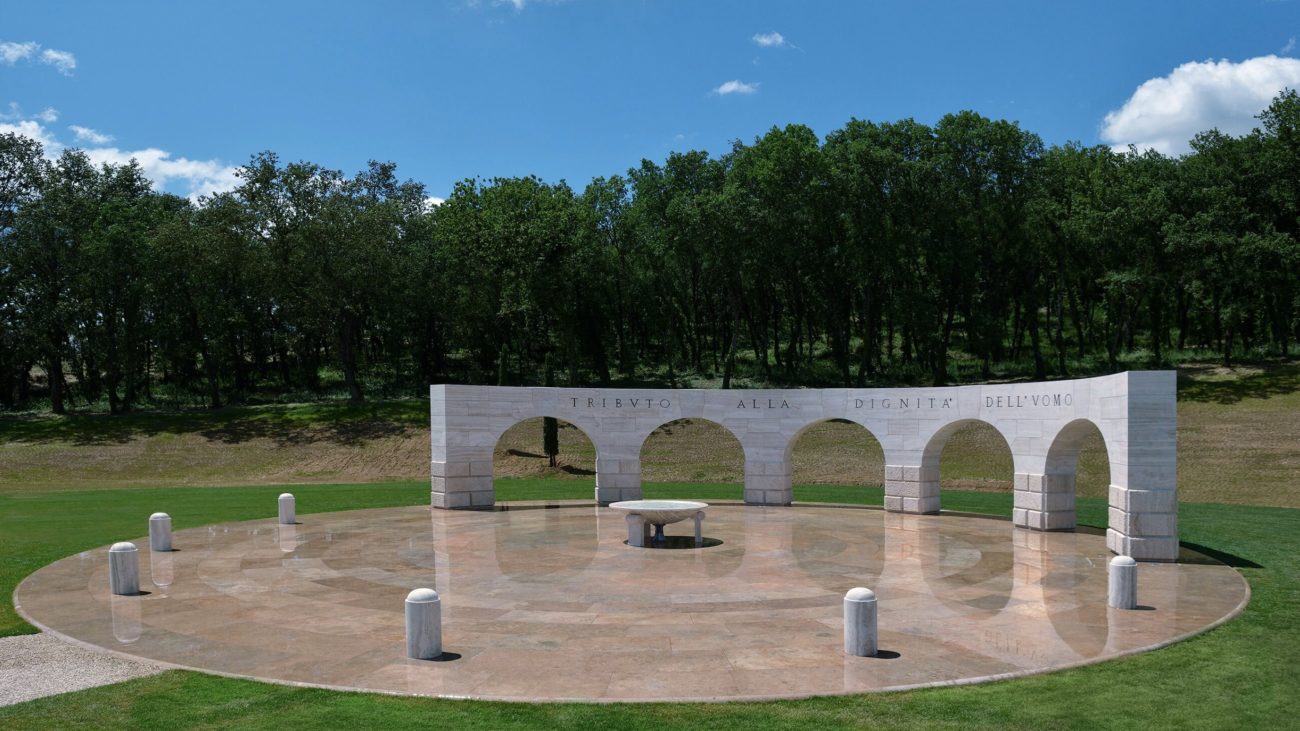 Brunello Cucinelli, Solomeo, Spiritual Forest, vineyard, Progetto per la Bellezza, Courtesy by Brunello Cucinelli
Brunello Cucinelli and architect Massimo De Vico Fallani, Solomeo, Spiritual Forest, Progetto per la Bellezza, Courtesy by Brunello Cucinelli
Brunello Cucinelli, Castle of Solomeo, Spiritual Forest, Progetto per la Bellezza, Courtesy by Brunello Cucinelli
Brunello Cucinelli, Press conference, Solomeo, Spiritual Forest, Progetto per la Bellezza, Courtesy by Brunello Cucinelli
Brunello Cucinelli, Borgo Solomeo, Spiritual Forest, Progetto per la Bellezza, Courtesy by Brunello Cucinelli
Brunello Cucinelli, Monument to Human Dignity, Solomeo, Spiritual Forest, Progetto per la Bellezza, Courtesy by Brunello Cucinelli