How archives impact and change the final days of Fashion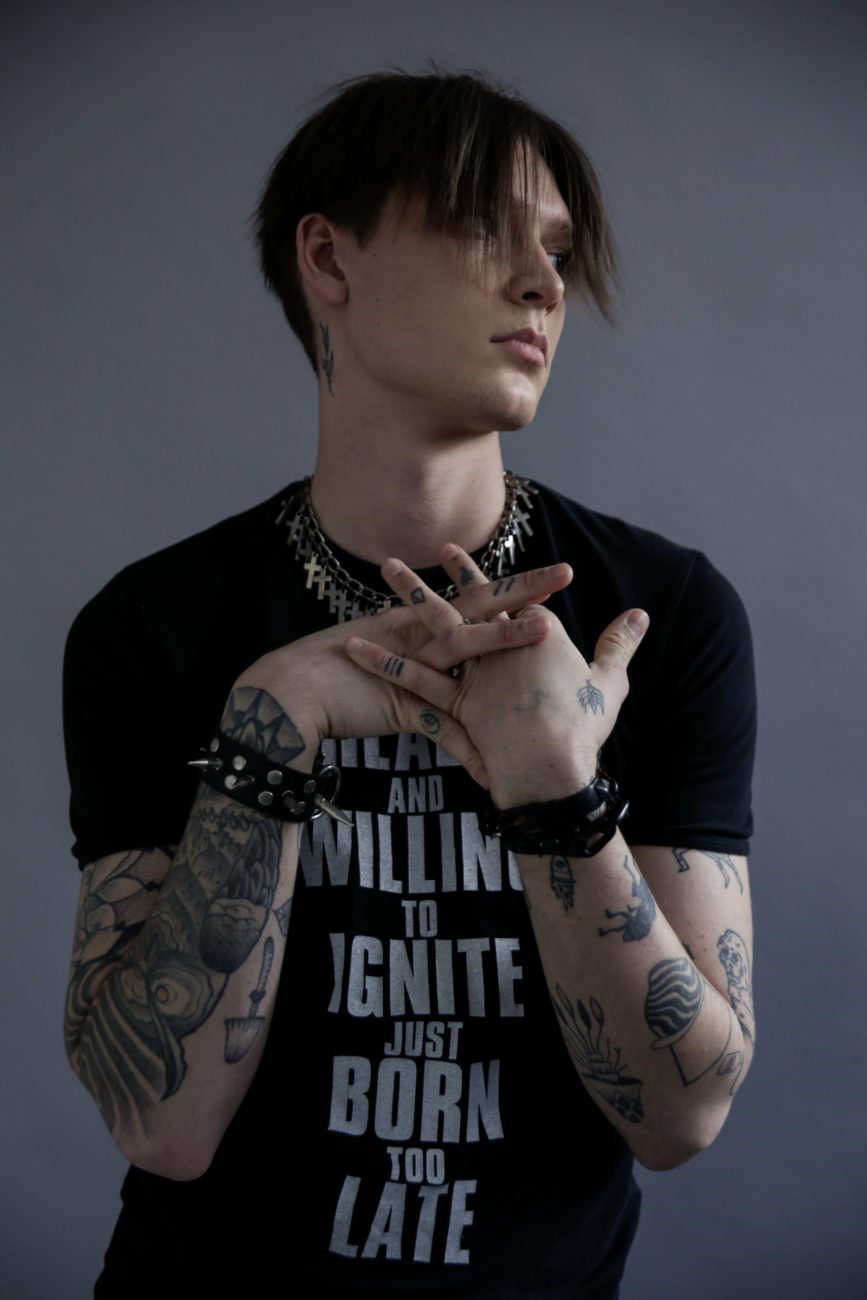 Slogan t-shirt Raf Simons SS 2002 "Woe on those who spit on the fear generation…. The wind will blow it back", cross necklace Black Sanctuary, leather chain bracelet Natalia Brilli SS 2010, studded bracelet on discount in a sex shop.
PHOTO: LORENZO MARCUCCI
FASHION AND WORDS: RICCARDO SLAVIK
GROOMING: XAVIER PEREZ
MODEL: ALBIN EKBLAD @ FASHION
Fashion, many in the business will tell you, is dead. Not in the most literal sense, obviously, there is a huge business side to clothing and trends that cannot be ignored, but, the classic ebb and flow of lengths, shapes and silhouettes that characterized the seasonal heyday of fashion is gone, and will probably never be back. Fashion nowadays is branded, based on easily recognizable tropes, classics, re-issues and the myth of 'personal style'. It's not cool to tell people how they should dress anymore, so fashion houses have to find new ways to sell their wares, reinterpretation of 'classic' styles is a way to play on the easily recognized dressed up in a new coat of paint. The idea of the "brand archive" is actually rather recent it all started in the 80s, even Dior didn't start an archive until its 40th anniversary.
"The whole notion of collecting your archive is a fairly new one," said Hamish Bowles, international editor-at-large for American Vogue. "Everything you produced for the runway you wanted to sell. The couture houses would hold sales [of fashion collections from previous seasons] for their favourite clients. The idea was to get rid of everything".
Printed mesh top STILL ILL FW 2016, wool kilt, Jean Paul Gaultier Maille, mid 90s, snowboard pants with rubber details M1992 FW 2017,

  

boots Bruno Bordese, vintage.
Yet, in an age where nostalgia is surpassing sex as a marketing tool, having control of one's own archives can be fundamental, as buying back historical pieces from collectors can become extremely pricy extremely fast. In this day and age, defined by connection and speed, the definition of historical and iconic as applied to an item of clothing can become very blurry, it's all about supply and demand, and a top from Raf Simon's FW 2005 "History Of My World" collection can be more coveted than a Jean Paul Gaultier jacket from the mid-90s ( On October 4, a Fall 2001 Raf Simons jacket from the "Riot Riot Riot" collection sold on Grailed for $47,000). Even designers like Tom Ford scout the world's best vintage shop in search of great archive pieces they can buy and draw 'inspiration' from (don't know how iconic it was but I think he bought an old Dsquared2 tuxedo coat in Milano recently). Nobody totally escapes the "reworked archive piece" pitfall and Instagram won't let them walk away scot-free, @supremecopies will show you every single design Supreme ever ripped off, and accounts like @insidethemood will show you side by side pictures of originals and "interpretations", it goes from funny to scandalous, and nobody is safe.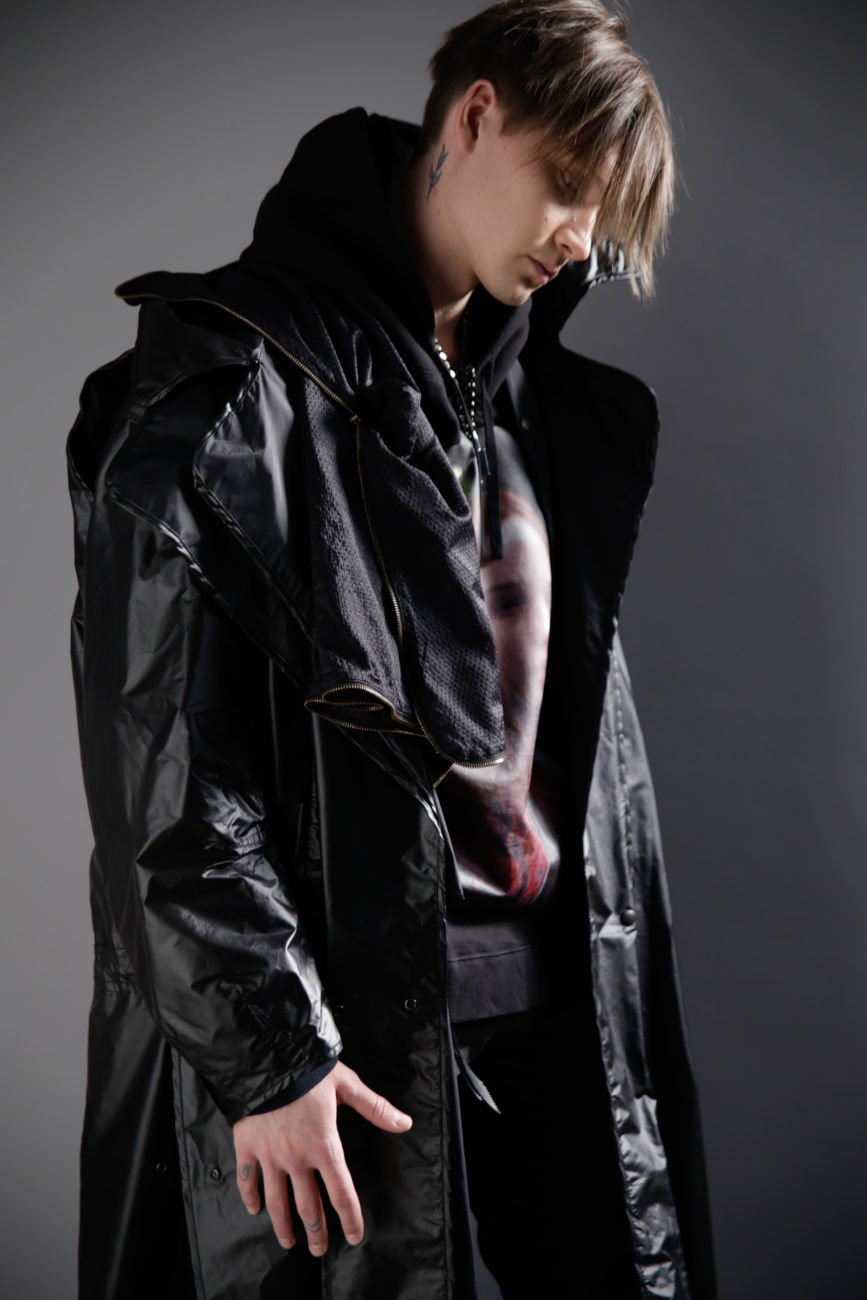 Plastic oversize coat Raf Simons FW 2005-2006 'History of My World', tracksuit jacket with mesh hood and panels, Vivienne Westwood Man SS 2011, printed sweatshirt Raf Simons FW 2018, bondage cotton trousers Raf Simons FW 2002-2003 ' Virginia Creeper'.
The archive is often the basis for what brands call a "continual" collection, that is a selection of well loved items that are repeated throughout the seasons though they might not be shown on the catwalk or in the press offices. Hedi Slimane, when he took over Saint Laurent, decided to create a collection of perfect basic pieces like the perfect polo, the perfect biker jacket, the skinny jeans etc that didn't change seasonally, some of those items are still on sale at the online and physical shops, years after he's gone. Repeating iconic styles is both clever and cheap, recreating from a sample is much easier that creating from scratch. Many brands offer variations on the 'archive' or 'continual' capsule collection, Vivienne Westwood often recreates vintage pieces under her Archive label and her original World's End shop sells a unique collection of recreated archival pieces, often made with left-over fabrics, samples and toiles, under its own label, faithful to her "Buy Less, Choose Well" motto. Even the exceptionally creative Rei Kawakubo relies on past hits and ideas for her more commercial Comme des Garçons Comme des Garçons line, which often recreates variations on her classic punk-chic style staples.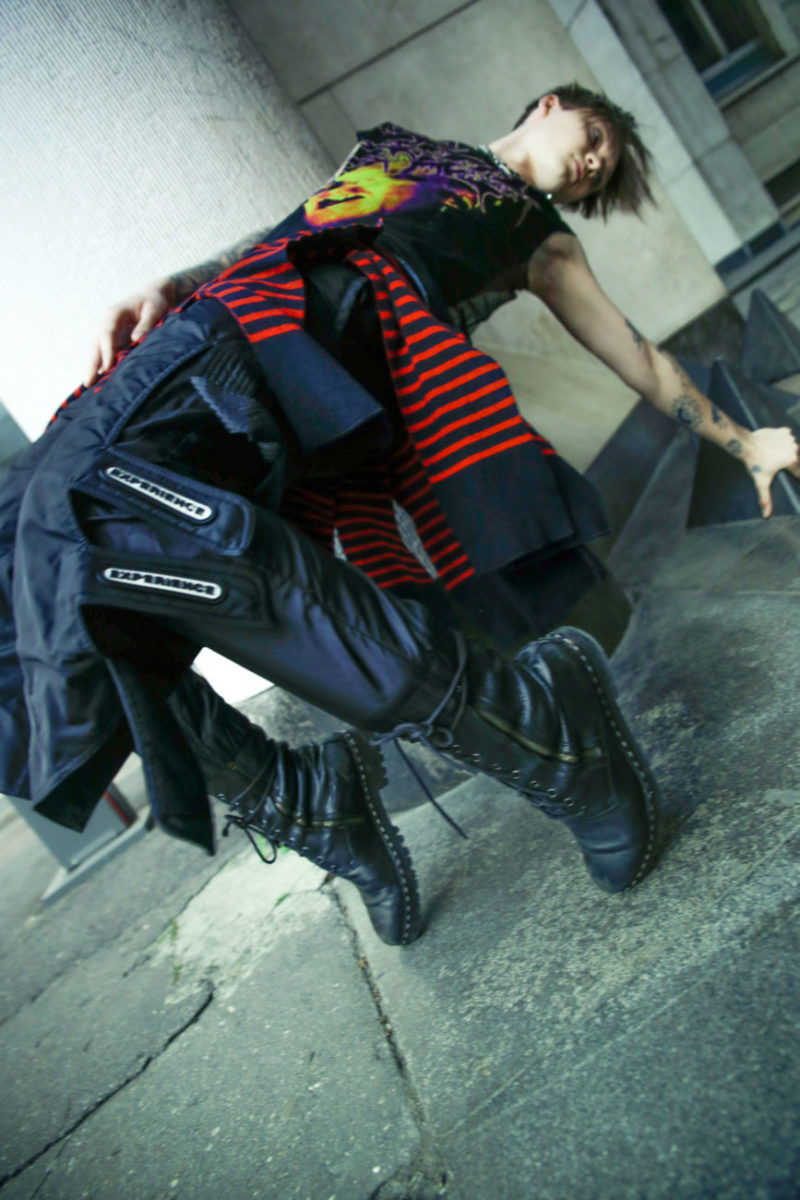 Collectors and stylists are also at the forefront of the archive trend, the first pushing the market and taste and the others by relying on archives, both personal and borrowed, for shoots and jobs from the beginning of the use of the term 'stylist'. It's imperative for a stylist to create an archive of important, personal pieces, and sometimes even of very basic items, some to be used as a personal touch for a fashion shoot, others to rely on when the job is quite commercial and one cannot rely on designers and press offices.
Sometimes the role of Collector and Stylist merge, as in the case of David Casavant, who started collecting iconic pieces by Raf Simons, Helmut Lang and others and is now lending them to magazines like i-D and singers like Rihanna e Kayne West. His collection has become by now so iconic that he has printed a David Casavant Archive book that features pieces from the collection interpreted by an impressive roster of contemporary artists, as he explains it, it wasn't a way to show the 'greatest hits' from his archive but a way to give these pieces a new life through the eyes of people he admired.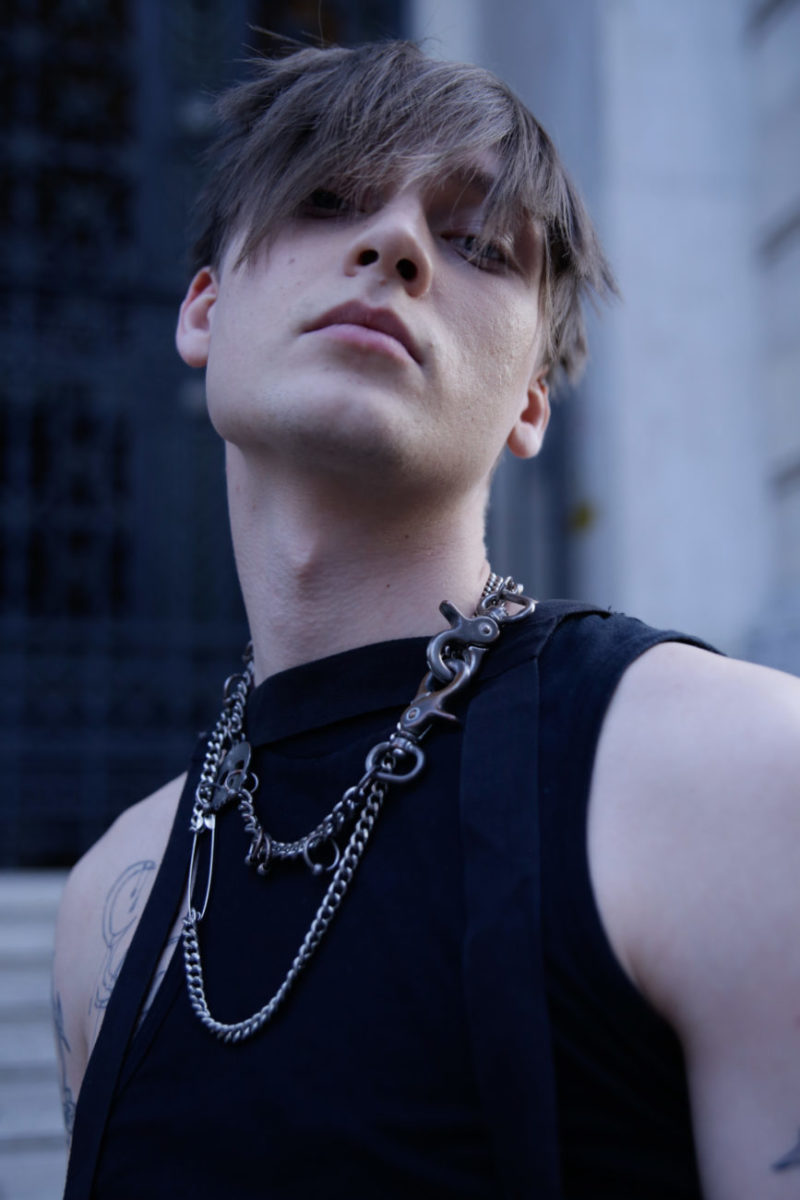 "I like the idea of it being open to interpretation, since there's so much constraint in fashion right now because it's kind of commercial – like if you style for a magazine, you have to do it for their advertisers. I love being able to provide the opportunity for people to add a bit more expression to their styling". David Casavant
The main difference in the meaning of the archive for brands and stylists is at the core of the present crisis in the system, it's the difference between commerce and creative expression. If brands like Helmut Lang fill a demand in the market with a whole capsule collection dedicated to re-made archive pieces, many stylists like Panos Yapanis have used their own archive pieces to give a personal touch to their iconic fashion stories, the presence of hard to find, lived-in vintage pieces giving the images a more individual and realistic tone.
Wool double breasted jacket and pants with half-skirt, both with a safety pin cross detail, both Comme des Garçons Comme des Garçons for Corso Como 10, early 2000s, silk shirt SW10 FW19, hat Modu Design.
"Unfortunately I am a hoarder by nature, borderline obsessive neurotic collector, so over the years I've archived a select choice of designers, obviously including Helmut. It's a debilitating storage challenge and a constant battle with moths". Panos Yapanis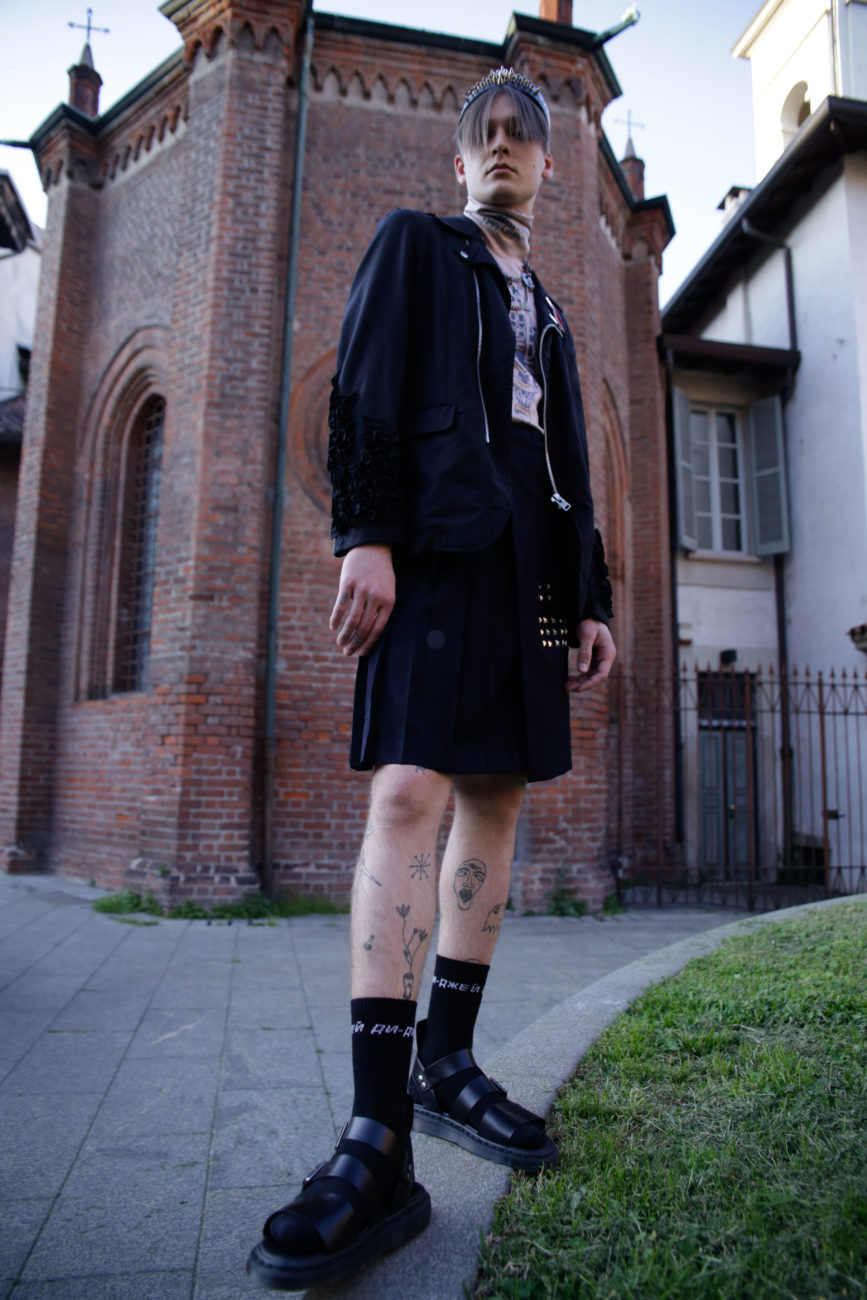 Biker jacket with ruffle details on the sleeves, Comme des Garçons Homme Plus SS 2012, Russian tattoo top Angelos Frentzos

  

FW 2016, wool kilt with metal studs detail Comme des Garçons SS 2000, studded headband Fleet Ilya for Comme des Garçons Homme Plus SS 2013, socks Gosha Rubchinskiy SS 2018, shoes DR Martens SS 2019.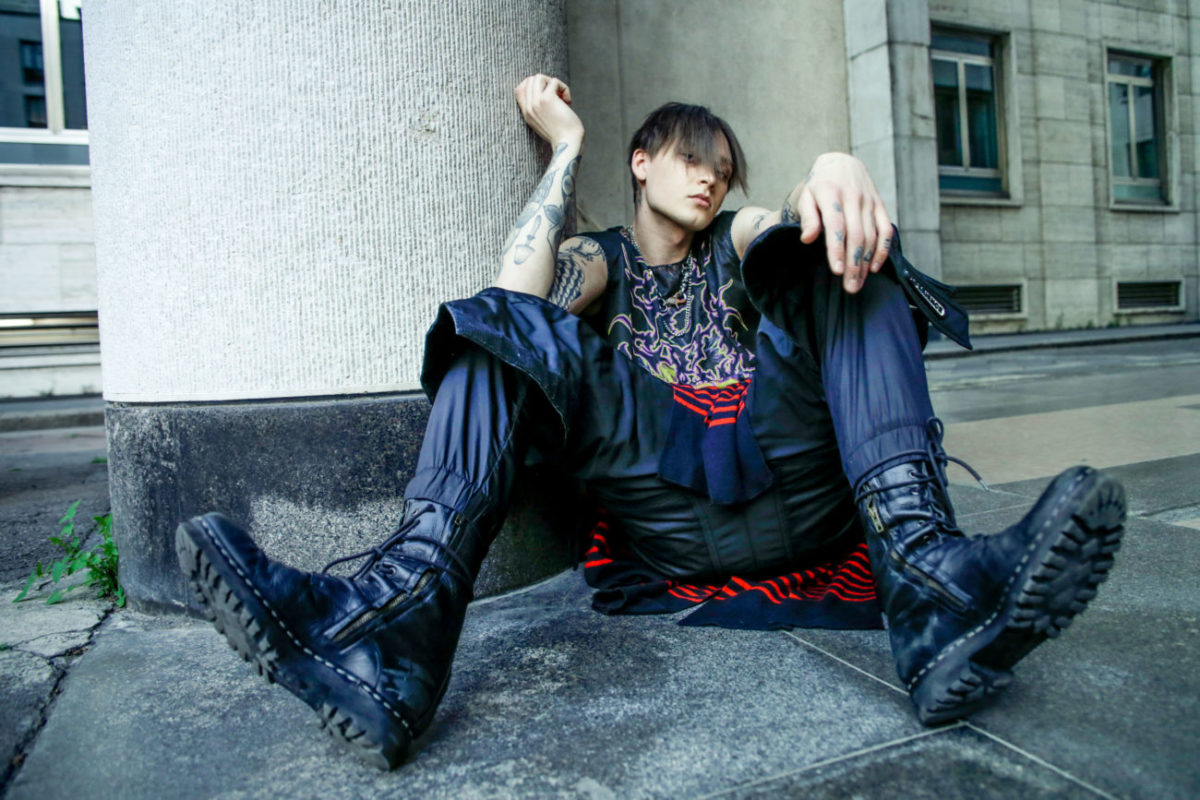 Like Casavant said, in a moment in which fashion houses are so desperate to create a recognizable 'brand' that they demand they catwalk looks be photographed head to toe with hardly any room for a creative vision, it's even more imperative for creatives in the field to be able to insert elements of disturbance and personal history to make sure their stories don't become crystallized in the homogeneous sands of Fashion's unstoppable Death.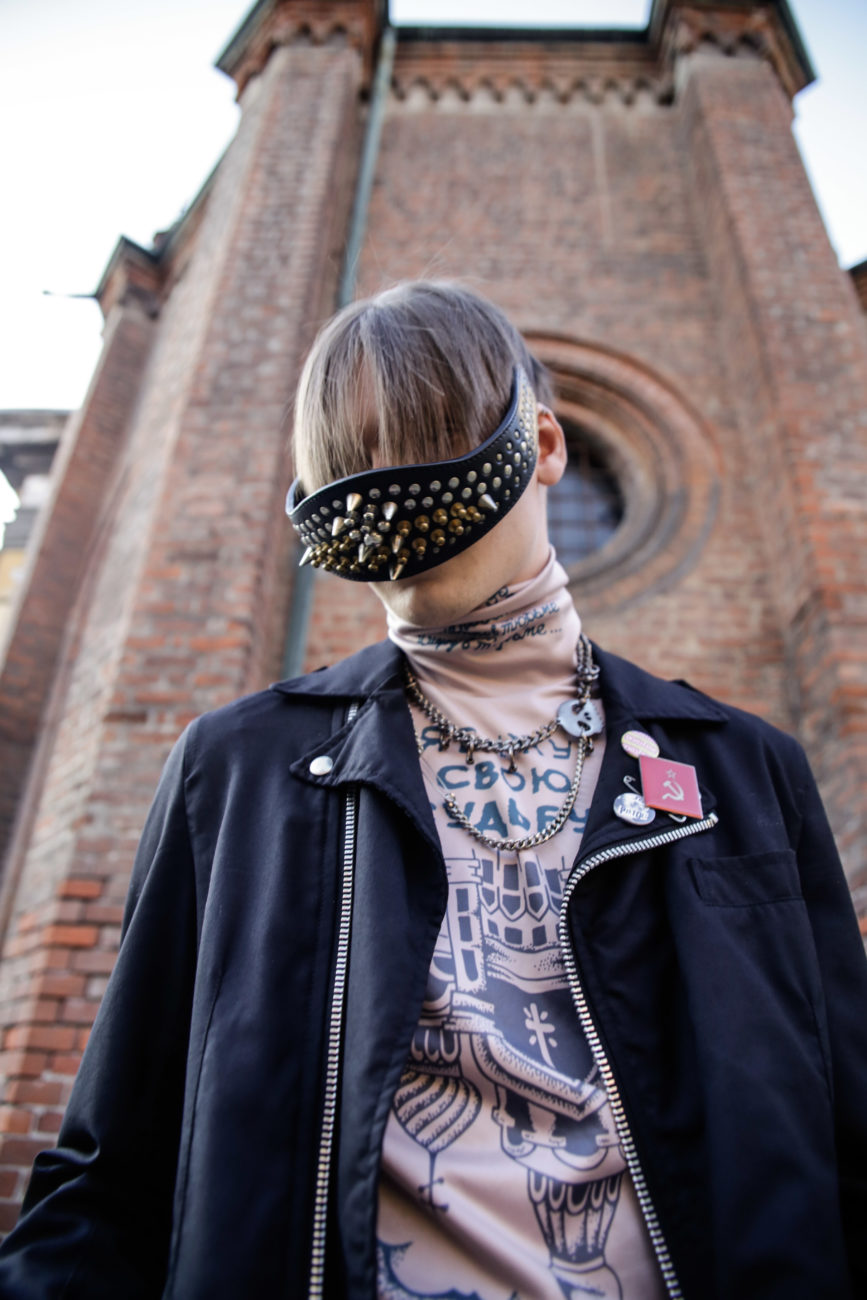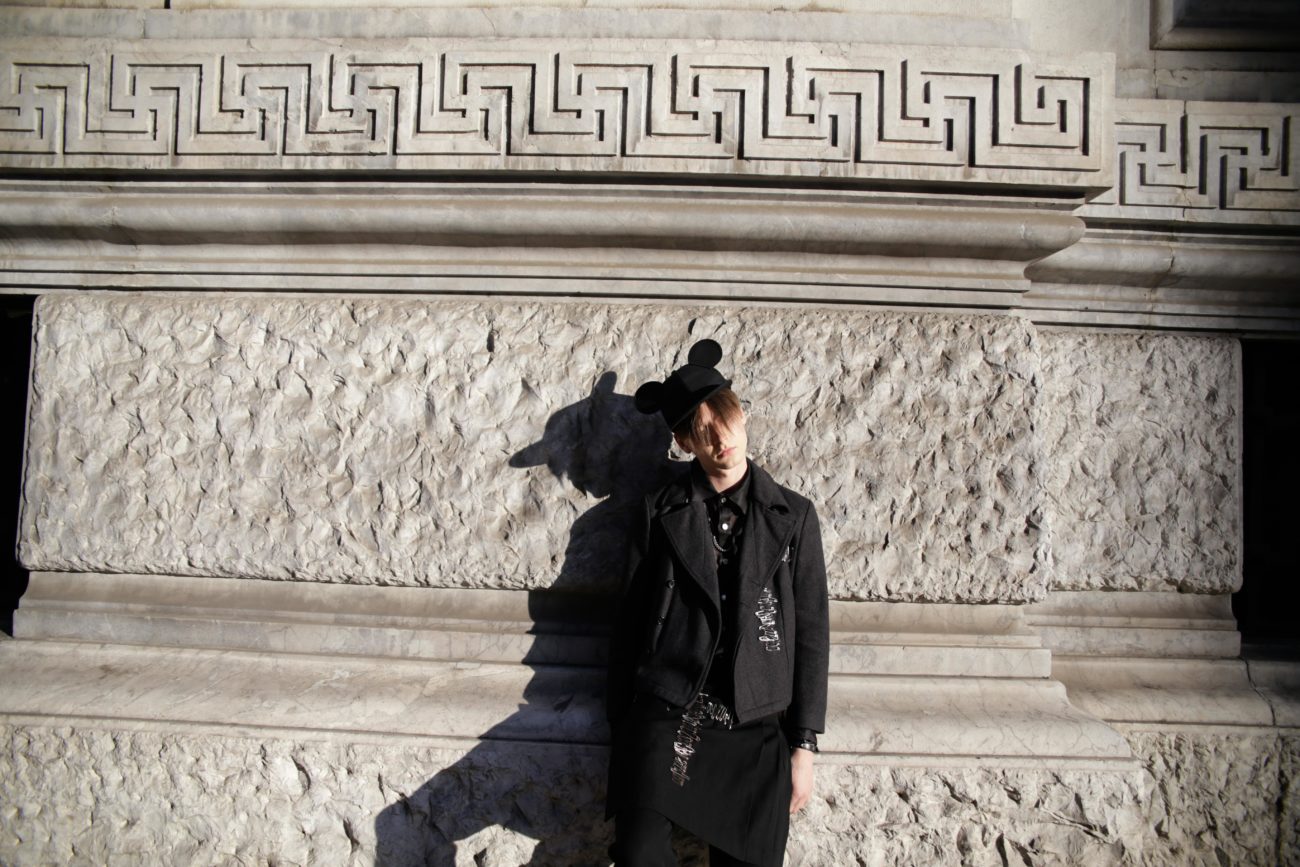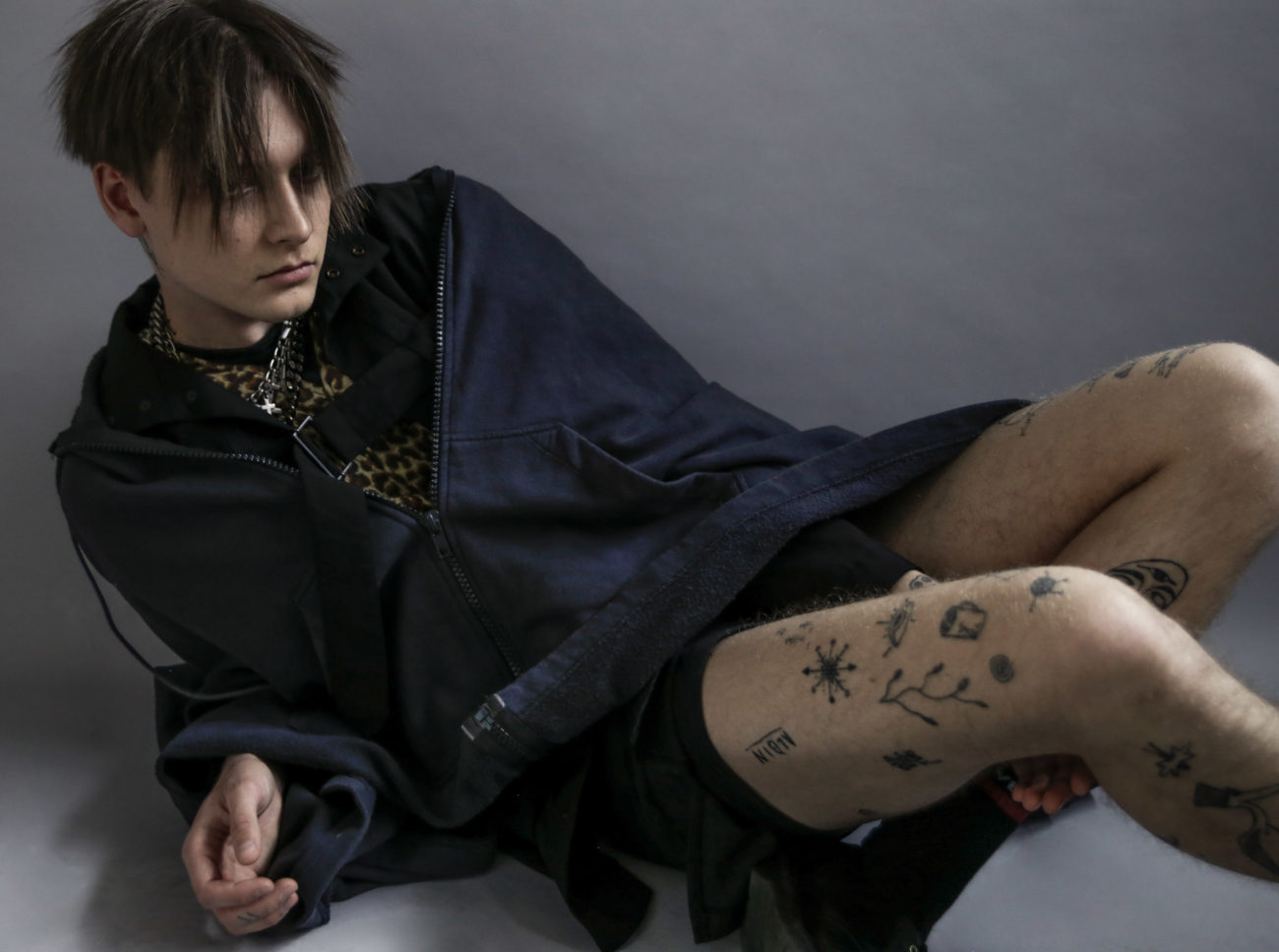 Hooded cotton cape Raf Simons FW 2005-2006 'History of My World', Bondage jacket Vivienne Westwood Man SS 2015, wool dress with leopard print trompe-l-oeil waistcoat, Comme des Garçons Homme Plus FW 2009, chain necklace custom made by me.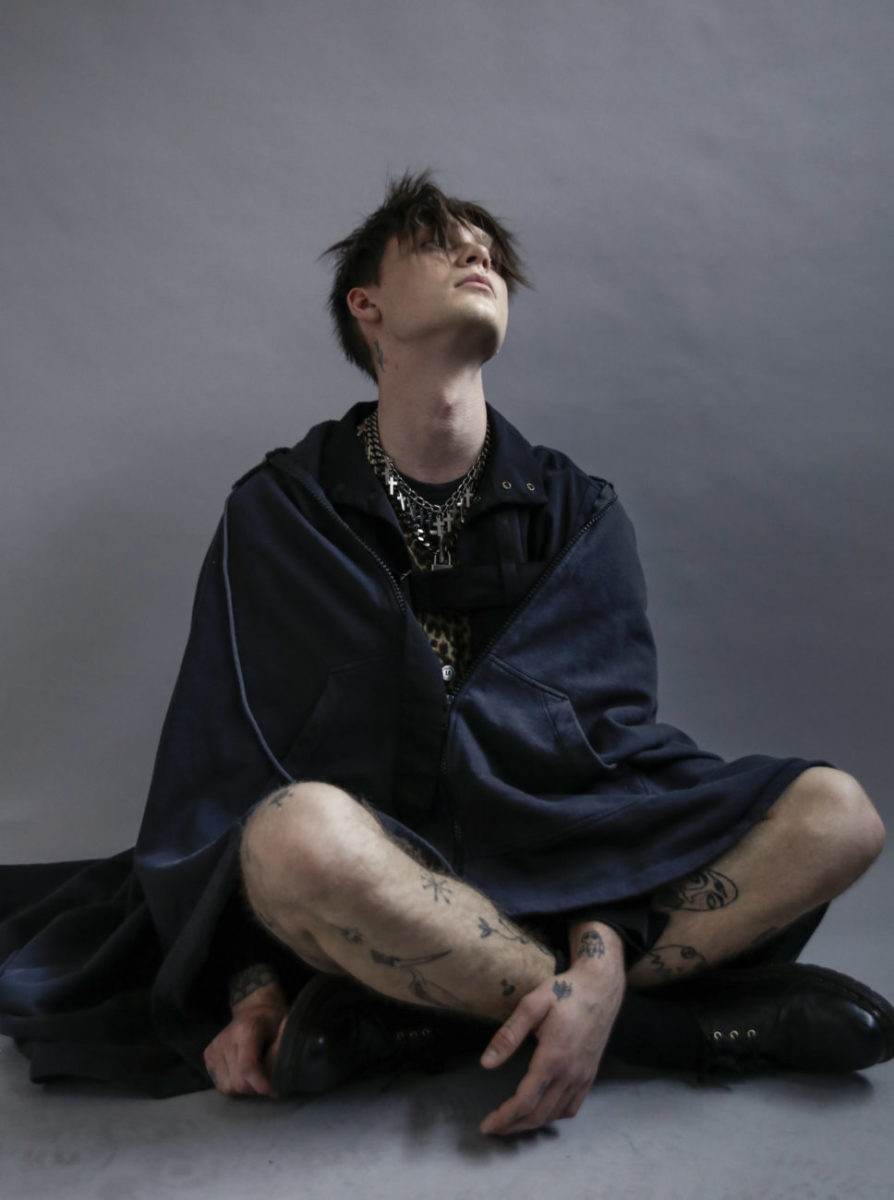 Ps: Personal notes
On a more specific note, this shoot came about when Lorenzo Marcucci asked me to dress a model like me, to create a sort of mini-me fashion doll using my own personal archive, I started out with the idea of using 6 or 7 totally different looks using some of my favorite designers or pieces but in the end decided to create a few looks that represented my style but that were all tied together by a Goth-y Subcultural vibe, starting by a look I was wearing last week and which I reproduced faithfully, starting from the Raf Simons FW 2005 runway plastic coat, I ended up using some of my favorite pieces, like the safety-pin-cross Comme Des Garcons jacket and half-kilt pants, or the Helmut Lang asymmetrical tank top and cotton harness. It's always interesting to dress someone else up as yourself because, much as you try, the final effect is always different, different people wear the same things in different ways, it's not always a positive thing but it can also give new life to clothes you haven't worn in a while. The A/W04-05 'Waves' Cape Hoodie By Raf Simons is one of my favorite pieces (BTW one like it just sold at $1,600.00 on thesalvages.com and they even used an image I shot with Lorenzo years ago, so the cycle is really never ending), but I haven't worn it in a while because it's rather impractical, other pieces, like the Lang ones from 2004 are just not right for my body anymore, so the shoot also gave me a chance to recreate a younger, slimmer, different version of myself.
Slogan t-shirt Raf Simons SS 2002 "Woe on those who spit on the fear generation…. The wind will blow it back" , pleated skirt Giuliano Fujiwara FW 2010, socks Vetements FW 2017, shoes Dr Martens.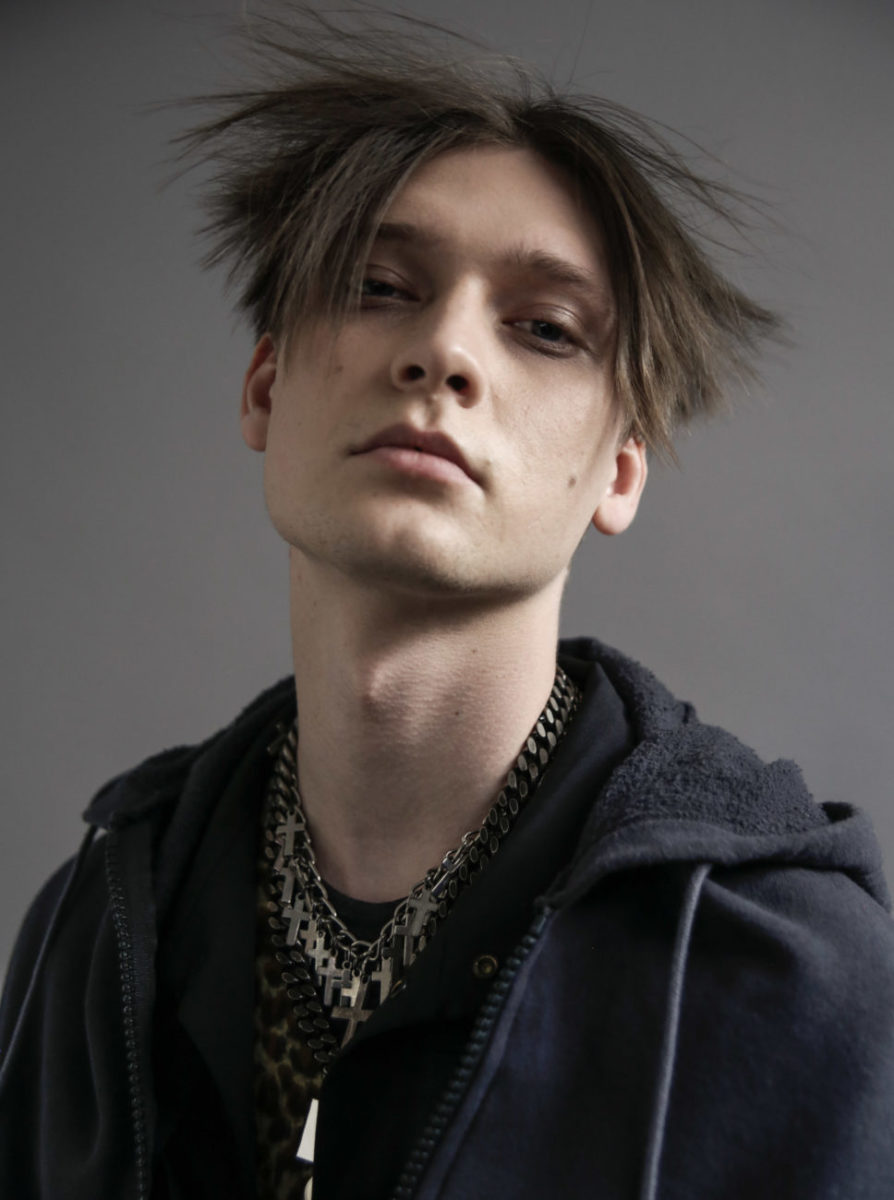 Creativity is a very personal journey and the way we relate to our clothes, the stories they tell us and we tell through them can be as deep or frivolous as life itself, I always say I wear my childhood traumas, and I'm not afraid to share them. Enjoy.
"Everyone has got a different perspective on what this job is. Editors and designers have very different demands from stylists. There are a lot of designers that hate my work because sometimes I don't show their garments the way that they are shown on the runway. Some designers love that and some designers don't – to the point that they won't work with me. That's true of some editors as well. Some think, "I want to sell clothes, I want advertising", whereas others want a nice image. I think that's why photographers have an affinity for me, because I try to give them something visually exciting as opposed to ticking the sales box". Panos Yapanis
Asymmetrical cotton tank top, Helmut Lang SS 2004, cotton suspender harness Helmut Lang Fw 2003 , leather pants with studded detail HTC Los Angeles, circa 2011.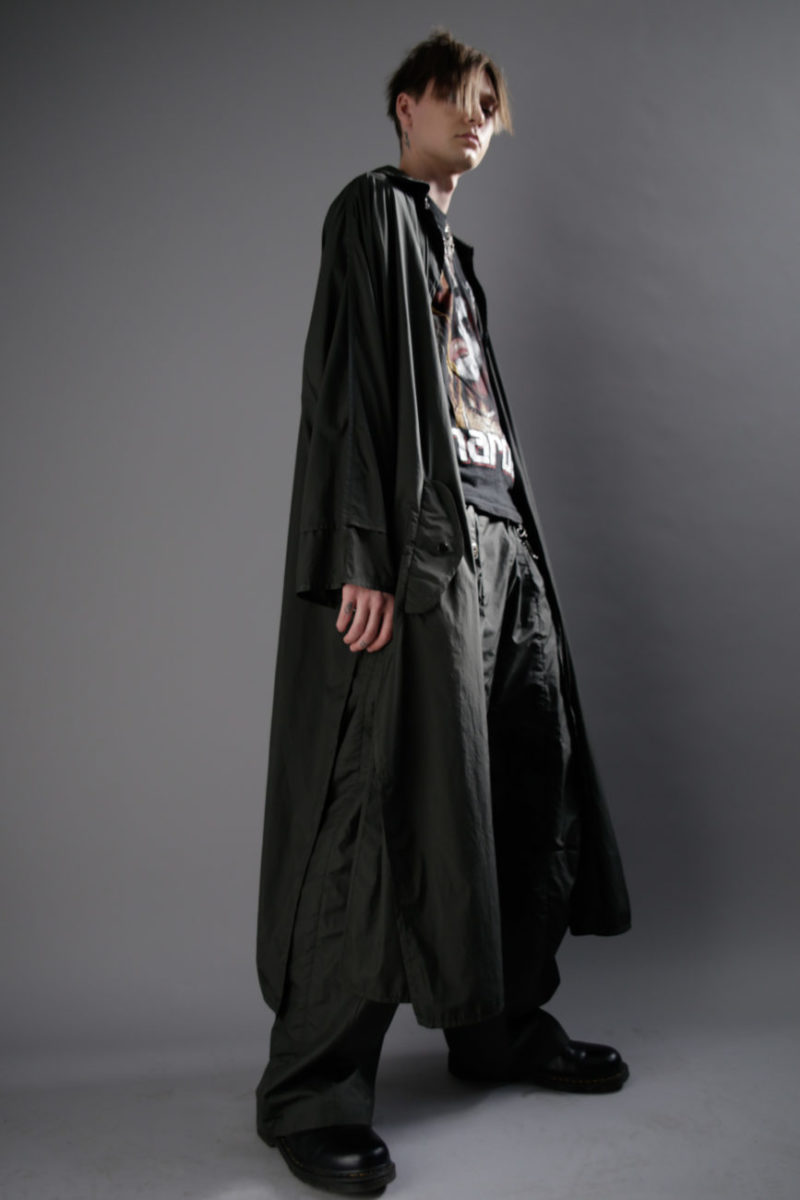 Nylon coat and high-waisted pants Raf Simons FW 2005-2006 'History of My World' , 90s l tour T-shirt from Swedish Death Metal band Marduk