SURREAL CLASSIC: WATCH OUR VIDEO OF PRADA FALL WINTER 20 MENSWEAR COLLECTION TRYING TO GET THE BEST OUT OF THE PAST WITH MODERN TECHNOLOGY CONTROL
Text by: Fiammetta Cesana
Have you ever thought that all the technologies we live of today, that only few years ago used to be part of a futuristic fantasy, will (sooner than we believe) be overcome by something even more incredible and avantgarde?
Well, this is story of humankind, everything is unstable, consistently changing and evolving, and what happens to be past finds two possible final destinies: falling apart and turning obsolete or affirming itself as a classic, and what is classic is immortal.
Video by Nima Samiee @nimasamieeph
Prada Fall Winter 20-21 collection enacts the paradox of living in a world where history remains in its timeless significance and has to coexist with the ticking-clock current technology. As the forthcoming progress is soon replacing it, what will be remaining of today's achievements, of our awareness, modern principles and trends, or of this very collection? It will remain the beauty, of course.
Moving between the uncertainties of human nature, the collection tries to merge past solidity with present developments and future potentials. So traditional materials are combined with innovative recycled fibers; cashmere garments, for example, are pervaded by stretch fabric which allows an excellent wearability, while whole silhouettes oscillate among pure line and modern oversized shapes.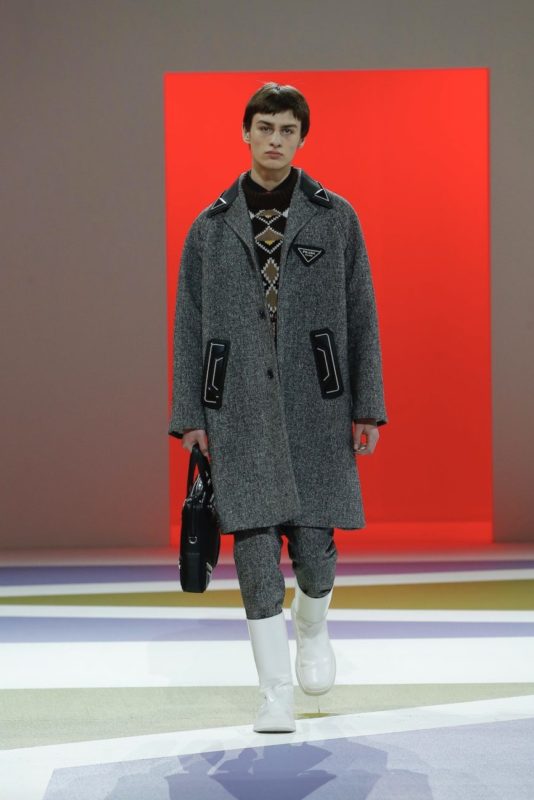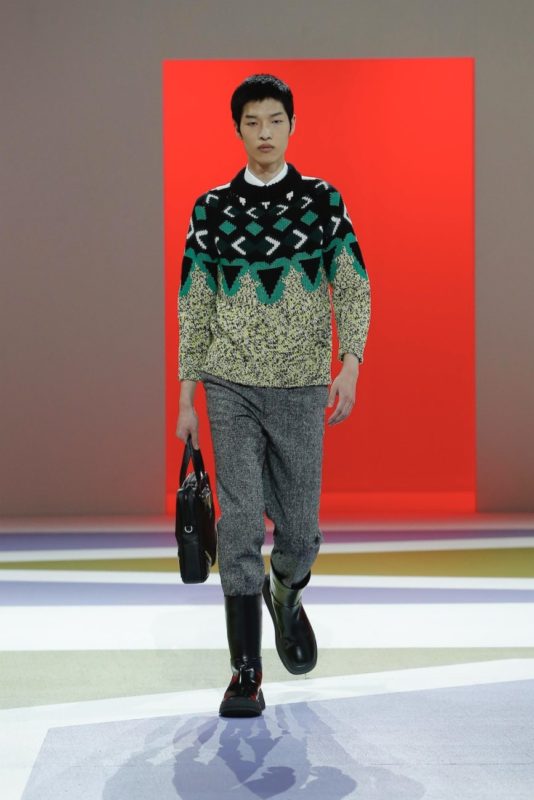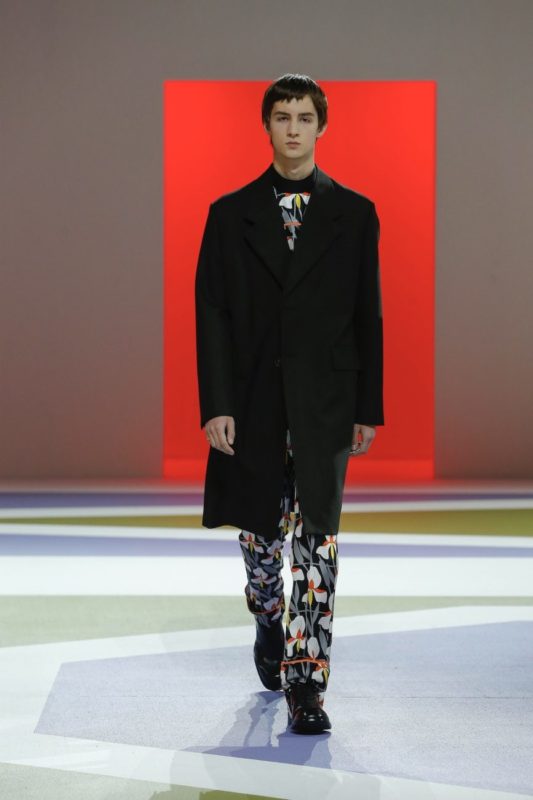 Technology turns in a tool of subversion and classicism in a Trojan Horse, where vibrant colors and bi-dimensional elements become the representation of a fantasy of the classic projected into future trajectories.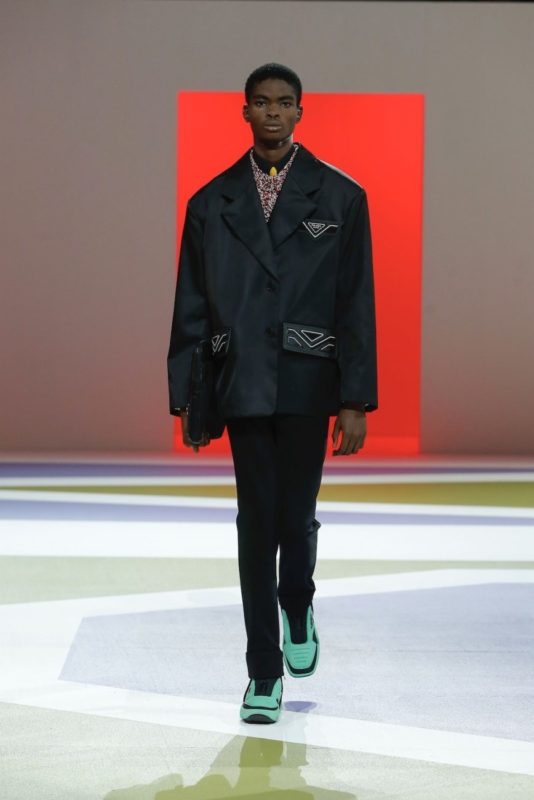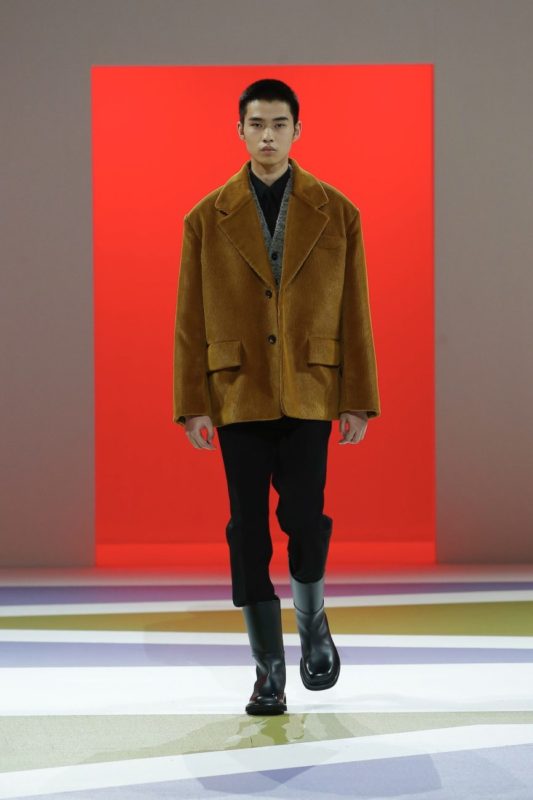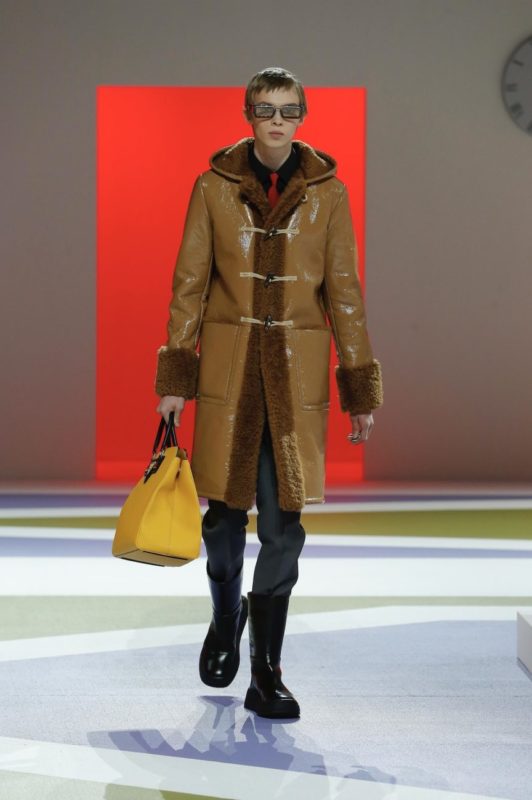 The imaginary enacted public arena hosting this scenario are two identical cavities that guests watch from a lifted up platform. AMO, responsible of the ambient's setting up, transformed the hall of Deposito of Fondazione Prada into this dual scenario staging a modern panopticon where people are constantly observed. Models taking the runway-square around the abstract statue of a man on a horse walk "chaotically" organized, outlining the contradictions of an ipercontrolling society where we never stop, living our frenzy busy days with everything checked and scheduled on our smart devices.