VICTORIA'S SECRET FASHION SHOW ERA IS OFFICIALLY ENDED. IS IT REALLY A GIANT LEAP FOR A CHANGING FASHION WORLD?
Text by: Annarosa Laureti
Edited by: Fiammetta Cesana
Being an angel is not fashionable, or rather, politically correct anymore. The most famous fashion system's paradise this December won't open its door to mere mortals. As already announced by the Angel Shanina Shaik some months ago in fact, after 23 years from its birth, Victoria's Secret fashion show is officially cancelled.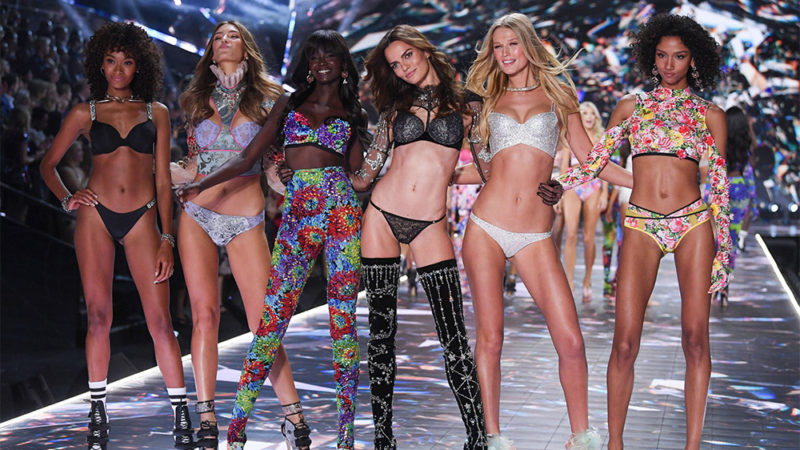 Trying to find the reason of its final decision is worthless. Whether it is because of the so discussed statements of the Chief Management Officer Ed Razek regarding plus size and transgender models – "they don't suit with VS fantasy" he said – or of the sale falloff followed by the closure of 53 stores around the world, or of the last year dramatic audience's decline, it doesn't really matter. The female model advocated by the lingerie American brand has been outclassed by the current ruling trend of inclusivity.
And the umpteenth retaliation's attempt by welcoming in the paradise Valentina Sampaio and Barbara Palvin – respectively the first VS transgender and plus size models – has been for nothing.
VS largely white skinny empire is suffering and several are those contemporary brands ready to split the lost market segment flapping the Body Positivity's flag. Savage X Fenty by Rihanna is about to grab the sceptre, thanks to success achieved last and this year with the fashion shows at NYFW.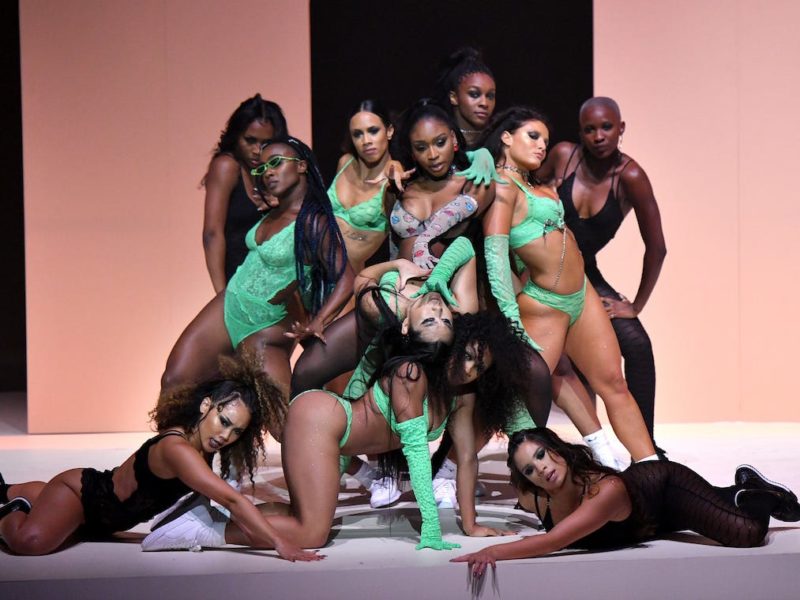 For years defender of inclusivity – "all women deserve to feel beautiful," the Barbados's Queen claimed on the occasion of Fenty Beauty launch in 2017 – Rihanna, who this year has entered LVMK family with her latest Fenty luxuty clothing line, mustered together with top models an army of "ordinary" women. The statuesque bodies of Hadid sisters, Cara Delevingne, Joan Smalls (already elected members of VS fashion paradise) walked down the runaway alongside those less "perfect" yet not less gorgeous ones of pregnant women, like the model Slick Woods, and curvy ladies, like Paloma Elsesser, who proudly showed their natural beauty without hiding stretch marks, sagging stomach and love handels. Resembling (and perhaps outdoing) VS's format, it was brought to life a real show, also available at Amazon Prime Video platform. After the opening performance of the beloved "badgal", Migos, Big Sean, A$ap Ferg, DJ Khaled, Tierra Whack, Fat Joe and Fabolous exhibited. Also the starring front row saw Ashley Graham, Vanessa Hudgens, Paris and Nicky Hilton, the designer Zac Posen, the DJ and producer Skrillex… just to name a few.
"We want people feel good about themselves" Riri said, even in squeezy lace-up corsets, wonderful high-neck bralettes and sheer floral thongs. And who cares if this is not suitable with the rules imposed by the (old) fashion system and passively accepted by majority.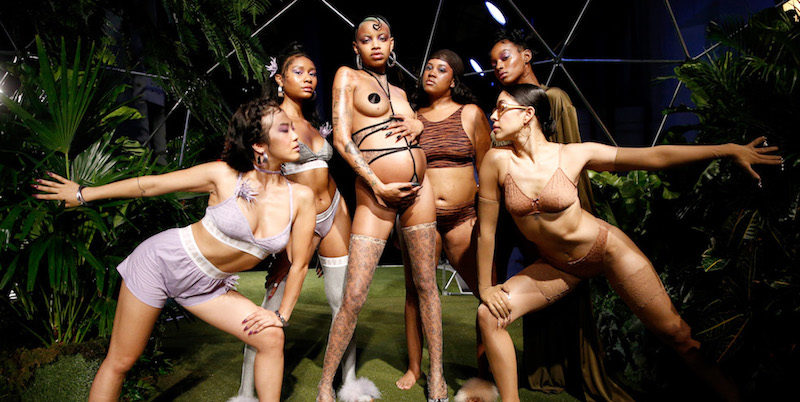 It has to said that inclusivity is not a new theme in fashion world. It actually dates back to 2004 with the first "Campaign for Real Beauty" by Dove. In 2010 then the former Givency creative director Riccardo Tisci chose the transgender model Lea T. as the protagonist of maison's fall winter campaign. And since 2015 Gucci with Alessandro Michele has been making the "aesthetic of imperfection" the main core of fashion shows and campaigns (look at the Gucci Makeup Campaign launch last May).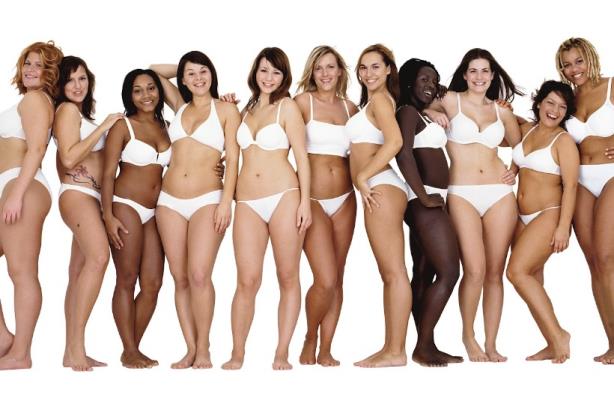 However, the borderline between a sincere endorsement and a sneaky marketing operation is thin, as several are taking advantage of politically correct actions for commercial purposes. According to a 2018 Accenture's Survey, indeed, 70% of US millennial consumers are more inclined to buy items from brands considered inclusive in terms of their promotions, offers and in-store experiences.
So inclusivity as well as diversity become synonym of easy profit. One of the last numerous brands generated by these honourable concepts was the shapewear line "SKIMS Solutionwear" by Kim Kardashian, under the eye of the storm because of its first registered name ("Kimono") largely criticized by Japanese community.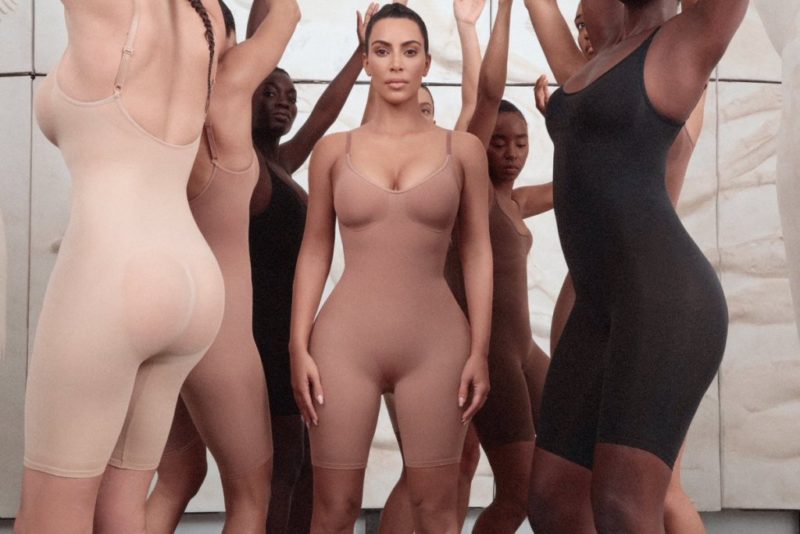 The matter of body positivity and self-confidence inevitably loses credibility as it is advocated and shared on social medias by personalities made of "plastic" supporting a feminine beauty ideal which is shapely but fake, built on retouchings and photo filters. So can this be considered normal? Can body shaming and the wiry beauty model still prevalent on catwalks be fought through breath-taking silicon curves? Can plus size bodies, imperfections, blemishes be accepted only if proposed in a excessively provocative version?
On the other side the hard research and widespread promotion of singular unusual faces – just think of the stunning model with vitiligo Winnie Harlow – could backfire by establishing of additional exclusive and unattainable images.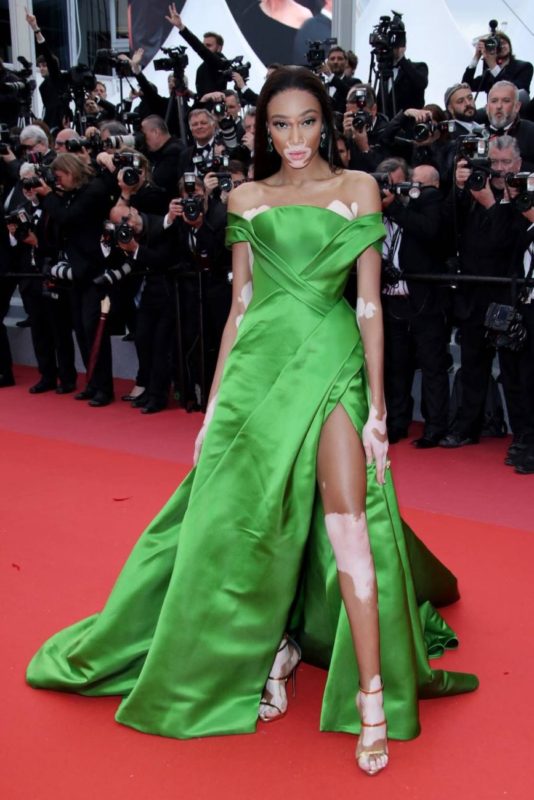 Inclusivity must be shared also into daily common situations. A shapely, skinny, tall, short, black or white woman must feel always beautiful, whatever she wears lingerie or a tracksuit, a charming evening dress or a sober suit, daring heels or sneakers, a swimsuit or Bridget Jones's knickers… To really accept our flesh we must praise it both naked and covered up, so we could finally overtake those so hateful rules imposed by society. The path is still long and we must move on quickly in the light of alarming facts.
It has to be questioned in fact why in a time where we insistently share diversity, there is an increasing number of people, very young too, who resort to plastic surgery. Facing this worrying reality, we must hurry up and start behaving thoughtfully to protect our authenticity and prevent us from becoming all equal plastic faces.
So if the end (at least for now) of VS fashion show can be claimed as a resonating step into this direction, as well as in parallel the Savage X Fenty's success, we are still far from considering True Beauty also the "boring" normality which really makes us diverse and unique.